Other San Francisco Bay Area Personal Injury Cases
In addition to motorcycle accident cases and car accident claims, the following cases are common causes of injuries in Fremont, and Northern California:
Truck accidents
Bus accidents
Bicycle accidents
Scooter accidents
Slip and fall accidents
Motorcycle accidents
Pedestrian accidents
Work-related personal injuries
Dog bites
Premises liability
Medical malpractice
Product liability
Wrongful death.
To discuss the specifics of your catastrophic injuries, book your free consultation with one of our Fremont personal injury attorneys! Don't let the insurance company try and minimize your reimbursement with their gamesmanship. Let us serve you loyally and get you paid handsomely for your decision.
Discover more about how we can negotiate your case, and let us fully answer your important questions. Schedule a prompt call to talk about your injury claim with highly motivated Fremont personal injury lawyers. We will share some negotiating tips, or you can let us deal with the insurers and defendants while you lick your wounds. Put our decades of focused experience to work for you to get properly compensated swiftly. Call (833) LETS-SUE and see how we represent clients better on behalf of the injured party.
Common Injuries
Your injuries will vary depending on various factors. In many cases, victims sustain serious injuries that are often life-changing over the long term.
Here are some of the injuries we often see when dealing with such as personal injury case:
Brain injury, including traumatic brain injuries
Spinal cord injuries
Amputations
Broken bones
Soft tissue injuries
Damaged internal organs
Disfigurement and scarring.
What Should You Do After an Injury in Fremont, CA?
There are actions you can take right away to safeguard your legal rights if you were seriously wounded as a result of a car accident, a slip and fall, or some other mishap. Although your health is the main priority, it's important not to forget about your personal injury claim. 
You must be careful not to say or do anything that could harm your chances of receiving a just settlement. Here is some advice on the first steps after an accident: 
1. Contact the Authorities
In most personal injury cases, injured victims should contact law enforcement right away if you were harmed in a motor vehicle collision or an assault. A police officer will draft a report that can be used as important evidence to demonstrate the circumstances surrounding your injuries, including their cause, location, and perpetrator.
Your Fremont personal injury attorney may find it challenging to establish liability and associate your injuries to the occurrence without such a report.
2. Seek Immediate Medical Attention
It is commonplace for victims to skip their medical evaluation. You may feel that your wounds are not that serious, or you could be concerned about medical testing and necessary hospital treatment costs.
Moreover, you may not want to make appointments to see a medical practitioner if you're busy. However, if you intend to pursue a personal injury lawsuit, getting a physical examination is crucial to the success of your case.
Your attorney will require your medical documents to link your injuries to the event and demonstrate their severity.
3. Gather Evidence
The more proof you collect on the scene, the easier it is for your attorney to develop a strong case with the insurer. There may be a video showing how someone was killed by another driver that could be erased. So calling a lawyer rapidly is paramount to preserving evidence in the majority of cases.
This proof may consist of the following:
Pictures of your injuries and the scene of the accident
Contact information and testimonies from any eyewitnesses
The identity of the offender who caused your injuries
Personal details of the property owner where the event occurred.
Additionally, it's important to keep track of any security cameras that may have captured footage of the incident.
4. Avoid Social Media
Even if you don't often use social networking sites, you could be tempted to post a comforting photo of yourself to let loved ones know everything is well. However, social media feeds are often public, and an insurance provider can interpret such a picture as supporting proof that you are inflating the seriousness of your injuries.
It is recommended to avoid using these platforms while your case is pending and to deactivate your accounts to ensure that your activity online doesn't undermine your personal injury claim.
5. Follow Through with Your Medical Care
The insurance provider will explore every reason to deny your claim. If you don't take action to lessen your damages, such as reducing medical expenses, lost wages, property repair, and more, the insurance company can try to hold you at least partly responsible for your damages.
In other words, the insurance provider can claim that your own carelessness increased the seriousness of your injuries if you don't follow your doctor's recommendations.
5. Consult a Fremont Personal Injury Lawyer
An attorney can ensure that your case is handled correctly, that you don't make serious errors, and that your rights are protected. Wrongful death lawsuits, in particular, will require a higher caliber of lawyers. In furtherance of this goal, we have the best personal injury lawyers in California to handle your case standing by 24/7. Additionally, a personal injury attorney at our law office can gather evidence, estimate the value of your losses, and manage settlement proceedings on your behalf.
What Damages Can You Claim?
Personal injury claims are made by our law offices with the intention of obtaining financial recompense for damages incurred. Another law group may not have our spit and polish, which can mean teh difference between a windfall and a pittance in a questionable car accident case. According to California's personal injury law, victims are entitled to both economic and non-economic damages.
This includes:
Lost wages
Medical costs
Property damage
Loss of consortium
Pain and suffering.
Because each case is different, it's important to seek the help of a competent law firm to find out which damages you can add to your claim! If you were in an auto accident or some other case, our tort law specialists are available today to give you a free initial consultation and discuss whether we think you can get a fair settlement or even recover compensation to begin with. Call us today and speak with a contingency fee basis lawyer in the Fremont area.
Statute of Limitations in California
According to California law, victims have two years from the date of the incident to bring a civil action. Moreover, you have 180 days to submit a claim notice to the government body if the case involves a federal or state entity. This rule applies whether you are in Fremont, Oakland, or Newark, CA, in most cases.
In these situations, different filing requirements and timeframes must be followed. Consequently, it is a good idea to consult a skilled, knowledgeable Fremont attorney to make sure that all requirements are met before you begin attempting litigation. We offer assistance so you preserve your rights as we navigate potential options like mediation or arbitration to save resources and time over this and other damages like property repairs.
The goal here is to maximize your recovery using our legal skills to give you breathing room to obtain a fair recovery while avoiding an lengthy trial. This is what you deserve. We will protect the statute and represent you with passion and aggression par excellence.
At Ehline Law uncommon valor is a common virtue for our team and staff. It would be in your best interest to receive a free consultation with our injury law firm, as there is absolutely no risk to you in doing so, and it's totally confidential and could lead to justice in the room of money.
Wrongful Death Cases
Sometimes, injury victims succumb to their injuries. Car accidents, motorcycle accidents, and work-related cases of gross negligence can all lead to wrongful death. If your family member was the victim of such an incident, you might be entitled to compensation.
Although it will not bring your loved one back, it can help you find the closure you need. It's best to talk to one of our lawyers to learn more about your options if you suspect your loved one's death resulted from an intentional or negligent act.
Contact Our Fremont Personal Injury Lawyers in Fremont, CA Today
Are you interested in hiring a true professional and recovering the most compensation and benefits after an accident in Fremont, California, USA? Finding strong personal injury representation with a sense of honor and dedication is crucial to your success in obtaining compensation. Our legal team has vast legal experience and is dedicated to helping victims receive the financial compensation they are rightly due.
Even if you have an employment claim involving out-of-state businesses, we can take on many complex cases. It's essential to contact Ehline Law Firm today at (833) LETS-SUE or fill out the contact form. We will explain everything, even some secrets to getting paid the most. The cost of sleeping on your rights could lead to the bankruptcy court. Book your free consultation with an experienced personal injury lawyer and hire us today!
---
Michael Ehline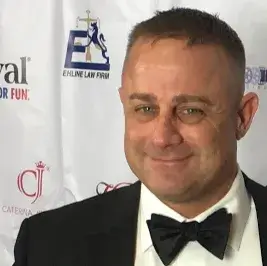 Michael is a managing partner at the nationwide Ehline Law Firm, Personal Injury Attorneys, APLC. He's an inactive Marine and became a lawyer in the California State Bar Law Office Study Program, later receiving his J.D. from UWLA School of Law. Michael has won some of the world's largest motorcycle accident settlements.
---
Recent Personal Injury News
Check out our most recent auto defects, accidents in Fremont and more, including the famous, infamous and everyday people wounded by at fault parties around the world.