If we don't win, you don't pay.
Speak to the Attorney.
Born to serve.
633 W 5th Street #2890
Los Angeles, CA 90071
(213) 596-9642.
2323 S. Voss Rd, Suite 244
Houston, TX 77057
(832) 592-1260.
Date Modified: August 12, 2023
Even if you escape death or car accident injuries, the trauma from the collision can be overwhelming. It worsens when you have to deal with medical bills, car damage repair, property damage repair, and other factors.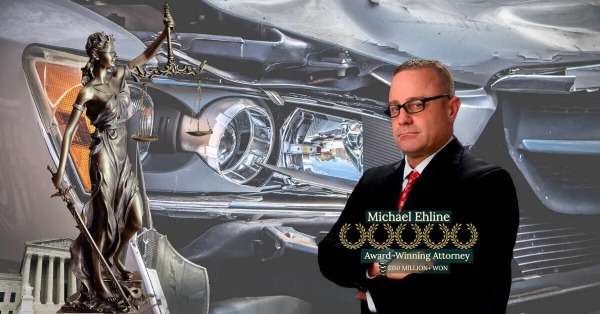 How We Can Help You
Sometimes you also have to provide statements about the incident to the police. You spend so much money and time to get your life back on track.
Fortunately, you don't have to go through all this alone. A car accident lawyer has experience in how to handle such situations. From soft tissue injuries or a more severe personal injury, including wrongful death, they can face legal issues. They also understand what you are going through and guide you to make claims. That way they can get you as much compensation as possible from your insurance company for motor vehicle accidents in NorCal.
At Ehline Law, our auto accident attorneys are always ready to provide you with the best help available after a crash in Northern California with multiple office locations. We represent injury victims anywhere in the NorCal region. Don't get misled by bad faith insurance company tactics. Don't get stuck settling your serious injury claim only to incur future medical bills later. We can send you to the best San Francisco lien doctors and make sure you get checked out!
Causes of Car Accidents
Traffic statistics from the National Highway Traffic Safety Administration(NHTSA) report that about 94% of annual vehicle accidents are due to human error. This is why our law firm specializes in handling some of the common disputes surrounding such collisions. Some cases lead to catastrophic injury claims where the at-fault driver carries too little insurance coverage.
Distracted Driving
Many negligent drivers are guilty of this error. If you were rear-ended, it was likely due to distracted driving. Driving is already a multitasking activity that requires all your attention. Adding distractions in the process only decreases a driver's reaction time to events on the road. Texting, talking on the phone, applying makeup, and many other actions take your eyes off the road. They reduce how much attention you pay to other drivers and the elements around them. As a new client, we will explain options like uninsured motor vehicle accident coverage, as many DUI cases involve an underinsured or uninsured defendant driver.
Drunk Driving
Alcohol numbs nerves and disrupts consciousness and balance. Driving intoxicated slows down reaction time and leads to many crashes. This doesn't always mean these drunk drivers are to blame for the collisions. An auto accident lawyer can analyze police reports to determine the party to blame in pursuit of justice on behalf of the car accident victims. We will interview witnesses and work hard towards the largest financial settlements on behalf of injured clients.
Hit and Run
In a hit and run, a driver doesn't stop to assess the damages they leave behind after causing a car crash. They may have not just ruined property or another car but also injured or even killed someone. A car accident lawyer has the necessary resources to handle such a car, truck, bus, or motorcycle accident victim with many injuries. Sometimes we may even seek punitive damages against the scofflaw driver.
Road Defects
Drivers are not always the cause of a motor vehicle accident with personal injuries. Sometimes roads are riddled with potholes, uneven pavements, and many dangerous defects. These easily trigger loss of control and cause accidents with a permanent disability.
Car accident lawyers help your insurance claims against the agencies in charge of such roads.
Speeding
California law prohibits driving too fast. The more a driver accelerates, the less control they have over the car. If they have to swerve or suddenly stop at top speeds, inertia throws the car off balance and causes severe accidents. Many people have lost their lives this way, and their loved ones left behind deserve a financial recovery from the at-fault party or other responsible parties.
Vehicle Defects
Vehicles develop faults that lead to accidents of various kinds. There are situations when these defects are due to a failure in the manufacturer's design. Other times, they are because of the driver's lack of maintenance culture.
To handle a claim like this requires the services of a car accident lawyer that uses reports from other experts to examine the vehicle. You can reach out to our firm in Northern California if you have such a situation on your hands.
Statewide Law Firm
Are you in El Dorado County, Yuba County, Solano County, San Joaquin County, Yolo County, or Sacramento County and can't find a skilled attorney for a free case evaluation? We serve clients anywhere in the Bay Area. Hold off on giving the insurance company a recorded statement until we can develop a clear picture of your rights and obligations and give you a full understanding.
Creative Solutions
We offer creative solutions when seeking out other liable parties with deeper pockets on behalf of new clients. You can learn more during our free consultation, which would occur before you blow it by speaking with insurance adjusters who do not have your best interests in mind. If you want to recover compensation sufficient to cover your expensive medical bills and property damage claims from the insurance provider, you need to speak with our legal team first!
How Many Car Accidents Occur in California?
California has a terrible driving safety record compared to other states in the USA.
Statistics show that it tops the ranking for the most car accidents resulting in personal injury and death. Some experts blame the size of the population for this situation. The idea is that more people means more drivers and car trips. This also increases the probability of an accident occurring during one of these trips.
The 2017 California Highway Patrol Report broke down the accidents as listed:
Out of the 197,146 car crashes reported, 3,583 were fatal. The remainder resulted in various degrees of personal injury.
3,582 fatal crashes resulted in 3,904 deaths. 2,809 of those who died from the accidents were drivers, and 690 were passengers. The rest of those who lost their lives were either pedestrians or cyclists. Statistics show drivers are most likely to lose their lives in a fatal accident in California.
The majority of the accidents in California occurred in Los Angeles. About 36,037 accidents, representing 18.28% of the total number of car accidents, occurred here.
On average, the state recorded 20 accidents every hour. This breaks down into a car accident every three minutes. It is an alarming number when you consider the fact that not all accidents are reported.
Speeding accounted for 32% of car collisions in California, making it the leading cause of death in the state. Considering that speeding is an avoidable error, it is sad to realize that many accidents are due to negligence by drivers.
The mileage death rate was 1.13. To bring it into more perspective, about every mile of road in California recorded a fatal accident in 2017.
How to Know If You Have A Financial Compensation Claim
After a car accident, knowing whether you qualify to make a compensation claim is vital. You should check the following things to know if you are eligible:
Was the negligence of the other party a factor that led to the collision?
Were there any injury victims or worse due to the accident?
Ehline Law's car accident attorneys can help you with these and any other inquiries you might have concerning your eligibility. When lawyers from our law firm have established that you meet the necessary criteria, they will help you build a solid case. We can also help you add vehicle coverage to the claim if any part of it got damaged in the car accident. Reach out as soon as possible for a free consultation.
Steps to Take If You Are Involved in a Car Accident in California
As a law firm, we recommend that you take the following steps after surviving an auto accident in Northern California:
Record the number plate of the other vehicle if it is a car accident between yours and another. You can memorize it, take a picture of it or write it down somewhere. This information will be necessary for so many things.
Call the police immediately to report the incident. Officers who arrive at the scene can help compile a standard accident report that captures the damage to properties and the state of the people involved. They also help seal off the area to make way for emergency responders to work.
Try and receive medical attention no matter how you feel. A medical officer should help determine if you have any injuries and if they are major or minor. This also gets you urgent help if you require it. The medics' report is proof that you sustained common car accident injuries, as you claim. It will save you a lot of headaches with insurance companies later on.
If possible, take as many pictures as you can. This is not for social media but to help your attorneys better when building a car accident case. Capture the damage, your injuries, and any other you feel will be relevant to your claims.
It is better not to say anything even if the other person confronts you. Only talk to the police. Even with that, try not to admit fault or apologize for anything when describing what happened. You don't want to jeopardize your case later over something you said while confused.
Write down everything you remember about the accident as soon as you can. Ensure that you put down every detail to improve your chances of receiving more compensation. The more information available, the happier your car accident attorney will be when handling your case.
Talk to your lawyers before talking to insurance companies. Ensure you inform them of the incident, but any discussions about claims and agreements should have to be in the presence of your accident attorney. You don't want to sign away any of your compensation rights unknowingly.
Store a copy of every record or receipt of your expenses in a safe place. These documents provide details you may not remember about events after the accident. They capture repairs, hospital bills, medications, and many other costs to claim from the insurance companies.
Contact a car accident attorney from our law firm. We do not get tired of emphasizing that we are your best chance of getting the highest compensation possible within California.
It may seem weird that we encourage you to hire a lawyer early. This is for your good and helps you avoid common mistakes people make that affect the value of their claims.
Provide your lawyer with all the information and documents and let them handle the discussions with the insurance company. Focus on resting so that your body heals as early as possible.
Reach out to Ehline Law immediately. As a law firm, we solidify our attorney-client relationship with you when we help you get the compensation you deserve.
Contacting Your Insurance Company after the Accident
Get a notification from your insurance company or insurance company of the party at fault once they receive word of your accident. It is understandable to want to interact with your insurance company as soon as you are involved in an accident. Contacting the insurance people of the party at fault is not advisable. You want your car accident lawyer to be present for such a meeting.
Our law firm has experience in dealing with car accidents in Northern California. We consider your medical bills, damage to your car, and many other expenses that capture the cost of your accident in detail. Contact us to deal with the insurance company to ensure that you get a fair settlement.
Is it Necessary to Go to Court over an Auto Accident Claim?
Though many people settle claims before they reach courts, every experienced car accident attorney prepares for every scenario. If the insurance company of the party at fault is difficult, the claim moves on to a litigation phase.
Lawyers at Ehline Law have the best car accident claims records in California. We are always prepared to go to extreme lengths to help you get the compensation you deserve.
How to Hire the Best Car Accident Lawyer to Make Your Claim
Several car accident attorneys are available to help you make your case in California. You get different results depending on who you choose to represent you.
The following steps should help you select the best lawyer for your car accident claims:
Many law firms include free consultation in their services. It is an excellent idea to visit or contact a few of those with your cases to listen to the kind of advice you get from them. You can better compare them and choose which feedback you consider best.
Check the history of the attorney handling your car accident case and find out the probability of wins for similar claims. Their track record should inform your decision to hire them or not.
Explore how the lawyers you consider approach claims. Do they prepare for every scenario or always push for a settlement that makes their work easier? An experienced attorney that prioritizes the ease of work over what you deserve is not one you should hire.
Have a list of qualities you believe your car accident attorney and law firm should have. Some clients go for the experience, while others go for reputation, compassion, responsiveness, etc.
Ehline Law has assisted clients in Northern California for a long time with the best lawyers in the business. Our track records are solid, and we approach cases with a "client first" policy. We are also available to offer a free consultation regardless of the issues you are experiencing with your claims.
California's Minimum Auto Insurance Requirement
Compensation is not as straightforward as it should be in most personal injury cases. When you sustain injuries or incur damages in a car accident, the laws in California set a minimum liability insurance cover for you. San Francisco, for example, is likely the world's door ding and double park capital. Its twisting, winding, hilly roads are a recipe for property damage claims. Call us to see if you have enough coverage for this and potential physical injuries before driving another mile in any type of motor vehicles.
The insurance for critical injuries or wrongful death from a car wreck has a limit of $15,000 per person. Payment to all parties involved in the car accident also has a limit of $30,000. That for property damage is currently $5,000.
These amounts may seem okay till the medical bills and cost of property restoration exceed them. It can be difficult to get insurance companies to pay extra.
We are always available as consultants if you are in such situations in California. Our accident lawyers can help you improve your potential accident claim to cover all your expenses.
Making a Personal Injury Claim in California
The following describes the allowed periods for you to make legitimate personal injury claims in California:
Bodily Injury Claim
You have to contact your insurance company immediately after a car accident. This is even more important if you must claim bodily injury. The period varies between companies; it is best to do it through legal representation. California has complex laws concerning this claim; you wouldn't want to mess up your claim.
Personal Injury Lawsuit
In California, you have two years to file such a lawsuit or accept a settlement offer from the insurer. The inability to do any of these makes it nearly impossible for any lawyer to help you. As America's top personal injury law firm, contact us as soon as possible.
Government Entity Claim
Like the bad road situation discussed earlier, some accidents are because of the negligence of government agencies. The laws in California give you six months or 180 days for you to file your claim. Filing a claim against San Francisco differs from in Los Angeles, so a trained lawyer would be ideal to avoid rejecting your car accident claims.
Contact an auto accident lawyer as soon as possible to enable you to make your claim within whatever time limit the laws state.
Call (833) 538-7783 or (213) 596-9642 to reach America and San Francisco's top personal injury attorneys for a free consultation. We help you build a solid argument for your claims.
Personal Injury Compensations Available after a Car Crash
Your car accident attorney guides you to get compensation from insurance companies. They help you properly draft a demand letter that captures all costs incurred and future projections.
The following are a few of the items of available compensation:
Costs from medical treatment received for injuries
Projected expenses from the medications prescribed within a specific period
Lost wages or jobs due to injuries sustained from the accident (Lost wages would be in addition to lost contracts.)
The cost you incur seeking psychological help when traumatized by your personal injury
Property damage as a result of the crash
Scarring and disfigurement due to the personal injury accident
Provisions for temporary or permanent disabilities developed from the personal injury accident.
Overlooking some costs may affect your finances heavily when you could have just received compensation. Our law firm focuses on helping you avoid such oversights when making your demands.
Discuss Your Case with the Best Car Accident Attorney in Northern California
There are several dimensions to claiming after an accident. In Northern California, you need top-quality legal aid to ensure a smooth discussion with insurance companies in this regard.
Ehline Law has served clients in the Northern California area, including San Francisco and other locations, since 2005. Over the years, our resolve to fight for clients as if our lives depend on it has only grown.
Check out the testimonials from our past clients and take that step to be the next person we serve with empathy, courage, compassion, and commitment. Our clients trust us for a reason. Once you leave the accident scene, call us as soon as physically possible to protect your rights for an accident caused by negligence. Call us at (833) 538-7783 or (213) 596-9642 for our free consultation service. We have the best car accident lawyers to help you evaluate your case.
Michael Ehline is an inactive U.S. Marine and world-famous legal historian. Michael helped draft the Cruise Ship Safety Act and has won some of U.S. history's largest motorcycle accident settlements. Together with his legal team, Michael and the Ehline Law Firm collect damages on behalf of clients.
We pride ourselves on being available to answer your most pressing and difficult questions 24/7. We are proud sponsors of the Paul Ehline Memorial Motorcycle Ride and a Service Disabled Veteran Operated Business. (SDVOB.) We are ready to fight.