Proving Liability in Los Angeles, CA Car Accident Claims
One of the most important elements of winning a car accident case is being able to prove liability beyond the shadow of a doubt. Personal injury attorneys tend to have three objectives where this burden of proof is concerned.
The negligent driver:
Had a duty of care while operating a motor vehicle

Neglected to act per the said duty of care established
Additionally, the resulting car crash must've been the result of the neglect alluded to above. Once all this is established, your Los Angeles car accident lawyer then needs to link the accident and the injuries you received. This also means establishing that immediate medical attention was required as a result.
What Kind of Motor Vehicle Accidents Do We Handle?
After having been in a car accident, you likely don't have the presence of mind to be battling with an insurance company for what you are entitled to. Unfortunately, without Los Angeles car accident attorneys, that's exactly what many victims must deal with.
Lowball Settlement Offers
Sometimes, these companies strategically avoid personal injury lawsuits altogether by offering what seems to be a fair settlement at the onset. Not only are you likely being grossly underpaid, but you're possibly even giving up the ability to seek any further compensation in the future.
Instead of doing it on your own, let a Los Angeles car accident attorney from Ehline Law Firm fight the battle on your behalf. Here's a look at some of the accident types that we've demonstrated proficiency in dealing with.
Drunk Driving Accidents
Unfortunately, many car accidents are caused because irresponsible drivers choose to use the roadways under the influence of alcohol. This impairs the ability to function effectively behind the wheel, which often leads to injuries for unsuspecting and innocent parties in the equation.
We, however, ensure they are held accountable for any auto accidents they cause that bring harm to our clients.
Head-on Collisions
As you can imagine, a head-on car accident is a devastating ordeal. These are some of the most serious cases to happen, and they are often characterized by catastrophic injuries. In fact, many of the fatal car accidents that you may hear about in Los Angeles, CA, fall under this category.
Get Justice
If you or a loved one was harmed because of any such collision, allow our law office to seek justice on your behalf.
Hit and Run Accidents
Hit and run car accident victims have a particularly tough time since holding the negligent driver accountable can be quite the challenge. Nevertheless, we recommend that you speak to one of our personal injury lawyers to find out what kind of options you may have in such a situation.
Rollover Accidents
Due to the forces at play and the very nature of rollover accidents, they can also lead to some hefty medical bills and even death in many cases. It's not uncommon for people who've been involved in these kinds of car accidents to end up with some kind of permanent issue.
Whether the problem was distracted driving or something else, there's no reason why you should be made to suffer because of someone else. Let an Ehline Law Firm auto accident lawyer in Los Angeles stand up for your rights.
Side Impact Collisions
Depending on the side of the car that takes the impact, the driver or passenger can become severely injured. Depending on the circumstances, it could even be both. Our team is prepared to help you ensure you recover the property damage and medical expenses associated with the serious injuries you or a loved one may have suffered.
Speeding Accidents
It's well known that drivers who are moving too quickly often cause accidents because of the lack of control they have over their vehicles. If any such car crash has led to damage to your person or property, reach out to us for a consultation as soon as possible.
Rear-end Collisions
These kinds of motor vehicle accidents are not supposed to happen since drivers are meant to maintain a safe distance from each other even when there's heavy traffic present. Not doing so may have led someone to hit the rear end of your vehicle.
Front?
While they may not be as worrisome as head-on collisions, the rear-end variation still poses an injury risk and leads to vehicular damage. Our legal team is well equipped to tackle this kind of scenario for you.
Parking Lot Accident
You would think that a car accident would not be happening in a parking lot. However, whether because of speeding, a lack of alertness, or another reason, a parking lot is sometimes the site of an accident scene in Los Angeles, CA.
Typical Causes of Los Angeles Car Accidents
Car accident attorneys deal with a plethora of cases that feature a host of different variables. If nothing else, it has proven that there are numerous reasons that these collisions happen.
Some of these are as follows:
Regardless of what may have led to the accident, you're not supposed to be dealing with the aftermath of a problem on your own when someone else caused it. That's why we're committed to ensuring you have a personal injury attorney with your best interests at heart.
Are You Required to Have a Car Accident Lawyer?
Until this point, we've advised you several times to retain the services of a Southern California car accident lawyer. Though you may be considering it, you may also want to know about the legal requirement behind doing so.
Technically You Can Self Represent
Technically speaking, car accident laws do not stipulate that personal injury cases require a lawyer to proceed. However, you may want to think twice before you go down the road of foregoing one entirely.
The other party's insurance company will not play nice, and you can bet you'll be facing a lawyer on the other end.
Even if the way the accident unfolded would make it obvious who's at fault, you may still end up getting no compensation because you didn't know how to deal with the tricks being used on the other end.
Sharing Risk and Reward?
Remember that there's no need for you to worry about how you're going to pay us for your car accident case considering we do this all on a contingency basis.
What Kind of Questions Should You Be Asking Your Los Angeles, CA Car Accident Attorney?
Don't simply believe that a lawyer can defend your case well because of a job title. Not only are you encouraged to verify any accolades that your lawyer may have, but you should also ask the necessary questions to maximize the amount of value you get out of the engagement.
Here are some of the questions you need to be asking:
How long have you been handling personal injury cases?

Have you dealt with any cases like mine? If yes, have you frequently done so?

What can be done to ensure that the chances of a successful outcome are maximized?

What is your plan to seek out fair compensation without having to take the case to trial?

What is your estimate of how long it will take for my case to be resolved?

What kinds of resources do your company employ to ensure that my case is thoroughly researched and put together well?

You can use these as more of a baseline, but if anything ever comes to your mind that you need clarity on, feel free to ask about it.
California Car Accident Laws to Remember
One of the undeniable benefits of having a car accident lawyer in your corner is the ability to navigate complexities. California car accident law has quite a lot of them, and it won't take you long to see why you need a legal professional on your side. Here's a look at three of the main staples.
Liability
Liability lies with the negligent party, but the state of California uses what is known as the rule of pure comparative negligence. In other words, you may be worried about being able to claim compensation if you know that you are partially to blame for the accident.
More About Pure Comparative Negligence
While California won't outright stop you from getting any compensation at all, you will find yourself in a situation where the damages you can recover are based on the proportions of fault borne by each party.
So theoretically, if you are the victim but are somehow 80% responsible for the accident, you could still receive a settlement award totaling 20% of the compensation that could be awarded if you had no fault in the matter.
Fault-based Insurance
Your car accident claim will be based on California's fault-based approach. First, it mandates that anyone operating a motor vehicle must have the required insurance coverage to do so. Instead of filing claims directly with the negligent party, they are filed with the party's insurance company.
Nevertheless, there is a bit of an exception to the rule. If the circumstances necessitate bringing a lawsuit forward instead of a claim, it will be allowed.
Statute of Limitations
This is an important concept even beyond the confines of personal injury law. Typically, if there is an incident to be handled legally that requires a claim or case submission, this cannot be done indefinitely.
There is a time beyond which the submission will no longer be accepted. This is your statute of limitations. In California, you have two years following your auto accident to submit your claim. If there is a property damage-only claim, then you are allowed three years.
Don't Blow Your Time to File a Claim
You must file within this time. Only under extenuating circumstances will any kind of exception be made for you to file your claim thereafter.
We advise anyone who is a victim of a car accident to get the process started as soon as possible. This makes case-building more practical and increases the likelihood of a successful outcome.
What to Do Immediately After Car Accidents in Los Angeles
After you've been in a car accident in Los Angeles, CA, you may find yourself feeling shaken up and unsure of how to proceed. Unfortunately, this is happening at a time when you need to exercise some of the best decision-making possible since you could affect your claim negatively otherwise.
Pay attention to the information provided below and ensure to do your best to follow through on each point.
Prioritize Medical Treatment
Thankfully injury victims have well-staffed and comprehensive medical outlets for treatment after a car accident. Medical care needs to be one of the things at the top of your list. After all, you can never tell the true extent of your injuries after a car accident without the proper observation.
Many injured victims feel fine not knowing that they have internal bleeding or some other serious complication going on inside. Apart from the care that you get, medical bills are generated from the medical facility visit, which can be used in the future when the time comes to attempt to seek compensation.
Gather All Evidence Possible
Evidence is a big part of the case that your car accident lawyer will build on your behalf. While much of it comes from an investigation by law offices, some of it is also based on the data that you can gather from the scene after the accident happens.
Therefore, assuming you can move around after the auto accident, try to gather as much relevant data as you possibly can.
Some great places to start include the contact information of any parties involved in the accident, contact details of any eyewitnesses, pictures of the state of the vehicles and the people involved, images of crash positioning, skid mark footage, etc.
If you're trying to paint a picture that will lead to your getting a fair settlement, the more sound evidence you have to fit your narrative, the better.
Avoid Speaking to Any Insurance Company and Do NOT Admit Fault
You may think that insurance companies don't become a worry in a claim until your car accident lawyer submits a settlement request to insurance claims adjusters.
However, this couldn't be further from the truth. You may notice that the negligent party's car insurance representative wastes no time in reaching out to you to find out how you're doing.
While it may seem like a noble gesture, it's an attempt to get you to slip up and indicate you're not doing badly so that information can be used against you in the future.
Similarly, you may be offered an early settlement, which is woefully insufficient since you don't know the extent of your damages.
Even if you haven't reached out to a Los Angeles car accident attorney yet, tell the insurance company that you're only willing to speak in the company of your lawyer.
Ensure a Police Report Is Completed
This is another crucial element in the building of any case. You would be surprised how much weight the police report holds in the entire legal process. Therefore, it's impossible to overstate the extent to which you must ensure you file a report with the police.
In many cases, a police officer is called to the scene. You can usually provide your statement on the spot. However, due to your condition or for some other reason, this may not be the case.
If so, ensure you visit the relevant police station based on the location of the accident as soon as possible and make your report.
Call Your Los Angeles, CA Personal Injury Attorney
Reaching out to a reputable personal injury law firm should also be high up on your list. Beyond the free consultation, you get a host of insights that help you to ascertain what to do to bolster your case.
Ideally, you want to use car accident lawyers such as those at Ehline Law Firm who have been at the center of car accident cases in the past, which gives a certain desired level of expertise.
Types of Compensation Available for Victims in a Los Angeles Car Accident Case
Car accident lawyers in Los Angeles, CA are paramount to ensuring that the at-fault party that has wronged you pays a fair settlement. Doing so means considering a lot more than just the amount of money you spent at the hospital or the damage done to your car.
The damages that can be claimed from a Los Angeles car accident fall under the categories of economic and non-economic damages. The former tends to be a bit easier to put a price tag on since the values are based on receipts and other data sources that allow for an exact number to be derived.
Non-economic damages, while paid over financially, do not have an established monetary value and tend to be based on quality-of-life issues that arose out of the accident.
Medical Bills
Whether you had mild or severe injuries, any money that had to be spent getting medical treatment because of the accident falls under this category. Ambulance payments, physical therapy, medicines, surgery, etc. are good examples.
Note that car accident lawyers factor in what you would've already spent on your medical bills as well as future costs based on the course of treatment prescribed.
Property Damage
It doesn't take truck accidents to cause damage to your vehicle. Even without an obscenely harsh impact, the negligent party in the equation may leave your vehicle needing a new paint job, bodywork, etc.
Additionally, if there was property on your person or in the car that was also damaged, that would be factored in here.
Lost Wages
Lost income is often synonymous with injuries from car accidents in Southern California. Experienced Auto accident attorneys are very proactive here by considering the amount of income you have already lost plus any additional income you won't be able to make because of the state you'll be in based on your prognosis.
This element of the settlement is essential. Why should you be unable to earn your usual paycheck because of someone else's negligence?
Wrongful Death
A wrongful death lawsuit may be a part of the equation as well. Unfortunately, those involved in car accidents in Los Angeles, CA, sometimes find themselves with incredibly serious injuries that end fatally.
Wrongful death cases tend to be brought to attorneys by family members of the deceased party. The damages here can take different forms.
From a non-economic standpoint, for example, there's the grief that the family is dealing with from the loss of a loved one. Economically, the person may also have been the main breadwinner in the household, which would leave survivors deprived.
We Fight Harder
A Los Angeles car accident lawyer is ready to fight for whatever may be applicable to ensure that you get the maximum compensation possible.
We understand that no price tag could ever heal your emotional wounds or bring your loved one back, but we are determined to ensure that you don't have to suffer financially too.
Loss of Consortium
Broken bones, paralysis, traumatic brain injuries, or other serious conditions may leave a married individual unable to meet the intimate demands of the marriage. When this is the case, the affected spouse may file a claim for loss of consortium.
Punitive Damages
Though the term "accident" is used, sometimes the entire ordeal is not as accidental as it may initially appear. For numerous reasons, defendants may have maliciously caused the damages they did.
Of course, this requires your attorney to prove that malice was at play. While getting punitive damages is beneficial to you, this is one of the only payouts that are less for your benefit and more to teach the aggressor a lesson.
The intention is to discourage such behavior in the future if a similar situation to the one being reviewed should ever present itself.
Pain and Suffering
There's typically physical pain associated with accidents in Los Angeles, CA. Perhaps lost wages are a result of the unbearable pain that the victim now feels consistently as a part of the recovery process.
In any event, this is non-economic damage that aims to compensate the victim for the mental anguish and physical agony that follows the car crash.
Common Los Angeles Car Accident Injuries
After having dealt with so many accident cases in Los Angeles, CA, we have managed to put together a list of the most common injuries associated with the phenomenon.
If you don't want to take our word for it, consider that 40,669 accidents occurred that led to injury or death in 2021, and these are the most prevalent ones.
Head Injuries
These are often very concerning, particularly because of their potential for permanent damage. Blunt force trauma or violent sudden shaking of the head may happen leading to concussions or traumatic brain injury. Either of these, as well as other head injuries, can severely hamper your ability to function.
Spinal Damage
Like head injuries, spinal damage can present the possibility of permanent disabilities. Many Los Angeles drivers that have visited law offices after spinal car accident trauma either found themselves partially or fully paralyzed temporarily or permanently.
Broken Bones
The impact of an accident also presents the possibility of broken or fractured bones. Not only are these painful, but the recovery process often puts the victim out of commission.
Road Rash
Los Angeles roads have been the scene of numerous road rash incidents. You're most likely to see this happen in a pedestrian or motorcycle accident. Victims are flung from the impact point and their skin is dragged along the ground causing lacerations, cuts, etc.
Whiplash Injuries
When the head violently snaps after the impact of an accident, the neck finds itself in an awkward position that can injure the upper spinal area. Pain and temporary loss of function may occur in less serious cases.
On the more severe end of the spectrum, whiplash injuries can have permanent effects or even lead to death.
Scarring or Disfigurement
Accident victims may find themselves scarred after the injuries suffered. Disfigurement is also possible ranging from bad markings to severed body parts.
Wrongful Death
Reckless driving sometimes leads to death for victims. This may be from injuries that worsen up to the point of treatment and beyond or from an impact that is so severe, that death occurs almost immediately.
How Can You Increase Your Chances of Gaining Maximum Compensation After a Los Angeles Car Accident
Your best bet to maximize your chances of a fair settlement after a car accident in Southern California is to avoid professing fault to other parties while ensuring that you listen to the advice of your attorney.
Los Angeles, CA Car Accident FAQ
How Long Do I Have to Report a California Car Accident?
The statute of limitations in Los Angeles and other locations in California is two years. You get three years for claims only featuring property damage.
Are Car Accident Lawyers Expensive in Los Angeles?
You don't need to worry about what a Los Angeles personal injury lawyer costs since cases are taken on a contingency fee basis.
What if I Have No Catastrophic Injuries and My Accident Is Minor?
Insurance claims are still possible in Los Angeles for accidents you may consider minor. You never know how serious your claim is until you've had an attorney look it over.
Can Being a Partially at Fault Party Affect My Car Accident Claim?
Yes. Since Los Angeles is located in a pure comparative fault state, you can only claim up to the percentage of fault attributed to the other party.
Is Getting a Los Angeles Auto Accident Attorney Worth It?
A Los Angeles accident attorney knows all relevant legal nuances and can help you to recover medical expenses, lost wages, and more!
What Is the Best Time to Call Personal Injury Lawyers After Car Accidents in Los Angeles, CA?
If you've been in an auto accident, call your attorney immediately!
Schedule a Free Consultation Today with One of the Best Southern California Auto Accident Lawyers Today!
Ehline Law Firm is among the best in Los Angeles for all forms of personal injury cases. We put you at the center and will fight to no end to ensure that you receive a fair settlement.
Contact us at (833) LETS-SUE to schedule a free case evaluation today!
---
Michael Ehline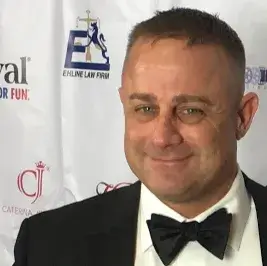 Michael is a managing partner at the nationwide Ehline Law Firm, Personal Injury Attorneys, APLC. He's an inactive Marine and became a lawyer in the California State Bar Law Office Study Program, later receiving his J.D. from UWLA School of Law. Michael has won some of the world's largest motorcycle accident settlements.
---
Recent Personal Injury News
Check out our most recent SoCal autoing accidents and more, including the famous, infamous and everyday people wounded by at fault parties in cars around the world.