El Segundo Injury Attorney / Los Angeles / El Segundo Spine Injury Lawyer
Call a Personal Injury Lawyer at Ehline Law for a Free Consultation in Dana Point
In case you experience a severe injury in El Segundo, the Ehline Law Firm is ready to assess your tort case in the most compassionate and professional way possible. You can contact our unstoppable litigators, trial attorneys, and paralegals to assess your legal claims via phone or our website.
A car accident is a common reason for injury in El Segundo, and depending on how intense the car accident was, you may experience a complete or incomplete spinal cord injury. These injuries are often traumatic for the body, leaving the victim and their family with several physical and emotional trauma. Our Los Angeles spinal cord injury attorney can help you normalize your life after that traumatic event; make the right choice, and let our elite team with impeccable reputation take your tort case.
Michael Ehline's negligence law firm has helped many people in Los Angeles get the financial compensation they deserve following a car accident for over 15 years. If you're looking for an injury lawyer to assess your spinal cord injury tort case and fight the insurance companies, make sure to request a free consultation with us via phone or our website for full and fair compensation following a traffic accident or other incident that require a lot of medical expenses.
What is a Spinal Cord Injury?
The spinal cord makes up the central nervous system along with the brain; its job is to transmit nerve signals from the motor cortex to the rest of the body, making it a vital part of our bodies. Victims of a spinal cord injury can experience some future issues in sending and receiving sensory, reflex, or motor information, which affects their ability to move or walk.
There are two spinal cord injury types that the victim may experience, depending on the accident: complete and incomplete injuries. A severe attack on your spine can cause permanent damage, which results in tetraplegia or paraplegia, whereas an incomplete spinal cord injury results in reduced mobility in most cases.
What Are the Spinal Cord Injury Levels Due to Car Accidents?
Your spinal cord can suffer from one of four levels of injuries following a traffic accident, and each one refers to a section of the spinal cord:
Cervical Spinal Cord Injuries

Thoracic Spinal Cord Injuries

Lumbar Spinal Cord Injuries

Sacral Spinal Cord Injuries
Additionally, each section has a nerve classification. For example, C spinal cord injuries involve paralysis in arms, hands, trunk, and legs, making them the most intense ones. On the other hand, T spinal cord injuries mostly affect arms and hands only. A motorcycle accident in El Segundo is almost always associated with horrific back and head injuries, as an aside. Although passengers in cars are less susceptible to spine fractures, due to the seatbelt, the snapping motion of the neck in an El Segundo crash can cause major upper neck conditions.
In El Segundo, California, a spinal cord injury may come from several factors, although the most common causes are auto, bicycle, and motorcycle accidents; in these cases, the accident may happen due to a defective product or negligence.
While motorcycle, bicycle, and auto accidents are the most common causes of back injuries, you may also experience an injury while walking in a grocery store, shopping mall, crosswalk, and others.
Regardless of the type of injury you experience in El Segundo, California, it may be best to request a free consultation by phone with our personal injury lawyers at the Ehline Law Firm; we can give you more information that may be helpful in the future.
Is a Spinal Cord Injury Lawyer the Right Choice for You Following Automobile Accidents?
People who suffered an injury to their spine due to car accidents in El Segundo, California, often have to go through extensive medical bills, overwhelming legal processes, and long discussions with an insurance company. In these cases, injury attorneys in El Segundo, California can ease some of the pain that you or your loved one may suffer from experiencing one of those injuries. We can help you recover the cost of everything from medical bills and lost wages to repairing a damaged vehicle or paying off a body shop. We have recovered millions for our clients.
We've helped thousands of victims to recover from the damage caused by negligent parties thanks to our personal injury lawyers, who have over 15 years of experience in injury law in El Segundo, California. Thanks to the hard work of our legal group over the years, we've been able to help each client get the settlement they deserve for everything they suffered.
Our attorneys' compassion and legal competency have allowed our company to become one of the best injury lawyer businesses in El Segundo, California. If you need a company of aggressive and efficient lawyers, we're a phone call away; the key to success is intense preparation and setting goals, and our organization is ready to tackle any obstacles along the way.
Why Should You Hire the Ehline Law Firm for Spinal Cord Injury Cases?
Our legal group of attorneys in El Segundo, California has won several millions for our clients, helping them get the medical attention they need. Having your spinal cord injured can be fatal, which is why we ensure that the insurer accepts legal liability for your damages and help you cover recovery costs.
Additionally, we work with a contingency fee, in which our personal injury attorney gets paid a percentage of your monetary compensation after we settle your tort case. Once we ensure that the insurer or the negligent party accepts liability for the physical/emotional trauma caused, your compensation is going to pay for our legal services in El Segundo, California.
How Can a Spinal Cord Injury Attorney Help Spinal Cord Injury Victims?
Michael Ehline's goal goes beyond getting his clients the financial compensation they deserve from the insurance company. Here are some of the things that our attorney in El Segundo, California, can also help you with:
Free case reviews over the phone and online.

Expert attorney help.

Assessing medical assistance right after an unfortunate event.

Confidential consultations.

Building a compelling case.
You may request a more detailed overview of our legal practice, our service, and other related queries on our website or by phone. We offer a free consultation for our clients.
What Happens in Case of a Wrongful Death?
According to the El Segundo, California, law, a wrongful death case happens when someone kills your close relative by accident. In these cases, the client requests help from our personal injury attorney to get compensation for loss of earnings, consortium, loss of love, and others.
You can contact our compassionate and charismatic injury lawyers in El Segundo, California by phone or via our website to request more information about how the law works for these cases.
As California law states, you don't have to request assistance from injury lawyers if you don't want to; this is common for small injuries in which the settlements may be lower than the fees you have to pay the lawyer.
Overall, you may represent yourself if you experienced minor injuries, but if you got severely injured, getting help from an attorney may be the best option. Make sure to phone the Ehline Law Firm or go to our website to request more information about our attorney services and practice.
Our El Segundo, California attorney calculates your damages by considering several factors, such as proving liability, general, economical, and psychological damages, and demand package.
We're going to calculate emotional, economical, and physical damages differently depending on what happened, meaning the estimated monetary compensation depends on the circumstances surrounding your tort claim. If you want more information, schedule a consultation with our El Segundo, California lawyer via phone at no additional cost.
Spinal cord accidents can be fatal for anyone, and in some cases, life-changing. Thankfully, the Ehline Law Group can help you prepare for any type of claim in El Segundo, California. If you or a loved one want to request more information or free consultation from our trial lawyers, we're a phone call away! We've helped hundreds of people in L.A. over the past 15 years, and we're ready to help you too.
---
Michael Ehline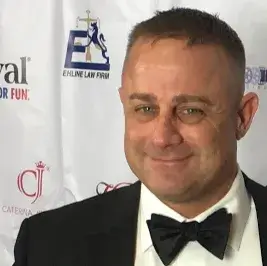 Michael is a managing partner at the nationwide Ehline Law Firm, Personal Injury Attorneys, APLC. He's an inactive Marine and became a lawyer in the California State Bar Law Office Study Program, later receiving his J.D. from UWLA School of Law. Michael has won some of the world's largest motorcycle accident settlements.
---
Recent Personal Injury News
Check out our most recent spine injury law blog posts about the famous, infamous and everyday people wounded by at fault parties around the world.