If we don't win, you don't pay.
Speak to the Attorney.
Born to serve.
633 W 5th Street #2890
Los Angeles, CA 90071
(213) 596-9642.
2323 S. Voss Rd, Suite 244
Houston, TX 77057
(832) 592-1260.
Date Modified: June 12, 2023
The anxiety of traveling and dealing with DHS is enough to stay home. But many people are forced to travel to and from LAX, one of the world's most stressful, terrible airports.
We Will Help Every Time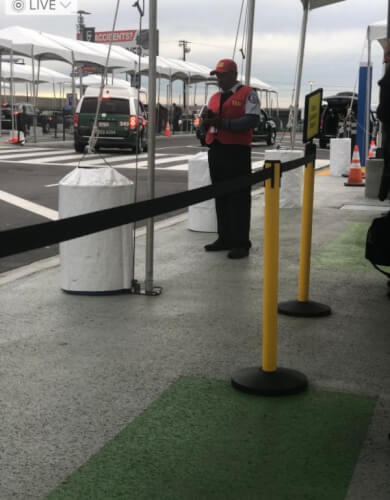 LAX is likely the least favorite place to travel, with most people prefer Ontario, Orange County, or San Diego airports. The last thing most travelers think about is filing a lawsuit against an LAX taxi company for poor security, negligence behind the wheel, or other factors.
Did you get in a taxi crash or suffer a sexual assault by an LAX taxi driver with commercial training? Did another California lawyer reject your LAX taxi passenger case, and you are now seeking a second opinion about your travel claim? Taxi injuries have gone way down since California embraced Rideshare companies, effectively redistributing car accidents to cars crewed by noncommercial drivers. (Companies with far lower overhead than a Los Angeles taxi.)
Rideshare Companies Made Cabbies Desperate?
Yes, they have! Rideshare companies, like the politically connected Uber and Lyft, have virtually decimated the licensed taxi cab industry, especially at airports like LAX.
The same happened at Ontario, the San Diego Lindbergh Airport, and San Francisco. (Read more.). The once politically protected cab company still has to pay the Draconian taxes and license fees, leading to drastic financial losses of income and loss of veteran associates.
But now, LAX cabbies with more skill and time driving commercially must compete with novices who don't have to pay the usual government tribute between dodging pedestrians and the permanent, guaranteed voter poop on Los Angeles sidewalks. Below, we will offer some advice to residents and travelers and explain how the verdict and settlement process works when faced with ordinary negligence causes.
Did Money Save Taxis From California?
The only silver lining most cabbies have in the single-party state of California is the hope their campaign lobbying money saved LAX for them. In other words, LAX is finally starting to favor commercial taxis again, making it harder for a regular person to travel swiftly by motor vehicle.
Los Angeles politicians realized they would lose revenue from Los Angeles taxi cab companies unless they started screwing consumers more. In other words, California Democrats realized that too much capitalism was terrible and needed more big government to right the tax-funded ship. For people who fly and need to act quickly, an LAX Taxi stand is generally better than taking a shuttle bus to the Uber/Lyft dedicated parking lot!
Enter LAX-It
With the advent of LAX-It, the City started relegating rideshare app companies to a parking lot far away (read more.). Older adults and tired travelers can walk to a convenient stand, wait to get packed like sardines into an unsafe shuttle, or walk a mile or more to wait in line for an Uber or Lyft. Where does that leave injured victims, other than in another shuttle accident, from one or more traffic violations, other negligent actions, or defective motor vehicles?
We Are Former Licensed Carriers For Hire
I am a Los Angeles airport accident lawyer, Michael Ehline. I was a transportation carrier with ownership in a large company for several years. So I was a common carrier for hire before obtaining my license to practice law and becoming a lawyer. I was also comedian Rodney Dangerfield's private limo driver in my past life! I am an expert in Los Angeles taxis, charter party carriers, and common carrier law.
I am an expert in transportation law, with millions recovered on behalf of accident victims in Los Angeles, CA. Below I will share with you the nightmare that has become commercial taxi carriers and how corners are being cut. This is to compete with other companies who play by a different set of rules in their own best interest, despite the higher standard these employees should follow to avoid harm.
My team and I have over 30 years of combined experience and handled many accidents in pursuit of public justice. Ultimately, I will cover how standards are ALWAYS lowered to cover the new costs that were voted into law. I will also detail how you and your loved ones can survive after being slaughtered by all these new guidelines and rules that lead to more auto accidents if you work diligently with our best injury attorney for your individual case.
LAX Taxi Company Accident Attorneys
When taxi accidents happen, the victims can be left feeling shaken and traumatized. And taxis must have commercial licenses and pass other tests the children who drive for Uber and Lyft do not. Because of this, maintenance and additional costs will take a back seat to stay in business. Let's look at how this harms ordinary citizens without a licensed, bonded lawyer (The exact opposite of what politicians are forcing consumers to be driven by.).
A lot of paperwork must be completed for personal injury claims when you wish to become a plaintiff. But the right taxi accident lawyers should be called to help with this job in Los Angeles. If the wrong legal team has been hired, the victim or their loved one will be in for a stressful ride and an increased chance of personal injuries during transportation. They may end up in court as a plaintiff, represented by a taxi accident attorney.
However, please continue reading below to learn more about Ehline Law Firm and how the team can help you with your car accidents with taxis at LAX with our skills, knowledge, and charisma.
Can People Get Serious Injuries in an LAX Accident?
Sadly, many people can receive severe injuries when an airport shuttle or taxi driver is unsafe with passengers. But our top-rated personal injury lawyer, Michael Ehline, can help in most cases to prove liability and get a passenger, pedestrian, or motor vehicle occupant paid. Please consult with us before you ruin your chance.
When this happens, they can receive either one or multiple of the following injuries:
Traumatic brain injuries
Brain and neck injuries
Friction Burns
Broken bones
Lacerations
Whiplash
Fatalities
Bruising.
Multiple injuries or wrongful death can be sustained if you are stuck as a passenger or bystander. This is why personal injury attorneys must be called when this happens. Also, every victim should be looked at by a medical professional so that they can confirm the injuries and provide court testimony later in court if we can't settle for the millions of dollars you may deserve after crashes and assaults.
How Can an Accident Happen at the LAX Airport?
Los Angeles is one of the busiest cities in the world. However, Los Angeles International Airport sees millions of people a year. This is why taxi drivers should be aware of their surroundings when driving people and protect them during transport.
Also, a typical airport shuttle bus driver should be aware of their surroundings because of how busy people are walking everywhere. But our top personal injury attorney, Michael Ehline, can make dollars and cents of it all and pursue the liable defendant and negligent motorists on your behalf. Hiring us makes sense if you want to improve your chances of success.
Some of the reasons why a taxi accident may happen are:
Distracted Driving: Since there are so many people in Los Angeles, folks can become easily distracted. It may be because they are looking at their phone or they are looking at something on the street. Either way, distracted driving is a big reason why a taxi or airport bus driver may end up in an accident.
Impaired Driving: Driving under the influence is dangerous, but many people still do it in Los Angeles. When this happens, the driver risks themselves and the passengers. There are serious consequences when someone is caught impaired driving.
Road Rage: Since road rage is widespread in Los Angeles, every airport shuttle and a taxi should be careful of the other people around them. They should also keep their emotions intact when driving because they should never engage in angry driving.
Was there enough insurance coverage? Can you even claim insurance against the taxicab company without the right legal team? All potential new clients can call our law offices first to seek assistance and obtain a free case evaluation today, no matter their social status or age.
What Kind of Damages Can Be Obtained When Taxi Accidents Happen?
A victim can try to receive two kinds of damages when they have been in an accident. Depending on who is at fault will determine whether the driver, manufacturer or the airport will need to pay for their negligence using our resources.
Economic Damages
Economic damages are easy to put in a personal injury claim because it is the total amount of money that everything costs. Anything with a monetary sum will be added to this number and given to the at-fault party so that they can pay.
Some examples of economic damages are:
Medical Expenses: Any medical expenses charged to the victim can be added to the claim. This will include surgery costs, prescriptions, hospital stays, and more.
Lost Wages: If someone loses out on work because of the accident, the victim has every right to ask for fair compensation. The predicted future wages will be added to the forthcoming post-accident risk report.
Non-Economic Wages
Non-economic wages may be challenging for some people to calculate, but the proper legal representation will know what to do. This will be the monetary value of anything that does not come with a price tag. The right lawyer will use their experience and California law to determine and present the number in the car accident case.
Pain and Suffering: When someone has been in a taxi accident, they will be mentally traumatized by the events. This can be compensated if they struggle to live their everyday lives after this.
Stress: Sometimes, people will become stressed after a taxi accident, which can severely impact the victim. This stress can be compensated for if the right attorney knows what to put in the report when you get struck.
Wrongful Death
If the victim died after they were hit in a taxi accident, the family would have grounds to pursue a wrongful death claim. They can receive the compensation owed as their recourse. This income will help them with many aspects of the funeral and their lives.
Funeral Costs: The at-fault party should be held responsible for the crash, which is why they may need to pay for funeral expenses. This will help take some pressure off the grieving family to focus on instances of healing in the aftermath of a car accident.
Loss of Future Wages: Wage loss is a significant component. If the deceased put much money towards the family home, this money could be claimed. Any future wages many travelers may have made can be added to the claim, so the family will have some money to help them as frustrations and financial problems arise.
Loss of a Partner: When a partner is lost in an accident, the spouse will have grounds to claim compensation based on the emotional distress they are being put through.
Specifically, What Cabs Can I Sue?
At Fault Authorized Taxicab Supervision (ATS)- taxicab management and dispatch services can be pursued as follows:
Bell Cab Company
Beverly Hills Cab Company
City Cab
Independent Taxi
United Checker Cab
United Independent Taxi Drivers (UITD)
United Taxi of San Fernando Valley (UTSFV)
Yellow Cab.
We can help you sue airline passengers and persons "meeting, accompanying or assisting them." We can sue on behalf of any airport personnel whose employment requires their presence at LAX, 24 hours a day, seven days a week.
Opening hours for passengers and personnel vary between terminals; persons are advised to check with their airline or employer. Are you a potential new client? Click here for more details.
Who Else Can Be Sued?
Public and private taxi cab drivers, manufacturers, or support airports can be sued when an accident happens. You have a case if the failure to be careful is at play. Before the insurers pay, it will all depend on who is at fault and the circumstances of how the accident occurred. Also, shuttle buses can be liable from El Segundo and back if the driver caused the accident.
Since there are many different working pieces in an airport, people should hire the right team to help them figure out who is responsible and who should pay for the prime scenario of injuring you or your loved ones.
Why Should You Trust Ehline Law Firm?
There are many reasons why people continue to trust Ehline Law Firm, but below are some of the main reasons.
Attorney-Client Relationship
When someone has been through a traumatic experience, they should work with trial lawyers that are experienced, knowledgeable, and passionate about their work. Also, they should ensure they work with people who care about them and their situation. The team at Ehline Law Firm will always listen to every client that walks in because they understand this is a traumatizing time.
No one should speak with someone who does not correctly build a strong rapport with their client because this will make a massive difference to the case and how the victim feels.
Maximum Compensation
Every team should work towards getting the maximum victim compensation. This is because the victim will need it to help them recover. However, they will struggle to get there if the team is not experienced. The team at Ehline Law Firm has helped many people receive the compensation they deserve, which is why many people will continue to trust them regarding their cases.
Trial Lawyers
Some cases go to trial, but the right trial lawyers should be hired when this happens. Car rental shuttles and taxi companies will hire the best lawyers for every case. The victim should also have top-notch lawyers ready to negotiate and fight. Experienced trial lawyers will ensure that the victim knows what to expect before they get there so no parties are surprised while in the room.
Los Angeles, California, Law
Are you having problems with the commercial insurance company after the taxi driver violated safety regulations or traffic laws? There is a lot of confusion faced by people hurt at LAX or their loved ones who suffered injuries. If someone breached their duty of care to prevent an accident in connection with an LAX taxi ride, finding a great lawyer to assess the case is numero uno. Many invaluable lawyers are part of the Consumer Attorneys Association. But not everyone knows how to combine California law and personal injury law to pursue negligent parties.
The unique team at Ehline will ensure that every case utilizes both laws to help the victim get what they deserve. This is because no stone should be left unturned when it comes to ways to help the victim win their case against these common carriers who violated their special duty to look out for you!
Gathering Evidence Made Easy
Evidence must be gathered to help build a strong case for the defendant's actions. However, when an accident scene is swept away, people might begin to worry about their prospects. It's super crucial for you to gather detailed pictures of the accident site if you can. Please take photos of the road and videotape the failed traffic signals as they are phasing. Design defects or poor road maintenance may have played a role; without evidence, you might leave money on the table.
This does not need to happen because an experienced attorney will gather police reports, medical reports, video evidence, the driver's license number, and more. This will be compiled into a thoughtful report showing the judge who is at fault and proving why the victim should receive compensation.
Free Consultation
A free consultation will help every potential client decide whether the Ehline team is for them. This is because they will explain everything during the free consultation so the victim knows what to expect. The representative will speak about the airport shuttle, automobile accident, and cab driver so they know that the team knows what has happened. (Was the cabbie texting, drunk, driving on alcohol or stoned on marijuana, etc.?)
A Track Record to Be Proud of
Every victim facing physical injuries should ensure they pick a lawyer with a proven track record to claim against the breach. No one wants to have an attorney prone to mistakes when someone has been in an accident. Luckily, that's not the case with the Ehline team because the track record is long and prosperous.
When someone comes through the front doors, they will know that this team wins because they believe in helping people who need it. They will defend and ensure that every person suffering external and internal injuries is looked after properly because they care about the victim and their loved ones. We have convenient meeting locations in Orange County and throughout the state to achieve this purpose. We can help many hurt travelers pursue property damages, wage loss, and medical attention to secure their legal rights and deal with insurance.
Call Taxi Accident Specialists at LAX Today to Schedule a Free Consultation!
Professionals should be called to pursue the common carriers responsible when a Karmel Shuttle, Super Shuttle, taxicab accident, or anything has happened at LAX. The innocent parties receive free consultations from us 24 hours a day, seven days a week. Many people will struggle to complete a personal injury case alone because of all the paperwork, but that does not need to happen when the Ehline team is on the subject.
Every member is passionate, experienced, and knowledgeable about the law, meaning every client is safe. They will know that all personal injury cases are catered to the victim because that is who the team is doing this for. The victim's compensation will cover economic damages like medical bills and non-economic injuries like emotional distress. Anyone with questions should contact Ehline Law Firm at (213) 596-9642 if they were involved in such a vehicle accident.
Other Common Carrier Accidents
Michael Ehline is an inactive U.S. Marine and world-famous legal historian. Michael helped draft the Cruise Ship Safety Act and has won some of U.S. history's largest motorcycle accident settlements. Together with his legal team, Michael and the Ehline Law Firm collect damages on behalf of clients.
We pride ourselves on being available to answer your most pressing and difficult questions 24/7. We are proud sponsors of the Paul Ehline Memorial Motorcycle Ride and a Service Disabled Veteran Operated Business. (SDVOB.) We are ready to fight.