If we don't win, you don't pay.
Speak to the Attorney.
Born to serve.
633 W 5th Street #2890
Los Angeles, CA 90071
(213) 596-9642.
2323 S. Voss Rd, Suite 244
Houston, TX 77057
(832) 592-1260.
Date Modified: August 12, 2023
605 Expressway or Freeway Crash?
Accidents involving vehicles moving at high speeds are almost always fatal, resulting in casualties and major injuries. Whether you're driving from Los Angeles or San Bernardino, these types of accidents are common on the Interstate Highway System across the United States since the speed limit on these routes is higher than on typical roads. The mounting medical bills resulting from such accidents are enough to cause financial and social issues for car accident victims and their families.
Ehline Law Can Give a Free Consultation Following an Accident on I-605
If you got into a car accident that was not your fault, contact Ehline Law and our freeway accident attorneys today for a free personal injury case evaluation.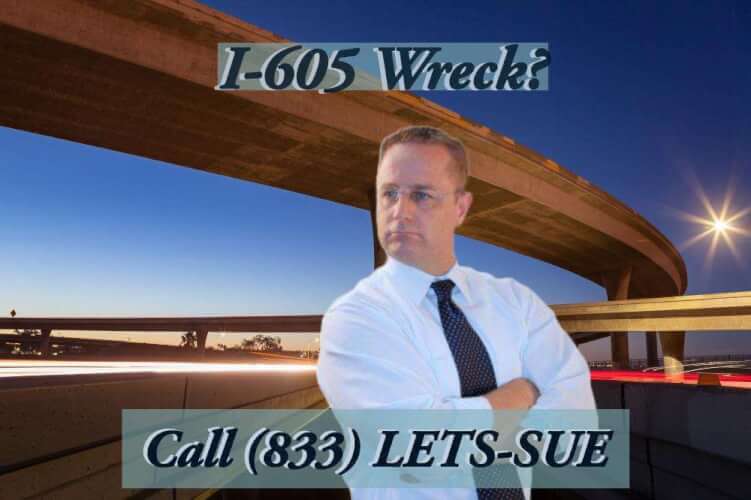 The California I-605
The Interstate 605, also known as the San Gabriel River Freeway, is a 27-mile-long interstate highway running from north to south. The south end starts at Seal Beach, while the north end of the highway ends at Huntington. The I-605 has major junctions at Cerritos, Norwalk, Santa Fe Springs, Whittier, Avocado Heights, and Baldwin Park.
The I-605 is part of the California Freeway and Expressway system, a route that contributes to the state's economy, defense, and transportation, helping uplift nearby communities. Travelers, workers, and freight haulers use the I-605 daily, meaning that the freeway sees massive traffic.
In 2020, the state government proposed a proposal to widen the I-605 by adding four more lanes to cater to the heavy traffic flow. However, the opposition rejected the proposal as it required displacing residents living near the highway. With the traffic increasing on the I-605 daily and strong opposition against the expansion of the highway, the chances of getting into an accident remain quite high. However, hiring qualified Los Angeles personal injury attorneys to look into your auto accident can increase your chances of getting financial compensation.
Distracted driving is the country's leading cause of car accidents, and you shouldn't be the one to shoulder the financial losses of an accident caused by somebody else.
Recent Car Accidents on the I-605
Unfortunate Motorcycle Collision
On November 6th, 2021, the 60 Freeway just at the northbound 605 interchanges saw a deadly accident. A motorcycle crashed into a car near Avocado Heights at 7.30 PM. The California Highway Patrol reached the automobile accident site to assess the damage, only to find that the motorcyclist had not made it due to his serious injuries.
The lanes got shut down for a few hours to investigate the crash, causing inconvenience to other drivers and travelers. This is just one of the many fatal motorcycle accidents that occur each year on the I-605 in California.
A Fatal Multi-vehicle Pileup
An auto accident case from June 25th, 2021, saw a crash between Rose Hills and Peck Roads, leading to authorities closing lanes on the I-605 to avoid further collisions during the investigation. A big truck and at least five cars involved left people with serious injuries. One of the victims passed away at the accident site due to severe injuries, while the others got rushed to the hospital immediately to start medical treatment.
Car-to-Car Shooting
On July 4th, 2021, the I-605 witnessed a car-to-car shootout on the 60 Freeway in Hacienda Heights, resulting in a multi-vehicle crash with one dead and two children injured. According to the California Highway Patrol, one of the injured sustained major head injuries, while the other only suffered minor injuries. The incident occurred when an SUV shot at the truck next to them with a handgun, causing the driver to swerve off the road and get into a collision accident.
These are some of the different types of accidents that happen on the Interstate Highway System. Such accidents can take a toll on the car accident victim, especially when they have to deal with insurance companies after the trauma. However, having a qualified car accident attorney can simplify and hassle-free this process.
Do You Need a Car Accident Lawyer to File a Car Accident Claim?
You do not need a car accident attorney to file a car accident claim. However, having an attorney on your side increases the compensation you can get and helps expedite the claims process. Insurance companies are no strangers to rejecting claims without proper reasoning. Still, if you have a qualified attorney on your side, the chances of getting your claims rejected decrease a lot. A well-experienced lawyer knows how to submit a claim form without it getting rejected.
A car accident lawyer understands the requirements for filing claims and will help in getting the police report, gathering evidence, and filling in the form for submission. Insurers will rather negotiate with attorneys than face bad publicity if the attorney decides to take the personal injury case to trial.
Besides rejecting claims, insurers like to send an insurance adjuster to investigate the case and force the accident or injured victim to settle. You might be quick to accept the first offer that walks through the door, but remember that you cannot ask for more money once you accept a settlement offer. In the majority of these cases, victims settle immediately just to get quick money and stop all interactions with the harassing insurers. However, the settlement money later proves to be insufficient to cover the burgeoning medical expenses and other damages. Having a qualified attorney can help determine the value of your claims and protect your rights by negotiating a better offer on your behalf.
Ehline Law – Car Accident Attorneys for Freeway Accidents
Ehline Law is a leading personal injury law firm with more than 15 locations across California, helping protect injured victims by holding negligent parties accountable and recovering financial compensation for their losses. In the last decade, we have successfully represented over 3,000 injured victims and recovered more than $150 million in compensation.
Our lawyers can help recover evidence from the accident scene, gather police reports, file claims, and deal with the insurance company on your behalf to get you the compensation you need. If you got injured in a car accident on the I-605 that was not your fault, contact us at (213) 596-9642 and get a free consultation with our lawyers without any legal obligations. You can also use our convenient online website contact us form 24/7 for a swift response from a top-notch freeway accident lawyer about how we can help win financial compensation for you and your family.
Other California Freeway and Interstate Accidents
Michael Ehline is an inactive U.S. Marine and world-famous legal historian. Michael helped draft the Cruise Ship Safety Act and has won some of U.S. history's largest motorcycle accident settlements. Together with his legal team, Michael and the Ehline Law Firm collect damages on behalf of clients.
We pride ourselves on being available to answer your most pressing and difficult questions 24/7. We are proud sponsors of the Paul Ehline Memorial Motorcycle Ride and a Service Disabled Veteran Operated Business. (SDVOB.) We are ready to fight.