Do You Need A Attorney For Serious Injuries In the City Of Orange, California?
We represent clients in Orange that have suffered from:
Car Accidents.
Bike Accidents.
Dog Attacks.
Wrongful Death.
A Word from Our Founder, Michael Ehline.
If you've gotten hurt in an accident of any type in the City of Orange, California, you'll need superior legal representation. At ehlinelaw.com, our intake specialists know that the best customer is an educated one.
Before you hire a local injury attorney, your medical providers must stabilize you to get healthy. But all the while, it's vital that you understand how the legal process surrounding an injury claim works.
As an example, as you start the insurance claims process, you'll want to get your car fixed as soon as possible, or at least get the fair market value so you can buy another one. And oh, what a hassle of obtaining a rental car while your car is getting fixed. Statistics show your total loss settlement check will be higher if you retain legal counsel for your case. It's also essential to have some statistical data so that you may fully realize that although your accident is unique to you, unfortunately, it's not something that only you have suffered.
Invariably, the others who have been down this road before you have experienced varying degrees of legal representation. As a result, they've also received different amounts of compensation. My name is Michael Ehline Esq, and I want to work hard to support you through this trying time so that you may have a light at the end of the proverbial tunnel. Over the years, hundreds of injury victims have come directly to my law firm or have been referred by the numerous individuals that I have successfully investigated and represented over the years.
So I'd like to personally welcome you to call or email me using the contact form on this page so that I may have an opportunity to support you on the journey to recovery of both your mind and spirit as well as the compensation you deserve.
Call now, 714-912-9724!
Free Case Evaluation
Fill out my online form.
Table of Contents:
Why all this information on Orange California Accidents and Injuries?
---
Over the years, my accident clients in Orange, California, have asked me many of the same questions. As a resource and guide, I have broken these out into six main questions. I think you'll find the answers quite useful.

Call me if you have any questions regarding these, as I'd be happy to answer them. Perhaps you have some information that you'd like me to add to this section. If so, please don't hesitate to reach out. Feedback so far tells me that this page is the most comprehensive page on the internet regarding accidents in the City of Orange, Ca.
About the City of Orange

At the last census, 140,981 people resided in the City of Orange, in Orange County, California. Just three miles north of the county seat of Santa Ana, it is one of the oldest and unique cities in the constituency.

All one needs to do is head to the Old Orange Circle to notice that the construction of many structures and dwellings in the Old Town District happened well before 1920.

Orange became a municipal corporation back on April 6, 1888. Of note, Orange is unique in Orange County because it was designed and constructed encompassing a town square. Because of this, it was nicknamed the Plaza City.

Noteworthy here is that the Plaza's dedication plaque is in memorial to our brave military veterans who died in support of their country. (Also known as the "Orange Circle.") But how Old Orange became modern Orange is a story in and of itself. Historically, back in the old days before freeways, Orange's main resupply and distance transport artery were the California Southern Railroad lines. Before this, the horse and buggy are how most people traveled unless they were on foot.

But towards the end of the 19th centennial, Orange began to bustle and rise in its population due to the need for fruit pickers and manual laborers and ancillary businesses serving individuals.

Of course, where Orange gets its real name is citrus, in particular, oranges. The trains helped transport these fresh fruits, and boom; Orange took off rapidly. So naturally, this was during the so-called "Orange era."

But as more and more services businesses like barbers, clothiers, grocers, etc., moved to Orange with the workers, small areas of service-related commerce sprung up alongside the orchards. Hence, over time, the property values became so high that many growers sold to land developers and cashed out.

Later, Orange experienced growth spurt number two, called the "Real Estate boom" of 1886–1888. But in the 1950s, even more growers sold, which garnered in a second real estate sell-off.

The "Villa Park Orchards Association" packing house is the only fruit packing operation in Orange County. Of interest, it remains near the historic rail lines to this day.

In short, during the 1950's real estate expansion, new freeway systems were making it easier for people to commute to and from places of work and home. Because of this and a burgeoning populous of returning war vets, government-subsidized private bungalows and housing tracts sprung up all over the City until the 1970s.

To this very day, Orange is continuously upgrading and growing, but at a slower pace. Also, you don't see too many orange groves anymore. For the most part, trains and horses have been mostly replaced by automobiles as the dominant form of Orange's transportation. The types of accidents and personal injury mishaps have gone from falling from a horse or orange tree to high-speed vehicle collisions on Orange's bustling and intricate freeway systems.

As discussed, Orange remains strategically positioned off of several freeways. Also, Interstate 5, Santa Ana Fwy runs through the Orange S.R. 57, and Garden Grove SR 22 Freeways.

Traffic gets so bad during the morning and after-work rush hour, this geographical area and interchange system has earned itself the nickname of: "Orange Crush."

The Costa Mesa SR 55 Freeway runs through Orange, joining with the eastern desistance of southern S.R. 22 in the City of Orange. Also, there are newer toll roads to be wary of unless you're a paying customer. It's best to avoid accidentally going through one of these without a form of payment in hand, as it will lead to a mailed citation by the Orange County Tax Collectors.

Identified as the Eastern and Foothill SR 261 and SR 241, these two highways connect Orange, Irvine, and Rancho Santa Margarita.

By and large, most of the original Spanish land grants have since been broken up or sold. Modernly, Orange is a cosmopolitan and mostly Caucasian city. There are still remnants of its once patriotic, conservative veteran community.

But the demographics are redistricting left due to the high populous of undocumented alien residents and their anchor babies canceling the local citizens out of their historic voting districts. So slowly, Orange is transforming into a flag-burning, Democrat-run, welfare benefits-oriented sanctuary city.

Its top three largest employers are:

The University of California,
Irvine Medical Center.
Sisters of St. Joseph Hospital, and Children's Hospital of Orange County.

"The City" displaced the Orange Mall and is now the largest, most trafficked indoor shopping mall in Orange. Also noteworthy here is that many celebrities were born in Orange, including several top NFL, MLB, and NCAA players, a news meteorologist, and a professional golfer, to name a few.

There are many bicycle trails and parks here. It is a great area to rear children with some excellent schools. There is a heavy Mormon presence here, and it retains its traditional low crime, apple pie image from when our founder, attorney Michael Ehline, lived there.

There are many places and types of employment here, and it's close to the interstate 55 Freeway and 91 Freeway, making it a great place to live if someone commutes to L.A. or Newport Beach. As life becomes more and more hectic with work and supporting one's family, folks rush to get about town.

This sense of urgency and angst often leads to mistakes while driving, and various forms of accidents often leave individuals physically damaged.

With so many freeway systems, roads, streets, and avenues, car accidents and motorbike crashes happen in the City of Orange. We also have many work-related injuries here in the City of Orange. These unfortunate events can and often do upend a person's life. Naturally, many questions often swirl around an accident victim's mind after such an injury. Of course, that would be if they didn't suffer a brain injury, which may have led to their inability to have the proper cognitive function, at which point it would be their family thinking about them.

Of particular concern are things like the cost of treatment, loss of enjoyment, loss of income, and many other essential curiosities do pop up. For the injured party, these tasks are too large to take on by themselves.

So they often need the help of a legal expert to help their family recover fully. Consequently, this is where the lawyers at Ehline Law excel.

Because our attorney's specialization exists in many personal injury fields, they have argued and won hundreds of cases for clients across California.

Hence, we make a promise to our customers to achieve justice for them. We won't stop fighting for you and those you love until we win. For example, all investigations needed in your matter will launch rapidly.

In the first place, our specialists seek any pertinent video footage surveillance evidence of the episode and try and locate any witnesses. If so, we work diligently to lock down their written and recorded statements and collect all tangible evidence supporting your case.

Furthermore, we work on contingency, meaning we don't ask for one red cent unless we recover for our clients.

Is location Key?

Yes, it is! And one of our main strengths is our local City of Orange focus. The firm is in Southern California statewide. So we do have many conveniently located offices in the greater Los Angeles area.

Our attorneys have fought in Orange County courts before. Plus, we have earned a rapport with judges and clerks across the county.

And we also have contacts and experience in Anaheim and Santa Ana. Most of all, we use all of our tools for our clients. Noteworthy here is that our lead attorney, Michael Ehline, was born in the City of Orange, and he grew up in the area. He feels a unique sense of duty and responsibility to support fellow City of Orange residents.
Intentional killing. (murder in the first degree, felony murder, etc.)
Injuries due to violence (child abuse, spousal or life partner abuse, physical abuse against women, etc.)
Unintentional Injuries
Older adults are slipping and falling.
Traffic accidents. (including but not limited to deaths from a truck, bicycle, pedestrian, motorcycle, and bus accidents.)
Injuries from youth sports such as concussions.
Prescription drug and opioid overdose.

Infographic: Injury and Violence in the U.S. by the Numbers
For the blind, this above chart says that:
Injuries and Violence in the USA by the Numbers.
Every year 214,000 people in the U.S. pass away from injuries and violence.
The total cost of injuries and violence in the U.S. is 671 billion dollars annually.
For every person that dies, 13 become hospitalized, and 129 get treated in an emergency room.
Unintentional Injuries
More than 33,700 people die in traffic crashes.
Two million seven hundred ninety-one thousand older people are treated in emergency rooms for fall injuries annually.
More than 14,500 people died from opioid overdoses.
Three hundred twenty-five thousand kids were treaded for head injuries/concussions and other sports-related injuries in an E.R.
Violence
1 in 7 children experienced violence or abuse in the last year.
1 in 2 women experiences physical abuse or sexual violence in their lifetimes.
Twenty people are victims of physical violence by their partner every minute in the U.S.
1 in 5 men experiences sexual violence in their lifetimes.
The CDC recommends things like booster seats, child restraints, and seat belts for auto accidents to prevent the above. Most of all, you need to help create a sports safety culture and make fall prevention education part of clinical care. And it should be part of drug care, overdose prevention, and safe, nurturing care for kids. Last, it should focus on empowering women and girls to create secure relationships, etc.
What are the Top 5 Causes of Personal Injury in O.C.?
County statistics from 2014 show:
Slip, trip, and fall.
Struck by an object.
Motor Vehicle Crash with Injured Occupants.
Overexertion.
Cutting and piercing.
There are no reported sources for Orange City itself, but it's safe to assume these numbers are similar in the City. As noted above, slip and fall cases top the list at 55,997 reported injuries. Believe it or not, being struck by an object exceeds car accidents in total reported injuries at 21,785 claims.
Although traffic accident occupants make up just 11,810 reported victims, many others become involved in these cases besides people in the cars and other vehicles, as will be discussed.
What are Orange's Most Common Injuries and Their Causes?
Most Common Injuries in Orange.
Head injuries.
Broken bones.
Whiplash.
Although there are no accurate statistics about the most common injuries in the City of Orange or any town for that matter, we do know there is a direct correlation between accident causes and resultant bodily injuries.
As an example, we know that when an elder falls, that person will often bang their head or even bust a knee cap.
Also, we know that people 85 or older commonly slip and fall when compared to younger adults. Falls to elders with brittle bones almost always include injuries to the wrist, neck, hips, and even head trauma.
We know that persons aged 85 or more are at 10-15 times higher risk of suffering a hip fracture than people aged 60-65.
Sadly, at least half of all seniors aged 65 or older hospitalized for a hip fracture were unable to return home, or if they could, they required full-time nursing assistance.
And it's not just seniors. Did you know that even truckers are injured more in slips and falls than in truck crashes?
Other common injuries like spinal cord trauma and whiplash are typical of car accidents. But remember that falling and flying objects are a significant cause of head, shoulder, and neck injuries.
Above are just the more common injuries you would suffer in Orange from a typical accident.
Contact a City of Orange Accident Attorney Now!
We know that if you got hurt in a pedestrian, bicycle, or motorcycle crash, your medical conditions and even psychological trauma would be more cataclysmic.
As we assemble your case's facts, we skillfully compute the damages based upon expert opinions and actuarial tables. For example, we seek additional funds for past, present, and future medical and rehabilitation costs as well as lost income. Simultaneously, we build a case for collections of pain and suffering damages.
Because some defendants are likely to have dedicated law firms representing them, you should as well.
You can trust in us to vigorously prosecute your matter with integrity. Our intake specialists and lawyers maintain up-to-date knowledge of local regulations.
Equally important, they have the investigative capabilities fundamental to pin down offenses that may have caused or contributed to the catastrophe.
We answer the phone and email 24/7 and offer the best "bedside manner" of any firm in the state. Therefore, you can contact us anytime. So telephone now and maybe score a win at (714) 912-9724.
Ehline's Personal Injury Specialization
Ehline's attorneys have overlapping specialties that allow our firm to be flexible and durable.
Below are some of our areas of expertise:
Train and bus accidents
Workplace injuries
Product liability
Medical malpractice
Dog bite injuries
Boat accidents
Elder abuse
Cruise Ship Accidents
About Our Professional Legal Services
We aim to help from the first step to the last. So we work with a variety of experts to ensure the best possible care for our clients. Plus, we work with medical professionals to accurately diagnose your injuries and the means to fix them.
Let our years of experience work for you. We will come to you anywhere in Southern California to discuss your situation and legal options.
City of Orange Traffic Accidents …
What are the Top OTS Traffic Accident Rankings for the City of Orange?
The State of California's Office of Traffic Safety Ranks Orange as follows for the year 2016:
Number 1 for drunk driving under 21 years of age.
Number 4 for Motorcycle accidents.
Number 9 for Bicycle Accidents.
Yes, it's true, 2016 statistics from the California Office of Traffic Safety ("OTS") show the City of Orange being number 1 out of 58 counties for drivers under 21 who "had been drinking" and number 4 for motorcycle wrecks, with over 97 victims killed or injured. Remarkably, bike accidents follow close behind at number 9.
What Are Some Common Causes of City of Orange Traffic Wrecks?
Driving while under the influence of drugs or alcohol
Speeding (Driving too fast remains a ubiquitous causation factor in motorcycle crashes.)
Distracted driving.
You are texting while driving.
Adverse road and weather conditions.
Failure to obey traffic laws.
Hit and Run.
Human error.
Driving under the influence of drugs or alcohol presents a severe potential for injury in the O.C.: For example, the general probability of a fatal motor vehicle collision increases by 551% in the O.C. when drugs or alcohol are a factor. Of course, speeding also increases the likelihood of an accident due to decreased response and stopping time.
Distracted driving and texting while driving remains common risk factors contributing to many traffic-related collisions. Human error is an unavoidable factor that contributes to the probability of accidents.
Cell phones and inattentiveness are blamed for at least 70-80% of all auto accidents in the Golden State.
---
What Are Some Common Reasons for Distracted Driving?
Distraction-related and impairment-related factors causing or contributing to accidents include:
The driver looked but did not see the person, animal, etc.
You are distracted by any number of things.
Some other smartphone-related causes include talking, dialing, fidgeting, or listening to a mobile phone device while driving.
Driver distracted by some outside individual, gathering, or phenomenon.
The driver was eating or drinking moments preceding the collision.
The operator was careless or only inattentive for the driving conditions presented.
Motorists became distracted by a moving object inside of the auto.
The vehicle operator was utilizing or feeling for some gadget or gizmo placed within the automobile.
Fiddling with the vehicle's radio dials or air conditioning/heater system.
What Are Some Typical Distracted Driving Accidents?
Sadly, driver impairment-related factors constitute a significant cause of Orange auto accidents. These include:
Single-Vehicle Crashes
Multiple-Vehicle Crashes
What are some examples of an impaired driver?
The driver fell asleep or was worn-out.
The driver was DUI (Driving while under the influence of liquor, legal or illegal drugs, or medication.)
The driver was ill or blacked out. (example of an unintentional injury or not?)
The operator suffered some other physical ailment or disability like:
What are the Yearly Injury Trends in Orange 2006-2018?
---
From 2006-2018 there were 10,984 total collisions with injuries in the City of Orange. This number included 104 people killed and 15,385 injured.
During this same period, there were 563 pedestrian collisions. (5.1%) Also, there were 783 bike accidents. (7.1%) Motorcycle collisions added up to 801 (7.3%). Last, there were a total of 1,020 fatalities. (93%).
As noted, distracted driving remains the most common contributing factor to car accidents in Orange, as it does in other cities.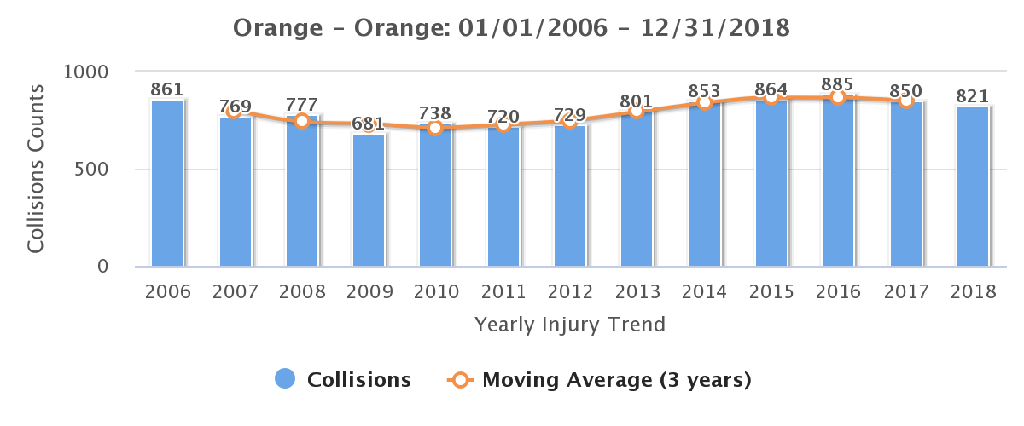 As you can see above, crash trending seems to be at a downtick as of 2018. Let's hope Orange is using a Safe Systems Approach to road safety. Next on our list is going to be a distraction and then impairment. Although they are similar and overlap, read along and get a better understanding.
Orange Motorcycle Accident FAQ's – Statistics
---
Statistics and FAQs – Motorcycle Accidents in Orange

A bystander or another person rarely dies in a motorcycle wreck other than a bike rider or passenger riding on the back. Reported motorcycle collisions in the City of Orange from 2006-2018 show that 23 riders passed away. Even with protective gear, riders are at a statistically higher risk of dying than a car's occupant, for example.

Traffic Integrated maps data shows:

Total Collisions = 150
Total Victims 23 Killed, 158 Injured
State Highway = 75 (50%)
Ped Collisions = None
Motorcycle Collisions = 150 (100%)

As noted in the table above, it is almost impossible to escape an injury in Orange's motorcycle crash. Out of 150 hits, there were 158 injuries, which indicates that more than 100% of crashes involved death or injury.

When comparing this statistic to enclosed trucks and other autos, it is an astronomical jump in total percentages.

What are the Deaths of Motorcyclists Only Statistics?

Deaths of Motorcyclists Only.


In the below data table, you can see 20 riders died in crashes in the City of Orange from 2006-2018. Comparing this to the above data table, that means only three non-riders died in motorcycle involved collisions.

Sadly, out of those homicides, nine accidents included driving while intoxicated, while 11 were just ordinary non-intentional crashes.

Total Yes 9 0 0 0 9 No 11 0 0 0 11 Total 20 0 0 0 20

What are the Motorcyclist Severe Injuries Only Statistics – Alcohol Involved?

Summary of Statistics:

Total Yes 0 23 0 0 23 No 0 99 0 0 99 Total 0 122 0 0 122

(Source TIMS 2006-2018 Data Table.)

As seen above, 23 out of 122 severe injury motorcycle collisions within the City of Orange involved alcohol or drugs.

Fatal and Severe Injuries to Riders and Others – Motorcycle Involved.

Orange – Motorcycle Victims TIMS_Query (PDF)

1 – Fatal
22
14.67%
2 – Injury (Severe)
128
85.33%

As seen above, out of 128 total people harmed, 122 of those injuries were to the rider only. This represents a considerable disparity in severe damage and deaths while on moving motorcycles than when compared to safer, more robust passenger autos and trucks, for example.

Top Orange Motorcycle Accident Victims By Gender and Age.

As noted above, the most common age and gender group for Orange motorcycle accidents are:

Males ages 20-24 totaling 31 male victims, our of 34 total victims. Noteworthy here is that females of this age group only made up 1.66% of the total.

Most Common Type of Motorcyclist Collision in Orange?

As noted below, the most famous City of Orange motorcycle collision is the broadside, representing 27.33% of all motorcycle wrecks, and shown in the data table below.


– – Not Stated
3
2.00%
A – Head-On
7
4.67%
B – Sideswipe
21
14.00%
C – Rear End
26
17.33%
D – Broadside
41
27.33%
E – Hit Object
29
19.33%
F – Overturned
18
12.00%
H – Other
5
3.33%

Top Collision Factors in Orange Motorcycle Accidents – What are They?

The top DMV Code violation associated with Orange motorcycle accidents is unsafe speed, representing 29.33 percent of all City of Orange motorcycle accidents. (See below the pie chart.)

What are the Most Dangerous Intersections in Orange for Bikers?

The top three most dangerous intersections for motorcyclists in the City of Orange are:

CHAPMAN AVE & TUSTIN ST with a total of 7 collisions.
GLASSELL ST & KATELLA AVE with six crashes.
KATELLA AVE & TUSTIN ST totaling five wrecks.

The Most Dangerous Roads for Orange Motorcycle Accidents from 2006-2018 – What Were They?

Collision List

2580156
2006-03-17
01:35
WEST KATELLA AV
N MAIN ST
0.00
–
Yes
2822727
2006-08-13
00:55
R.T. 55
KATELLA AV
465.00
S
Yes
3240364
2007-04-26
14:13
R.T. 57
ORANGEWOOD AV
207.00
S
No
3471197
2007-11-18
16:28
E SANTIAGO CANYON RD
E SANTIAGO CANYON RD 7845
0.00
–
Yes
3737511
2008-03-16
23:09
R.T. 55
LINCOLN AV
767.00
S
Yes
3753380
2008-03-25
21:48
WEST CHAPMAN AV
S MARKS WY
55.00
W
No
3956673
2008-09-06
22:30
R.T. 57
CHAPMAN AV
20.00
S
No
4015258
2008-11-16
18:10
SANTIAGO CANYON RD
JAMBOREE RD
1110.00
E
Yes
4392214
2010-01-24
09:12
SANTIAGO CANYON RD
JAMBOREE RD
1418.00
E
No
4926144
2010-09-24
01:55
R.T. 57
LEWIS ST
1307.00
E
Yes
5291141
2011-05-01
02:05
WEST ORANGEWOOD AV
N ECKOFF ST
209.00
E
Yes
5639003
2012-10-16
16:35
WHITECAP AV
ORANGE OLIVE ST
0.00
–
No
5911887
2013-10-17
08:50
R.T. 5
CHAPMAN AV
617.00
S
No
6291376
2014-06-27
16:02
NORTH TUSTIN ST
EAST SANTA ANA CANYON RD
549.00
S
Yes
7006376
2015-07-03
04:00
BATAVIA ST
KATELLA AV
0.00
–
No
90050153
2015-10-23
02:09
INTERSTATE 5 SOUTHBOUND
ORANGEWOOD AVENUE
550.00
S
No
6293016
2016-08-14
16:27
SANTIAGO CANYON RD
RT 241
820.00
E
Yes
8465462
2017-10-09
13:30
GLASSELL ST
TRENTON AV
148.00
N
No
90659313
2017-12-21
23:48
INTERSTATE 5 N/B TO STATE COLLEGE BLVD.
STATE COLLEGE BLVD
600.00
S
No
8808224
2018-09-16
01:20
SANTIAGO CANYON RD
JAMESTOWN WY
0.00
–
No
Orange Pedestrian Accident FAQ's – Statistics
---
What is the Total Number of Injury Collisions Broken Down by Pedestrian Action?
45% of all Orange traffic accidents to a walker happen while the individual acts were crossing a crosswalk at an intersection.
Knowing this, parents of small kids should be especially wary at a traffic crossing. Jaywalking should be avoided, even at implied crosswalks.
Top Bad Weather Conditions for City of Orange Pedestrian Accidents?
Believe it or not, most car accidents take place during clear weather. 86.82% of all pedestrian accidents happen during clear weather. But we live in California, so we have to consider that it rarely rains in the state.
Hence, a rainy day accident account for 2.17% of all traffic accidents to amblers in the City of Orange, is no small statistic.
Remarkably, cloudy weather accounted for 59 out of 554 pedestrian injuries from 2006-2018 for reported accidents in the City of Orange.
A – Clear
481
86.82%
B – Cloudy
59
10.65%
C – Raining
12
2.17%
G – Wind
2
0.36%
To remain safe while driving, motorists should also exercise extra caution when traveling in adverse road or weather conditions.
What is the Total Number of Orange Pedestrian Accident by Lighting?
A – Daylight
337
60.83%
B – Dusk – Dawn
25
4.51%
C – Dark – Street Lights
176
31.77%
D – Dark – No Street Lights
16
2.89%
As seen above, the most dangerous lighting conditions for pedestrian accidents in Orange are happening in the daylight hours. 60.83% of all pedestrian accidents occur in broad daylight. But this correlates with other statistics that more commerce and traffic are happening on the freeways, roads, and highways across the state and the entire country. So naturally, the overall risk for a fender bender or severe injury event will be more significant in the sunnier times of the day.
What are the Top Three Most Dangerous Intersections for Pedestrians in the City of Orange?
The top three most dangerous intersections in the City of Orange from 2006-2018 are:
Chapman Avenue and Tustin Street, with a total of 76 collisions.
Meats and Tustin Street.
Chapman Avenue and C.R. S 18 & Prospect. (See also below data chart.)
1
CHAPMAN AVE & TUSTIN ST
76
2
MEATS AVE & TUSTIN ST
74
3
CHAPMAN AVE & CR S18 & PROSPECT ST
67
4
CHAPMAN AVE & HEWES ST
64
4
KATELLA AVE & TUSTIN ST
64
5
GLASSELL ST & KATELLA AVE
63
5
PALM AVE & TUSTIN ST
63
6
LINCOLN AVE & TUSTIN ST
58
7
BRIARDALE AVE & TAFT AVE & TUSTIN ST
57
8
CHAPMAN AVE & RAMPART ST
55
What Can Orange Do to Prevent This?
Better policing and locality awareness is an essential first step in fostering a more walkable city. But it can't just halt there.
The City needs to address these dangerous streets on a case by case basis with studies and solutions that consider population growth factors.
Bicycle Accident FAQ's – Statistics



---
Statistics show that Orange bicycle accidents rank number four overall for most traffic accidents at 782 total reported accident victims. And this figure arises out of 15,489 reported traffic accident victims from 2006-2018.
So that makes up 5.05% of all Orange traffic collisions. Compared to autos, bikes made up five fatalities and 40 severe injuries. For the number of accidents reported, bicyclists are at a statistical disadvantage without an auto's protective interior during a crash.
Who are The Many Potential Parties Liable for Your Orange Bike Accident?
The City.
Homeowner's Assn's.
Volunteers.
Of particular interest, Orange is a great place to ride bicycles. But you must remain wary and understand that many potentially liable parties may play a role in paying for a bicycle wreck. It's not just cars that cause bike crashes.
The Plaza city enjoys several recreational bike and equestrian trails. Seamlessly, many courses send you right into city traffic from enjoying a ride with nature along the riverbed.
You see, commuting by bicycles in Orange is a way of life that many enjoy. But when the trails are not adequately maintained, people get hurt.
So potentially liable parties include the City, homeowner Associations, and even volunteers. (See also City of Orange Trails Map.)
For example, a poorly maintained trail with inadequate warnings of dangers and poor security could place a homeowner's association at fault for a bicycle crash.
If it's a government maintained area, the City itself could be liable under the Tort Claims Act as a sovereign entity.
What Are Some Other Causes of City of Orange Bicycle Accidents? Bicycles are subject to many accidents unrelated to being run over by a vehicle. As noted above, a rider could be maimed or killed due to a poorly maintained trail or public roadway.

But there are also hazards to riders like construction equipment, an unmarked trench, a hidden pothole, non-operational, or poorly phased traffic light.

There are countless ways a rider can become harmed. Sometimes even the bike itself has a defective part or a poor design that fails, causing a wreck.

What are the Most Popular Bicycle Trails in the City of Orange?

The word renowned Santiago Creek Bike Trail primarily is made up of an asphalt aisle next to the Santiago Creek. Its reach is 6 miles from Hart Park and then Cannon Street.

One artery advances north into City-owned territory, beginning at Walnut Avenue to Collins Avenue. Afterward, it hooks up with the City of Villa Park.

And it's not just bikers who enjoy the outdoor trails. Runners, nature hikers, and others will be stunned at the majesty of wild plants, frogs, dragonflies, birds, and fish.

Also noteworthy is that the trail connects to 3 City of Orange Parks:

Grijalva.
Yorba.
Hart Park.

More Resources:

• Trails4All
• City of Orange PDF of Bikeways Master Plan
• Recreational Trails Master Plan

There are bike racks everywhere and a lot of riders. Here are some links to assist you in a safe ride. (Santiago Creek Trail Map, Santiago Creek Trail Regulations.) Later on this page, we will discuss collecting liability payments.


What are Some Reasons Fault Could Be Apportioned in Your City of Orange Bike Accident??

In Orange, CA, and around the U.S., bicycle riders are supposed to abide by the road's written and unwritten rules. Yes, some laws are different for riders than for autos, but everyone is expected to be careful.

Cyclists can be fully or partially at fault when they violate vehicle code sections like:

Failing to display reflective devices or garments and not using a headlight after dark.
Failure to use hand or turn signals before merging into another lane or transition.
Failure to come to a complete stop at a traffic signal or static sign.
Zooming in and out of congested traffic recklessly.
You are riding down a one-way street in the wrong direction.
Failing to wear a helmet when under 18 years old.
Riding head-on into traffic.
Reckless riding.

Noteworthy for this discussion is that 59% of bicycle accidents do not involve another vehicle. These are special episodes.

Typically, single-vehicle incidents like this include the cyclist losing control of the bicycle. The result is usually a crash into a parked car, a gutter, curb, hedgerow, or other body.

Of course, frequently, the rider tried to avoid getting run over by an inattentive or aggressive motorist and was forced to take evasive action. So now the bike is crashed, and the rider is scraped up pretty bad or worse.

The other driver will say they did nothing wrong and that the cyclist crashed on his/her own. The cyclist will be in a pickle.

After all, the choice was to face death or steer into a less dangerous situation. And it required split-second decisionmaking.

This arguing over fault and who pays is the battlefield for the lawyer, and further discussed below.
The City of Orange Truck and Bus Accident FAQs
Available Bus and Truck Crash Data for Orange
Unfortunately, there are no available local statistics for the City of Orange bus or commercial trucking collisions. But there are federal, state, and county data, which we will discuss below. First off, trucks, coaches, and even some vans have many similarities in function and use.
For example, they are both large, heavy commercial vehicles engaged in hauling something for hire. Also, both cars generally require a specially licensed driver.
Comparing trucks to buses is easy. For example, buses are livery vehicles transporting people and items. And in the City of Orange, buses are more widely-used for public transportation. Also, many bus routes serve other cities, suburbs, and even some rural locations.
Buses remain a cost-productive and malleable form of public transport. Most towns will require little initial investment of capital to establish new lines or bus routes.
Buses don't typically tow trailers with hitches. Trucks do, and they have the option to haul more and swing wide with these extra features.
A commercial truck, also known as an 18 wheeler, is defined as a vehicle with a gross weight rating (GVWR) over 10,000 pounds.
Conversely, a passenger vehicle is a light auto or truck (including pickup trucks, minivans, and SUVs).
Trucks mainly are used to haul nonpersons, such as:
Cattle
Fill dirt
Wet cement
Building supplies
Gasoline
Fruit and produce
This list above could be virtually infinite. Almost everything we wear, eat, or drink was brought in on a big rig truck to its final marketplace. These big rigs are private companies that bid on and compete for shipping contracts.
Many times shippers have iron-clad road freight contracts stating that these goods shall be delivered quickly. The reasons for the need for speed will vary. Still, the Uniform Commercial Code ("UCC") recognizes the perishable nature of the item(s) or contractually agreed to delivery date(s) to arrive at the retailer or wholesaler.
Orange, Old Orange, in particular, is strategically located right off the 22 Freeway. But old Orange has narrow streets when compared to a newer city like Aliso or Mission Viejo.
Many of the older brick buildings, in particular, are not retrofitted for earthquakes, let alone the additional stress heavy trucks cause while traversing these historic neighborhoods.
Special Duty of Care – What is It?
So bus and truck drivers must pay special attention when they drive. Bus and coach drivers owe a special duty of care to their passengers, as common carriers for hire. But this is because the bus company has placed those on board under its care as their transporters.
Limousines and taxi companies owe this same duty to those entrusted to them with carriage contracts.
Another similarity between these types of vehicles is that their sheer loads, weight, and size mean one wrong move can lead to a mass casualty event.
So when we hear or read about commercial transportation accidents in the news, many dead and injured people are usually part of the news headline.
There are many public bus companies in cities like Orange, mostly government-run. Typically they will have established routes, and designated bus stops to drop and pick up passengers. Many are disabled equipped; some are not.
For example, the Orange County Transportation Authority (OCTA) runs most public, non-school transport within Orange County. Also, the Orange Unified School District Transportation Department administers school buses' routes and operations under their jurisdiction.
There is no similar county-run trucking company because governments generally will not engage in competitive commerce. Instead, established busing is considered part of the general welfare of citizens. Finally, busing helps to facilitate human transactions and protect the environment.
Trucks in Fatal Accidents (TIFA) and Buses in Fatal Accidents (BIFA)
There are some great statistics found here dealing with truck and bus fatalities. As discussed above, this could be the making of a wrongful death claim based upon many negligence-based factors.
School Bus Accidents
Typically, a school bus transportation-related accident denotes a city or county school bus ferrying kids back and forth to school and interdependent school activities.
Moreover, figures from the Fatality Analysis Reporting System, FARS, is shocking.
It shows that 1,282 people died in school-related transportation collisions between 2007 and 2016 in the U.S. Orange has its share of severe and fatal injury school bus crashes.
Bus and Commercial Truck Crashes
The Federal Motor Carrier Safety Administration claims that 4,889 large trucks and buses fatally crashed in 2017. And this makes sense. After all, metro city buses, Greyhounds, school buses, and commercial trucks share the lanes with cars, trucks, and motorcycles. Naturally, this can be a recipe for disaster.
The weight of large trucks and buses alone can cause catastrophic and fatal injuries. But the shipping, busing companies, and school districts must protect other commuters due to the destructive potential of these massive vehicles.
The expensive insurance they must carry to transport is mandatory. And this is because these massive vehicles are responsible for a disproportionate share of injuries and deaths on the roads.
What Are Some Causes of Truck and Bus Accidents in California?
Buses carry more weight and are harder to maneuver when turning. If a driver is not qualified to handle the bus on average, let alone harsh weather, this can result in a ghastly pile-up.
Common Reasons for Truck and Bus Crashes:
Driver inexperience.
Driver fatigue.
Bad weather.
Inattentiveness.
But above all, driver inexperience is a primary reason for a bus crash. Keep in mind that an essential part of any claim process made by your California Bus Accident Lawyer is determining the cause of the accident.
Typically it is human error. But what about the future? Who can you sue for an automated vehicle personal injury?
After all, soon we will see driverless transport vehicles all over the roads. The Volpe National Transportation Systems Center (Volpe) reviewed the Federal Motor Carrier Safety Regulations (FMCSRs).
They did this because they are attempting to understand the legal compliance and enforcement pitfalls connected to automated commercial vehicle technology exploitation in replacing human vehicle operators on the public roads.
What Were the Big Rig and Bus Fatality/Injury Trends From 2003 to 2013?
The number of big rigs in deadly collisions dropped from 4,721 to 3,906. So this represents a decrease of 17%.
Similarly, the number of heavy trucks in injury collisions fell from 89,000 to 73,000. And this was an astounding drop of 18%.
The amount of big rigs in property damage only crashes fell from 363,000 to 265,000, a decrease of 27%.
Buses involved in fatal collisions fell from 291 to 280. But this was only a decrease of 4%.
Typically, intercity buses made up 13%, with school and transit buses accounting for 41% and 33% of all fatal bus collisions.
What about the 2012 to 2013 Uptick in Bus and Truck Wrecks?
The number of heavy trucks' fatal crashes went up by 2%. So it went from 3,825 to 3,906, but the overall rate for big trucks in deadly wrecks remained steady at 1.42%.
But the total number of big rig trucks in injury crashes went down by 5%. So it fell from 77,000 to 73,000
Also, the vehicle engagement rate for large trucks in injury crashes fell by 7%.
The number of big trucks in property damage only cases went up by 5 percent, from 253,000 to 265,000.
The total number of buses in deadly crashes went from 253 to 280. And this represents an increase of 11%, with the vehicle involvement rate for buses in fatal accidents rising by 8%.
Vehicle miles traveled (VMT) by 18 wheelers expanded by 2.2%, and VMT by bus went up by 2.6%.
See also, FMCSA Analysis Division/Large Truck and Bus Crash Facts 2013. As discussed, these types of wrecks often result in mass casualties. Other differences exist between truckers and bus drivers as well. For example, more truck drivers get injured from slips, trips, and falls than from being in traffic wrecks. Because many truckers are required to load, unload and secure loads, they are often working outside the truck in all types of weather, at or near slippery ship docks, and poorly lit loading bays at warehouses. Bus driver duties differ in that they generally do not handle luggage, loading or offloading items and goods. These are licensed, professional drivers who should act with care and diligence to avoid a potential disaster.
Who is at Fault for Your City of Orange Accident?
There are many types of accidents, so there is no black and white answer to the liability question. For example, a building owner needs to make safety inspections and perform regular maintenance.
If not, the landlord pays. But what if the victim is partially at fault? Then a court or the parties will apportion blame to make it fair.
Another example would be a vehicle operator striking a pedestrian or bicyclist. Without any doubt, the motorist has more considerable mechanical energy, acceleration, and momentum speed at his/her dispensation.
Where it gets interesting is that some motorists misbehave and act like motorcyclists and bicyclists are a nuisance. Road ragers have been known to run cyclists off the road.
Sometimes road rage plays a role in this aggressive recklessness. And of course, cyclists, too, must abide by the rules of the road.
Albeit, some sections in the Vehicle Code apply differently to bicycle riders and bicyclists when compared to passenger car regulations.
Liability When the Other Party is At Fault?
Take, for example, bicycle accidents. The California Vehicle Code mandates that autos maintain a 3-foot buffer zone space between the larger motorized conveyance and the bicycle rider. The idea here is to grant the cyclist some legal protections on the books.
As discussed previously, Vehicle Code Violations in traffic cases are centered around carelessness. Most of these at-fault violations include:
Reckless driving.
Exhibition of speed.
Speeding.
Driving while predisposed by an intoxicating substance.
Distracted driving.
Head-on collisions and lane jumping.
Opening a vehicle door into the path of an oncoming auto, cyclist, or motorcycle rider.
Lane drifting into the bicycle lane.
Failure to obey traffic signals and signs.
Failure to yield to a pedestrian, vehicle, or cyclist.
Left-hand turn crashes
When Can a Victim Be At Partial Blame?

In Orange, as in other towns across the United States, all people are counted upon to follow the written and unwritten code of conduct and civility.
So, for example, a pedestrian crossing the street is expected to look both ways before crossing. Similarly, bicycle riders may be scoffed at during the liability stage of their court case for things like:
Riding into the face of oncoming traffic.
Coasting the wrong way down a one-way street.
"California" type stops or simply blowing red traffic lights and posted signs.
Failure to use turn or hand signals before merging lanes.
I am weaving between cars or other vehicles.
Not wearing a helmet if under 18 years of age.
Not wearing reflective clothing or failing to use a headlight during times of darkness.
What is Pure Comparative Negligence?
Under California's clear comparative negligence law, both parties in an accident can be partially to blame. In the case of an accident between a motorcyclist and an auto driver, each party pays based upon their prospective degree of fault. A jury or court would reduce the total economic recovery based upon the rules of apportionment.
But this could apply just as seamlessly to a slip and fall case where the victim reasonably knew or should have known of the fall dangers present, for example.
If you are a victim injured in any type of accident in Orange, filing a paying claim with the city clerk where the setback occurred or against the manufacturer or seller of the defective parts means having the best and bravest attorneys on your side.
What types of compensation can an Accident Victim Collect?
If another person's negligence or recklessness caused your mishap, you qualify for compensatory damages.
Here, the law pays you money for your medical expenses, lost work, and your pain and suffering. Sometimes you even get punitive damages. But these are mostly monies paid for intentional torts like battery and false imprisonment, for example.
But other illegal activities like DUI, excessive speed, or texting while operating a vehicle could also warrant an award to punish a vehicle's driver for his or her outrageous conduct, to dissuade others from engaging in this bad behavior.
Most of all, if a jury agrees that both parties bear some fault for the mishap, comparative negligence rules apply.
Because of this rule, only the apportioned percentage of fault gets paid to the injured party, not the full amount. Of course, if the other person was also hurt, that person could countersue victim one for their property damage or bodily injuries.
So if you suffered a severe injury in the City of Orange or lost a loved one due to another's negligence, you ought to take in the full requital you law claim. Of course, there is no desirable way to assure that this occurs than to seek advice from the personal injury attorneys at Ehline Law Firm.
Our partners are always fighting the good fight, right by your side. Most of all, we vigorously negotiate with the other side, forever standing up for your rights.
Our deep-rooted sophistication and hefty legal dexterity will be placed at your disposal immediately upon engagement of our superior services.
Above all, we maintain the knowledge, experience, skill, and resources to thoroughly and tirelessly stake out the defendants and witnesses. Our bunch will flesh out the specifics of your case. We will always work to obtain the specified police reports, photographic evidence, percipient eyewitness, or expert attestation.
All of this we do assures you can garner windfall like compensation. Ehline Law Firm personal injury lawyers in Orange can be reached on the form on our website or by picking up the phone and dialing 888.400.9721 – We are available NOW!
Summary
Orange is a cosmopolitan city.
Orange ranks Number 1 for drunk driving under 21 years of age.
There are many ways to become injured or be killed in Orange, including:
Slip, trip, and falls.
Being hit in the face or body by a flying or falling object.
Traffic accidents, including:

DUI related.
Speeding-related collisions.
Inattention while driving.

From 2006-2018 there were 10,984 total collisions with injuries in the City of Orange.
From 2006-2018 23 motorcycle riders passed away in motorcycle accidents. Even more, people were moderate to severely injured.
During this same period, pedestrian accidents in Orange include:
Out of 594 pedestrian-related accidents, 554 resulted in either death or some form of injury.
Out of 15,489 traffic,-related injuries reported, Orange pedestrian crash victims made up 3.83% of the total crash victims statistically.
45% of all Orange traffic accidents to a walker happen while the individual acts crossing a crosswalk at an intersection.
Weather, lighting conditions, and time of day/week play a significant role in the volume of accidents reported.
Statistics show that Orange bicycle accidents rank number four overall for most traffic accidents at 782 total reported accident victims.
Bus drivers owe a special duty of care to their passengers, as common carriers for hire.
There are many potentially liable parties for your accident.
Your accident's overall value can be diminished based upon your degree of fault.
You can lose your case by failing to protect the statute of limitations.
There are many potential liable defendants, including the government.
A great attorney such as Ehline Law Firm can significantly assist your bottom line.
Michael Ehline is the author of several books and articles like the one you just read, including How to Become a Lawyer With No Law School. He is President of Ehline Law Firm Personal Injury Attorneys, APLC.
He lives in Greater Los Angeles County with his wife and two children. You can reach Michael here.
Contact Information.
Orange Legal Help For:
City of Orange Satelite Law Office – Ehline Law Firm Personal Injury Attorneys, APLC, Motor Vehicle Accident, Injuries at Work, Bus, Large Truck Attorneys.
City of Orange Office Address: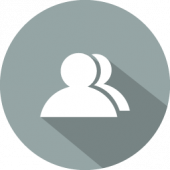 333 City Blvd. West #17 Orange, CA 92868 orange@ehlinelaw.com (714) 912-9724