Whether they're looking down to look at a text on their phone or glimpsing over to check out a billboard, every distraction can lead to serious consequences.
Failure to Follow the Law
Traffic laws are in place to prevent accidents, yet there are over 5 million car accidents in the United States every year. 
Whether a driver runs a red light or doesn't slow down before a curve, recklessness, and inability to follow traffic laws can put them and others in danger.
Impaired Driving
According to the National Highway Traffic Safety Administration, on average, 10,500 people die annually in car crashes involving drunk drivers.
Drinking impairs a driver's ability to sense and judge road conditions and the behavior of other drivers. It also impairs their cognitive functions, which is why drunk drivers may not drive in a straight line.
Although they may feel like they're driving perfectly fine, that is not the case, and a small error in judgment can cost a life.
Speeding
In a 2020 report, the National Safety Council revealed that 29% of all traffic fatalities involved speeding as a primary contributor, killing 30 people on average daily.
When driving on the highway while following the allowed speed limits, you may have noticed drivers whizz past you. It's not uncommon for many of us to go 10 to 20 MPH beyond the speed limits, but it is essential to understand that the speed limits are in place for a reason.
At higher speeds, the vehicle requires a long braking distance, making it difficult for a speeding car to avoid collisions.
Tailgating
It is essential to leave enough braking space between your car and the vehicle in front of you. Drivers who follow cars closely behind, whether they're looking to overtake the vehicle or do not know about braking space, increase the risk of a rear-end collision.
Besides the causes mentioned above, there may be other reasons for a car accident, including the following:
Inclement weather
Failing to yield the right of way
Inexperienced drivers
Night driving
Road hazards
Defective vehicle
Wrong-way driving or unsafe lane changes.
Common Car Accident Injuries
From minor injuries to fatal injuries that can lead to wrongful death, car accidents can lead to all sorts of injuries. Generally, there are two categories of injuries: impact and penetrative. 
Impact injuries in a car accident occur when a person's body part gets hit by the interior of a car, such as a knee bruise, while penetrative injuries occur when objects cut open a person, such as scrapes.
The following are some of the common types of injuries sustained in car accidents:
Scrapes and cuts
Soft tissue injuries
Whiplash injuries
Traumatic brain injuries
Spinal cord injuries
Head and neck injuries
Disfigurement and amputation
Crushing injuries
Broken bones and fractures.
After suffering injuries in a car accident, injured victims must immediately seek medical attention and follow their doctor's advice regarding treatment. An accident can leave a person with serious injuries, causing them physical, mental, and financial stress.
Fortunately, accident victims can bring a civil action against the liable party for their injuries to recover compensation for the damages incurred. After seeking medical attention, injured victims need to reach out to experienced car accident attorneys to discuss their cases and learn more about their legal options.
Elements of a Car Accident Case
Although injured victims can pursue compensation by filing car accident claims after their accidents, it is not that simple.
To establish negligence, it is crucial that car accident victims prove the following critical elements of a car accident claim:
The defendant owed the victim a duty of care (Legal duty).
The defendant was negligent and breached their legal duty (Breach).
The victim suffered injuries due to the defendant's negligence (Causation).
The victim sustained damages following the car accident (Damages).
Establishing the elements of a car accident claim can be challenging, which is why you should work with an experienced car accident lawyer.
Protecting Your Ontario Car Accident Claim
Ontario car accidents can leave victims vulnerable, but it is crucial to understand that there are certain steps they can take following their accidents to protect their claims. 
Our skilled personal injury attorneys recommend taking the following steps after an accident to increase your chances of recovering compensation:
Call 911 for help. If you've suffered severe injuries, you must call 911 and wait for first responders to provide medical assistance and take you to a hospital. If you can move around, you should still call 911, as it will help you document the accident and request a copy of the police report.
If you can move, it is best to gather as much evidence as possible to secure your Ontario car accident case. Photograph the accident site, the road, the vehicles involved, your injuries, and any traffic signs nearby. The more details you capture while it's fresh, the better you'll be able to prove liability.
Speak to the other drivers involved in the car accident and exchange contact numbers and insurance information.
Talk to any witnesses and request their contact information. Witness statements can help strengthen your car accident case and improve your chances of making a financial recovery.
Head to the hospital for medical attention. Don't delay getting a complete medical evaluation to determine any internal injuries. Also, make sure to follow your doctor's treatment plan, as failure to do so can give the insurance company an opportunity to reduce or reject the claim.
Speak to an experienced Ontario car accident lawyer before you contact the insurance company. A skilled car accident lawyer can help guide you on the legal process and how to deal with the insurance company.
Why You Need an Ontario Car Accident Attorney
After suffering injuries in an accident, it is essential to focus on receiving medical treatment and your recovery and leave the claim to an experienced Ontario car accident lawyer.
When car accident victims pursue claims after their auto accidents, they often are unsure how much their claim is worth or how to deal with the insurance companies.
Insurers assign a claims adjuster to every case whose only responsibility is to ensure they reduce payouts as much as possible. Lower payouts mean higher profit for the insurance company, which translates into happy shareholders.
With an experienced car accident attorney by your side, an insurance company will think twice about using dirty tactics or forcing you into accepting a lower settlement offer. Ehline Law and our legal team know how to build a trial-ready case and force the insurer into agreeing on a fair settlement.
Car accident injuries can be devastating, and pursuing claims can add to the stress, but with our legal team, you can rest and focus on your recovery while we aggressively pursue what you're owed!
Schedule a Free Consultation with Ehline Law Ontario, CA Car Crash Lawyers
If you suffered serious injuries in a car crash due to another's negligence, contact us at (833) LETS-SUE for a free consultation with our skilled Ontario car accident lawyer, as you may be able to seek compensation.
---
Michael Ehline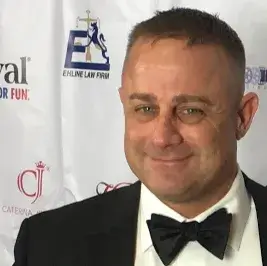 Michael is a managing partner at the nationwide Ehline Law Firm, Personal Injury Attorneys, APLC. He's an inactive Marine and became a lawyer in the California State Bar Law Office Study Program, later receiving his J.D. from UWLA School of Law. Michael has won some of the world's largest motorcycle accident settlements.
---
Recent Personal Injury News
Check out our most recent premises accidents in California and more, including the famous, infamous and everyday people wounded by at fault parties around the world.