Common Causes of Party Bus Accidents
Party bus accidents can occur due to several reasons, including the following.
Negligent Party Bus Driver
Party bus drivers have the responsibility to follow traffic rules and drive in a reasonably safe manner to avoid any bus accidents from happening. Distracted, drunk, or reckless driving are all examples of negligent party bus drivers.
Drunk Guests
A limo, or party bus is bound to have alcoholic drinks. Federal and state laws prohibit open containers, but these laws do not apply to party buses. Too many drinks can lead to intoxication and increase the risk of assaults breaking out on the limo bus, which can cause injuries to other passengers.
In some party bus accidents that led to the death of teenagers, the chaperons poured drinks to minors on the bus, causing them to act recklessly, and resulting in their death.
Lack of Safety Guidelines
The limousine bus company or its drivers must relay all safety guidelines to the guests to protect them from hazards. For example, in a bus accident where a woman got hit by a tree, the bus driver failed to inform the guests of the trees. 
In such situations, a limo bus driver must reduce their vehicle's speed or inform the guests of incoming objects, such as trees, bridges, and other hazards.
The Negligent Party Bus Company
It is the responsibility of the party bus companies to provide the necessary training to their bus drivers to transport their customers around safely. Failing to conduct background checks or hire licensed bus drivers can increase the risk of a bus accident, causing devastating injuries to the guests.
Bus companies must also ensure routine maintenance and conduct inspections to identify any problems or hazards and take corrective action. Lack of maintenance and inspection can increase the risk of a limo bus accident.
Lack of Safety
Just like buses, party buses may also not have safety belts. Guests can stand up, walk around the bus, and even dance. 
Bumps or cracks in the road or a collision with another vehicle can throw unseated passengers around the bus, resulting in serious injuries.
Faulty Party Buses
There were several party bus accidents where the driver made a turn, causing some passengers to fall from the vehicle due to faulty doors. Defective buses or improperly maintained vehicles is often a recipe for life-altering injuries or deaths.
Summary of Most Common Causes of Limousine Bus Wrecks
Human errors like distracted driving (bus driver distraction is a leading cause of catastrophic accidents on limo buses

Mechanical failure due to poor maintenance or a manufacturing defect

Blowing stop signs and other traffic signs

Driver fatigue leading to vehicle collisions

Poor road conditions

Improper training requirements

Being rear-ended
California Law for Party Buses
After a series of devastating bus accidents, Governor Jerry Brown signed a bill into law in 2012 that placed the exact requirements for limousines on party buses. 
The bus companies must provide a chaperon above the age of 25 in case of minors to prevent them from drinking. Chaperons are responsible for checking identification cards and refusing minors a drink, and they may face misdemeanor charges if they fail to carry out their duties.
Common Victims of Party Buses
Limo Bus passengers
Motorcycle riders
Bicyclists
A child operating a big wheel or scooter
Tourist on a Segway, or electric scooter.
Who Is Liable for Los Angeles Party Bus Accidents?
Party buses owe their guests the utmost duty of care to ensure their safety. Whether safety comes in the form of daily inspections, routine maintenance, or background checks of their drivers, party bus companies must carry out their responsibilities toward its guest diligently. 
Failing to follow state and federal laws and regulations that apply to common carriers and ensure the reasonable safety of its guests can lead to liability for which the injured victims can pursue a party bus accident claim against the bus company.
In some bus accident cases, the accident may occur due to another negligent driver, and in such situations, injured passengers need to bring a limo bus crash claim against the responsible party.
If a guest on a party bus causes harm to another guest, the injured victim has the right to bring a civil action against the liable individual.
It is important for injured passengers to determine the liable party in a Los Angeles bus accident to pursue a bus accident lawsuit. In some cases, it can be challenging to identify the responsible party following the accident, while in others, there may be more than one liable party.
You don't want to risk jeopardizing your case by filing a Los Angeles bus accident claim against the wrong defendant or leave money damages on the table by leaving out other parties in a multiple-defendant case. Injured passengers must speak to experienced bus accident lawyers to discuss their Los Angeles limousine bus accident cases.
Statute of Limitations for Party Bus Crash Claim
Unlike school buses that fall under school district, party or charter buses are owned and operated by private companies. 
Under California law, an accident victim has two years following their injuries to bring a civil action against the private company and its insurer to recover medical bills, lost wages, and other damages incurred.
Damages You Can Recover in a Los Angeles Party Bus Accident
When a party bus gets involved in an limo bus accident due to the negligence of others, the bus accident victims can pursue bus accident claims and recover compensatory damages for their loss.
There are two types of damages a bus accident victim can recover by bringing a civil action, and these are:
Economic damages: After an accident, victims can suffer direct out-of-pocket expenses such as medical bills, lost wages, and property damage for which they can claim compensation.

Non-economic damages: These are the types of damages that compensate victims for non-monetary losses, such as pain and suffering, emotional distress, reduced quality of life, and many others.
Assessing and calculating damages is a critical aspect of a personal injury claim. Victims must work with bus accident victims to help evaluate and calculate compensatory damages to ensure maximum compensation following the accident.
How Can Los Angeles Bus Accident Lawyers Help Injured Passengers?
Although you can pursue a bus accident claim without legal representation, you may risk losing your case or walking away with minimum compensation.
If you're hesitant about seeking legal representation due to attorney fees, it's important to note that you'll still be in a better position financially even after paying attorney fees from the total award than if you were to pursue a claim without the help of an experienced attorney.
The following are some ways Los Angeles limo bus accident lawyers can help you with your case.
Determine the Liable Parties and Other Common Carriers
Before seeking compensation, you must identify the right party or parties to bring a Los Angeles bus accident claim.
A reputable law firm has the resources to investigate the accident to determine liable parties and hold them accountable for your loss.
Assess and Calculate Damages
You may be able to calculate economic damages by adding up all the out-of-pocket expense receipts, but it is often challenging to assess and calculate non-economic damages following a bus accident without the help of relevant experts.
A well-connected limousine bus accident lawyer can bring on medical and other field experts to help assess and calculate non-economic damages to maximize your compensation.
Gather Evidence to Build a Strong Case
When pursuing a bus accident claim against the negligent party, it is crucial to prove the four critical elements of a negligence claim: duty, breach, causation, and damages.
A skilled Los Angeles bus accident attorney can help investigate the limo bus accident and gather evidence such as CCTV footage, witness statements, bus company records, and other relevant evidence to establish the critical elements and build a trial-ready case.
Handle and Negotiate with the Insurance Company
Without legal representation, you may find yourself struggling to deal with the insurance company. The constant stress of handling the insurer following the emotional trauma from the accident can leave you vulnerable, eventually forcing you to accept a lowball settlement offer.
An experienced bus accident lawyer knows how much your case is worth and will not rest until they negotiate a fair settlement on your behalf.
Go to Trial
In some cases, there may be a disagreement between the plaintiff and the defendant's insurance company. But if you have a bus accident lawyer with a successful trial record, they won't be afraid to go to trial to get you the compensation you deserve.
Schedule a Free Consultation with a Superior Limo Bus Accident Lawyer in Los Angeles, County, CA
Whether a school bus accident or a party bus crash, Ehline Law and our personal injury attorneys have the knowledge and extensive experience of handling bus accident claims for bus crashes in Los Angeles.
If you suffered injuries, contact us at (833) LETS-SUE for a free consultation with our Los Angeles bus accident lawyer, as you may be eligible for compensation.
---
Michael Ehline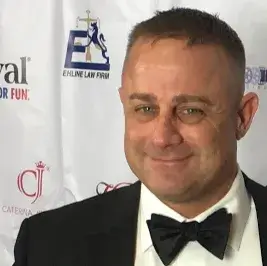 Michael is a managing partner at the nationwide Ehline Law Firm, Personal Injury Attorneys, APLC. He's an inactive Marine and became a lawyer in the California State Bar Law Office Study Program, later receiving his J.D. from UWLA School of Law. Michael has won some of the world's largest motorcycle accident settlements.
---
Recent Personal Injury News
Check out our most recent limousine bus accidents in California and more, including the famous, infamous and everyday people wounded by at fault parties around the world.