If we don't win, you don't pay.
Speak to the Attorney.
Born to serve.
633 W 5th Street #2890
Los Angeles, CA 90071
(213) 596-9642.
Date Modified: March 20, 2023
Former U.S. Marine Trial Lawyer and California Personal Injury Firm
We Fight For Limousine Accident Victims In Los Angeles
Legal Support for Limousine Accident Victims Across California.
Suppose you or someone you care about suffered bodily injuries as a passenger or pedestrian in a Los Angeles area limousine accident. In that case, you may be experiencing life-altering, negative burdens causing you immense financial suffering and personal losses.
But you limousine accident victims have hope in the form of receiving money paid for your accident-related injuries. You could hold the limo driver (chauffeur), limo company, or another person to account for the harm and grave danger the accident caused.
You can contact these superstar accident lawyers at (213) 596-9642 and tell us about your limousine accident-related case, including the injuries you suffered. After hearing you out, our intelligent, caring counselors will give you ideas for your next steps in the personal injury insurance claims process. Our Los Angeles personal injury lawyers have a proven track record for helping clients receive superior outcomes.
Limousine Accident Attorney And Former Limousine Company Owner
Advanced Knowledge Of California Livery Vehicle Laws

Local Locations Near You!
Your important call is free and confidential, so don't feel intimidated. Ehline Law Firm has a storied past as the most expertly trained Los Angeles limousine accident attorneys in California. Our limousine accident personal injury claims specialists are reasonable, attentive listeners.
---
Although limousine accidents remain rare, they often erupt into highly public, sensational media events, causing embarrassment and privacy loss to the surviving accident victims. The additional negative publicity is nothing less than severe emotional trauma! Also, the last thing anyone wants to deal with is the commercial accident liability insurance claims process.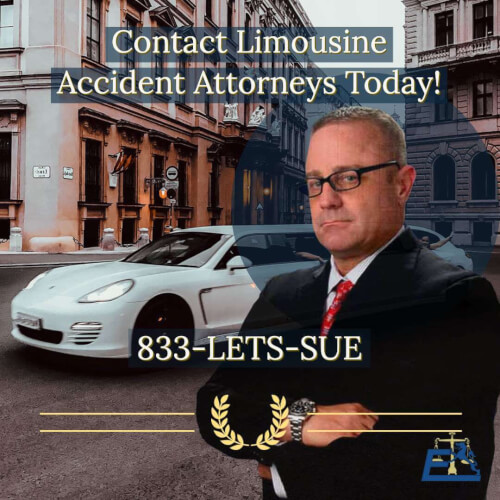 Besides care for your emergency medical condition, you need someone to insulate you while you recover emotionally and physically from these personal injuries. The Ehline Law Firm organization will most of all act as your sword and shield, protecting your compensation rights after a bad accident. And once you hire us to get money for your car accident, we take care of everything else, like helping you find the right physicians.
More About Our Expertise As Premier Los Angeles Limousine Accident Lawyers Near You!
Many so-called limousine accident attorneys in the state of California are not specialists in limousine law. These limousine accident lawyers have no clue about the vast number of legal issues with transportation carrier laws. Hence, these injury lawyers don't have the experience necessary to take on a commercial transportation enterprise. And getting the victims paid the most accident compensation requires an expert like Ehline Law Firm. The choice is clear, hire a dupe who leaves a lot of money on the table for your accident, or hire us to win big.
Ehline Law Firm is different; we are better. Our head livery accident attorney, Michael Ehline, had owned a limo business before becoming an attorney in Los Angeles, California, after passing the State Bar Exam in 2005. So Michael not only knows the law codes and precedents, but he understands the transportation, accidents, and the carriage business inside and out. Of particular interest, Michael was the personal driver for comedian Rodney Dangerfield.
So he had to know all the regulations to comply with state and federal livery laws – a tremendous advantage for any client-facing such a catastrophic, depressing personal injury accident compensation claim. Now you can hire Michael and our law offices as your local Los Angeles car accident attorneys.
Learn More About this Specialized Area Of Accident Law Handled By Our California Law Firm
Although limo laws are similar to cab regulations, they are not the same. Limousines, limo buses, and charter party carriers usually get treated the same under regulatory law. One difference is the body style of the cars. Limousines are generally stretched into longer-than-stock vehicles and are far more luxurious than an Uber or taxi ride-sharing vehicle.
Limousine drivers also require exceptional driving credentials to operate these large motorized conveyances. Limousines also have many blind spots and need a greater stopping distance to avoid an accident. Furthermore, renting large blocks of time is not something for which most taxi companies are known. Mostly, taxis are for trips to and from an airport or local drinking bar.
And unlike taxis, limousines are legally allowed to provide alcohol to adult passengers while the vehicle rolls in traffic. Often, charter limos have full wet bars in the back of their transports. But this can be a severe problem when hiring a limousine for a high school prom or Quinceanera. Again, this is another reason why different rules for limousines do not apply to passengers' smaller-sized vehicle carriers.
Because of this, minors could have access to that booze. So the limo operator needs to stow the alcohol in the trunk to keep it from the children. Recently, an intoxicated woman jumped out of a moving limo on the freeway.
In another terrible case, several women were burned to death in a highly publicized rear passenger compartment fire accident in another case. The news media interviewed Michael Ehline in that case accident here.
NBC News interviewed Los Angeles limousine attorney and former chauffeur Michael Ehline immediately as to his opinion, writing:
Another possibility comes from Michael Ehline, an attorney specializing in limousine law and related accident claims.

'He wonders if the air bladders keeping the tires from scraping against the wheel wells in the 14-year-old limousine might have deflated.

"What will happen is those rear tires can scrape against the rear wheel wells and remember tires are made out of petroleum products. Once it gets to flashpoint the tire will literally ignite and that heat build-up next to that gas tank can actually ignite that gas tank," Ehline said.'
So it's not just severe personal injuries that can arise from limo crashes. Sometimes these accident cases include expensive, high-profile wrongful death actions that must be filed quickly in a court near you.
In other words, not all Los Angeles limousine personal injuries will be just against one defendant. If a city bus hits you, you need to sue them as the liable party. If you are confused about your rights and duties in a limousine personal injury case, that's ok. Ehline Law Firm is here to answer critical legal questions about your accident 24 hours a day, seven days per week.
What Is A Livery Vehicle Under California Law?
Michael Ehline is an inactive U.S. Marine and world-famous legal historian. Michael helped draft the Cruise Ship Safety Act and has won some of U.S. history's largest motorcycle accident settlements. Together with his legal team, Michael and the Ehline Law Firm collect damages on behalf of clients.
We pride ourselves on being available to answer your most pressing and difficult questions 24/7. We are proud sponsors of the Paul Ehline Memorial Motorcycle Ride and a Service Disabled Veteran Operated Business. (SDVOB.) We are ready to fight.