Limousine Accident Attorney And Former Limousine Company Owner
Advanced Knowledge Of California Livery Vehicle Laws

Local Locations Near You!
[Content Updated March 21, 2021] –Suppose you or someone you care about suffered bodily injuries as a passenger or pedestrian in a Los Angeles area limousine accident. In that case, you may be experiencing life-altering, negative burdens causing you immense financial suffering and personal losses. But you limousine accident victims have hope in the form of receiving money paid for your accident-related injuries. You could hold the limo driver (chauffeur), limo company, or another person to account for the harm and grave danger the accident caused.
You can contact these superstar accident lawyers at (213) 596-9642 and tell us about your limousine accident-related case, including injuries you suffered. Our intelligent, caring counselors will give you ideas for your next steps in the personal injury insurance claims process after hearing you out. Your important call is free and confidential, so don't feel intimidated. Ehline Law Firm has a storied past as the most expertly trained Los Angeles limousine accident attorneys in California. Our limousine accident personal injury claims specialists are reasonable, attentive listeners.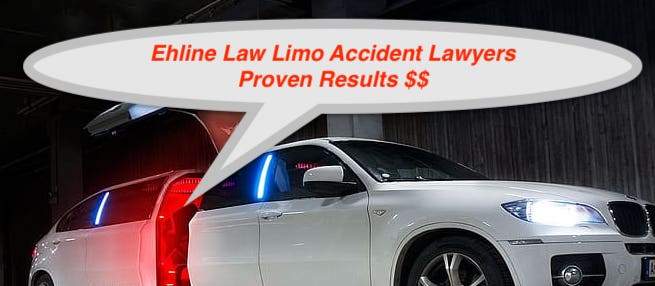 Table of Contents:
---
Although limousine accidents remain rare, they often erupt into highly public, sensational media events, causing embarrassment and privacy loss to the surviving accident victims. The additional negative publicity is nothing less than severe emotional trauma! Also, the last thing anyone wants to deal with is the commercial accident liability insurance claims process.
Besides care for your emergency medical condition, you need someone to insulate you while you recover emotionally and physically from these personal injuries. The Ehline Law Firm organization will most of all act as your sword and shield, protecting your compensation rights after a bad accident. And once you hire us to get money for your car accident, we take care of everything else, like helping you find the right physicians.
More About Our Expertise As Premier Los Angeles Limousine Accident Lawyers Near You!
Many so-called limousine accident attorneys in the state of California are not specialists in limousine law. These limousine accident lawyers have no clue about the vast number of legal issues with transportation carrier laws. Hence, these injury lawyers don't have the experience necessary to take on a commercial transportation enterprise. And getting the victims paid the most accident compensation requires an expert like Ehline Law Firm. The choice is clear, hire a dupe who leaves a lot of money on the table for your accident, or hire us to win big.
Ehline Law Firm is different; we are better. Our head livery accident attorney, Michael Ehline, had owned a limo business before becoming an attorney in Los Angeles, California, after passing the State Bar Exam in 2005. So Michael not only knows the law codes and precedents, but he understands the transportation, accidents, and the carriage business inside and out. Of particular interest, Michael was the personal driver for comedian Rodney Dangerfield. So he had to know all the regulations to comply with state and federal livery laws – a tremendous advantage for any client facing such a catastrophic, depressing personal injury accident compensation claim. Now you can hire Michael and our law offices as your local Los Angeles car accident attorneys.
Learn More About this Specialized Area Of Accident Law Handled By Our California Law Firm
Although limo laws are similar to cab regulations, they are not the same. Limousines, limo buses, and charter party carriers usually get treated the same under the regulatory law. One difference is the body style of the cars. Limousines are generally stretched into longer-than-stock vehicles and are far more luxurious than an Uber or taxi ridesharing vehicle.
Limousine drivers also require exceptional driving credentials to operate these large motorized conveyances. Limousines also have many blind spots and need a greater stopping distance to avoid an accident. Furthermore, renting large blocks of time is not something for which most taxi companies are known. Mostly, taxis are for trips to and from an airport or local drinking bar.
And unlike taxis, limousines are legally allowed to provide alcohol to adult passengers while the vehicle rolls in traffic. Often, charter limos have full wet bars in the back of their transports. But this can be a severe problem when hiring a limousine for a high school prom or Quinceanera. Again, this is another reason why there are different rules for limousines not applicable to passengers' smaller-sized vehicle carriers.

Because of this, minors could have access to that booze. So the limo operator needs to stow the alcohol in the trunk to keep it from the children. Recently, an intoxicated woman jumped out of a moving limo on the freeway. In another terrible case, several women burned to death in a highly publicized rear passenger compartment fire accident in another case. The news media interviewed Michael Ehline in that case accident here.
NBC News interviewed Los Angeles limousine attorney and former chauffeur Michael Ehline immediately as to his opinion, writing:
Another possibility comes from Michael Ehline, an attorney specializing in limousine law and related accident claims.

'He wonders if the air bladders keeping the tires from scraping against the wheel wells in the 14-year-old limousine might have deflated.

"What will happen is those rear tires can scrape against the rear wheel wells and remember tires are made out of petroleum products. Once it gets to flashpoint the tire will literally ignite and that heat build-up next to that gas tank can actually ignite that gas tank," Ehline said.'
So it's not just severe personal injuries that can arise from limo crashes. Sometimes these accident cases include expensive, high-profile wrongful death actions that must be filed quickly in a court near you.
In other words, not all Los Angeles limousine personal injuries will be just against one defendant. If a city bus hits you, you need to sue them as the liable party. If you are confused about your rights and duties in a limousine personal injury case, that's ok. Ehline Law Firm is here to answer critical legal questions about your accident 24 hours a day, seven days per week.
What Is A Livery Vehicle Under California Law?
California's livery law contains a whole body of commercial rules and regulations. And our outstanding team of experts is second to none in cases involving these long, heavy, unwieldy vehicles. California limo law focuses on dealing with cars carrying multiple passengers. The livery laws apply to limos the same way laws applied to horses' boarding and care in the past. Today, livery law deals with relevant larger carriage vehicles, including limos, buses, and boats. (Free Dictionary.)
If you or a loved one has become injured due to a limousine crash, a specialized limousine accident attorney becomes needed in most cases. Because of the complex laws and the dozens of types of crashes in these cases, it remains vital to your future to call Ehline Law Firm right away.
Typical Injuries Suffered By Limousine Passengers & Victims Outside – Duties Owed By Common Carriers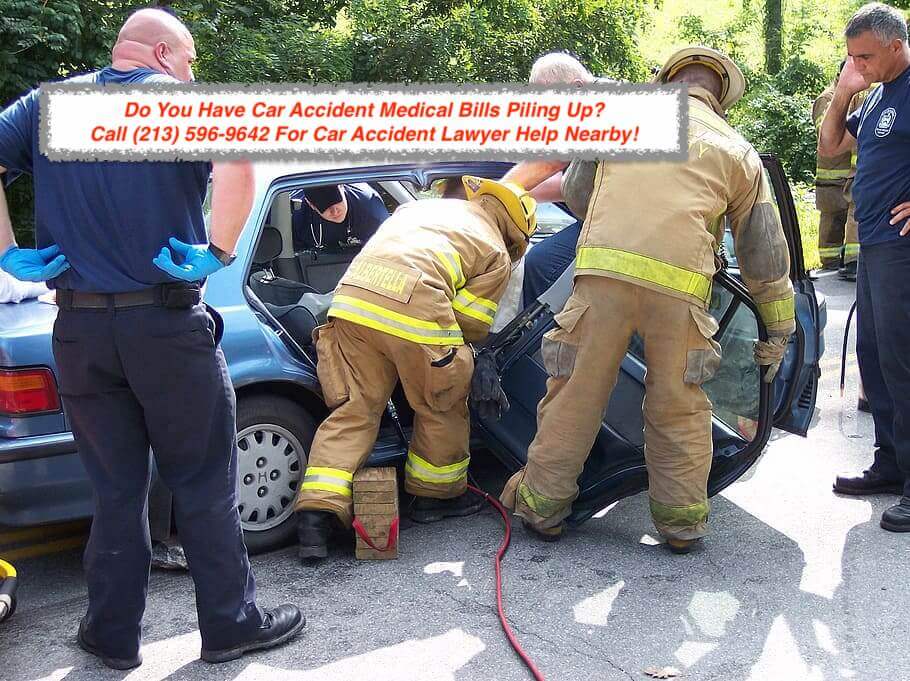 Limo companies and other common carriers have a higher duty of care when transporting their paying passengers. So the transport company and driver here owe a heightened duty of attention to avoid an accident. Moreover, this is a significant duty far beyond an ordinary, "reasonable" obligation. Typically it is a special duty because the person is a professional like a doctor, lawyer, or taxicab driver with special training in their field.
Thus, it is much harder for the negligent tortfeasor to escape liability when breaching this special duty. Thus, the case moves forward at summary judgment because the court allows a jury to hear the matter and be the decider of fault. These businesses must go beyond what an average, non-licensed person would do when driving a friend home. With our skill, Los Angeles limousine accident attorneys understand all the limo transport industry nuances to get you the most money, like knowing all the rules and regulations related to limousines and an accident.
What Significance Is A Common Carrier To A Limousine Accident Lawyer?
As discussed above, a common carrier is a "carrier of persons for reward." Under ordinary negligence principles, a person is negligent if he owes "reasonable care" to another person, and that duty got breached. Next, the breach had to cause damages like broken bones, a type of orthopedic injury. Sometimes a "reasonable" duty of care is harder to prove. This type of liability can sidestep a common refrain from insurance companies trying to avoid paying for car accident claims. By working with a limousine accident lawyer, victims can uncover methods of getting paid for all of the breaches of duties owed limousine passengers under the law.
These Fortune 500 companies love to argue that a limo case is a junk lawsuit. But according to the California Supreme Court, even a ride at an amusement park can be subject to these heightened legal standards of care. Our Los Angeles limousine accident lawyers know much more about the intricacies of recovering damages. If you want to learn more, you can contact a compassionate lawyer at Ehline Law Firm Personal Injury Attorneys, APLC. Or keep on reading. For example, the Indiana Jone's ride at Disneyland is subject to common carrier liability, just like a limousine. See also Gomez v. The Walt Disney Co., WL 1404420 (Cal. June 16, 2005). In Gomez, the Court said "carrier of persons for reward" must use the utmost care and diligence for safe carriage. So they must provide everything necessary for that purpose.
Also, they must exercise to that end a reasonable degree of skill. As quoted from the Cal. Civ. Code Sec. 2100, Carriers must "provide vehicles safe and fit for the purpose to which they are put." Also, no excuse exists for default in this respect by any degree of care. (Cal. Civ. Code Sec. 2101).
Limo companies have a special duty to prevent issues, such as:
Motorcycle accidents can be caused by blind spots on a limo, causing severe injury or death to the cycle rider.
Bicycle accidents are very similar to motorcycle accidents. Also, limousine versus cyclist accidents can cause deglove injuries, amputation, or death. A direct hit to an unprotected person by a ten-passenger limousine, and that's all she wrote.
Car accidents can cause sheet metal in a passenger car to break apart and sliver. In turn, this can sharp missile can cut and puncture victims' bodies with lacerations. Or it could result in a penetrating head or chest wound, leading to a painful death. Also, it can cause limousine passengers to be tossed out of the vehicle if not buckled.

These Accidents Include:

Head-on collisions
Rear-End Accidents.
Sideswipes.
Multiple vehicles or "chain collision" wrecks remain common scenarios with limousines.

Pedestrian accidents with victims getting hit in a crosswalk by an extensive limousine can lead to friction burns, road rash, or worse.
Limo overcrowding accidents get seen in more detail below. But too heavy a vehicle with too many people inside can cause increased accidents.
These are some of the types of limo accidents that are the most common. Dozens of other situations can cause limousine accidents to occur. When injured in a limousine wreck, even if it falls outside of the scope of this list, the law could entitle you to accident compensation. The only way to know for sure is to discuss your potential personal injury case with a limousine accident attorney. They will be able to give you guidance and recommendations on what steps are possible.
What Are "Limousines" For Purposes of A Car Accident Tort Claim?
Most of us think of the classic stretched Lincoln Town Car when we imagine "limousines." But multiple vehicle configurations, including charter buses, sightseeing buses, limo sedan stretches, airport buses, and mass transit buses, can be limousines. Even lengthened Humvees and Porsches are used as limousines for hire. But like limousine drivers, the law holds taxi and school bus operators to higher care standards just like a limousine. As noted above, if it is transportation for hire, a higher duty is owed. And there are other driver and fleet licensing requirements that only the best experts, such as Ehline Law Firm, know.
Our expertly trained and aggressive Los Angeles limousine accident attorneys have vast experience in the field of limousine law. Hence, we can assist the victim in working through the medical and legal issues commonly following an accident of this type. The DMV also lets customers check on the law's particulars at (916) 657-8153 or visit its Website at www.dmv.ca.gov.
Who Pays For My Limousine Accident? What Are California's Limousine Insurance Requirements?
Under state law, common carriers include limo companies for hire. Hence, they have to maintain physical damage (bodily injury) commercial insurance coverage. Also, they may need general liability and worker's compensation insurance coverage if their limo driver gets hurt. They may need garage liability coverage and garage keeper's coverages. Last, some may have to purchase excess/umbrella liability coverage, property coverage, among others. As of 2006, except for Class C charter-party carriers, limos must maintain specific accident insurance coverage. These transportation companies will need at least $750,000 to cover up to seven limousine passengers or less.
Furthermore, they will need $1,500,000 for 8 to 15 passengers for any accident personal injuries during the trip. Moreover, limousines will need $5,000,000 for 16 passengers or more for any personal injury these occupants receive. But the minimum coverage for Class C charter-party carriers is $750,000. And his requirement remains mandatory regardless of the vehicle's seating capacity. For additional information, see General Order 101. This order applies to PSCs or General Order 115, as pertains to TCPs.
Common Carriers must file evidence of insurance coverage in the state of California. Minimum liability insurance limits vary by type of carrier and other factors. Also, carriers must register proof of insurance coverage with the California Public Utilities Commission, or PUC. And any for-hire passenger carrier with employee chauffeurs must present liability coverage proof on-demand to authorities and passengers. Moreover, these companies must provide evidence of worker's compensation.
So they must file a certificate of insurance (Commission form TL-938) or a certificate of consent to self-insure. The certification gets issued by the Department of Industrial Relations. Minimum coverage limits are available in the PUC general orders. You can view these other insurance certification requirements in the General Orders. (Example: General Order 115). Sometimes these business enterprises overpack their cars with passengers, and when their passengers receive serious injuries, insurance coverages run out. And this is another reason why you should contact a superior Los Angeles limousine accident lawyer before signing anything the limousine company's commercial insurance company hands you. Make the call, and we do it all. Put our tremendous experience to work for you.
Who Regulates And Enforces California's, Limousine Laws?
Yes. Both federal and state laws come into play with limousines. The DMV and Public Utilities Commission (PUC) differentiate between "PSG." And "MTR" classes. Motor carriers of passengers are known as PSG regs. But Motor Carriers of Property get called MTR. Limo transport companies abide by the designations PSC– by passenger stage corporations.
However, there is also TCP– by charter-party carriers or Cal-T– by household goods carriers. Mostly, we see these number decals on the rear and front bumpers of limousines. And this helps the CHP and LAX Airport Police keep track of these different types of transports in their various enforcement jurisdictions.
Regulation – Limos operating within California get regulated by the Public Utilities Commission or PUC.
Enforcement – Generally, the California Highway Patrol ("CHP") enforces PUC limousine regulations. At the same time, most city beat cops are focused on enforcing TCP and Cal-T regulations.
Interstate limousine transportation remains governed by the federal Department of Transportation or DOT regulators and enforcers.
These administrative agencies have different rules and regulations to promulgate and enforce. The government passed most of these rules to mitigate personal injury losses to passengers during active business operations. Some rules have to do with drivers maintaining trip sheets. Other regulations cover proper vehicle repair and maintenance.
In most cases, California passenger transports for hire must get approval and permits from the PUC. But several companies are exempt from these State requirements. Of special interest, taxis and ambulance services are locally regulated based on the city and county operations. The location of these regulations is in California Public Utilities Code Sections 226 and 5353. The PUC issues PSC permits/certificates and charter-party carrier/TCP permits/certificates of particular interest.
These rules are different from each other in many ways. For example, a PSC allows transportation services to the general public on a paid fare basis. The PSC operator usually works a "fixed" route. So they typically have a regular schedule, such as airport shuttles or Dial a Ride services.
TCP charters make up the standard license operated under by most limousine companies. Moreover, these licenses primarily handle passengers with a  prearranged itinerary such as a bachelorette party or another event destination and return trip. Other examples of these round-trip excursions include wine tasting tours or sightseeing. Usually, they are exclusive and akin to private party transport.
When you retain the superior Ehline Law Firm, our personal injury lawyers will demand crucial evidence of compliance with these commercial vehicle regulations. All of this can go to show who is responsible and amplify your accident injury law claim. Don't let a motor vehicle collision ruin your special occasion anymore!
What the California Legislature and DMV Say About Limousine Law & Regulations:
"SECTION 1. Section 27315 of the California Vehicle Code is amended to read: 27315. (a(2) The operator of a limousine for hire or the operator of an authorized emergency vehicle, as defined in subdivision (a) of Section 165, shall not operate the limousine for hire or authorized emergency vehicle unless the operator and any passengers four years of age or over and weighing 40 pounds or more, in the front seat, are properly restrained by a safety belt. . ." "(f) Every owner of a motor vehicle, including every owner or operator of a taxicab, as defined in Section 27908, or a limousine for hire, operated on a highway shall maintain safety belts in good working order for the use of occupants of the vehicle. The safety belts shall conform to motor vehicle safety standards established by the United States Department of Transportation. This subdivision does not, however, require installation or maintenance of safety belts where not required by the laws of the United States applicable to the vehicle at the time of its initial sale."
Not all vehicles must legally maintain restraining belts to mitigate accident damages. But limousines for hire must carry seat belts for each paying occupant up to the legal passenger limits. A colossal problem occurs when a limousine operator overpacks the car without enough available restraining devices, and there is an auto accident. Again, our Los Angeles limousine accident attorneys have faced these scenarios, and we are ready to help you too.
What Is A Federal MC Number? Why Is It Important For Limousines?
An MC number is a requirement for interstate transportation. Federal law mandates MC permit issuance before a limousine carrier for hire can leave California's jurisdiction. (Ex: casino tour trip or strip club destinations in Las Vegas from the Golden State. Sometimes carriers make side deals and receive a commission from the businesses toured for taking people to places. Often, these third-party locations could be liable to pay you for your serious injuries or the death of a close loved one. You could seek compensation from them, the limo company, and other liable motorist's insurance coverages or assets.
As our Los Angeles limousine accident attorneys know, compliance or lack of compliance with the regulations can lead to other evidence of assets and money to get you paid. And this remains a reason clients retain the superior limousine accident representation of Ehline Law Firm. Again, Ehline Law Firm's expert and compassionate lawyers have the experience and expertise to discover all forms of compensation to get you paid the best, windfall-like settlement possible. Reach out by calling (213) 596-9642. A limousine accident lawyer for personal injuries is standing by to assist you right away.
The Aftermath Of A Limo Accident – Collecting Money Damages
When faced with a limo accident leading to injury, you must understand recoverable damages types. Most of all, you can get lost wages and money for mental anguish. Your jury award will typically consist of compensation for physical pain and suffering. But in addition to emotional and physical distress, you are also entitled to seek compensation for reasonable costs of medical care and bills. You can even get punitive damages in extraordinary situations, such as when a chauffer rapes or assaults a passenger or motorist.
What Are Some Important Steps Our Los Angeles Limousine Accident Attorneys Take To Protect You?
First, the police must know to create a record and take witness statements. But you must avoid speaking with an insurance company about your accident while unrepresented. Adjusters are famous for trying to use it against you while taking the heat off the responsible parties even after your extensive hospital visits. Hence, they can twist your words into making it appear that you were not hurt or accountable for your accident.
But take an ambulance to the hospital to get x-rays, an MRI, and a full physical examination. Don't wait for the situation to get worse. You must not worry about your medical expenses now. Getting a quick medical checkup will create evidence in your case that can help you later. Always, if faced with physical or sexual assault in a limousine, make sure you get a police report and urgent medical help.
Next, contact an accident attorney immediately. Our lead Los Angeles-based limo accident attorney, Michael Ehline, has experience in owning and operating a limo company. So he brings the knowledge necessary to take your accident claim to a decisive victory. We fight hard for our clients to help right this terrible situation. And our relentless accident attorneys won't give up till there is an amicable resolution for your injury damages.
Hire The Best Limousine Accident Attorneys in Los Angeles Today!
There's a reason many people consider us California's best limousine accident attorneys. These limo accidents occur while traveling back and forth from proms, parties, weddings, or other events. When you receive proper legal advice, you will know the laws and regulations promulgated for and by the PUC and DOT. (vital to getting your life back on track). To assure yourself of a fair trial and the best possible legal representation for your accident, feel free to use our online contact form. Or pick up your phone, and call us for a free consultation with a Los Angeles limousine accident lawyer today at (213) 596-9642. Everything is at no initial cost and kept in confidence. We don't tell as you put our tremendous experience, authority, and client trust to work for you.