During our confidential consultation, we will also talk about helping you press charges for sexual molestation with the Los Angeles District attorney, LAPD, or CHP against the driver and rideshare company.
What Types of Sexual Assault Cases Have Happened with Uber Drivers?
Uber's US Safety Report from 2019 and 2020 shows how many sexual assault crimes have been committed. Even though recognizing what's happening doesn't mean the company has done anything to address these non-consensual touching problems, we can use this data to determine how dangerous this problem is getting.
According to the report, passengers aren't the only ones who get sexually assaulted. The company outlines the cases like this:
45% of the assaults have passengers as the perpetrator.
54% of the assaults have drivers as the perpetrator.
1% of the assaults have a third party as the perpetrator.
Even though it's surprising to see that it's not uncommon for an Uber driver to get sexually assaulted, we're still seeing that the most common victims are passengers. In any case, this represents a problem only the most experienced lawyers or sexual assault attorneys can unravel.
Common Forms of Sexual Assault
The same report from Uber reveals that the most common forms of sexual assault include the following non-consensual actions:
Touching or kissing a sexual body part
Touching or kissing a non-sexual body part
Attempted sexual penetration
Sexual penetration.
Here, the most common form of sexual assault would be the non-consensual touching of a sexual body part, according to Uber's report.
Regardless of what type of sexual assault the victim experienced, they should talk to an experienced Uber sexual assault attorney who can guide them through their legal process correctly.
What Counts as Sexual Assault in Los Angeles?
In California, your civil lawsuit must meet the legal definition of either sexual assault or sexual battery. Even though many people tend to confuse both terms, "sexual assault" is often used as an umbrella term to cover sexual battery and rape.
Sexual assault, in general, is considered "any lawful intent by someone to inflict immediate injury on another person."
On the other hand, sexual battery is considered a subset of sexual assault where the perpetrator intended to have physical contact with the victim.
Finally, rape involves forcing the victim to engage in any sexual activity with them without their consent.
Sexual battery cases include:
Grabbing, fondling, or touching a person's body without their consent.
Forcing a person to touch the offender's body.
Forcing a person to kiss the offender.
Rape, on the other hand, includes:
Restraining a victim in any way.
Engaging in sexual penetration with a drugged or unconscious victim.
Using a position of authority to force/induce someone to have sexual intercourse with the perpetrator.
Threatening to harm or kill the victim if they don't engage in sexual intercourse/penetration with the perpetrator.
Regardless of the sexual assault cases that the victim is dealing with, those can leave them with severe physical and mental injuries. Here, hiring Uber sexual assault attorneys is the best way to seek justice.
About Uber's "Independent Contractor" Claims
One of the primary problems that sexual assault survivors encounter when trying to sue Uber and Lyft drivers for sexual assault is that both companies classify their drivers as "Independent Contractors."
Legally speaking, an employer (Uber and Lyft, in this case) cannot be held liable for their driver's sexual assault case if they're independent contractors.
Even though this problem is currently going under review by different states, California has already stated through an assembly bill that Uber and Lyft have the legal obligation to classify their drivers as employees.
California's Assembly Bill 5 states that any company's employees must meet a three-part test to be considered independent contractors.
This test involves:
Demonstrating that the driver is free from the direction/control of the company.
Demonstrating that the driver is allowed to work outside the working hours of the company.
Demonstrating that the driver frequently works independently in the same occupation they have in that company.
Currently, several courts have determined that most drivers from Uber don't meet these three requirements, which means that these drivers should be considered employees rather than independent contractors.
However, Uber still claims that its drivers aren't employees even after all the asexual assault cases being filed against it. The California government is still reviewing this issue so that we may see new laws soon.
Can You Sue Uber?
Technically, yes. You can sue Uber for sexual assault and battery claims. The problem here is that it will be hard to prove that Uber should be held liable for something that its driver did because of the "independent contractor" issue.
However, suppose your Uber sexual assault attorneys are able to prove any failure that the company had that contributed to the Uber driver sexually assaulting you. In that case, you may have better chances of winning.
Some of these failures include:
Lack of proper background checks
Hiring people with a prior criminal history
Negligent hiring processes
Retaining key employment information
Not being able to help gather evidence after a sexual assault case
Not protecting passengers from their drivers' behavior.
Keep in mind that you can also seek justice by suing the driver instead of the company. Still, you will be able to hold the company liable if you can prove its negligence with the help of a lawyer.
What Should You Do If an Uber or Lyft Driver Sexually Assaulted You?
An Uber sexual assault case is something that can emotionally scar the victim. In most cases, the victim will be in shock and unable to act fast.
If you were a victim of sexual assault in California and want to start the legal process for a civil lawsuit, make sure you follow these steps to ensure your physical and emotional protection:
Medical Treatment
Those who were gravely injured due to the sexual assault attempt must seek medical treatment as soon as possible. The first step would be to take a Sexual Assault Forensic Exam (SAFE) to uncover any injuries you may not have identified yet due to the shock and STD infections. You will need monetary compensation to get the best psychological and medical care hospitalization fees in such cases from Uber as well as the rideshare driver.
Reporting the Assault
Uber has a menu where you can report sexual assault cases to the company. The company claims it will take action that will prevent the driver from assaulting anyone else.
However, Uber does ask its clients through a policy that they don't share information surrounding their sexual assault with the police. If you want to hold the driver or company accountable for sexual harassment or assault, then you should definitely report the case to the police.
Many victims find reporting an Uber sexual assault case to the Los Angeles police hard, and that's normal. You can ask a trusted friend or loved one to accompany you to the station if that makes you feel safer.
Finally, you can talk to our Los Angeles legal team at Ehline Law, and we will also make sure your reporting process goes as smoothly as possible.
Seeking Legal Action and Counsel
To start your Uber sexual assault claim, seek a free consultation with a reputable law firm. Here, the lawyers will evaluate your case and tell you which steps you should take next.
Our team at Ehline Law offers a free consultation for Uber sexual assault victims, so don't hesitate to start your legal action today.
Seeking Mental Health Support
Sexual assault tends to leave several mental and emotional scars on a person.
Besides taking legal action, it's vital that you engage in supportive activities for your mental health, including:
Talking to a friend or family member
Avoiding any media that could trigger your Uber sexual assault memories
Talking to a therapist specializing in sexual assault
Calling the National Sexual Assault Hotline at 1-800-656-4673
How Much Time Do You Have to File a Lawsuit for Sexual Assault?
You must file your civil claim before California's statute of limitations runs out. In this state, you will have a different deadline depending on your age.
Adults who were assaulted will have ten years after the act to file their civil claim. On the other hand, the person will have three years from discovering any injury resulting from the assault.
Children and teens under 18 years old have until they reach the age of 40 to file a lawsuit in Los Angeles. Alternatively, they have five years from the day they discovered they were abused to file a case, according to the California Code of Civil Procedure (S-340.1).
Keep in mind that once the statute of limitations runs out, you will not have options for legal recourse. You must seek help as soon as possible to ensure you get compensation by discussing your personal injury case with us.
What Damages Can You Recover from Your Sexual Assault Claims?
Generally speaking, you can seek compensation for the following:
Economic Damages
Medical fees
Surgery
Medication
Treatments.
Non-economic Damages
Pain and suffering
Anxiety
PTSD
Emotional distress
Any other psychological or emotional condition.
Punitive Damages
Contact Ehline Law for Professional and Reputable Sexual Assault Lawyers in Los Angeles
Ready to get started? If you or a loved one were recently injured physically or emotionally due to an Uber driver's sexual assault, we're here to help you. Please take a look at some of our recent verdicts. Our proven record of success shows we will do a better job. Our job at Ehline Law is to help you feel safe while getting compensation for all the damages and trauma you may have experienced.
Make sure to contact one of our lawyers at (833) LETS-SUE if you feel that your assault was due to either the rideshare service company's or the driver's fault. Discuss restitution and damages today!
---
Michael Ehline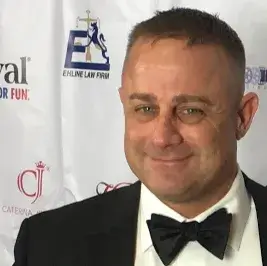 Michael is a managing partner at the nationwide Ehline Law Firm, Personal Injury Attorneys, APLC. He's an inactive Marine and became a lawyer in the California State Bar Law Office Study Program, later receiving his J.D. from UWLA School of Law. Michael has won some of the world's largest motorcycle accident settlements.
---
Recent Personal Injury News
Check out our most recent product defects, accidents in California and more, including the famous, infamous and everyday people wounded by at fault parties around the world.