If we don't win, you don't pay.
Speak to the Attorney.
Born to serve.
633 W 5th Street #2890
Los Angeles, CA 90071
(213) 596-9642.
Date Modified: September 8, 2023
Former U.S. Marine Trial Lawyer and Turo Personal Injury Firm. We Fight For Our Accident Victims Nationwide. Turo is a peer-to-peer "car-sharing" rental car service that allows anyone to loan their car and get paid by the day, depending on the value of their vehicle, using an online mobile interface. I am Los Angeles Turo accident lawyer Michael Ehline. I am a former common carrier and an expert in all things car rental and ride-share. The famous phrase "Let Your Car Work for You" was introduced by Turo.
This might seem enticing for those of us with a Benz or Ferrari who wants to make some spare coin; this might seem enticing, right? Many of my clients hate Turo and consider it a scam. When you read this article, you'll understand your rights, duties, and obligations and how to avoid frustration by NOT using Turo!
True, renters can determine when and what day their desired car and city are ready for pick up. So convenience and having a high-end car are fantastic. But like the famous Eagles song, Hotel California, many owners and renters find once you're locked into the Turo contract, "you can check out, but you can never leave." (You get stuck paying for your repair or replacement out of pocket!)
The vehicle owner has a considerable insurance payment refusal risk if the renter is at fault or a third party wrecks the car, SUV, or truck. This raises many questions and concerns for Turo car accident victims and vehicle owners.
Below I will discuss the renter's or car owners' insurance policy in similar Los Angeles personal injury claims. In the end, I will provide some bonus information for new clients seeking legal advice. Schedule a free case evaluation immediately if you've read enough to form an attorney-client relationship today. We have recovered millions for happy customers, and our contingency fee attorneys take no fee unless we win.
Our best Turo accident lawsuit experts are standing by to help you battle the rental car agency with our zero-fee guarantee. Phone (213) 596-9642.
---
Turo Is A Form Of Private Rental Car That Has Crazy Rules
People rely on car rentals and rental reimbursement insurance for many reasons. Most people know about car rental agencies. But many people remain unaware of transportation accommodation advances, especially personal injury attorneys.
Turo Helps You Rent Your Car To Third Parties?
Turo is a newer competitor that's attracting new users. This firm allows individuals to rent their own cars online without using traditional rental car firms. Turo car rentals enable anyone to rent out their own vehicle for daily use by unknown parties wanting to drive a specific vehicle type for a set period of time. The Turo concept allows you to turn a car that isn't being utilized into cash. And for those who rent cars, this rental may be less expensive than hiring a regular agency like Hertz or Alamo.
California Turo Insurance Problems and Positives
Turo – Pros
Turo allows you to rent a vehicle in the United States if you are over 18. The majority of my clients have rented cars with mileage of less than 25,000 miles. Driving a car that is older than 18 attracts a young driver fee and has different insurance requirements.
Turo also offers vehicles you may not normally encounter in the regular rental car market, such as high-end exotic and luxury automobiles, super-high-performance cars, historic and vintage cars, and electric vehicles. Turo is simple to use, often cheaper, and more convenient than renting with a regular agency.
Cons
There is a lot of money riding on your Turo experience, so you can't afford to make mistakes. Anything might go wrong with a Turo rental, with devastating consequences for the car owner and renter. This applies especially to Turo rental car accident cases.
The insurance company of Turo may be competent and sympathetic, but it can also be argumentative, inefficient, and insensitive. The Turo accident claim experience appears to span the gamut of possibilities.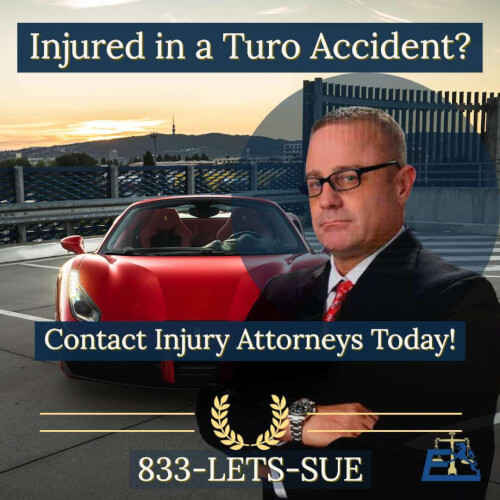 Both Parties Must Thoroughly Check the Car and Document Everything Before and After Each Rental
It's to your advantage to create a record for general informational purposes before you take receipt of your car from the other party. For the owner, it's wise to run a background check to make sure the renter isn't a risk to you or others.
Check the Turo rental car interior and exterior.
Start the car and note the mileage. Report any dashboard warnings such as a "check engine light," unusual factors including interior noise or rattles, or strange behavior.
Make a list of everything broken, missing, or not ready for use.
Dashboard warnings, such as lights in the engine and strange noises, may appear.
Send photos or send information to me via email or text to keep track of your records.
When you return the automobile, please don't skip over it.
Take photographs of everything.
This would be your proof it wasn't in showroom condition (covered with dirt, stained interior, paint scratches, body dents, etc. Send photos of all your finds to the owner so there is no question about the defect or minimum condition. Take pictures or send the information via text or email so that you have a record.
How Do I File A Claim After a Turo Accident?
Turo vehicles can suffer the same mishaps as motorized vehicles and face legal hassles and guidelines. Below is some more assistance in this regard.
Determining the Cause of a Turo Crash
Those responsible for the accident are the party or parties legally obligated to fix the Turo rental car and pay the victim's losses for personal injury, property damage, and wrongful death.
Rear-end Collisions
Head-on Collision
Vehicle Rollover
Speeding Car Accidents
A rental car company, including Turo, offers insurance coverage, but as discussed, it may be treated as secondary with zero benefits to the consumer.
Turo vehicles can crash for a variety of reasons, such as:
You're in a Turo car, and another motorist collides with you.
A Turo rental car driver collides with your personal automobile.
Your automobile breaks down and causes you to wreck while you're using Turo.
In general, if another motorist is to blame for an accident, their insurance policy should cover any property damage or injury-related expenses. Turo does not bear the expense of insurance on rentals taken through the site.
However, the situation becomes more complex when renting a car via Turo. Always have an automobile accident lawyer evaluate your circumstance to ensure you submit accurate claims and identify any possible coverage.
T-bone / Side Impact Crashes
Drunk Driver's General Negligence
Single Car Accident Claim
Sideswipe accident.
What Is My Turo Insurance Coverage?
One of the primary objectives of a California rental car accident lawyer is to determine which insurance policies should cover your losses. To do so, you must first understand how Turo rentals work with Turo cars. Turo's insurance policy is available for both car owners and renters. This coverage provides up to $1 million in liability coverage for the other driver for injuries and property damage.
Liberty Mutual covers Turo's Liability Policy Turo. $750,000 in liability coverage is intended if the Turo driver was named on the rental agreement. Turo may have higher excess coverage as well. The key is to show both companies that you are owed money, so they will let you access those insurance plans. If you're a renter, your policies may differ from those offered for your particular case.
Turo Insurance Is A Supplemental Policy?
Turo coverage serves as additional insurance. It's worth noting that Turo allows vehicle owners to opt out of its commercial range.
There may be several insurance firms involved in a Turo accident claim, including:
Third-party driver's insurance
Turo's own insurance coverage
You may purchase your own uninsured or underinsured motorist coverage if you have comprehensive or collision insurance on your vehicle.
You must file the correct insurance claims with the appropriate firms to get the maximum compensation for your losses.
What Happens When Is The Rental Car Driver at Fault?
In those situations where the rental car is at fault, the driver may have a difficult time deciding whether or how much insurance to get. The owner could have chosen to deactivate the insurance, leaving possible limits on injuries due to the vehicle's insurance policy restrictions.
The car-leasing service provider can also dispute the driver's liability to reduce any potential losses it may have to pay, such as the driver's liability. Some automobile owners have their own insurance, especially in Los Angeles, CA.
When Another Party Holds Fault?
In addition, a collision in a vehicle may result in injuries to passengers. The other drivers might file claims against the owners. This would place many motorists who were involved in the accident into a difficult liability position.
Turo's Dirty Little Secret!
If the renter purchases collision and gap insurance, your liability to repair or replace your vehicle may be limited. However, you likely discovered that when a renter wrecked your Turo available vehicle, severe personal financial responsibility was placed on your insurance policy rather than Turo's "secondary insurance."
Beware Turo's Commercial Use Exception!
Since the owner rented their vehicle commercially, their private insurance refuses to pay, leaving the car owner 100% responsible for paying for the Turo rental vehicle's property damage regardless of fault.
Naturally, your insurance won't cover commercial use rental of your car, so your credit is exposed, and you're screwed! What a scam.
Turo Provides No Uninsured or Underinsured Motorist Protection
Turo does not provide insurance for California, so you will not be covered for UM/UIM expenses. Your insurance won't cover your injuries if you are injured due to uninsured drivers. If you're under-insured or sub-insured and your carrier agrees to take on a commercial risk, you can submit a claim with your private insurance company.
Insurance Responsibility And Turo Car Rental Vehicle Accidents In Your Town
The driver's responsibility is $500 to several thousand dollars. The driver may also receive a refund or no refund at all if liability for the accident is determined.
A car rental accident lawyer can explain this arduous vetting process before you consider purchasing a personal auto insurance policy or additional liability insurance.
This insurance might cover the rented person's vehicle and perhaps other people's property damage in a rental car accident. Even if the renter is held accountable for the accident, as discussed, without legal help for these car accident claims, rental car companies like Turo leave people who rent their vehicles holding the bag! Don't just waive coverage thinking your clean driving history will save you.
What Should I Do At The Turo Accident Scene?
You must help your future legal team record and investigate your trip as soon as the event takes place.
Although a Turo lawsuit may occur later, your accident attorneys providing legal services have some special tips as follows:
Get to a place of safety, out of the road.
Gather witness details, including their driver's license number, insurance information, and contact information (take pictures with your phone).
Seek medical attention, even medical care for so-called "minor injuries."
If you use a Turo vehicle and are involved in an accident, you must notify the firm within two (2) hours of the occurrence or when your contract for any rented vehicles ends.
Turo's insurance coverage has no legal responsibility to pay for any damage or other expenses incurred as a result of your negligence if you don't report the incident to the cops for an investigation. You should file a police report on the accident immediately and give Turo the report number. If you skip this step, you may not be eligible to receive compensation under Turo's policy for the car rented.
Our most charismatic, experienced attorneys will assist you with a free consultation. Our Los Angeles office will help with any rental car claims, including auto accidents and insurance protection problems involving personal vehicles.
A highly skilled attorney would explain the legal process if another person were at fault for a Turo rented car collision. If the insurer decides to deny coverage, our legal representation will pick up the slack.
Compensation When You Rent Vehicles From Turo?
Our Turo injury lawsuit specialists may even be able to financially assist victims of the car manufacturer's carelessness leading to a car accident. A Turo vehicle involving injuries to multiple people in your individual case can reduce the full compensation you could have received (especially with a less experienced attorney).
It's in your best interests to have thorough evidence of lost income, medical treatment, hospitalization, and other details like your supplemental insurance policy number. If not, you might get a raw deal.
Compensation Includes:
Medical expenses for medical treatments after your auto accident.
Property Damage (or the actual cash value replacement)
Lost wages (past, present, and future contracts, etc.)
Deductible reimbursement.
Pain and Suffering damages.
To enhance your chances of receiving whole compensation for your car-sharing service collision, it is essential to begin the procedure as soon as possible. Million-dollar protection or not, without the right legal assistance, the victim can be left penniless or strapped with a sub-par settlement for the damages sustained in any crashes.
Whatever happened, one of the best protection plans available to recover rightful compensation is a free case review with one or more car accident lawyers. You may be able to avoid court and get the funds you need to fix your car, pay back your doctor, and protect your valuable financial credit rating.
Getting Legal Help From Los Angeles Injury Attorneys For A Turo Incident
Some drivers may believe that renting a vehicle through Turo is beneficial. However, the insurance coverage offered is not straightforward. This is where several free consultations may come in handy.
Having a lawyer explain the policy might be useful. And this is especially true when explained by a Los Angeles car accident attorney. After all, it's the insurance that comes into play if you have an accident.
How Can I Form A Turo Attorney-Client Relationship For Legal Advice?
Contact our law office for a free consultation when you use Turo against our advice. We have the resources to fight for the compensation you're entitled to receive. Furthermore, we will inform you about your serious injury accident claims every step of the way.
Our skilled lawyers can negotiate with insurers and eliminate any confusion. Most of all, we will work hard to get the largest settlements for our clients. Watch this video for accident victims seeking faster legal advice as a special bonus.
We'll spend the time necessary to understand the nature and severity of your instance of injuries. After forming an attorney-client relationship, our caring, compassionate accident lawyers won't rest until you receive maximum compensation for your case.
We'll even advance costs. Speak with us today to dissuade any doubt. Inform and make yourself aware before pursuing recovery. If you or a loved one got hurt in a Turo crash, call Ehline Law Firm for a free consultation at (213) 596-9642. Victims can also use our online contact form. Everything is confidential, and the price is right. That's the outcome you deserve! Habla español.
Michael Ehline is an inactive U.S. Marine and world-famous legal historian. Michael helped draft the Cruise Ship Safety Act and has won some of U.S. history's largest motorcycle accident settlements. Together with his legal team, Michael and the Ehline Law Firm collect damages on behalf of clients.
We pride ourselves on being available to answer your most pressing and difficult questions 24/7. We are proud sponsors of the Paul Ehline Memorial Motorcycle Ride and a Service Disabled Veteran Operated Business. (SDVOB.) We are ready to fight.