If we don't win, you don't pay.
Speak to the Attorney.
Born to serve.
633 W 5th Street #2890
Los Angeles, CA 90071
(213) 596-9642.
2323 S. Voss Rd, Suite 244
Houston, TX 77057
(832) 592-1260.
Date Modified: March 22, 2023
Are You A Union Welder At The Port Of Los Angeles, San Pedro, or Long Beach Seriously Burned Or Scalded At Work?
Call Superior Lawyers With Heart
Tell us about your welder or chemical burn while on the clock. Fill out the form. A happy, healthy personal injury case management expert will contact you, or pick up that phone and call now. Tell Us About Your serious injury or death claim. An attorney with expertise, authority, and trust is waiting for your important call. Ehline Law Firm is accessible from the Santa Monica Interstate 10, the I-5, and I-405 and is statewide to serve you best.
"Hello, I am Michael Ehline. I am a personal injury expert and have practices law for over 15 years. My experience is that I have lived and worked as a PI attorney for Angelenos and obtained millions for them. Also, I am recognized as a Super Lawyers Rising Star and stand with the best lawyers in L.A. Below; I will discuss union worker burn injuries such as from welding or hot mopping. To start with, the human body is an amazing organism. And the skin covering it protects tissue, blood vessels, muscles, and bones. It contains your internal organs. But things can change rapidly without urgent care and money to pay, and not for the better."
Contact us for more information and to set an appointment.
Burned While On The Clock?
Tell us about your case, and a personal injury case management expert will contact you, or pick up that phone and call now.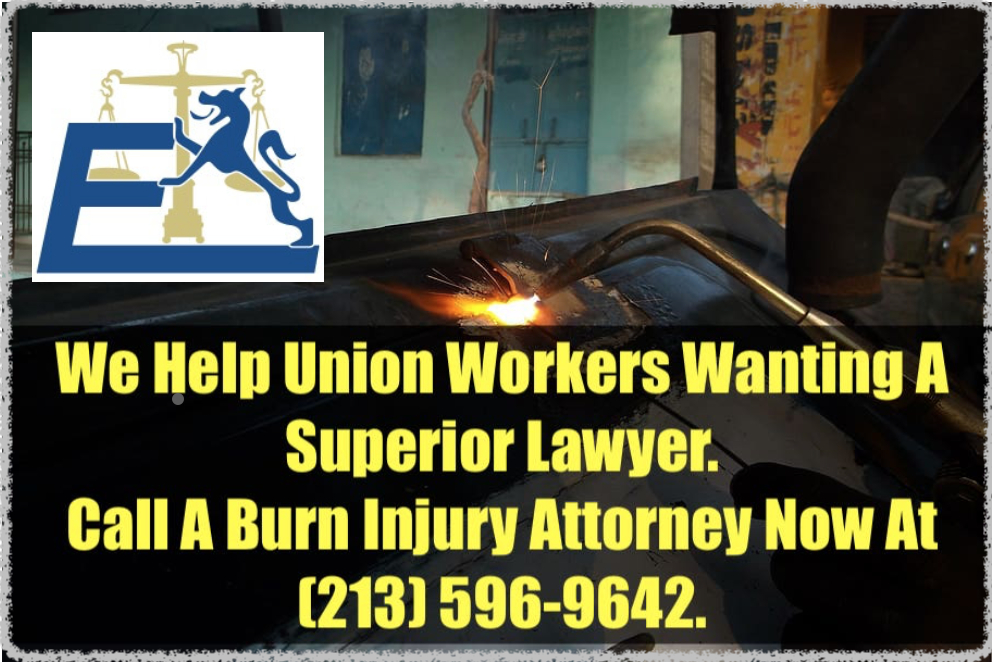 This article covers union worker burns and toxic smoke inhalation. It also discusses how to get compensation beyond union benefits.
If a worker suffers a bad burn or sucks in toxic smoke, the employee union is supposed to offer some help. But this assistance is often not enough to protect the employee. Typically the injured worker will need more than Worker's Compensation. And they risk losing their livelihoods. Also, no union benefits can make up for the loss of your future income and happiness.
---
Some union jobs remain in the Golden State. And this is due to the ports and shipping hubs. Long Beach and the Port of Los Angeles are teaming up with union labor.
All of these facilities require:
Welders
Machinery operators.
The Unions for trades and industries include:
Iron Workers
Steel Workers
Sheet Metal Workers
Building & Construction Workers
Electricians
Plumbers & Steamfitters
Roofers
Painters, Bricklayers, Masons, and Allied Crafts Workers
Laborers
Engineers
Automotive Workers
Utility Workers
Mine Workers
Longshoremen, Boatmen & Maritime Workers
Boilermakers & Shipbuilders
Transport Workers
Elevator Constructors
Food and Commercial Workers
Firefighters.
---
What About Risky Trades and Unsafe Work Sites?
These jobs can all be risky trades. But the main cause of accidents is employers failing to keep a safe workplace. If defective equipment exists, carelessness is likely the reason.
And that means the place is unsafe. As a result, workers can inhale toxic welding rod smoke. They can also get shocked and burned. Gas explosions are almost to be expected at the docks. And people get hurt.
What About Other Potential Defendants and Money?
All in all, smoke inhalation and burns are tragic. These men and women deserve better. Now they are at risk for cancers and breathing problems. Workers can become disfigured and remain in pain for life.
Also, they may lose their jobs. So now they are our future income. And union benefits won't be enough. But an attorney can look at other sources of payment for the smoke or fire burns.
What Would Be An Example of a Third Party Defendant – The Exploding Gas Tank?
The idea is to pin down other defendants who could have played a role in your burn injury — that way, the lawyer can find other defendants with money to pay the injured worker. For example, if a welding tank explodes, a product liability case may lie against the tank's manufacturer.
Because the tank blew, it might be defective. In that case, there would be a suit against the people who built and distributed the tank. Because they made a faulty tank, it blew up. That means they have a legal debt to you. Are you getting this so far? So even though you are a union member, you have more rights. If you or a loved one got harmed on duty, discuss your case with a negligence lawyer.
Do Independent Lawyers Do More than Union Advocates?
The burn injury lawyers at Ehline Law Firm have the experience. And these experts have the resources to protect the injured victim's rights. We can do more than a union advocate.
We leave no stone unturned when it comes to your rights to compensation. But it is essential to learn your rights and how it all works, as soon as possible. After all, evidence can be lost, and witnesses' memories can fade. However, the law limits the amount of time to file a legal claim. Also, it restricts what types of damages a family can get in a wrongful death action.
We just learned about risky trades for burns and smoke inhalation. Also discussed was how a victim could get more than essential union benefits when seriously hurt.
Schedule a Free Consultation With A Los Angeles Union Employee Burn Injury Attorney Today
No matter what, if you were injured and were in a union, speak to an attorney sooner rather than later. The burn injury lawyers at Ehline Law Firm can hold the negligent party responsible. And we can help the family that has lost loved ones toll-free at (213) 596-9642. You can also try contacting us using our convenient website form
Michael Ehline is an inactive U.S. Marine and world-famous legal historian. Michael helped draft the Cruise Ship Safety Act and has won some of U.S. history's largest motorcycle accident settlements. Together with his legal team, Michael and the Ehline Law Firm collect damages on behalf of clients.
We pride ourselves on being available to answer your most pressing and difficult questions 24/7. We are proud sponsors of the Paul Ehline Memorial Motorcycle Ride and a Service Disabled Veteran Operated Business. (SDVOB.) We are ready to fight.