Goals: The goal is to avoid setting off lawsuits and work towards fair settlements that resolve in your best interests. We do this using the expertise, experience, authority, and trust we have earned from representing thousands of injured clients. We will take steps to interview witnesses and gather documentary evidence and photos with priority.
We will hire the right liability experts with industry authority. We will prepare and fight till your case is settled against the responsible party in your best interest while staying in constant communication throughout the whole process. Want a great attorney to answer your legal questions as a wounded skier or snowboarder? Keep reading for the best outcome on the slopes!
24/7 Emergency Legal Advice
So if you are experiencing harm like lost wages and can't afford your health insurance deductibles, even if it was an auto accident at a ski resort or other equipment like a bad ski lift, we will help explain your rights to obtain swift justice 24/7. You can also call at (213) 596-9642 if you want to cut to the chase. With that said, let's get into the common injuries and causes of most ski-related accidents before we talk about filing a case.
In the end, I will explain how to get money from the responsible parties if you are seeking compensation for most skiing and snowboarding-related accidents in California state. Even if someone was killed, let's discuss your options to get you what you, your wife, son, or daughter deserve and focus on getting you back on your feet in an amazing amount of time.
Understanding Ski Lift Accidents
Ski lifts are mechanical devices that are designed to be efficient and safe in snow conditions. Ski resorts and ski lift manufacturers have a duty to make sure their equipment is properly maintained before being used by the public. However, equipment malfunctions occasionally happen, and severe injuries could result depending on how it was used.
When an accident happens during a ride, it is often because of inadequate maintenance by the ski area operator, a flawed engineering design, or a manufacturer error are usually to blame. More than 90 percent of lift accidents happen when a skier is loading or unloading, and they are the result of either rider error or poorly trained ski lift operators. Injuries resulting from these machines to many skiers are often avoidable when reasonable care is exercised by the land owners and property managers and with an adequate warning from the people who built defective machinery.
The liability issue is typically resolved by weighing the operator's obligation to exercise extreme caution against the responsibility of the skier or passenger to pay close attention, possess the necessary abilities to board the ski lift, and pay heed to all displayed information and directions. If bad equipment has been bad since its construction, then not just the person who operated it or rented it will be liable. The manufacturer will also be responsible for the malfunction (defective chairlift, etc.). So they can be sued under product liability practice areas.
Unloading mishaps can be the consequence of a lift operator's negligence due to a short ramp, poor maintenance, or refusal to stop the ski lifts to let riders who are known to be inexperienced disembark safely. Below I will break down minutia to help victims navigate these stressful situations and not blow the statute of limitations to bring a lawsuit. If at any time you are confused or see I made an error, please do not hesitate to call me immediately by dialing (213) 596-9642 to speak to an outstanding ski accident attorney today!
Other Common Ski and Snowboard Accidents
Winter sports like snowboarding and skiing are extremely well-liked. In fact, Johns Hopkins University researchers concluded that roughly 10,000,000 people enjoy these sports annually. However, despite how much we adore the snow, there are almost 600,000 recorded injuries each year. Many involve people injured in a ski-related accident seeking recovery but not knowing the necessary steps to take.
Let's look at other common types of ski accidents that typically result in injuries with medical costs with our best personal injury lawyer at Ehline Law Firm.
Ski Resort Negligence
Owners of ski resorts are obligated to keep their facilities secure for visitors. Victims have the right to initiate claims against the owner of the property for recompense when they fail to do so, resulting in injury. Each case is different, so it's crucial to speak with a ski accident lawyer as soon as possible for legal advice on ski resort accidents.
Ski Equipment Failure
When equipment malfunctions and you are wounded, you might be able to take legal action to get compensation for your damages. If ski bindings failed to disengage, the manufacturer or the business that fitted the equipment might have acted negligently.
We have experience evaluating equipment failure and can help you determine whether a failure to release was the product of negligence or if the skiing accident was unforeseeable, given the circumstances of the fall.
Collisions Caused By Reckless Skiers or Snowboarders
When skiers or snowboarders collide, injuries can occur. These types of events each have unique circumstances and require a comprehensive investigation to establish culpability.
Snowboarders and skiers have a responsibility to exercise reasonable caution when participating in their sport. Therefore, irresponsible snowboarding or skiing, whether brought on by dangerous speeds, carelessness, or other reasons, is not acceptable and is cause for legal action.
If you were involved in a ski or snowboard accident, contact us, and we will investigate your case to identify the cause of the incident and determine who can be held liable for your damages.
Ski or snowboard accidents happen for various reasons. If you suspect that the negligent actions of another party caused your ski accident, it's best to contact our team of ski accident attorneys to find out more about your options.
Homeowners' Insurance May Cover Negligence Claims
A crucial element is not commonly understood when it comes to incidents brought on by other skiers or snowboarders. Most homeowners have insurance that will cover losses resulting from careless conduct by themselves or family members, including their kids, wherever such incidents happen.
This often includes skiing accidents. If a homeowner has fire insurance, the policy will typically include liability coverage for claims of negligence made against any of the occupants, including actions taken negligently on a ski slope. Additionally, tenants' insurance coverage also offers this kind of liability protection.
Ski and Snowboard Injuries
Accidents involving skiers and snowboarders can result in serious injuries. Often, victims experience severe orthopedic injuries.
Damage to internal organs is also common as a result of skiing accidents.
Of course, death is sometimes the tragic outcome of these mishaps. Injuries sustained in ski or snowboard accidents frequently include:
Broken bones
Spinal cord injuries
Traumatic brain injuries
Back injuries
Internal organ damage
Neck injuries
Shoulder dislocations or sprains
Concussion
Knee injuries.
These injuries can be life-changing. With the help of an experienced ski accident lawyer, you can pursue the maximum compensation to cover your medical bills.
What Damages Are Available to Ski or Snowboard Accident Victims?
Accident victims who suffer injuries while skiing, snowboarding, or riding on ski lifts may be eligible for compensation for the losses they incur as a result of the incident. This includes economic and non-economic damages.
Here are some examples of damages that victims may claim in a personal injury lawsuit:
Medical Expenses
Ski and snowboarding accidents often result in severe injuries. The cost of medical care for injured victims might go into the thousands.
Fortunately, you can add these expenses to ski or snowboard accident claims, including those associated with surgeries, rehabilitation, and other treatments. Typically, even though an insurance company covers these expenditures, compensation can be claimed.
Pain and Suffering
Victims may be compensated for both bodily and emotional distress. Engaging with a knowledgeable attorney who can make a convincing case for how your injuries have affected your life is essential.
Lost Income or Loss of Earning Capacity
Those injured in ski accidents often need to miss work to attend to their injuries. Courts compensate sufferers when they are forced to take multiple days off work.
The amount that can be claimed will depend on their hourly rate and the number of hours they lost because of the accident. Victims who are permanently out of work may be eligible for a payment equal to the income they would have been entitled to throughout their lifetime.
Because damages differ from one case to another, it's best to contact a personal injury attorney to learn more about the amount you may be entitled to for your injuries.
What Should You Do If You're in a Ski or Snowboard Accident
There are steps you can take in a ski or snowboard accident to protect your legal rights.
Get medical attention (even if you feel fine). Sometimes, injuries only become evident much later, so it's best to see a medical professional immediately after the accident. This will also improve your chances of obtaining the maximum compensation, as the defense may argue that you failed to receive proper treatment.
Obtain as much evidence as you can from the scene. This includes photographs, videos, witness statements, and more.
Contact an experienced attorney. Ski and snowboard accidents can be tricky, so it's important to contact a lawyer as soon as possible for legal advice. An attorney will also ensure that your rights are always protected.
If you were involved in a snowboard accident, contact our legal team today to schedule your free case evaluation!
Why You Need the Help of Ski Lift Accident Attorneys
Serious injuries, such as head, neck, and brain injuries, broken bones, and more, frequently result from ski and snowboard accidents. As a result, ski accident victims often experience considerable financial hardships as well as diminished quality of life.
Anyone in this situation may be eligible for compensation. Furthermore, skiing-specific legislation exists in several states. Some states have laws that will govern a case involving an injured skier.
The truth is that you can expect the best results if you hire a ski accident attorney if you were hurt in a ski lift mishap or while skiing or snowboarding. You can count on our attorneys to help with successful skiing accident reconstruction during the trial.
Other personal injury lawyers who specialize in handling ski lift accidents could lack the knowledge required to develop a compelling case. Our legal duty doesn't end when we settle. We also negotiate down your bills for things like physical therapy to put more money into your pocket in all defective equipment cases.
Why Choose Ehline Law Firm to Represent You?
Experience isn't the only reason to choose Ehline Law to represent you for a great verdict or settlement.
Here are more reasons to choose our law firm if you were injured at a ski resort:
We are an award-winning team and offer free consultations for ski and snowboard accident victims.
Our 24-hour helpline is available if you need assistance with your personal injury case.
At Ehline Law, we work on a contingency fee basis, which means that we will not charge you for legal services if we do not secure compensation settlement or court resolution.
We treat our clients with the respect and dignity they deserve because we understand how traumatic ski and snowboard accidents can be. The safety of you or a loved one was violated, and this dangerous condition was out of your control. Now you need someone with expertise to take the lead as you suffer out of commission.
Do you want the best possible outcome for a ski resort-related accident as an injured victim? You put your trust in the ski resort and ski area operators to keep you safe, so if this trust is broken, the offending party needs to pay for your damages. Our professional injury lawyer team will fight aggressively to ensure you get justice and obtain the financial recompense you rightly deserve for what you have suffered!
Contact Our Team of Ski Accident Lawyers in California Today!
We will work hard to discuss the risks and benefits of pursuing a case. We will stop at nothing if you hire us to get you the best results. For example, we will come to your home, place of work, or hospital. We have a 24-hour injury attorney hotline, and you can call us toll-free anywhere in the country.
If you like, you can also use our convenient online contact us form to communicate by email. To find out more or schedule your free case evaluation, contact Ehline Law Firm today by calling us at (833) LETS-SUE or filling out the contact form below! Our fantastic, aggressive, compassionate complex litigation lawyers are ready to assist with enjoyment and enthusiasm today.
---
Michael Ehline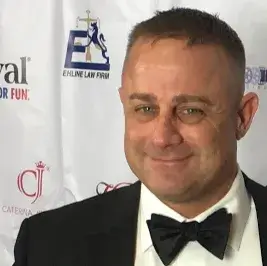 Michael is a managing partner at the nationwide Ehline Law Firm, Personal Injury Attorneys, APLC. He's an inactive Marine and became a lawyer in the California State Bar Law Office Study Program, later receiving his J.D. from UWLA School of Law. Michael has won some of the world's largest motorcycle accident settlements.
---
Recent Personal Injury News
Check out our most recent product defects, accidents in California and more, including the famous, infamous and everyday people wounded by at fault parties around the world.