Misplacement of Equipment
Areas around trenches are not strong enough to hold heavy machinery or equipment like light or heavy cranes, including forklifts. If an employee is negligent and places heavy equipment around the trench, it could cause the trench to collapse, causing injuries to workers inside it. Our best Los Angeles construction accident attorneys are specialists in these types of workplace injuries.
Lack of Maintenance
The scaffolding inside the trench provides support and stability to the trench. If there are delays in the construction project, it can cause the scaffolding to weaken, increasing the risk of a construction accident. 
It is the responsibility of the construction company and its employees to ensure they carry out routine inspections and maintenance to avoid such construction accidents.
Failure to Follow OSHA's Guidelines
OSHA is a large regulatory agency of the United States Department of Labor and lays guidelines for many industries, including the construction industry, to follow. 
Failure to follow the recommended OSHA guidelines can lead to fines and increase the risk of construction accidents.
Lack of Safety Precautions
When working on a construction project, workers must have the necessary safety gear to protect themselves from the potential hazards on a construction site. Employers who fail to provide their employees and subcontractors with safety equipment and gear may be responsible for the injuries sustained by their workers in a construction accident. For example, a busted natural gas line with an electric spark can cause deadly explosions, or electrocution, killing contractors and even pedestrians walking by on the sidewalk.
Lack of Warning Signs
Trenches also pose a serious threat to pedestrians. When there is a construction project going on, the company needs to place warning signs to inform pedestrians of the hazards. 
Warning signs help pedestrians avoid the construction site and its hazards. However, a construction company or its employees may forget to place a warning sign increasing the risk of a serious construction accident.
Common Open Trench Construction Accident Injuries
Unlike motor vehicle accidents, when an open trench collapses or an unaware pedestrian falls into one, it can lead to devastating injuries, including the following:
Broken bones and fractures
Back and spinal cord injuries
Traumatic brain injuries
Crushing injuries
Internal bleeding and organ damage.
When a worker or a pedestrian suffers injuries in an open trench construction site accident, it is crucial for them to seek medical attention immediately. 
Construction site accidents can lead to devastating injuries, and if not treated as soon as possible, they can be fatal.
Can You Sue for an Open Trench Construction Accident If You're an Injured Worker?
If you're a worker who suffered an injury in Los Angeles, chances are that your employer has workers' compensation insurance for all its employees.
When an employee suffers injuries while on the job, they can pursue a workers' compensation claim to recover the following:
Lost wages: If an employee is unable to attend work for a few days due to a work-related injury, they can pursue a workers' compensation claim to recover some of the lost income.
Medical expenses: A construction accident can lead to all types of injuries, affecting the financial status of the worker. Fortunately, a workers' compensation claim can help the worker recover medical bills, including emergency room visits, necessary surgeries, and prescriptions.
Rehabilitation costs: A construction accident can sometimes lead to severe injuries that require ongoing care, therapy, and rehabilitation. Workers' compensation can cover the expenses arising from such medical treatments.
Surviving family members may also file a workers' compensation claim to receive death benefits following the loss of their loved one due to a construction accident.
However, it is essential to note that by agreeing to receive workers' compensation benefits, the injured worker loses their right to sue their employer for negligence. Think of a workers' compensation claim as a compensation bargain that protects the employees from financial damages arising from an accident and the employer from legal action. There are some exceptions to this.
When an employer's actions intentionally cause injuries to the injured victim, they may be able to bring a lawsuit in civil court. In such situations, the worker may also be able to recover non-economic damages, such as pain and suffering, which they would typically not be able to pursue when filing a workers' compensation claim.
Can You Sue for an Open Trench Construction Accident If You're an Injured Pedestrian?
When you're a pedestrian who suffers injuries in an open trench construction accident due to the construction company's negligence, you may be able to pursue a personal injury lawsuit to recover the damages suffered.
Under personal injury law, an injured worker may be able to pursue a personal injury lawsuit and litigate against a third party if they believe that the party's negligence resulted in their injuries.
To have a valid personal injury lawsuit, the injured victim must prove the following elements of a negligence claim:
The defendant owed the plaintiff a duty of care.
The defendant acted negligently and breached their legal duty.
The defendant's negligence resulted in injuries to the plaintiff.
The plaintiff suffered damages.
Proving the elements of a personal injury lawsuit can be challenging, especially the element of causation. Injured victims need to work with experienced construction accident attorneys to increase their chances of obtaining compensation.
What Should You Do If You're Injured on a Construction Site Due to an Open Trench Accident?
When you suffer injuries in a construction accident, it is crucial to follow the steps below to protect your case and improve your chances of obtaining money damages:
Assess your injuries: A construction accident can leave you with catastrophic injuries, which is why it is crucial to assess the situation before taking further steps. If you're seriously injured, it is best to remain calm, stay still, and call for medical help. In the event that you can move around, call for help and continue with the steps below.
Gather evidence: Photograph the construction accident site and the hazard that caused the open trench to collapse. Capture video footage of any other workers around and the accident site.
Talk to witnesses: If you're an injured worker, you probably have contact details of the construction site workers who witnessed your accident. If you're a pedestrian, you must speak to witnesses and note their contact information.
Alert the manager: Let the shift manager know about the accident and request a copy of the accident report.
Reach out to an experienced construction accident attorney: Whether you're a pedestrian injured in an open trench construction accident or an injured worker, it is important that you discuss your case with a skilled construction accident attorney.
How Can Construction Accident Lawyers Help Injured Victims?
There are several reasons injured victims should consider seeking the help of skilled construction accident lawyers for their cases, including the following.
Resolve Disputes
Sometimes it can be challenging to receive workers' compensation benefits, especially if the employer has disputes. They may ask the Workers' Compensation Board to resolve the issue if that happens. Experienced construction accident lawyers know how to handle workers' compensation claims and can build a strong workers' compensation claim, improving your chances of receiving benefits.
Prove Intentional Harm
In cases involving intentional harm, injured victims need the skill set of experienced construction accident lawyers to gather evidence to prove their employer's intentional harm and protect their rights by pursuing compensation.
Determine Liability
Suppose you suffered construction site injuries due to a third party (negligent equipment manufacturer, other company, or non-employees). In that case, you need an experienced construction accident lawyer to investigate the incident to determine liability.
Gather Evidence
Experienced construction accident lawyers know what evidence is valuable to creating a strong case. Not all evidence works in the victim's best interest; some can even jeopardize a case! 
Construction accident lawyers can help gather evidence such as CCTV footage, medical records for construction site injuries, company records, and others to support your injury claims and get you the compensation you deserve.
Negotiate a Fair Settlement
In cases involving injured pedestrians, insurance companies may force them to accept lower settlement offers or even reject their claims. 
An experienced construction accident lawyer can protect your rights and aggressively fight the insurance company for a fair settlement on your behalf.
Schedule a Free Consultation with a Top Ehline Law Open Trench Accident Lawyer in Los Angeles
If you suffered injuries in an open trench accident, contact us at (833) LETS-SUE for a free consultation, as you may be eligible for compensation. Our dedicated, swift, competent personal injury attorneys can be reached 24/7 to discuss getting you justice in the form of maximum financial compensation in construction accident cases. Call our Los Angeles office today!
---
Michael Ehline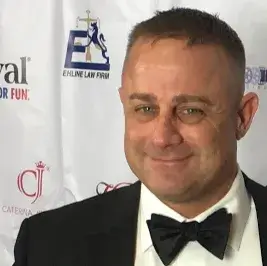 Michael is a managing partner at the nationwide Ehline Law Firm, Personal Injury Attorneys, APLC. He's an inactive Marine and became a lawyer in the California State Bar Law Office Study Program, later receiving his J.D. from UWLA School of Law. Michael has won some of the world's largest motorcycle accident settlements.
---
Recent Personal Injury News
Check out our most recent premises accidents in California and more, including the famous, infamous and everyday people wounded by at fault parties around the world.