If we don't win, you don't pay.
Speak to the Attorney.
Born to serve.
633 W 5th Street #2890
Los Angeles, CA 90071
(213) 596-9642.
Date Modified: June 10, 2023
Contact a Top Rated Lawyer or read to discover your rights as a wounded resort victim.
Vacationing Gone Wrong?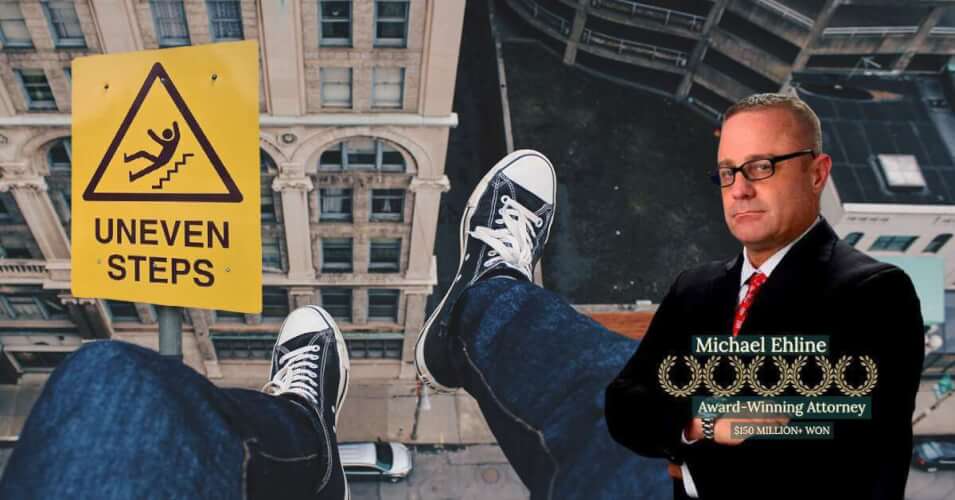 Terranea Resort in Rancho Palos is the perfect vacation for families in Southern California, offering spectacular views of the Pacific. Although vacations can be a memorable experience for families and couples, they can become a nightmare for some.
Accidents at hotels or resorts are more common than you think. At Ehline Law, our Palos Verdes and Torrance, California, personal injury attorneys work closely with injured guests to protect their rights and help them recover compensation. If you suffered injuries at Terranea Hotel, contact us to discuss your case and know your legal options.
Personal Injury Accidents at Terranea Resort
Most hotel or resort accidents occur due to negligence by the property owner, management, or employees. There are all sorts of accidents that can arise in Terranea Hotel, and these include the following.
Slip and Fall Accidents
Slip and fall cases are common at hotels due to wet floors, uneven flooring, torn carpets, and water leaks. Property owners who fail to carry out routine inspections and maintenance increase the risk of slip and fall accidents that can lead to severe injuries. Learn more about our Terranea Slip and Fall attorneys.
Car Accidents
Terranea Resort has a parking lot where guests or valet can park the vehicles. Negligent valet drivers can crash into other vehicles causing a car accident or hit pedestrians, leading to serious pedestrian accidents.
Electric Shocks and Burns
Hotel rooms have all sorts of electrical appliances, from an electric kettle to a hair dryer, refrigerator, television, and more. A faulty socket or switch can lead to electric shocks, enough to cause loss of muscle control, forcing the guest to fall.
Whether the showers in the bathrooms have access to centrally heated water or an electric heater, there is a risk of scalding. Defective heating equipment can cause boiling water to run from the shower or sink tap, causing severe burns.
Food Poisoning
Hotel chefs must follow kitchen rules and ensure proper hygiene when preparing meals. Even the best hotels and resorts have kitchens in such a state that you would be shocked when you see them.
Poor hygiene during food preparation can lead to serious food poisoning, turning your vacation into an unforgettable memory for all the wrong reasons.
Violence
Terranea Resort must ensure adequate security to ensure the safety of its guest. Another guest, stranger, or an employee can perpetrate violence on others leading to physical injuries and emotional distress. The bike paths and beach paths present locations of opportunity for a sexual assault, especially at night. Inadequate lighting could mean being swept out to sea and being lost to the fish forever.
Consequences of Injuries from Accidents at Hotels and Resorts
The types of injuries suffered at hotels and resorts depend on the nature of the accident. For example, a slip and fall accident can lead to traumatic brain injuries, spinal cord injuries, head and neck injuries, broken bones, and fractures.
On the other hand, an electric shock accident can lead to thermal burns followed by slip and fall injuries if the guest falls from the impact.
Accidents Can Lead to Medical Treatments and Physical Impairments
Serious injuries from an accident at hotels and resorts can put victims in a vulnerable position. It ruins their vacation, and depending on the severity of injuries, they may require extensive surgeries, rehabilitation, and therapy.
In cases involving spinal cord injuries or traumatic brain injury, it may affect their sensory and motor functions, requiring lifelong care and routine medical assistance. To help with the daily activities and tasks, the injured guest may also need home modification equipment.
Injuries Can Affect the Victim's Financial Status
These unexpected medical expenses can put serious financial pressure on the victim and their family. If they're missing work or cannot return to work due to injuries, they're also losing wages, further putting a dent in their finances.
Emotional Injuries Are as Impactful as Physical Injuries
Accidents can take a mental toll on the injured guest, from emotional distress to mental anguish and reduced quality of life. Severe spinal cord injuries, disfigurement, or traumatic brain injuries can also lead to depression and anxiety, causing the victim to distance themselves from others socially.
Emotional injuries are just as impactful as physical and financial injuries, and it's not fair that injured victims suffer alone due to another's negligence.
Fortunately, personal injury law provides a remedy in the form of financial compensation to all victims injured by someone else's negligence.
Pursuing Personal Injury Claim to Recover Compensation
Property owners are responsible for ensuring a safe environment for all their guests to prevent accidents. Failing to carry out their responsibility can lead to premises liability for which injured victims can pursue compensation.
Elements of Premises Liability Claims
When pursuing a personal injury claim for your injuries, you need to prove the four critical elements of premises liability, which are as follows:
The defendant is the property owner who had a duty of care toward the plaintiff
The property owner's negligence breached the duty of care
The property owner's negligence resulted in injuries to the plaintiff
The plaintiff suffered damages from their injuries
If you suffered injuries in an accident at the Terranea Hotel, you must pursue a personal injury claim against the negligent property owner to recover damages.
However, proving the elements can be challenging, and injured victims must seek help from experienced personal injury attorneys.
Terranea Resort Does Not Care about Their Employees!
Motivated employees mean they will work hard and ensure guests' satisfaction, but they'll be negligent in their duties if they're not happy.
Labor Commissioner's Office Pursues Investigations into Terranea Resort
In July 2021, the labor commissioner's office started an investigation into Terranea Resort after receiving complaints from 14 employees for labor law violations.
The workers claimed they invested in years of service at the hotel and got laid off during Covid-19. After the pandemic, when the hotel increased business operations, they did not receive any jobs.
After interviews with former and current workers, the investigation determined that DH Long Point Management, LL (parent company of Terranea Resort) violated the right to recall law.
Right of Recall Law Applies to Hospitality and Services Industries
The right-to-recall law makes employers in the hospitality and services industries liable for prioritizing hiring former workers to the same or similar positions once the former employer reopens for business.
However, the former employer did not hire the previous employees laid off during the Covid-19 even after the workers invested years of service into Terranea Resort.
Labor Commissioner Cites $3.3 Million in Damages and Civil Penalties
The state labor commissioner cited Terranea Resort in Rancho Palos Verdes $3.3 million in liquidated damages and civil penalties for not prioritizing hiring loyal employees after the business grew following Covid-19.
The employee suffering unlawful retaliation also must receive back pay, front pay benefits, and reinstatement to the same or similar positions.
An Experienced Personal Injury Attorney Can Help Protect Your Rights
It's clear that the resort does not care about its employees. If you suffer injuries from an accident at the Terranea Resort, you may face retaliation from the hotel and the insurer when filing claims.
An experienced personal injury attorney can help handle legal matters, aggressively fight for your rights, and deal with the insurance company on your behalf.
Schedule a Free Consultation with Ehline Law Terra Nea Hotel Injury Lawyers
If you suffered injuries at Terranea Resort, contact us at (833) LETS-SUE for a free consultation with our skilled Terranea hotel injury attorneys, as you may be eligible for compensation.
Michael Ehline is an inactive U.S. Marine and world-famous legal historian. Michael helped draft the Cruise Ship Safety Act and has won some of U.S. history's largest motorcycle accident settlements. Together with his legal team, Michael and the Ehline Law Firm collect damages on behalf of clients.
We pride ourselves on being available to answer your most pressing and difficult questions 24/7. We are proud sponsors of the Paul Ehline Memorial Motorcycle Ride and a Service Disabled Veteran Operated Business. (SDVOB.) We are ready to fight.