If we don't win, you don't pay.
Speak to the Attorney.
Born to serve.
633 W 5th Street #2890
Los Angeles, CA 90071
(213) 596-9642.
2323 S. Voss Rd, Suite 244
Houston, TX 77057
(832) 592-1260.
Date Modified: May 23, 2023
Were you attacked or raped in your hotel room by an intruder or property manager? Or did a loved one get trapped in an elevator or slip and fall in a hotel injury, and you need bullet proof legal advice? I am Los Angeles Hotel accident attorney Michael Ehline. I have settled multiple confidential injury claims against multiple Los Angeles, San Diego, and even Texas lodging operators throughout the United States.
My team of motivated, aggressive personal injury lawyers at Ehline Law Firm has held hotel owners accountable for negligent maintenance, failure to warn, and inadequate security claims. Below, my team and I will explain how injured guests, including those who have lost loved ones from wrongful death, can obtain maximum compensation from a bed and breakfast all the way to a six-star rated hotel under California law. In the end, I will offer potential new clients a free legal consultation at one of our conveniently located law offices around the country.
Los Angeles Hotel Market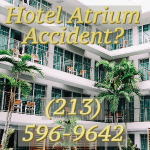 Los Angeles boasts a wide range of hotel options, with over 1,000 hotels serving LAX, Long Beach Airport, John Wayne, and commuters from other areas and states on business or pleasure. It boasts more than 98,600 rooms to accommodate your stay. As the sixth-largest hotel market in the United States, a vast selection of accommodations suits various budgets and preferences.
Some hotels offer poolside atriums, room service, and a shuttle bus to and from the airport, and some don't. Whether you're visiting for shopping, attractions, amusement parks, or relying on public transportation, you'll find a convenient hotel location.
Importance of Guest Safety
When a person chooses to stay at a hotel or resort in Los Angeles, Palos Verdes Estates, or the surrounding areas like Disneyland, their primary concern is enjoying their stay, not potential injuries. Your right to keep from being a victim is enshrined in California negligence law.
Los Angeles Hotels Owe a Heightened Duty of Care to Guests?
True, the hotel owner and those under their control owe a duty to exercise reasonable care in maintaining their premises and ensuring the safety of each hotel guest. They should expect and take reasonable steps to prevent foreseeable harm and address hazardous conditions. However, this duty of care is not the same as the higher duty imposed on common carriers (Bus drivers, Uber, Lyft, cruise ships, etc.).
Yes, Los Angeles hotels owe their guests a heightened duty of care. Under premises liability law, hotels are considered responsible for maintaining a safe environment for their guests. They have a duty to exercise reasonable care to prevent harm and to address any dangerous conditions on their premises.
The duty of care owed by hotels includes a range of responsibilities, such things as:
Regular Maintenance: Hotels are expected to conduct routine inspections and maintenance to ensure that their premises are safe for guests. This includes promptly addressing potential hazards, such as fixing broken steps, repairing faulty electrical systems, or addressing slippery surfaces.
Security Measures: Hotels are expected to provide appropriate security measures to protect guests from foreseeable harm. This may include having adequate lighting in common areas, implementing surveillance systems inside, as well as parking lots and swimming pools, and taking measures to prevent unauthorized access to guest rooms.
Staff Training: Hotel employees, including security personnel and maintenance staff, should be properly trained to identify and address potential safety issues. This includes responding promptly to guest concerns and taking appropriate action to mitigate risks of a vehicle at the valet stand or rental car pick up and drop off.
Guest Safety Information: Hotels should provide clear and accurate information to guests regarding safety measures, emergency procedures, and any potential hazards within the premises.
If a hotel fails to fulfill its duty of care, a guest is injured. As a result, the hotel may be held liable for the damages suffered by the guest. This can include medical expenses, pain and suffering, lost wages, and other related losses. Hotel management is responsible for ensuring all visitors' safety and maintaining the property in good condition. Despite these reasonable expectations, accidents can still occur. In such cases, holding the hotel owners accountable for any personal injury or wrongful death is important.
It is vital to consult a superior attorney with a proven track record for winning large verdicts and settlements. This personal injury law firm specializes in premises liability or personal injuries. This legal professional will have the know-how to hold the hotel manager liable for injured residents. Even if you were run over in a parking lot car accident, Ehline Law Firm could help you understand your rights and options against the hotel owner and the car driver. (they both may be at fault for a car accident and even a taxi stand collision.)
Seeking Legal Assistance From Ehline Law Firm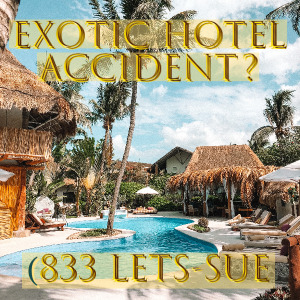 If you have been injured in a hotel accident, it is crucial to speak with a hotel accident injury lawyer promptly. The legal team at Ehline Law Firm specializes in handling such cases and can provide you with the necessary guidance and representation.
They understand the complexities of hotel accident claims and are dedicated to protecting the rights of injured individuals. For this reason, our 24-hour hotline is ready to provide your free legal consultation at a moment's notice.
Examples of Accidents Due to Hotel Negligence
Hotels and resorts can be held responsible for a variety of personal injury accidents that occur on their premises. California law requires their hotel staff to maintain a reasonably safe environment; they can be held liable for a personal injury under California negligence law theory when they fail.
If you have been injured, a Los Angeles hotel injury lawyer can help you seek compensation for the following practice areas:
Slips, Trips, and Falls: When objects such as potted plants and furniture are placed in disorganized or hard-to-notice positions, they can pose a risk for tripping. Hazardous floor conditions like slippery tiles, cracked walkways, and bunched carpets can cause you to slip, trip, and fall in personal injury, like a broken wrist, knee, or fractured skull. If you are worried about money, don't be; our best personal injury attorney offers a free consultation for all new personal injury clients. Just contact our tier-one personal injury attorneys at (213) 596-9642.
Swimming Pool Accidents: Poorly arranged fixtures, pool cleaning supplies (including toxic chlorine), and inadequate lighting can also contribute to accidents at many hotels. Unsafe conditions around the hotel pool, such as slippery decks and poorly maintained water slides, can lead to serious injuries, including those affecting the neck and spinal cord. Our lawyers have provided legal assistance in many California cases, and we can evaluate your California hotel drowning claims for free!
Negligent Security: Inadequate lighting or insufficient security measures in large hotel grounds can result in crimes such as assault and battery.
Malfunctioning Elevators or Escalators: Accidents can occur when elevators or escalators malfunction, causing injuries such as broken bones and head trauma. Proving such a dispute against the products manufacturer will require hiring a professional with expertise and knowledge specific to these regulated lift machines (covered under common carrier theory.)
Parking Lot Accidents: Inadequate signage, lighting, or crosswalk markings in parking lots can lead to car crashes and pedestrian injuries. Negligent driving by inn, or hotel employees, such as valets or shuttle drivers, can also result in accidents.
Loading Ramp Accidents: Like a Home Depot, many resorts maintain loading ramps for big rig trucks and even forklifts to deliver bulk food, cleaning supplies, laundry, towels, furnishings, and more. We can help the injured truck driver, pedestrian, or guest when the hospitality management allows traffic jams and improper loading/unloading.
Rental Car Accidents: In cases where the accident was caused by the hotel's negligence, such as inadequate signage, poor maintenance of parking areas, or negligent driving by hotel staff, the hotel may be held liable for the damages and injuries caused. The injured party may have the right to seek compensation for medical expenses, property damage, pain and suffering, and other losses resulting from the rental car accident.
Service Dog Attacks: We all know dog owners need to pay for most dog bites, right? Bust whether you can sue hotel owners for a life-altering service dog bite depends on your jurisdiction's specific circumstances and applicable laws. Generally, if you were lawfully on the hotel premises and a service dog bit you, you may have grounds to pursue a legal claim against the hotel owners. Service animals, including guide dogs or assistance dogs, are protected under the Americans with Disabilities Act (ADA) in the United States. But suppose a service dog bites you and causes injury while you are lawfully present on hotel property. In that case, this is evidence that hospitality services may have failed to meet its duty of care to ensure the safety of its visitors. Call us for legal help before you start opening your mouth to the front desk, concierge, insurance company or lawyer for hospitality management. Loose lips can sink ships. Don't hurt your case by making admissions and confessions. Reach out to a plaintiff's lawyer!
Alcohol-Related Accidents: Hospitality amenities, such as serving alcohol, are not without restrictions. For example, serving alcohol to minors is a crime. Over-serving intoxicated guests at hotel bars can lead to fights or car accidents, causing injuries to others. Victims can be left destitute, trying to pay medical bills their acts didn't cause. Michael Ehline and his personal injury attorneys are ready to take your case to court.
Sporting Equipment Injuries: Hotels near beaches or with sporting facilities may offer activities like boat rentals, jet skis, scuba diving, and gyms. Improper management of these operations and equipment can result in serious injuries.
Amusement Park Accidents: Some hotels are associated with theme parks and outdoor amusements. If you are injured due to a defective ride or the negligence of park employees, an amusement park accident attorney can help determine liability.
Construction Accidents: Hotel renovations conducted without proper precautions can expose guests to hazards such as heavy equipment and hazardous materials, leading to injuries.
Food Poisoning: Hotels have a duty of care to ensure that the food they serve to guests is safe and free from contaminants, as well as bedbugs, cockroaches, and other substances that can cause foodborne illnesses. Suppose the hotel fails to maintain proper food safety standards, such as inadequate inspection, storage, improper handling, or serving expired or contaminated food, and you become ill as a result. In that case, you may have grounds for a lawsuit.
Common Types Of Injuries From a Los Angeles Hotel Accident
Years of experience by our lawyers have enabled us to see a variety of injuries sustained in these types of accidents.
Among the most common injuries our clients have suffered are:
Traumatic brain injuries
Internal bleeding
Severe lacerations
Internal organ damage
Sprains and broken bones
Neck Injuries
Back Injuries
Head wounds
Spinal cord injuries
Emotional distress
Psychological trauma.
This is not an exhaustive list and each accident is different. Regardless of the damages you suffer, you are entitled to be compensated for them and a hotel accident lawyer in LA can help you prepare, file, and pursue a claim for the financial recovery you need.
Frequently Asked Questions (FAQs)
Q: Should I file a premises liability or personal injury claim against the hotel?
Answer: In most cases, claims against hotels and resorts are based on premises liability law. This law holds property owners responsible for maintaining a safe environment for their visitors and guests. If you were injured due to slipping or tripping, an elevator malfunction, or any other incident on the hotel or resort property, an attorney can help you file a premises liability claim.
There is also the option of filing a personal injury lawsuit for your situation. For instance, if you were assaulted by a hotel employee or an intoxicated guest, you may be able to file a personal injury claim against them for the injuries you sustained. Witnesses or not, the doors are open to retain an expert lawyer and file a claim on the merits to resolve the difficult problem. You may be entitled to millions and you can learn more by reaching out through our website. Don't consent to a recorded phone call with anyone!
Q: How Do I Prove Hotel Negligence?
Answer: For you or your family to pursue a successful claim for negligence against a hotel or insurer, it is important to establish a few key elements:
Causation: You need to demonstrate that an act or omission by someone controlling the hotel (Front desk clerk, hotel manager, lodging operator, property manager, etc.) was the direct cause of your harm This may involve providing medical records, lab test results, or other evidence linking your diagnosis and prognosis to the purveyor.
Negligence: You must show that the hotel breached its duty of care by failing to take reasonable steps to prevent the dangerous condition, or by acting negligently.
Damages: You need to prove that you suffered harm as a result of the breach, such as medical expenses, lost wages, pain and suffering, and any other related damages.
It is important to consult qualified personal injury attorneys specializing in hotel accidents. Doing so, can enable victims in understanding their rights against the hospitality industry's professional team, and to help you seek appropriate compensation with the counsel of your own experienced lawyers.
Q: Other Potentially Liable Parties?
A: In a hotel accident, there can be multiple potentially liable parties depending on the circumstances of the incident.
Here are some examples:
Hotel Owner/Operator: The hotel owner or operator has a duty to maintain the premises in a safe condition for guests. They may be held liable if the accident was a result of their negligence, such as failing to repair or warn about dangerous conditions. Even the owner of an animal can hold partial fault.
Hotel Staff: Hotel employees, including managers, maintenance personnel, housekeeping staff, and security personnel, have a responsibility to ensure guest safety. If their negligence or misconduct contributes to an accident, they may be held liable.
Third-Party Contractors: If the hotel hires contractors or subcontractors for maintenance, repairs, or other services, they may also be held responsible for any negligence on their part that leads to an accident. Even if they hit you on a bike rental in the parking lot, the opportunity to argue vicarious liability could apply.
Product Manufacturers: If the accident is caused by a defective product in the hotel, such as faulty furniture or equipment, the manufacturer or distributor of the product may be held liable under Los Angeles, CA product liability laws.
Cruise Lines (in certain situations): If the hotel accident occurs on a cruise ship that is docked and operated as a hotel, the cruise line may be held responsible for maintaining a safe environment for passengers.
Vicariously Liable Defendants: In some cases, individuals or entities may be held vicariously liable for the actions of another party. For example, if a hotel employee causes an accident while performing their duties, the hotel may be held vicariously liable for the employee's actions.
Q: What Damages Can I Get For a Hotel Accident?
A: Here are some common types of damages that can be pursued in a hotel accident claim process:
Medical Expenses: You can seek compensation for the costs of medical treatment related to your injuries, including ambulance, hospital bills, doctor visits, surgeries, medications, rehabilitation, and any future medical expenses.
Lost Wages: If your injuries prevent you from working, you may be entitled to compensation for the income you have lost during your recovery period. This can include both past and future lost wages.
Pain and Suffering: Hotel accident victims often experience physical pain, emotional distress, and a reduced quality of life. You may be eligible to receive compensation for the physical and emotional pain you have endured.
Property Damage: In the event your personal belongings were damaged or destroyed, you can consider pursuing reimbursement for the repair or replacement costs.
Disability and Disfigurement: If permanent disability or disfigurement exists, you may be entitled to compensation for the long-term impact on your life and livelihood.
Punitive Damages: Sometimes, if the hotel's conduct was particularly reckless or intentional, you may be awarded punitive damages. These damages aim to punish the defendant and deter similar danger in the future.
Q: What if the Hotel Asks Me to Sign Something After My Accident?
A: After seeking medical attention and confirming your injuries, it is possible that the hotel, their insurance company, or their legal representatives may decide to approach you. They might inquire about your well-being and ask you to sign a confidential settlement agreement in cases where the fault is clear.
Even if you are worried about medical expenses and lost income, it is important not to sign anything without consulting a hotel accident lawyer in Los Angeles first. When an insurance company presents an offer, it is often not the best one, and you deserve a settlement that fully compensates you for medical bills, lost income, reduced earning capacity, pain and suffering, and other damages relevant to your case. To achieve this, you need a skilled Los Angeles hotel accident injury lawyer who will fight tirelessly on your behalf. Our hundreds of positive Yelp! reviews don't lie. Our personal injury attorneys in Los Angeles have helped people win millions of dollars in verdicts and settlements and we are ready to work for you to a highly victorious outcome over your problems.
Schedule Your Free Case Review With a Los Angeles Hotel Injury Lawyer Today!
Suppose you have suffered injuries due to a hotel's negligence in maintaining their premises, no matter whether it's a room, lobby, parking lot, pool, or any other area. In that case, you have the right to seek compensation. At Ehline Law Firm Personal Injury Attorneys, APLC, we understand that hotel injuries can have a lasting impact on your life, and our top rated personal injury attorneys are ready to fight passionately for the rights of the injured while they heal and get back on their feet.
We offer free consultations free of charge from anywhere in the USA; you don't have to worry about upfront fees. We only get paid if we win your case, so there's no financial risk to you whatsoever. Don't hesitate to take the next steps and rest assured. Our priority is to ensure you receive full and fair compensation for your injuries. Contact our law office today to learn more about how we can assist you. Give us a call at (213) 596-9642. You can also email us using our contact form below. We also take referrals from other personal injury attorneys.
Other Pages related to hits topic include: Cambria, Radisson,Terra Nea Hotels, Millenium Biltmore Hotel DTLA, Aloft Hotel, Hyatt Hotel, Hyatt Regency, Travelodge, Howard Johnson, Intercontinental, Four Seasons, DoubleTree Hotel, Renaissance, Embassy Suites By … for more lodges and accomdations in Los Angeles, click here.
Michael Ehline is an inactive U.S. Marine and world-famous legal historian. Michael helped draft the Cruise Ship Safety Act and has won some of U.S. history's largest motorcycle accident settlements. Together with his legal team, Michael and the Ehline Law Firm collect damages on behalf of clients.
We pride ourselves on being available to answer your most pressing and difficult questions 24/7. We are proud sponsors of the Paul Ehline Memorial Motorcycle Ride and a Service Disabled Veteran Operated Business. (SDVOB.) We are ready to fight.