If we don't win, you don't pay.
Speak to the Attorney.
Born to serve.
633 W 5th Street #2890
Los Angeles, CA 90071
(213) 596-9642.
2323 S. Voss Rd, Suite 244
Houston, TX 77057
(832) 592-1260.
Date Modified: June 10, 2023
We are glad you found this Ultimate Guide to Understanding California Negligent Entrustment. Did an unlicensed, uninsured driver or company, employee hit you or a family member? Were they driving someone else's vehicle, including a rental?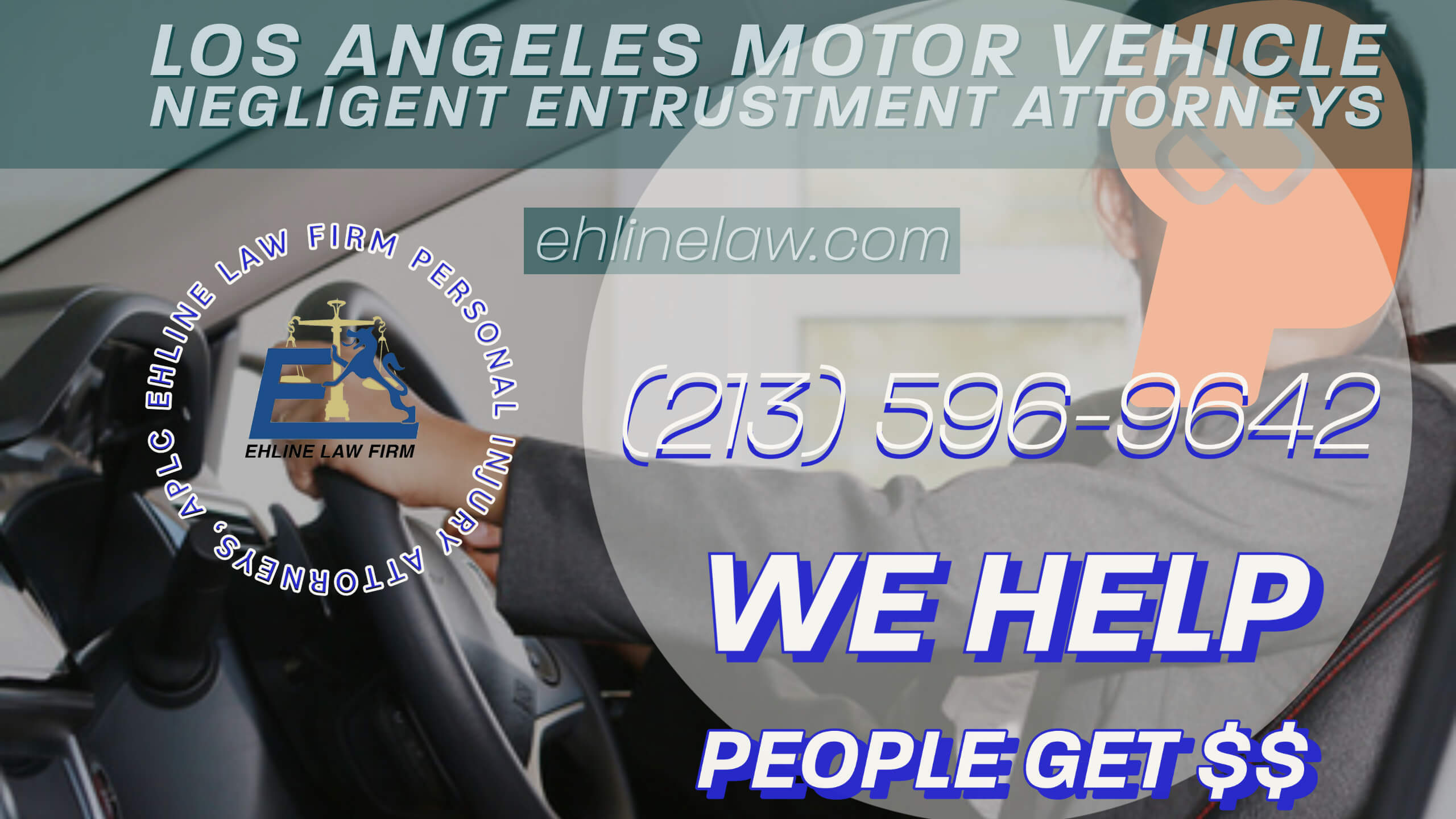 What to Do After a Car Accident Under Negligent Entrustment
Are you worried about how you and your family will cover all your medical bills and lost wages? Please don't despair; a highly-rated injury lawyer with years of experience is here to tell you about getting money from the person or persons who loaned the scofflaw their vehicle.
In a nutshell, negligent entrustment basically means a careless person or company loaned or entrusted property they owned to another careless or reckless person, and someone else dies or suffers serious injuries. You could just as easily negligently entrust a gun to a person as you could a car. But this article is focused on catastrophic injuries caused during a vehicle accident.
The nuances of "entrusting" may be a bit complicated for some people to understand, which causes complex legal battles to determine liability. Sometimes motor vehicle owners don't understand why they're guilty of an accident they didn't cause. Still, this legal principle makes them liable for allowing a negligent and incompetent person to drive their vehicle and cause car accidents when they hand over the keys.
About Our Vast Experience
I am attorney Michael Ehline. I have over 30 years of legal experience, first as a paralegal and then as a member of the California State Bar. I have handled hundreds of negligent entrustment claims in Northern California and throughout Southern California courthouses. I wrote this educational article to help people understand negligent entrustment and how Dramshop Laws and other related practice areas are intertwined.
Free Tips to Answer Questions
Ultimately, I will offer some free tips for victims and ways businesses can prevent the risk of another driver's negligence from returning to their own insurance company. I will also offer you a free consultation to discuss your potential case and how insurance coverage works. Let's get to it!
Negligent entrustment attorneys handle lawsuits involving the owner of certain types of property. For example, we sue the motor vehicle owner who consigns a dangerous individual with a car. But before the conveyance, the owner must know the person is a reckless driver. Proving the owner knew this was no walk in the park. It takes a great car accident lawyer to uncover this evidence.
In order to prove negligent entrustment claims, the personal injury attorneys must provide evidence for the following five elements of negligence.
Negligent driver: The driver was reckless or negligent when driving the vehicle (with or without a valid California Driver's License.)
Knowingly permit: The inexperienced driver or careless person fully had the vehicle owner's permission to operate it.
The owner knew it presented a dangerous condition: The vehicle's owner must have been aware of the driver's incompetence and still chose to let them use the car. (If the defendant knew the driver had a suspended license or was not a licensed driver.)
But for incompetence: The driver's incompetence must have been one of the main reasons that caused the accident in the motor vehicle owned by the at-fault party.
You are entitled to financial compensation if you were in a car accident caused by negligent hiring or negligent entrustment. Therefore, you can call one of our fantastic Los Angeles attorneys and get a free sidebar consultation for our services.
What Is the Legal Definition of Negligence and Vicarious Liability Under California Law?
Understanding Respondeat Superior Doctrine
To properly understand these cases, we must be aware of the following legal concepts that explain how to proceed with a truck accident case, for example.
On the one hand, vicarious liability explains that although the defendant trucking company didn't directly cause the accident or harm to the victim, they were responsible for ensuring that wouldn't happen, so they're liable for negligent supervision. Moreover, negligence is determined by the duty of care between the defendant and the victim, whether it was breached or not, and if it caused direct harm to the victim.
Negligent entrustment comes into play when the truck is owned by the truck driver's boss, etc.
Vicarious liability is the mechanism by which the boss must pay damages.
What Is the Duty of Care in a Negligent Entrustment Case?
If you look at the California Vehicle Code, you will find out how the duty of care works in negligent entrustment cases in Los Angeles County. This document explains how vehicle owners aren't allowed to let incompetent driver use their vehicles, as they are likely to cause harm to others.
The vehicle owner mustn't allow people under the following categories to use their car:
Intoxicated people, including all kinds of drugs, such as alcohol, marijuana, and prescription drugs
Underage people
People without a driver's license
People with a suspended or revoked license
People with visual impairment or other medical condition that makes it difficult for them to drive
People who were recently convicted for vehicle-related crimes, such as drunk driving.
All of these rules are explained in the California Vehicle Code.
Some of the most important are the following:
Vehicle Code 14606(a): This section explains how people should avoid hiring people who lack a license for the appropriate vehicle class they will be driving.
Vehicle Code 14607: This prevents vehicle owners from lending their cars to anyone under 18 years old unless they're properly licensed to drive the vehicle.
Vehicle Code 146068(a): Motor vehicle owners must avoid renting their vehicle until they've checked the driver's license of the person who's going to be driving it and made sure it is 100% legit.
What Are the Defenses of "Negligent Entrustment of a Motor Vehicle" in California?
Suppose you're in Los Angeles County and got in a motor vehicle or truck accident involving negligent entrustment. In that case, not everything is lost, as several defenses can help you reduce the severity of the claim.
Some of them include:
The motor vehicle owner could get rid of vicarious liability if they weren't aware that the driver negligently operated the vehicle or was unfit to drive it.
The driver wasn't liable for the motor vehicle accident.
The injuries weren't caused by the motor vehicle accident.
The car owner acted reasonably under the circumstances they were presented with.
What Are the Two Theories of Negligent Entrustment Cases?
After a vehicle accident, the personal injury law office can establish liability through one of the following two fundamental entrustment theories. However, this will depend on the state where the motor vehicle accident occurred. According to California Civil Jury Instructions, the law firm can use one of the following theories to prove negligence and hold the vehicle's owner accountable for the accident.
Actual Knowledge
Suppose the injured party uses this theory during their negligent entrustment claim. In that case, they must provide enough evidence to prove they were injured by someone who was utterly aware they couldn't operate a motor vehicle. They must also prove that the car's owner could have prevented the driver from using the vehicle.
But you can also establish proof of inexperienced, reckless driving habits/history by producing evidence of their poor driving record, making them an unlicensed driver, or causing an SR22 temporary permit allowing limited driving privileges if a defendant permitted a person like this or even a negligent co-owner to drive. Still, this theory of negligent entrustment cause can feature several liable parties for the vehicle accident under agency rules.
Constructive Knowledge
This legal theory may eliminate the premises liability factor from the equation. It suggests that although the defendant permitted the negligent driver to use their vehicle, they weren't aware of their unfitness to drive. However, they can still be found guilty/liable if the driver's negligent behavior was a common and widely-known factor in their community. They have no reason not to know about the driver's inexperience.
When or if you prove this, the owner is liable for their "constructive" notice. (Everyone knew the person was unfit, unlicensed, and inexperienced, so your employer should too. (See, e.g., Perez v. G & W Chevrolet, Inc. (1969) 274 Cal.App.2d 766, 768 [79 Cal.Rptr. 287].)).
In most cases, this isn't confidential or sensitive information. A motor vehicle accident tends to cause a lot of fuss in local communities, so it would have been expected for the owner to know about the driver's incapability to drive. These cases are extremely dangerous, as a car accident can cause the victim to face terrible injuries and even die, turning it into a wrongful death case.
Therefore, the victim should hire a personal injury lawyer to get properly compensated for their damages after getting into a motor vehicle accident. Letting someone use your vehicle without supervision can be quite dangerous, as anything can happen on the roads.
Therefore, always double-check who uses your car to avoid personal injury and wrongful death claims. Sometimes, the owner wants to avoid getting a personal injury claim after a motor vehicle accident, so they admit vicarious liability and let their worker's compensation insurance cover the car accident.
Negligent entrustment auto accident victims will face years of surgery, hospital and medical expenses, prescription pain killer addiction, and worse. Motor vehicles are powerful conveyances in the wrong hands. Even a licensed driver can be a killer or cause mass property damage.
Prudent Person?
An ordinarily prudent person wouldn't loan out their gun unless under direct supervision, so why loan out a motor vehicle owned by you or your business? If loaning that vehicle operated by another was a substantial factor in serious injuries or wrongful death, expect lawsuits to fly against such controlling co-owner or others may exist.
For liability to manifest, "knowledge must be shown of the user's incompetence or inability safely to use the [motor vehicles]." (See Dodge Center v. Superior Court (1988) 199 Cal. App.3d 332, 341 [244 Cal. Rptr. 789].).
Sometimes the employer admits vicarious liability to have work comp kick in and obviate negligent entrustment of a motor vehicle as a direct, express, or implied consent negligence claim under California law. After forming an attorney-client relationship, we will explore these general principles and ideas in more detail.
Negligent Entrustment in the Employment Context
Sometimes, vehicle accidents, such as bus or taxi drivers, will happen in an employment context. In those cases, the employer will be liable for the car accident, as they didn't research enough during their recruitment sessions. In the best-case scenario, they must have checked the driver's record and performed a background check to determine whether they were hiring a competent person.
However, to win a personal injury case with this defense, the plaintiff must provide evidence of the reckless driving history of the driver and claim that the company should have known about it before the car accident.
Common Liable Parties in a Negligent Entrustment Lawsuit?
Parents of unlicensed minors under 18, unless such child had special, legal privileges
Delivery Services
Mover
Transportation companies
A friend at a bar
Rental car companies: A person renting to another driver must inspect the driver's license of the individual renting the vehicle. They must also compare the signature or the photograph to see if the individual driver is legally entitled to drive.
How to Build a Great Attorney-Client Relationship
Finding the right attorney for your case can sometimes be complicated, especially after going through a car accident and taking care of all the damages caused. However, suppose you decide to file a personal injury claim.
In that case, you must find a reliable lawyer to create an excellent attorney-client relationship, which is the main substantial factor in winning your case.
Luckily for you, the following list will explain all the elements you should search for in a car accident lawyer:
Experience: You don't always need an expert personal injury law firm to win your motor vehicle accident case, but it will make it much easier to find a lawyer who has worked in similar cases.
Understanding: Most law offices' contact form sends information about you and your case to the lawyer, but you must talk directly to them to ensure they understand your case properly and what you expect from hiring them.
Ability to Communicate: Good lawyers must be able to translate complex legal terms to their clients, so they're always aware of everything going on.
Availability: You must make sure to find an attorney who can be available to you whenever you need it, as sometimes emergencies will show up, and you will need to call them unexpectedly.
Rapport: Although many people don't think this is important, you will spend a lot of time with your lawyer, so the best thing you can do is find someone you can get along with to ensure a good relationship.
References: Many people shy away from asking for references, but it is crucial to know more about the cases your attorney has worked on and whether their previous clients would recommend them.
Reasonable Fees: In most cases, an attorney's hourly rate is extremely high, but most personal injury attorneys work on a contingent fee basis, which means they will only get paid if they win your case. Therefore, you must discuss your settlement amount and how much they will take.
Contact Ehline Law Firm Today for a Free Consultation
Getting in a motor vehicle accident is terrible, especially if the accident could have been avoided if safety measures had been implemented. Therefore, if you need legal advice to adequately compensate you for your losses, here at Ehline Law, we have a team of fantastic car accident lawyers.
Serving clients with compassion and empathy is our primary mission. We are ready to help you get the justice you deserve. You must call (213) 596-9642 to get a free consultation with one of our law specialists and learn more about our services and let us help you get back on your feet. Our office remains open 24/7 to take your important call or contact form text messages.
Other Common Carrier Accidents
Michael Ehline is an inactive U.S. Marine and world-famous legal historian. Michael helped draft the Cruise Ship Safety Act and has won some of U.S. history's largest motorcycle accident settlements. Together with his legal team, Michael and the Ehline Law Firm collect damages on behalf of clients.
We pride ourselves on being available to answer your most pressing and difficult questions 24/7. We are proud sponsors of the Paul Ehline Memorial Motorcycle Ride and a Service Disabled Veteran Operated Business. (SDVOB.) We are ready to fight.