Icy or snowy exterior surfaces: Hobbies like skiing and watersports are all fun and good. But you don't expect the retailer to have slick, wet floors. All stores must keep their premises, sidewalks, parking lots, and entrances safe for customers. Therefore, snow and ice must be cleared up. Otherwise, their owners or operators could be responsible for accidents that visitors may suffer.

Uneven doormats: Doormats that are not flat or have upturned corners are also potential hazards, as they could cause someone walking by to slip and fall.

Poorly installed or obstructed displays: Some sports retail stores have interactive displays where customers can try out sports equipment, clothing, and other gear before making a purchase. If the structure is improperly installed or someone leaves an item lying around the aisles, you could slip and fall.
Defective Product Accidents at Dick's Sporting Goods
In addition to slip and fall accidents, some people have also been injured by defective or malfunctioning products.
If you or your loved one are one of them, you might have the grounds to file a personal injury claim, depending on the details surrounding the incident and the damages suffered.
When it comes to product liability, all companies owe their customers a duty of care. Therefore, they must ensure that their products are safe for use through tests and inspections.
Suppose any brand or manufacturer fails to identify and address any product defect, releases it, and negligently puts their customers at risk of injury. In that case, they may face legal action and be held liable based on the product's liability concept.
Car Accidents At Dicks
You may have slipped on wet liquid, or tripped due to poor lighting in or out of the store. Common parking lot accidents include:
Negligent Security and Sexual Assaults
In addition, your attorney may need to sue Dick's for allowing a dangerous premise or surrounding area when they knew it was unsafe. Predators look for the opportunity provided in an unlit alley or hallway or poorly secured trash bin, or restroom area.
The landlord should be on the lookout for these potential traps and have a contingency plan to pursue risk mitigation. Injuries can vary in reach and severity from death to minor bumps and scrapes.
Injuries from negligent security can be caused by:
Rape and sexual assault

Physical assault and battery

Shooting injury or death

False arrest and kidnapping

Other types of physical violation.
Injuries That Accidents in or Related to Dick's Sporting Goods May Cause
Whether you suffer a slip and fall accident or are injured by a defective product, you or your loved one could suffer significant harm, which can include the following:
Head injuries

Neck injuries

Fractures

Back injuries

Traumatic brain injuries

Shoulder injury

Knee injury

Pelvic injury

Hip injury

Sprains or strains

Lacerations

STDs

Scrapes and bruises.
What to Do After Suffering Slip and Fall Accidents, Defective Product or Other Injury
Did you or your loved one suffer a slip and fall accident at Dick's Sporting Goods store, or were you injured by a defect in one of its products?
You must take some steps to document the incident and receive the care and advice you need if you expect to take legal action. These are:
Your safety comes first. Call emergency services if necessary to receive treatment or be transported safely to a nearby hospital. Even if you don't have a visible wound, seeking medical attention is essential to record your injuries properly. Medical records are crucial if you want to get fair compensation.

If you suffer a rape, defective product, or slip and fall accident, report the incident to the store manager. Besides informing the store of their negligence, this step helps you file the report you will later need to file your claim.

Take photos and video of the scene if possible. Store workers will clean up the facility quickly after an accident. Therefore, it is essential to document what happened if you can.

Get information about witnesses, as you may need people to corroborate your account of the accident or assault.
Why Contact a Personal Injury Lawyer
After suffering a slip and fall accident or an injury from a defective product, or attack, you would have to deal with costly medical bills, intense physical pain, lost wages, and more.
However, if the accident was not your fault, you don't have to cover all those bills or live through periods of intense stress alone.
Instead, you have the right to take legal action against the at-fault party to get the compensation you deserve. This is when Dick's Sporting Goods injury attorneys come in.
An experienced personal injury lawyer can handle all aspects of your case while you focus on your recovery.
In addition, experts can collect all the necessary evidence, including photographs, witness statements, and medical bills to get a favorable outcome.
Personal injury attorneys understand local laws and will work with you to prove that the store or its employees were negligent and contributed to or caused the accident that affected your life.
Damages You Can Recover
If you suffered an accident or injury related to Dick's Sporting Goods, you could be eligible to receive compensation.
These are the damages you may recover:
Depending on the circumstances surrounding your accident or injury, you may be able to recover all of your damages or just some of them.
A seasoned personal injury lawyer can help you review your case and analyze how you were injured to determine the type of compensation you should seek.
How Ehline Law Firm Can Help
Suffering rape, assault, defective product injuries, or slip-and-fall accidents can devastate someone's life. However, with the right legal help, all victims can file a personal injury claim and recover compensation. For example, we can help track down evidence, like videos of how you fell. For example, we can take weeks or months to track down any customer who saw you get run over in the parking lot.
If you are one of these individuals, our legal team can help you! At Ehline Law Firm, we have experienced attorneys who will go the extra mile to help you recover maximum compensation and hold at-fault parties accountable for their negligent actions. Your best chance to get the most money is to get a top lawyer to litigate and negotiate on your behalf in and out of court to prove your case.
Our proven team will fight hard at protecting you and your rights to obtain the largest settlement or verdict, and we've recovered millions for others as well! Let us sit in your corner and prepare your case while you and your family get back on your feet. We have the tools to gather the truth and win! Don't let this cost you more. We won't charge a fee if our top lawyers are unable to win. How is that for risk free? Want to learn more?
Get a Free Consultation Today Over a Dick's Slip and Fall or Other Accident!
You and your stricken family are entitled to the best legal representation against Dick's Sporting Goods chain. Do you need help from the best lawyers building a solid case and filing a claim against Dick's Sporting Goods store for negligence? Are you looking for legal assistance to seek guidance, resources, justice, and success? Are you worried about missing the statute of limitations to get started in time?
All you have to do is call Ehline Law Firm at (833) LETS-SUE and get a free consultation over your serious injury claim today! Provide information about who you blame, and let's talk about hiring our legal team today! You can also use our website online contact us form to communicate swiftly via email 24/7, so you don't lose time in your quest to retain the best lawyers to pursue your matter. We look forward to helping you through this difficult period to reduce your stress and worries.
---
Michael Ehline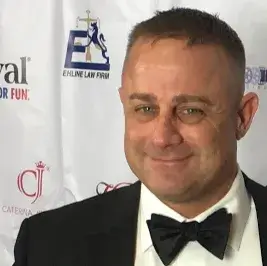 Michael is a managing partner at the nationwide Ehline Law Firm, Personal Injury Attorneys, APLC. He's an inactive Marine and became a lawyer in the California State Bar Law Office Study Program, later receiving his J.D. from UWLA School of Law. Michael has won some of the world's largest motorcycle accident settlements.
---
Recent Personal Injury News
Check out our most recent premises accidents in California and more, including the famous, infamous and everyday people wounded by at fault parties around the world.