Home / Practice / Los Angeles Premises Liability / Los Angeles Inadequate Security Attorneys
Los Angeles Negligent Security Attorneys
Criminal acts at retail stores, and businesses like nightclubs, are often accompanied by grievous harm, injuries, and other damages. When these occur within Los Angeles businesses, or other properties held out to the public, the applicable repercussions may not necessarily be limited to the typical criminal charges against the defendant.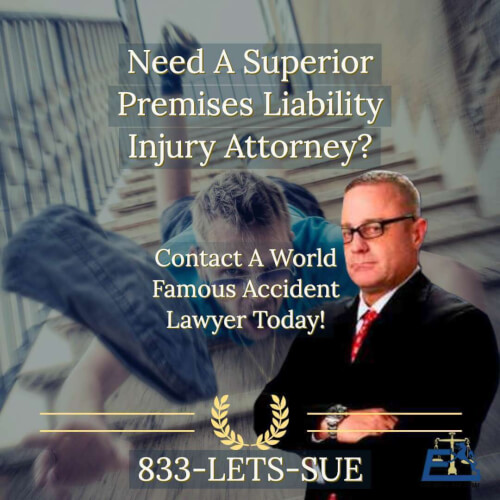 That's because establishment property owners and California-based organizations have a duty to prevent an attack if they knew or should have known about dangers in the locale. These businesses with knowledge of local crimes and dangers to customers are legally responsible for ensuring that proper security measures are in place. They have a duty to protect you and your family and prevent these unwanted acts from occurring near their properties.
Failing to do so is one of the core concepts in a negligent security claim and a personal injury lawsuit may follow. Unfortunately, negligent security victims are not suited to represent themselves or even capable of maintaining a lawsuit. Additionally, considering the mental anguish that follows these high-risk, dangerous condition incidents, there needs to be a focus on recovery for the victim, their family, or children by hiring a professional negligence law attorney to recover maximum compensation dollars.
We Help Build Inadequate Security Claims
At Ehline Law Firm, we boast a strong team that is well-suited to helping you recover compensation following a personal injury claim. Implied accountability lies on the part of the business/property owner, and we do not stand for the negative effects security negligence or bouncer attacks may have on you at a bar, or even a nursing home facility.
We invite you to schedule a free consultation with one of our negligent security lawyers today by calling (833) LETS-SUE! We are available 24/7 with convenient office meeting places in Northern, Central, and Southern California.
We can meet you in Orange County cities like Newport Beach, and L.A. cities like Santa Monica, Long Beach, and Torrance, or we can head across the border into TJ, or form an attorney-client relationship in National City, San Diego. For faster service, feel free to fill out our online form and a prompt return call from a member of our support staff to protect your rights and discuss the crime and injuries you suffered.
Understanding Negligent Security
By the California Civil Code definition, negligent security cases fall under the premises liability umbrella. It levies responsibility on property owners for ensuring those who visit their premises are safe.
Of course, a property owner cannot prevent all forms of ill-fated outcomes. However, some are highly preventable through the implementation of adequate security measures that would be reasonably expected.
A property owner's failure to meet this requirement that results in negligent security injuries is grounds for the filing of a claim.
When Property Owners Are Liable
Context is a big part of inadequate security claims, which is one of the biggest reasons our expertise and professionalism is invaluable. For example, the absence or presence of a parking lot as a part of a facility can make the lines of responsibility of two property owners significantly different in two similar incidents with different individuals.
The measures needed are directly based on the dangers in each situation.
Here's a quick look at some contexts that may present a negligent security lawsuit for different reasons:
Health clubs – Security guards and security cameras are two potential essentials in such a context at these establishments, as risk factors here include theft, sexual assault, murder, etc.

Nightclubs/Bars/Restaurants – With potentially intoxicated patrons, lighting concerns, and the overall harsh environment typically associated with these venues, criminal activity is a major concern, and many have been attacked, even tenants after hours when store owners failed to install adequate locks on windows and doors. Security guards and systems are examples of huge priority concerns to prevent foreseeable harm. For example, if you hire a UFC fighter with a record for assaulting people, bouncer attacks by him against patrons are foreseeable and he is in fact, a deadly weapon.

Parking lots and Garages – Robbery is among the larger concerns in many cases here, which necessitates security personnel and adequate lighting.

ATMs, Motels, Hotels, and Banks – If they are located in a high crime location, such as pretty much everywhere in Los Angeles, and the establishment has specific or constructive knowledge of criminal activity history at the property, they can be sued. (Ex: Disgruntled worker who was fired or bank customer angry you wouldn't cash a check returned with a knife to kill a banker or teller, etc.)
Other areas include shopping malls, apartment buildings, sports venues, etc, and we stand ready to support you in cases where a property owner failed to carry out the designated legal responsibility of security.
Typical Flaws Leading to an Absence of Adequate Security
Certain circumstances do not cover the bases of reasonable care, leading to lackluster security implementation. In other words, it's not that there's no security altogether.
Instead, what has been put in place is not sufficient to ward off criminal attacks and incidents. Some of these that result in negligent security lawsuits are:
Inadequate lighting
Lack of or insufficient security guard presence
Lack of or insufficient alarm systems
Improperly maintained security equipment
Failure to bolster security given a history involving security incidents
Lack of or insufficient security policies and procedures
Lack of or inadequate surveillance
Our team of personal injury attorneys at Ehline Law Firm will always make sure a comprehensive situational analysis is conducted to identify what flaws may have been at play in the medical bills, lost wages, and other injury-related costs that you are likely now facing.
Common Negligent Security Incidents
In our time providing legal representation to secure financial compensation for our clients, we have noted a series of common negligent security claims. Some of these that we have dealt with include:
Forceful or dangerous actions taken by security guards
Bar fights that lead to injuries to those who are only bystanders
Patrons and other property visitors being sexually assaulted
Armed robbery or mugging
Unprovoked attacks that take place on the property
Our team of Los Angeles personal injury lawyers is intimately familiar with the legal process involved in a claim. Even beyond prosecution in a criminal court, we understand how to separate and pursue compensation on the civil court side of the spectrum.
Reasonable Safety Measures
The level of security measures implemented based on context is a central focus of negligent security cases.
A property owner is expected to adequately anticipate any specific risk factor that third parties could introduce based on context.
When we represent clients, our legal team will ensure to ascertain the extent to which the events that unfolded constitute preventable harm.
Insurance companies may try to deny our arguments that support foreseeability being a factor. However, we have dealt with enough matters surrounding these criminal acts and a lack of safety measures to circumvent such futile attempts.
What Does It Mean to Provide Adequate Security?
Our Los Angeles negligent security lawyers, while aggressive as we seek compensation, do not go beyond the lines of reasonable steps to ensure adequate security is in place.
A property owner does not need to spend hundreds of thousands or even tens of thousands in some cases to exercise reasonable care.
As indicated before, adequate security measures are not all-encompassing in the sense that every business needs to take the same precautions.
What Is the Statute of Limitations in a Personal Injury Case?
As is the case with a car accident and other matters requiring a personal injury claim, your legal rights only allow you to pursue compensation within an established time limit.
The statute of limitations for personal injury claims is two years. So, if you were physically assaulted on someone else's property and have required years of medical care as a result, you may not be able to get compensation if you allow the two-year period to pass.
Depending on the circumstances, the applicable time could be shortened or lengthened, but we don't advise waiting. Tackle security negligence concerns immediately.
Waiting can make building your case more challenging since a property owner may use the time to begin to adequately provide security. Alternatively, the feed from security cameras can also be tampered with.
Don't underestimate the tactics someone will use to avoid being held liable to pay money under the premises liability clause, even in a high crime area.
Remember to Call Your Los Angeles Negligent Security Lawyer in Short Order
As stated above, you need to act quickly in pursuing a settlement where there's inadequate security that led to an incident you suffered in Los Angeles.
If you do nothing else immediately, reach out to your lawyer. Victims are often immensely shaken up and may need guidance and assistance in seeking medical assistance, as well as avoiding pitfalls that can compromise the chance of a fair payout from landlords and other at fault parties.
Call us for a free case evaluation even before you speak to an insurance company. Even if the victim passed away and you are a loved one, we can assist in the pursual of a wrongful death claim. Make sure you and your employees are protected with a trustworthy lawyer so you don't suffer further. Let us provide the legal protection you deserve during this painful, emotional, difficult time.
Typical Damages from Negligent Security Claims
Damages that result from a lack of proper security measures are widespread, but they come under economic and non-economic categories.
Here's a high-level look at both categorizations:
Economic
Economic damages tend to have an established price tag that can be used as a point of reference in claiming them. The category includes lost wages, medical bills, property damage, etc.
Non-economic
An attorney will still seek monetary compensation for non-economic damages. The difference, however, is that these cannot be valued based on a set cost as the economic counterpart can.
The valuation is largely based on our vast expertise dealing with these kinds of premises liability cases. Some examples that fall under this category include physical pain, mental anguish, loss of consortium, and other quality of life reduction elements.
Choosing a Personal Injury Attorney
Even in the face of a blatant absence of reasonable security measures, getting a property owner to compensate you is not guaranteed. Additionally, not all attorneys are built equal. Here is a look at some of the elements we bring to the table that are at the center of choosing an attorney.
Relevant Experience and Qualifications
You'll find that most attorneys you may run into are registered and completed the course of education required, but this is almost meaningless to injured people who need expert representation if the relevant experience is not also covered.
Ehline Law Firm is a sought-after, award-winning organization that has immense experience in personal injury matters such as security negligence.
Track Record
We've won over $150 million for our clients, which is a testament to the success we've had in recovering settlements.
Rapport
You are more than a source of business for us. Almost immediately, you'll feel the warmth in our environment and the passion we have for seeing justice being served.
If you can't feel comfortable with your Los Angeles negligent security lawyer, the synergy required to work together will not be possible.
Action Plan
An experienced personal injury attorney can begin to develop an action plan based on a case assessment. Why trust Ehline Law Firm with your inadequate security claim? Simple, we understand security, as we are run by a Marine and we understand service and commitment for the very same reason. Not only can we utilize this to prove your case, but we ensure you understand and are kept in the loop every step of the way.
Retain the Services of an Experienced Los Angeles Negligent Security Lawyer Today!
But you must to act quickly to protect your rights to financial compensation and to preserve vital evidence in your important dilemma. Apartment complexes, parking lots, hotels, and office locations are sometimes the hosts of criminal activity that leaves innocent people injured, discombobulated, and even fatally wounded in some cases.
A property owner must implement the required security measures to keep patrons safe. We have recovered millions on behalf of consumers just like you. We have over 30 years of combined experience winning cases. We have proven results and abilities and staff of lawyers and paralegals to hold defendants accountable for their lost wages, medical bills, pain, and suffering.
We won't hesitate to file a lawsuit if insurance settlement negotiations fail. If you were hurt because of negligent security, contact Ehline Law Firm at (833) LETS-SUE to obtain a free consultation about your event today!