If we don't win, you don't pay.
Speak to the Attorney.
Born to serve.
633 W 5th Street #2890
Los Angeles, CA 90071
(213) 596-9642.
2323 S. Voss Rd, Suite 244
Houston, TX 77057
(832) 592-1260.
Date Modified: June 13, 2023
Whether you're looking for home decor for the holidays, building materials for a new shed, or home improvement products to give your home a new look, a trip to the Home Depot can be exciting for many.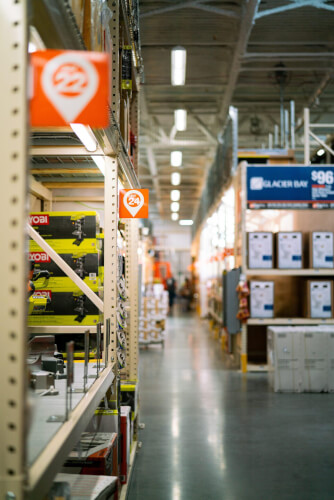 However, for some people, it can also be a nightmare as Home Depot stores are enormous, and the business owner's or the employee's negligence can result in devastating accidents.
Fortunately, injured victims can pursue legal action against the store owner for the damages incurred. If you suffered injuries at a Home Depot, contact Ehline Law and our personal injury attorneys to learn more about your rights as an injured victim.
Common Home Depot Accidents
Many accidents can occur at Home Depot stores, including the following.
Slip and Fall Accident
A slip-and-fall accident at a Home Depot is just as common at grocery stores and restaurants. When it happens at Home Depot stores, it could be for different reasons, however. A slip-and-fall accident typically occurs due to wet or uneven floors. Whenever a store employee mops a floor, they must put up warning signs to prevent a slip and fall accident.
A slip-and-fall accident can lead to serious injuries. If there are no warning signs or store employees, do not warn their customers about such hazards, injured victims may pursue compensation for the damages suffered.
Merchandise Falling on a Customer
Home Depot stores often have a warehouse-type layout where big heavy boxes are stacked on massive shelves, which can seriously threaten customers if these boxes are not adequately stocked. Any one of the improperly stocked boxes can fall onto a customer causing debilitating injuries.
Assault at Home Depot and Its Parking Lot
Although assaults between customers and employees are rare, they can happen, leading to a traumatic experience for the customer. Home Depot stores are responsible for ensuring adequate security to protect customers from robbers and fights that may break out at the stores or parking lots.
Common Home Depot Accident Injuries
Slip and fall accidents are the most common accidents at stores, and Home Depot is no exception. These accidents can lead to traumatic brain injuries and dislocated hip and back injuries.
However, other types of injuries can occur due to the kind of accidents occurred, and these include the following:
Head injuries
Neck injuries
Shoulder injuries
Knee injuries
Internal bleeding and organ damage
Spinal cord injuries.
Whenever customers suffer injuries from slip and fall accidents, falling merchandise, assault, and any other type of accident at any one of the Home Depot stores, they must immediately seek medical attention.
At times, serious injuries may not be so obvious. It is important to note that some injuries can take time to manifest, while other minor injuries sustained can turn into complicated medical issues. Home Depot accident victims must immediately get a medical evaluation to understand the extent of the injuries and start medical treatment.
The more you prolong medical attention after an accident, the more you risk jeopardizing your personal injury claim and incurring high medical expenses for which you may not even receive compensation.
Premises Liability for Home Depot Injuries
Under California premises liability law, property owners or occupiers have a legal duty to ensure their property is reasonably safe for their customers and warn customers about any hazards on the premises, including parking lots. Suppose a property owner fails to maintain safe conditions on their property or warn customers about potential hazards. In that case, they may be liable for any injuries sustained by a customer in an accident.
For example, if an oil leak or wet floor in one of the store's aisles is brought to the employee's attention who slacks off rather than removing the hazard, the store will be responsible for a Home Depot slip and fall accident. However, if the employee immediately cleans the floor and places a warning sign, the store may not be liable for any slip and fall accidents.
For Home Depot injury cases, the plaintiff must prove the following elements to ensure they have a valid claim and a strong chance of winning:
The defendant is the Home Depot property owner or occupier
The defendant was negligent in inspecting and maintaining the property
The plaintiff suffered injuries
The plaintiff's injuries occurred due to the defendant's negligence.
The property owner's duty of care is based on what a reasonable property owner would do if they came across a hazard or similar dangerous condition.
To help determine whether the property owner breached their duty of care, the jury or the judge may consider the following factors:
The property's location
The likelihood of an injury
The seriousness of the injury
Whether the property owner was aware of the property's condition
Whether the property owner should've known about the property's condition
Whether the property owner took reasonable measures in eliminating or reducing the risk of hazard.
Let's look at an example. Suppose one customer warns a Home Depot store owner, Jack, about an improperly stocked product on a shelve at a Home Depot location. Jack understands the risk of the improperly stocked shelf, but instead of attending to the risk and eliminating it immediately, he decides to fix it after his lunch break.
During the 45-minute lunch break, a customer, Mark, walks into the aisle, and suddenly, the heavy box falls onto his head, causing severe head and neck injuries.
Jack knew about the hazard, was aware that the improperly stocked product could fall onto a customer and cause injuries, had control over the risk, and understood the need for properly shelving the product.
However, Jack was negligent in eliminating the danger as he decided to see to it after his 45-minute lunch break. Jack will probably be liable for the damages in a premises liability lawsuit against Home Depot.
What You Can Recover in a Home Depot Accident
Whether slip and fall accidents or any other Home Depot accidents, injured victims can pursue compensatory damages, including:
Medical bills
Future medical care
Lost wages
Lost earning capacity
Pain and suffering
Emotional distress.
There are many other damages that a victim can recover in a premises liability case. Every case is unique, and the damages vary from one case to the other, which is why an injured victim needs to work with an experienced personal injury lawyer to assess and calculate the damages.
Statute of Limitations for Home Depot Accidents
If you suffered injuries in a slip and fall accident or any other type of Home Depot accident, under California law, you have two years from the date of your injury to bring a civil action.
You lose the right to pursue legal action against the responsible party if you fail to bring a personal injury claim or a lawsuit within California's statute of limitations time.
Will Your Home Depot Accident Case Settle or Go to Trial?
In most personal injury cases, the case settles before it can go to trial because heading to trial is expensive and time-consuming. If your claim is strong, an insurance company will not risk going to trial and will try to settle it.
Insurance companies often pressurize injured victims without personal injury attorneys to accept a low settlement offer. However, an experienced personal injury lawyer will look out for your best interests and fight for maximum compensation.
If they believe your case is worth more than the insurance company's offer, they may even consider going to trial.
How Can Home Depot Injury Attorneys Help You?
Whether you've suffered injuries in a Home Depot slip and fall accident or any other type of Home Depot accident, an experienced Home Depot injury attorney can improve your chances of securing compensation.
There are several things an attorney can help you with. The most important one starts with filing a Home Depot injury claim properly, following the legal process within the statute of limitations timeframe. An experienced personal injury attorney understands the legal process and can file a claim on your behalf.
You also need to establish the elements of a premise liability or a negligence claim by gathering evidence. The evidence you submit to the third-party insurance company can make or break your case. An experienced Home Depot injury attorney understands the required evidence and can build and strengthen your case by gathering relevant proof.
Personal injury accidents can leave accident victims with seriously high medical bills, causing financial constraints on the entire family. Some injured victims may not afford medical treatment following their accident.
A resourceful personal injury attorney can help locate a medical lien doctor for your medical treatment so that you don't have to worry about paying upfront medical bills.
When the legal process starts, the third-party insurance company will assign a claims adjuster to your case. An attorney can help handle the claims adjuster and negotiate a fair settlement on your behalf while you recover from your injuries.
Can Accident Victims File Personal Injury Claims Without Legal Help?
Seeking legal assistance is not mandatory when pursuing a personal injury claim or a lawsuit. However, those without an attorney often recover smaller amounts than those pursuing civil action with the help of a lawyer. Even if the attorney takes their fees from the settlement amount, you're still financially better than those without legal representation.
An insurance company or the claims adjuster will likely lowball you a settlement offer or use tactics to delay or pressure you into accepting a small settlement if you proceed without an attorney.
Another thing to remember is that the court will hold you to the same standards and rules as an attorney. So if you're not aware of the court processes or the practices, you risk jeopardizing your case.
The risks of going into a personal injury claim without an attorney are much higher, and the rewards are minimal, which is why you're better off if you seek legal assistance.
Schedule a Free Consultation with Ehline Law
Ehline Law is an award-winning personal injury law firm with over 15 law offices across California. Our personal injury attorneys have a proven track record of successfully handling more than 3,000 personal injury cases and recovering over $150 million in compensation for our clients.
If you suffered injuries at Home Depot, contact us at (833) LETS-SUE for a free consultation, as you may be eligible for compensation. Our Los Angeles Home Depot accident attorneys will discuss your Home Depot accident claim and hold the negligent party responsible for your loss.
Michael Ehline is an inactive U.S. Marine and world-famous legal historian. Michael helped draft the Cruise Ship Safety Act and has won some of U.S. history's largest motorcycle accident settlements. Together with his legal team, Michael and the Ehline Law Firm collect damages on behalf of clients.
We pride ourselves on being available to answer your most pressing and difficult questions 24/7. We are proud sponsors of the Paul Ehline Memorial Motorcycle Ride and a Service Disabled Veteran Operated Business. (SDVOB.) We are ready to fight.