What Is a Brain Injury?
Any accident that leads to the destruction of the brain cells, whether it is the shaking of the brain or a penetrative injury, constitutes a brain injury. These can range from minor to severe, with the impact lasting from a few hours to years and, in worse, post-concussion syndrome cases, even a lifetime. Brain injuries are typically divided into traumatic brain injury (TBI) and non-traumatic brain injury. TBI occurs from trauma and could happen during sports activities or an external blow to the head.
On the other hand, non-traumatic brain injuries (also referred to as acquired brain injury) happen from forces inside the body, such as a stroke, tumor, brain infection, and other medical conditions. Accident reports must be taken seriously anytime a person suffers a blow to the head, so don't hesitate to get future medical care for such a potential extremely serious injury and harm.
Levels of Traumatic Brain Injuries
There are three levels of brain injury, and include the following:
Mild TBI: These types of injuries result in loss of consciousness over a short period and may include minor concussions, memory loss, and confusion.
Moderate TBI: These are greater in severity than mild TBI and involve a person experiencing changes in brain function for longer than a few minutes.
Severe TBI: Individuals with severe TBI experience an extended period of unconsciousness (coma) or amnesia, and their eyes may not open.
Types of Traumatic Brain Injuries
There are several types of traumatic brain injuries, but some of the common ones involve the following:
Concussion
Contusions
Brain hemorrhages
Intracranial hematomas
Coup-contrecoup brain injury
Diffuse axonal injury
Penetrating head injury
Second impact syndrome.
A severe brain injury can adversely affect a person's life, leading to a lifetime of physical, cognitive, emotional, and behavioral changes. It involves an injured victim's ability to function normally, requiring life-long care, home modifications, rehabilitation and therapy, and continuous medical treatments.
Common Causes of Traumatic Brain Injuries in San Diego
Several types of accidents can result in severe brain injuries, and some of these include:
Motor vehicle accidents
Pedestrian accidents
Bicycle and motorcycle accidents
Slip and fall accidents
Violent crimes or firearms accidents
Sports accidents
Work-related accidents.
Many types of accidents can cause brain injuries, so it is crucial to speak to medical attention and talk to an experienced brain injury attorney to know more about your rights as an injured victim.
Can You Sue for a Traumatic Brain Injury in San Diego?
Under tort law, injured victims can secure compensation for their injuries arising from negligence, intentional acts, and strict liability. If you suffer a brain injury due to another's negligence, you may have a valid brain injury claim.
However, to recover compensation, you must prove the following elements of a negligence claim:
The defendant owed you a duty of care
The defendant acted negligently and breached the legal duty
You suffered a brain injury due to the breach
You suffered damages due to the defendant's negligence.
You may also pursue a personal injury lawsuit if you suffered a brain injury due to another's intentional wrongdoings or the manufacturer's negligence. The elements you must prove for such cases vary slightly compared to a negligence claim. Whether it is a negligence claim or strict liability, proving the elements can be challenging. It would help if you spoke to an experienced brain injury lawyer to discuss your case and legal options.
Recoverable Damages in Brain Injury Claims
The damages you can recover in a brain injury claim depend on the type of brain injury and its severity. Typically, there are two types of damages a brain injury victim can recover, and these include economic and non-economic damages. So if you experienced personality changes or othe symptoms, you have a legal right to speak with an experienced San Diego brain injury attorney and pursue a full recovery.
Economic Damages
After an accident, an injured victim incurs direct expenses associated with the injuries, including medical treatment costs, lost wages, and property damage. These are economic damages for which they can obtain compensation in Southern California courts. Surgeries, hospitalizations, prescription medication, rehabilitation, therapy, psychological counseling, diagnostic tests, and ambulance fees are some examples of medical expenses that a victim may recover. Lost wages is a broad term that incorporates loss of earning capacity, current lost income, and future lost income.
Non-economic Damages
Although medical expenses are a significant portion of the damages a traumatic brain injury victim experiences, recovering non-economic damages in a personal injury claim is crucial.  These are subjective losses from a brain injury and may include pain and suffering, mental anguish, emotional distress, and reduced enjoyment of life. Our skilled San Diego brain injury attorney can also recover punitive damages in egregious cases. These types of damages punish the defendant for their willful and malicious conduct.
The damages can vary from one brain injury case to another, so brain injury victims must reach out to an experienced brain injury attorney to learn the types of damages they can recover.
Proving a Traumatic Brain Injury
After a brain injury accident, the injured victim has the burden of proof to prove that the injuries occurred due to the defendant's actions. Suppose you suffered a serious brain injury and are pursuing a personal injury case against the negligent party. In that case, you must provide evidence to show your injuries and the relationship between your injuries and the defendant's actions.
Medical records, expert testimonies, imaging results, and medical bills are some forms of evidence to show that the traumatic brain injury occurred. To prove that the injuries occurred from the defendant's actions, a police report, CCTV footage, and pictures of the accident scene are some of the evidence you may use. Not all evidence can bolster your case, as some can pass on the blame or even put a dent in your personal injury claim, which is why you must reach out to a knowledgeable attorney.
Our San Diego brain injury attorney has over 15 years of experience handling brain injury cases and understands which evidence can make or break your case.
How Much Is a Brain Injury Settlement worth in San Diego Courts?
Most personal injury claims for the most common brain injury symptoms settle outside of court. And this is why it is difficult to calculate an average brain injury settlement in the more novel cases, such as Chronic Traumatic Encephalopathy (CTE) [a degenerative brain disease] or less known mild brain injury, for example.
Depending on the severity of the injury and the type of brain injury suffered, the case can be worth anywhere between $1 million to $4 million or even more to surviving accident victims. But your brain injury lawsuit settlement could just as easily be a wildcard unless you hire an experienced personal injury law firm to deal with this headache caused by someone else's negligence.
It is best to speak to an experienced brain injury lawyer to determine how much your brain damage case is worth and what steps to take to protect it and maximize the settlement. Don't waste time, as this can be a severe injury and every day is, high-speed impacts caused by car accidents. This type of head trauma must be stabilized and should not be treated as a mild head injury.
Schedule a Free Consultation with Ehline Law Brain Injury Lawyers in San Diego County, CA
Did you suffer head injuries or permanent brain damage in San Diego County? Are you dealing with anxiety over lost work after a brain injury? Is your sensory prognosis for total recovery grim? You may be eligible for compensation, so don't sleep on your rights to pursue the at-fault party. Don't let disorientation stop you from doing research on the best lawyer to handle your case. Feel free to write down the details and complexity of your personal injury cases using our online website contact form. Even if it involves closed head injuries and sports injuries, we will reply with speed and compassion with a free case evaluation today.
If you suffered a brain injury due to another's negligence in a car accident, or slip and fall, contact us at (833) LETS-SUE for a free consultation to discuss legal representation and financial compensation for your brain trauma. Our San Diego brain injury lawyers are available 24/7 to get the vulnerable the justice they deserve immediately. Survivors know they can trust us to represent them well and perform with quality results.
---
Michael Ehline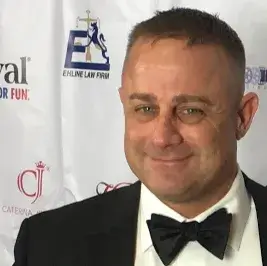 Michael is a managing partner at the nationwide Ehline Law Firm, Personal Injury Attorneys, APLC. He's an inactive Marine and became a lawyer in the California State Bar Law Office Study Program, later receiving his J.D. from UWLA School of Law. Michael has won some of the world's largest motorcycle accident settlements, and he can help you get the compensation you deserve for sure.
---
Recent Personal Injury News
Check out news about the most recent premises liability accidents and more, including the famous, infamous and everyday people wounded by at fault parties around the world. Follow us on social media to learn more about pain and suffering damages and getting paid the most. At Ehline Law Firm, we're clearly different.