Summary:
Prior injuries or "pre-existing ailments" may affect the amount of recovery that is awarded. Ailments may offset the amount that is awarded and result in a lower pay off than a full healthy person would have received. If a plaintiff previously had a broken arm and got in a car crash, and exited with a broken arm, it is unlikely that a court would award him full damages for a broken arm that he previous was already afflicted with, unless the broken arm, or residual condition was worsened.
Examples could include the healed arm being broken at the same weakened spot, requiring special surgery and titanium screws. This would be an eggshell skull fact pattern as well.
With over 30 years combined experience, we can answer your questions swiftly and competently. Did you or your loved one suffer a pre existing injury and now the insurance adjuster is refusing to pay you a fair value?
Learn more about personal injury law here by calling our experienced civil law attorneys in Los Angeles 24/7 by dialing (213) 596-9642, or by using our convenient online contact us form to discover more about your rights to receive a just amount of financial compensation.
Proving Negligence and Establishing Liability
When filing a personal injury claim with a third-party insurer, you need to prove the other person's liability by proving that they were negligent.
Elements of Negligence
There are four key components to proving negligence, and these include:
Duty of care: the plaintiff must prove that the defendant had a duty of care to them.
Breach: the plaintiff needs to show that the defendant breached that duty by doing something wrong or failing to take reasonable action in preventing the accident.
Cause: the plaintiff must show that the breach directly resulted in their injuries.
Damages: the plaintiff must prove that the negligence resulted in damages by showing evidence material, such as medical records and bills.
To prove liability, you require substantial evidence that can strengthen your case, and several credible types of evidence include photographs, witness statements, police reports, and medical records.
Separating Prior Injuries from New Injuries in a Personal Injury Claim
When you're at the hospital for a medical evaluation, you need to tell them the details of your injuries, which would later help distinguish your prior injury from the new one.
Describe to the medical provider your symptoms in detail, where you're feeling pain, how much pain you are experiencing, and if you have any movement limitations following the accident.
What you're trying to do by explaining in detail to your medical provider is to create a distance between your pre-existing injury and your new injury—the more distance you can put between them, the better.
As part of growing old, most of us start to experience wear and tear on our bones and joints. At times, you may not be aware of your previous medical conditions, such as osteoporosis which may appear on imaging tests conducted after an accident.
If you didn't have any back pain or other symptoms prior to the accident, the discovery of pre-existing condition is not a reason an insurer should reduce your claim.
However, they use whatever they can to coerce injured victims into taking a low settlement offer, which is why you must tell your doctors about your symptoms and when you started experiencing them to ensure a strong personal injury claim.
If you've had previous injuries, it will help if you reach out to the doctor who treated you to document the details of your past injuries, when they happened, your treatment plan, the doctor's prognosis, and when you finished your treatment.
Confirming that the treatment successfully reduced pain or other problems you were facing back then can bolster your case. It can also prove that the current symptoms you are experiencing started with the recent accident and not because of old wounds or injuries.
When to Disclose Pre-Existing Injuries
When you file an insurance claim, you must disclose your prior injuries to the medical and legal teams. However, the way you talk about your pre-existing injury can make or break your claim.
Insurers Can Use Recorded Statements Against You
Adjusters are not looking out for your best interests and will find all sorts of reasons to limit financial exposure. Before the adjuster even asks you about medical records, they may require you to provide a recorded statement.
Language matters in the legal world, and how you present your case can affect the outcome. You can put a dent in your injury claim by saying something you shouldn't or agreeing with what the adjuster is talking to you about. They're trained in the art of "admissions against interest," using your words against you.
Consulting with a qualified personal injury lawyer before giving any statement to the adjuster is your legal right. If you're suffering from serious injuries, it is crucial to have a skilled personal injury attorney present with you before you give any statement.
Beware of Medical Release Forms the Insurance Company Wants You to Sign
Besides making you say things that can hurt your case, the adjuster will ask you to sign forms, and one of those would be a medical release form. They will make it sound like they're helping you with the injury claims process and doing you a favor. However, they're trying to find any medical history they can hold against you.
You must read any forms the insurer wants you to sign. You're not legally obligated to use their forms as the legal jargon in them could get them access to complete medical history, even 10 or 20 years before the accident.
Although you need to provide them with medical records, bills, and other documentation to support your claim, you can limit the insurer's access to your personal health information. An experienced injury attorney will have a medical records template that you can use to request documents concerning your pre-existing condition.
Don't Lie about Your Previous Injury or Pre-existing Condition to the Insurance Company
Some injured victims make the mistake of lying to the insurance company about their prior injuries or pre-existing condition, which seriously affects their claim. It adversely impacts the victim's credibility and can blindside them during negotiations.
If you have a complicated injury claim arising from your pre-existing injuries, it is best to let an experienced personal injury attorney handle it.
California Eggshell Injury Rule Is on Your Side
Like many other states, California follows the eggshell skull doctrine, which recognizes that an accident can worsen pre-existing conditions. However, the defendant cannot escape liability even if the plaintiff is more susceptible to injuries due to their medical history.
Schedule a Free Consultation
Whether injured victims suffer injuries in a car accident, a slip and fall accident, or any other accident, it may overlap with their pre-existing conditions making personal injury cases more challenging.
You shouldn't suffer financially due to another's negligence, especially because of your past injury. Contact us at (833) LETS-SUE for a free consultation with our experienced personal injury attorney.
Our attorneys have successfully handled claims involving pre-existing conditions in the past. We can help create a strong personal injury case that distinguishes between your previous and current injuries and fight for a fair settlement.
Michael Ehline
---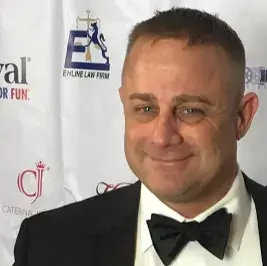 Michael is a managing partner at the nationwide Ehline Law Firm, Personal Injury Attorneys, APLC. He's an inactive Marine and became a lawyer on the California State Bar Law Office Study Program, later receiving his JD from UWLA School of Law. Michael has won some of the world's largest motorcycle accident settlements. He compassionately helps clients recover after serious injuries.