The Average Wrongful Death Settlement in California
Successful wrongful death claims have resulted in wrongful death settlements ranging from $1,000 to millions of dollars. The amount of compensation your family may receive in the event of a wrongful death gets determined by a variety of criteria, including your loved one's income, age, education level, medical bills, funeral costs, condition of health, dependents' situations, and the number of lost benefits.
A free consultation with a wrongful death lawyer is a requirement to learn more about the potential value of your wrongful death lawsuit. Only an experienced lawyer can offer you an accurate, evidence-based evaluation of its worth.
What Damages Can You Claim in a Wrongful Death Case?
You may calculate all the damages a jury or judge might award you if your wrongful death claim succeeds to get a good idea of how much your case is worth. A wrongful death settlement or judgment award is certainly intended to compensate the plaintiff for any economic and non-economic damages incurred as a result of the defendant's acts.
To begin, sum up your economic losses, as these are quantifiable:
Funeral and burial expenses
Unpaid medical expenses from the wrongful act that resulted in the decedent's pain or death.
Lost wages
Legal fees to pursue wrongful death cases
Add up how much these expenses have cost the family currently and are going to continue to cost your family in the future. Then think about what noneconomic damages you could have an entitlement to. Emotional distress, the deceased's pain and suffering before death, and loss of consortium are all examples.
Lastly, if the defendant's acts were extremely negligent or irresponsible, a judge may award you additional punitive damages.
Factors that Reduce the Amount of Wrongful Death Settlements Paid
In some cases, you may receive less wrongful death damages than you expected; however, there are several simple reasons for this.
Your loved one, for example, could have caused their own tragedy. It is conceivable for victims to be negligent in some cases, and not all cases are black and white.
For instance, while riding a motorcycle, your loved one may not have used their turn signal. Since the truck driver was not expecting your loved one to halt, a commercial truck behind them may have collided with them.
In this case, your loved one is partially responsible for the collision that resulted in their death. Therefore, a typical wrongful death settlement amount depends on the factors surrounding the death or personal injury claim and whether your experienced attorney can prove wrongful death to the court.
Schedule a Free Consultation with our Wrongful Death Attorneys Today for Your Wrongful Death Claim
It is natural to feel unhappy, angry, and scared about the future after the death of a loved one.
Our friendly and charismatic Los Angeles wrongful death lawyers at Ehline Law Firm can take over all wrongful death lawsuits and begin preparing wrongful death settlement amounts, allowing you to spend more time with your surviving family members. You may focus on factors that matter most instead of stressing about court dates and insurance adjuster forms.
Please contact us right away to begin the process. We are simply a phone call away and would be more than delighted to answer any questions you may have. Call us at (213) 596-9642 or send us an email to schedule your free case evaluation.
A personal injury lawyer from our legal offices values the attorney-client relationship and ensures that the decedent's family members receive a fair settlement.
Michael Ehline
---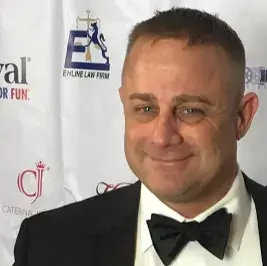 Michael is a managing partner at the nationwide Ehline Law Firm, Personal Injury Attorneys, APLC. He's an inactive Marine and became a lawyer on the California State Bar Law Office Study Program, later receiving his JD from UWLA School of Law. Michael has won some of the world's largest motorcycle accident settlements. He compassionately helps clients recover after serious injuries.