What Is a Wrongful Death Lawsuit?
A wrongful death claim is a lawsuit filed when a person dies due to the negligence or intentional action of another individual. These claims enable the deceased person's estate representative or family members to sue the person or organization legally responsible for the person's demise.
They often focus on the surviving family members, and the losses and future losses they have or may incur due to the actions of a third party that led to the wrongful death of their loved ones. These include funeral expenses, outstanding medical bills for the victim's healthcare before they died, and their income.
A Survival Action
In a survival action, you cannot win-loss of consortium damages. Instead, the lawsuit centers around the deceased person and the losses incurred by the incident that led to their death.
Unlike wrongful death claims, they focus on the pain and suffering the deceased person would have experienced and is comparable to a personal injury lawsuit that the deceased person would have filed if they were still alive. The victim's personal representative files these lawsuits.
It is important to note that wrongful death actions are only filed if the death occurred due to another person or party's negligence, or intentionally wrongful act.
The Main Differences Between a Wrongful Death Claim and a Survival Action Lawsuit
Here is a summary of the differences between a wrongful death suit and a wrongful death action:
The former occurs on behalf of the deceased's immediate family, while the estate's personal representative brings the latter on behalf of the deceased person.
Wrongful death lawsuits focus on the losses or damages of the family, while survival actions focus on the losses or damages of the deceased person.
When you win a wrongful death case, the financial compensation is not subject to claims or taxes against the decedent's estate. The distribution of damages recovered in a survival action happens in accordance with the decedent's will and is liable for creditors' and tax deductions.
In a survival action, the victim had to have been alive for a short period to claim damages, whereas you can file wrongful death cases even if a victim died on impact.
It is important to note that the statute of limitations for both survival actions and wrongful death claims is two years, and you can file these lawsuits together.
What Damages Can You Claim in Wrongful Death Claims?
A wrongful death lawsuit allows a victim's family member to claim both economic and non-economic damages after the family member's death.
Economic Damages
These damages involve the financial losses incurred when a family member dies. They include:
Any outstanding medical costs from the victim's treatment before their death
Financial support the victim would have provided their family had the incident not occurred
Burial expenses and all other funeral costs
An inheritance that the victim would have received
All financial gifts
Non-economic Damages
Non-economic damages refer to the pain and suffering of the family after the death of their loved one.
This includes:
The loss of love and support the family would have provided
Companionship the deceased person's spouse must now do without
The grief, and emotional and mental anguish that accompanies an unexpected loss of this nature
Your attorney can put together a comprehensive list of all the damages you can claim in a wrongful death claim, so be sure to contact us at Ehline Law Firm for more information.
What Damages Can You Claim in Survival Action Claims?
As all cases are unique and come with their own set of facts, it is important to speak to an experienced attorney to get legal advice on what damages you can claim in survival actions.
Here are some of the damages you can expect to receive financial compensation for regarding the victim's death and injuries:
Medical expenses, such as those paid for before the deceased's death
Punitive damages that punish a defendant financially for their negligence or wrongdoing
Surviving Family Member Needing More Information? Contact Ehline Law Firm Today!
If your loved one has passed away because of someone else's negligence, you can recover financial compensation by filing a wrongful death and survival action civil lawsuit.
At Ehline Law, we have a skilled group of attorneys near you and we are well-versed with California state law. We value every attorney-client relationship and commit to protecting your confidential or sensitive information.
Our team tirelessly dedicates its time to get the most favorable results for our clients and take on insurance companies and large corporations without hesitation.
Contact us at (213) 596-9642 for a free case review if you are close family members of the victim or a representative of the deceased's estate, and we can help you recover damages 24/7. We can also be reached by using our convenient online contact us form.
Michael Ehline
---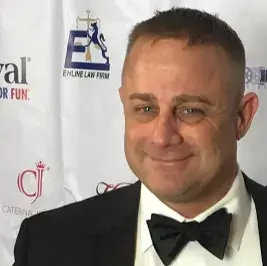 Michael is a managing partner at the nationwide Ehline Law Firm, Personal Injury Attorneys, APLC. He's an inactive Marine and became a lawyer on the California State Bar Law Office Study Program, later receiving his JD from UWLA School of Law. Michael has won some of the world's largest motorcycle accident settlements. He compassionately helps clients recover after serious injuries.