You must start your bodily injury claim process after an accident immediately. Contact us to learn more about the process and your rights as an injured victim.
What Is the Difference Between a Personal Injury and a Bodily Injury?
Although bodily injury and personal injury may sound the same, there is a difference between the two legal terms.
A bodily injury occurs when you suffer a physical injury following your accident, while a personal injury refers to physical and mental injuries, including pain and suffering and emotional distress.
Is Personal Injury Protection and Bodily Injury Liability the Same?
Car accident insurance generally includes two coverages: bodily injury liability coverage and property damage. However, some car owners may choose to add additional coverage to ensure their financial safety if an accident occurs.
Bodily injury coverage kicks in when you cause an accident resulting in injuries to the third party. It pays for the medical treatment for the injuries arising from your negligence.
Personal injury protection is mandatory in no-fault states, and it covers the medical expenses and lost income arising from an accident, regardless of who is at fault. Although personal injury protection is not mandatory in California, you may choose to add it to your car insurance as additional coverage.
How Do You File a Bodily Injury Claim?
Before you can file a bodily injury claim, you need to build your case, and the stronger the case, the greater the chances of securing compensation.
Gather Evidence at the Accident Site
When you're injured, gather as much evidence as possible. For example, if you're injured in a car accident, call 911. 
Having the police at the accident site can help you get a police report which adds weight to your personal injury claim. You should gather evidence by photographing the vehicles involved, your injuries, the accident site, and its surroundings. All of this help the insurer and your attorney determine the at-fault party.
You also want to look around for witnesses and take their contact details. Having a witness statement bolsters your case. Exchange insurance and contact details with the parties involved and head to a hospital for a medical evaluation. 
If you're suffering from serious injuries, it is best to start your medical treatment.
Contact an Experienced Attorney
After the accident, you must call your insurer and the third-party insurance company to notify them about the incident. Now reach out to an attorney. You can file the claims yourself, but having an attorney can increase your chances of obtaining compensation.
Surveys suggest injured victims with legal representation have bodily injury settlements three to four times more than those without attorneys. Even deducting the attorney's fees, you're still in a better position financially.
Your Attorney Will Handle the Third-party Insurance Company
Your attorney will handle the claims process for you. They will calculate the value of your damages and send a demand letter to the third-party insurer requesting compensation. During this stage, the insurer will negotiate with the attorney. The stronger the case, the higher the personal injury settlement.
If there is a disagreement between the parties on the settlement and your attorney believes that your case is worth more, they may take it to trial. You already have most of the evidence collected; it's just a matter of how well your attorney presents the case.
An Insurance Company Would Rather Settle a Personal Case Rather than Go to Court
In most cases, an insurer will settle without going to trial if they believe that their policyholder was in the wrong. Going to trial means that your attorney now has access to information and documentation that they normally wouldn't, which can strengthen your case.
How Is a Settlement Reached for a Bodily Injury Claim?
When you file a personal injury claim against the negligent party's insurance company, the process of recovering compensation begins. The insurance company will assign a claims adjuster to your case who will assess your case and try to give a settlement offer.
In most cases, the adjuster lowballs a settlement offer that may be much lower than the damages incurred. Here is when you should let an attorney negotiate with the adjuster.
You may want to handle the insurer yourself, but in most cases, the injured victims waste a lot of time. Adjusters are trained to use "dirty" tactics, including avoiding phone calls, requiring unnecessary documentation, and even blaming you for the accident to coerce you into taking the low settlement.
When an attorney gets involved in a personal injury case, they know how to handle the insurer and the claims adjuster. Most personal injury cases result in a settlement, as going to civil trial is time-consuming and expensive for the insurer, especially when they know they're not going to win.
Your attorney will prove the value of the damages and the injuries resulting from the accident to try and reach a fair settlement. It may take some time, as the defendant's attorney will also do their calculations. However, the likelihood of winning a civil lawsuit increases the chances of reaching a settlement.
Once all parties mutually agree on the settlement amount, you will get to decide whether they wish to receive a lump sum payment or set up a structured payment plan. Accordingly, the insurance company will issue a check in your and your attorney's name.
What Is Included in a Bodily Injury Claim Settlement?
There are many types of damages an attorney can help recover in a bodily injury claim, and these include:
Past, present, and future medical bills
Lost wages
Pain and suffering
Loss of consortium
Loss of quality of life
Potential future earnings.
When Are Personal Injury Settlements Paid?
Depending on the complexity of the personal injury case, resolving personal injury claims can take between a couple of months to a year or more. You may want to receive payment immediately, but it's important not to rush.
Remember, the insurer will lowball you a settlement if you're not at fault. You can take that amount and get the process over with. However, in most cases, the amount is so low that it won't even cover the medical bills for your injuries.
If you've got an experienced personal injury attorney on your side, let them handle the claims process for you. They do this daily, and you've hired them to look out for your best interests.
Should I Settle My Insurance Claim or Pursue a Lawsuit in Court?
If you're injured due to another's negligence, you have the legal right to pursue compensation through the court system. You may want to go to court but consulting with an attorney before making a decision is in your best interests.
Pursuing a personal injury lawsuit in court is time-consuming and expensive, and it can take years before the case concludes and the jury decides. If you lose the case, you will get nothing.
Personal injury settlements are the best-case scenario for everyone following an accident. Even insurers prefer to settle rather than go to court. A settlement is a compromise between you and the responsible party for your damages. Hiring an experienced attorney can help maximize your settlement.
However, if an attorney believes that they should go to trial, it would be up to you to decide whether you want to risk going to trial and wait a long time before you see an award or settle it and move forward with your life. If you win during a trial, you can secure more money than if you were to settle, but there is a risk of losing and getting nothing.
Consult with your attorney and assess their trial experience, whether they've had many successes in trials in the past. It will help you make an informed decision.
How Much Is the Average Bodily Injury Claim Worth?
Personal injury cases where the injuries are severe, such as a brain injury, lead to a higher settlement than cases where the injuries are relatively minor, such as wrist injury.
According to Quadrant Information Services, over a period of 10 years, from 2010 to 2019, the average personal injury settlement amount is calculated at $15,872.
Many factors affect the value of your claim, and an experienced attorney can help maximize the settlement you receive.
Working with an Experienced Bodily Injury Attorney Can Benefit You
Insurance companies assign claims adjusters whenever there is a personal injury case, and the job of these adjusters is to limit financial liability. They get paid to ensure minimal payouts and even deny personal injury claims.
It can be an unpleasant experience dealing with an insurer. In most cases, injured victims accept the initial bodily injury settlement offer just so they can move on with their life.
Working with an experienced personal injury lawyer increases your chances of securing a fair personal injury settlement. A skilled attorney can handle personal injury claims and negotiate with the insurer on your behalf. 
While you rest and recover from your injuries, your attorney will fight for your rights and get you the compensation you deserve.
How Much Does It Cost to Hire a Personal Injury Attorney?
Most personal injury lawyers work on a contingency basis, so hiring one won't cost you anything upfront, but it will increase your chances of securing compensation.
Schedule a Free Consultation with Ehline Law
If you suffered injuries due to another's negligence, contact us at (833) LETS-SUE for a free consultation, as you may qualify for compensation. Our experienced personal injury lawyer will not rest until they recover the compensation you deserve.
Michael Ehline
---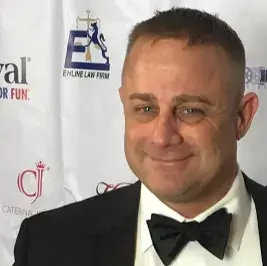 Michael is a managing partner at the nationwide Ehline Law Firm, Personal Injury Attorneys, APLC. He's an inactive Marine and became a lawyer on the California State Bar Law Office Study Program, later receiving his JD from UWLA School of Law. Michael has won some of the world's largest motorcycle accident settlements. He compassionately helps clients recover after serious injuries.