What Is 'Pain and Suffering' in a Civil Claim?
After an accident, you may feel physical and mental pain which can affect your quality of life. The pain and suffering can go on for weeks, months, or even years, depending on the severity of the injuries. 
Worse, mental and emotional pain can remain with the victim for much longer, requiring therapy to overcome the challenges.
Is 'Pain and Suffering' Easily Calculated?
Pain and suffering are subjective feelings, and only the victim can understand and explain what they are going through, making it difficult to quantify and put a dollar amount to when filing a pain and suffering claim. Working with an experienced personal injury lawyer is crucial to recover what you deserve.
Types of Pain and Suffering
There are many different types of pain and suffering damages a person can claim in a personal injury lawsuit, and some of them include the following:
Physical pain
Mental anguish
Emotional pain
Emotional distress
Loss of quality of life
Loss of enjoyment of life
Disfigurement
Physical impairment
Embarrassment
Grief
Humiliation
Loss of companionship
Sexual dysfunction.
Is There a Limit on Pain and Suffering Damages?
Based on the evidence and facts of a case, the jury and judge can award compensation for pain and suffering damages. However, some states may limit the damages awarded for pain and suffering.
Does California Have a Limit on Pain and Suffering Damages?
In California, there is no limit on non-economic damages in most personal injury cases, but some exceptions may apply. 
For example, non-economic damages are capped at $250,000 for medical malpractice cases.
Is Claiming Pain and Suffering Damages Challenging?
Claiming economic damages from physical injuries is easy to calculate (medical bills, hospital stay fees, lost wages, etc.). However, assigning a dollar value to non-economic damages, primarily pain and suffering, can be challenging.
You would need to provide evidence that would help the insurer or the jury understand the extent of your pain and suffering.
Proving Pain and Suffering
Some of the documentation or evidence that can prove the physical pain and emotional trauma you're going through includes:
Your visits to the medical doctors, including mental health therapy sessions.
Written opinions by therapists describing the extent of your pain and suffering and how your life will continue to be affected beyond bodily injury.
Testimonies from third-party medical witnesses helping verify the statements or opinions made by your doctors and therapists.
Prescriptions for medications for your physical injuries and medical pain.
Documentation regarding your permanent conditions.
A detailed journal explaining how the pain has affected your life and your ability to carry out daily activities following the accident.
Testimonies from your friends and family members explaining the impact on your daily life.
Documentations from expert witnesses, including mental health professional, and your personal journal creates sympathy and helps the insurer or the jury understand your excruciating journey and how the accident continues to affect your life.
How to Calculate Pain and Suffering Damages in a Personal Injury Case
There are certain factors that the insurer, judge, and jury take into consideration when calculating pain and suffering compensation, and these include:
The severity of the injuries
Physical and mental suffering
How the injuries continue to impact the victim's life
Employment status following the accident
Victim's health and the duration it will take for the injury to heal
Types of medical treatments the victim is undergoing
Future medical treatments the victim may require
Injury prognosis.
Every personal injury case is different, and presenting the right evidence can improve the chances of recovering damages.
Calculating pain and suffering in personal injury lawsuits can be challenging, and an experienced attorney can help calculate pain and suffering damages and prove them by gathering the evidence needed.
Schedule a Free Consultation with Ehline Law
If you are suffering from severe mental pain and emotional trauma from a personal injury accident due to another's negligence we offer a free consultation, as you may qualify for compensation. Our personal injury attorneys understand how constant physical pain and mental suffering can change your life and affect your daily activities.
Our top rated personal injury lawyers are capable of helping you obtain full and fair compensation after any type of negligence. We can help the victim or a representative of the deceased's estate recover damages 24/7. Contact us at (213) 596-9642 for a free case review if you or a close family member has questions about pain and suffering damages. We can also be reached by using our convenient online contact us form.
Michael Ehline
---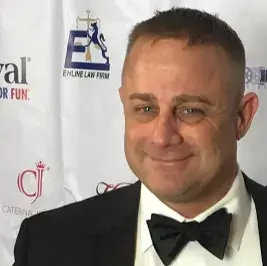 Michael is a managing partner at the nationwide Ehline Law Firm, Personal Injury Attorneys, APLC. He's an inactive Marine and became a lawyer on the California State Bar Law Office Study Program, later receiving his JD from UWLA School of Law. Michael has won some of the world's largest motorcycle accident settlements. He compassionately helps clients recover after serious injuries.