If we don't win, you don't pay.
Speak to the Attorney.
Born to serve.
633 W 5th Street #2890
Los Angeles, CA 90071
(213) 596-9642.
2323 S. Voss Rd, Suite 244
Houston, TX 77057
(832) 592-1260.
Date Modified: September 16, 2023
Losing someone due to another's negligence can be tragic, and after a while of grieving your loved one's death, you may want to hold the negligent party responsible. Are you struggling to pay funeral and burial expenses, let alone pay immediate bills?
However, depending on your state, only certain individuals with specific relationships can be wrongful death beneficiaries. Suppose a family member or close relative has died due to negligence or another wrongful or unlawful action. In that case, you could be eligible to file a wrongful death suit against the responsible party.
Video Transcript - Who Can Sue for Wrongful Death?

Video Transcript - Who Can Sue for Wrongful Death?

"0:00 who can sue for wrongful death people

0:03 who can sue for wrongful death under

0:06 California law and many other

0:07 jurisdictions include close family

0:10 members such as fathers, sons and

0:13 children sometimes siblings like sisters

0:16 and brothers and also domestic partners

0:19 under some state statutes. [music]"
These types of claims typically gain rightful compensation for financial and non-financial losses or damages incurred due to the family member's death. To determine if you are eligible to make such a claim, it is essential first to understand what a wrongful death lawsuit claim is and how it works.
What Is a Wrongful Death Lawsuit?
A wrongful death claim is a lawsuit filed when an individual dies because of another person's negligence or intentional action. These claims allow the deceased's estate or family members to take legal action against the person or organization legally liable for the dead individual's death.
Laws governing wrongful death cases vary from state to state. However, they are often separate from a criminal lawsuit taken against a perpetrator.
What Qualifies as a Wrongful Death?
Wrongful death can result in any situation where another party's carelessness or negligence leads to the death of an innocent individual.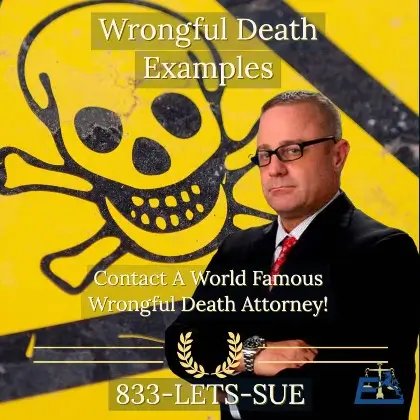 If your loved one died due to an unexpected, unforeseen injury that no one could have predicted, assigning liability or blame in a wrongful death claim may be challenging.
However, if a family member died due to faulty equipment at their place of work, the employer may be liable for failing to take precautions to protect their employees.
The important thing to remember is that a decedent's legal representative may only file wrongful death lawsuits if the victim had no part in their own death or if their death was the result of an unpredictable accident rather than a wrongful act by a third party.
Past Laws Governing Wrongful Death Claims
Previously, an individual was not able to file a civil lawsuit for the death of another. The offender of a wrongful death could face prison or other penalties under criminal law.
Any chances of compensation died with the victim. This means that the deceased's family could not sue the party at fault for financial or non-financial damages due to the death.
Current Laws Governing Wrongful Death Claims
All states in America now have laws that overrule the cruelty of the old laws that essentially left a perpetrator more well-off financially than the family of the deceased.
The current wrongful death statute allows a representative of the deceased or their estate to sue the perpetrator for civil damages. These damages include financial losses incurred and non-financial losses such as the emotional and mental anguish they may have faced as a result of the loss of their loved one.
What If the Deceased Did Not Have a Will?
Determining who can file a wrongful death lawsuit depends on whether the deceased left a will. A personal representative or executor typically administers the estate if a person dies without a will. According to laws in most states, if a court assigns an estate a personal representative or executor, then that person has the sole authority to file a wrongful death lawsuit on the deceased's behalf.
California Has a "One-Action Rule"
A single wrongful death claim must include all potential claimants. There can only be one wrongful death lawsuit filed against the party responsible. This is according to California's "one-action rule." The primary goal of this rule is to keep the guilty party from defending multiple lawsuits.
Another goal is to prevent inconsistencies in outcomes. As a result, a claimant not participating in a wrongful death lawsuit may not file a separate lawsuit against the guilty party.
Who Can File Wrongful Death Lawsuits in California?
The deceased person's immediate family may file a lawsuit for a decedent's wrongful death.
This includes:
The decedent's surviving spouse
Children of the deceased
A domestic partner
The issue of deceased children
Putative spouse.
Individuals Who Can File a Wrongful Death Lawsuit
A single representative must file a wrongful death claim on behalf of the survivors who suffered from their loved one's death.
Typically, the representative is the executor of the deceased's estate. People who may sue for wrongful death vary from state to state, some of whom may include the following.
Immediate Family Members
Although laws pertaining to who can file a wrongful death lawsuit vary in each state, immediate surviving family members are the ones who have the first right to recover compensation.
Immediate family members who can bring a wrongful death action include surviving spouses, children, siblings, parents, and even the grandparent of unmarried children.
Life Partners, Financial Dependents, and Putative Spouses
Not every romantic partner could receive damages as a victim plaintiff if their loved one passed. Some states may allow a domestic or life partner, anyone financially dependent on the deceased person, and a putative spouse (someone who believes in good faith that they have been living as a married person with their partner) the right to recovery. Call Ehline Law Firm Personal Injury Attorneys, APLC, to discuss your legal options and rights to justice as a surviving victim. Let us prove your case!
Distant Family Members
More distant family members, such as aunts or uncles, may not have the right to file wrongful death claims unless they have been named as guardians or personal representatives. However, some states may allow brothers, sisters, or grandparents to pursue a wrongful death lawsuit and recover compensation.
People Who Suffer Financially
Some people who are not related by marriage or blood suffer financially from the passing of an individual. In some states, these people also have the right to recovery.
Parents of a Deceased Fetus
Some states allow parents of a deceased fetus to bring a wrongful death suit against the negligent party. However, in other states, parents of a deceased fetus may be unable to pursue legal action for their loss. In these states, parents may only bring a wrongful death lawsuit if their child was first born and then died.
It is crucial to contact an experienced wrongful death attorney to learn more about your rights if you've lost a loved one.
How Many Wrongful Death Lawsuits Can a Family File?
With so many parties that have the right to recovery, there may be disagreements between them, causing more than one lawsuit to be filed. However, in the majority of the cases, the courts will allow a single lawsuit on behalf of the decedent. Families filing multiple wrongful death claims may see their claims consolidated into a single suit.
Ehline Law and our wrongful death attorneys have extensive experience filing wrongful death claims with a superior track record. If you lost someone you love due to someone else's fault, contact us to learn more about who can sue for wrongful death in California.
Suppose the decedent has no surviving issue, the person or people entitled to the deceased's assets or property as determined by the court for those who have not left a will.
When a married deceased person dies without children and leaves behind a surviving spouse, the surviving parents and spouse each receive half of the deceased's separate property. Distant family members may not pursue legal action for a victim's death.
If the Decedent Left a Will, Does It Impact My Right to Recovery?
Whether or not the deceased person left a will behind may affect your rights to file a wrongful death lawsuit. Normally, an inheritance left in a will can trump the rights of a survivor left out of a will or a trust. Determining this will require a lawyer to review the details to clean up any loose ends on behalf of biological survivors.
Whenever there is a will involved, the court will appoint a personal representative or an executor to follow through with the estate and provide legal support. In most states, the personal representative or the executor of the will have the right to pursue a wrongful death lawsuit on behalf of the decedent.
A wrongful death case can get complicated, especially if a will is involved. At times the person named in the will may not be the immediate member of the deceased's family, which may cause concerns among the family members.
In such cases, a family member may be able to file a wrongful death lawsuit against that person to obtain the right to pursue a wrongful death claim on the deceased's behalf. Family members may take their concerns to court when there is a dispute over the will or its contents. However, doing so can take a long time in court, jeopardizing the lawsuit due to the statute of limitations.
Statute of Limitations for Wrongful Death Claim
The clock to sue usually starts running upon the decedent's passing and ends at two years. Once a person passes away due to another's negligence, suffering family members have limited time to file a wrongful death claim. Identifying which family member has the right to recovery following a loved one's death is crucial.
The statute of limitations on wrongful death lawsuits varies by state, with no state having less than one year to pursue legal action. In most situations, the time starts ticking following the person's death. However, there are exceptions, including the revelation of possible negligence much after a person's death. Are you seeking the professional services of a lawyer to administer your case? Help is a phone call away at (213) 596-9642.
Immunity for Government Agencies and Employees
In some situations, people or agencies may have immunity from liability for wrongful death cases. This means you may not be able to file a wrongful death lawsuit against them even if they killed your immediate family member. For example, recent federal laws provide defendants in railway collisions immunity from wrongful death claims. This means you would be hard-pressed to collect compensation for the negligent killing of adopted children.
The same goes for the death of an adult child, minor child, or partner in a civil union. So just because it was a car accident and you think things like medical bills and lost wages will be covered, you need to speak to a lawyer right away for legal representation, grieving or not!
Damages Recoverable For Wrongful Death Claims?
There are several types of wrongful death damages you may be able to recover when you file a wrongful death claim following a decedent's death, and these include:
Funeral expenses
Medical expenses prior to the victim's death
Lost income
Pain and suffering
Loss of companionship
Punitive damages.
Every case is unique, and an experienced attorney may be able to assess the types of damages you can obtain to ensure maximum compensation for your loss. Lost companionship is a big deal. But you may also need to file a survival action on behalf of the decedent's estate for their own pain and suffering caused by the defendant's wrongful actions. But only a top-notch lawyer will know the nuances and steps to winning big monetary damages!
Schedule a Free Consultation with Ehline Law Wrongful Death Law Experts
If you're the decedent's surviving spouse, domestic partner, or child, contact us at (833) LETS-SUE for a free consultation, as you may qualify for compensation. Our experienced wrongful death attorney can help protect your rights and ensure you receive the financial compensation you deserve for your loss.
Citations:
Michael Ehline is an inactive U.S. Marine and world-famous legal historian. Michael helped draft the Cruise Ship Safety Act and has won some of U.S. history's largest motorcycle accident settlements. Together with his legal team, Michael and the Ehline Law Firm collect damages on behalf of clients.
We pride ourselves on being available to answer your most pressing and difficult questions 24/7. We are proud sponsors of the Paul Ehline Memorial Motorcycle Ride and a Service Disabled Veteran Operated Business. (SDVOB.) We are ready to fight.