Why Retain A Local Whittier Personal Injury Law Firm?
Finding a Whittier litigator familiar with the local area and insurance adjusters is extremely important to getting the maximum financial compensation for your personal injury claim. It's not just age and grey hair that makes the difference.
Look for winning traits in choosing your Whittier injury lawyers. Swaths of the Southern California economy are spread over this vast area, so you could likely cross paths with a careless person and even more careless lawyers with little to no experience for your particular issues. Sometimes insurance companies will give you a raw deal as well, especially when your current lawyer sucks.
You deserve a highly experienced injury lawyer who will handle settlement discussions with your insurance company, handling all communications with the adjuster. Your personal injury lawyers must navigate your matter through the court system if needed.
We will hire investigators to help gather evidence at the accident scene and reconstruct what caused you to be hurt.
Common consequences of personal injuries
Let's take a look at what happens when you get injured, like being hit by a bus, a falling-down accident, or suffer a worker's compensation injury claim. Accidents that cause personal injuries can harm our lives in many decisive ways. Accidents can lead to a personal injury and wrongful death with devastating and immediate consequences to your life partner and kids.
After getting hurt, you will face feelings of rage, stress, and anxiety. The medical bills, surgery, and physical therapy expenses can spiral out of control in a personal injury case.
You may even be facing a temporary or long-lasting bodily injury, physical impairment, mental impairment, and property damage repair charges. Some injury victims will remain disabled, unable to return to the workforce in a meaningful capacity.
Our lead Whittier personal injury attorney, Michael Ehline, has obtained significant settlements from this agency and others throughout the state of California, including nearby La Habra and Santa Fe Springs. We have the experience necessary to handle insurance companies and complex litigation with proven trauma case results.
We'll listen to you our your loved one and offer free advice, confidentially, risk free and with cheer and love so we can improve your quality of life and help you get back on your feet.
Tough on Insurance Companies?
You must hold any liable party with a source of insurance funds responsible for paying their portion of fault on your behalf. With our reputation for doggedly fighting insurance companies, injured California residents and visitors remain in good hands with our superb personal injury law field experience.
The plaintiff or their family will need someone with dogged determination, professionalism, and knowledge of Southern California insurance laws. Your future life may depend on who you name as your Whittier personal injury lawyers.
Fact, our law firm will handle settlement negotiations with insurance companies, insurance adjusters, or another responsible defendant.
Fact, we get clients maximum financial recovery for their pain, suffering, and economic loss claims. We do so in or out of the courtroom with professionalism and elan.
Our superb reputation as one of California's top-rated personal injury law firms was earned by helping each person we represent receive a maximum compensation outcome.
Favorable Claims Outcomes?
Our California personal injury law firm maintains a STORIED history of earning people compensation. Our personal injury lawyer team has earned clients over $100 million in high-quality verdicts and settlements in personal injury claims.
It's simple to browse our personal injury attorney listings in your immediate location. You could search for a particular lawyer if a friend referred you or learn more by exploring the attorney profiles section in our navigation menu.
We include each lawyer's contact information, legal background, email, phone, and biographical data on this page to assist you. Some profiles link to other relevant information or recommendations.
Whittier Accidents We Take?
A tremendous civil law professional has the education, skills, resources, and passion for helping in all negligence law practice areas. Even if you think it's your fault, another party may be liable for acts of personal negligence.
It's malpractice not to hire a legal expert for something so serious. Our duty is to find the liable defendant and hold them accountable on your behalf.
A top professional injury law firm should specialize in litigating fatalities and catastrophic injuries in accident cases like:
Auto Accidents: Most injury victims we help are people in auto accidents. (people with passenger car accidents, bicycle accidents, pedestrian accidents, motorcycle accidents, and commercial vehicle auto accident claims).
Bike Accidents: Bus accidents v. bicyclists are common practice areas here due to the beauty of the city and convenient bike lanes leading to La Habra Blvd, Greanleaf Avenue, and beyond.
Slip and Fall: Slip and fall, aka slip, trip, and fall, are common premises liability claims we help people win any slip and fall personal injury claim.
Elder Abuse: Whittier nursing homes are infamous for neglecting our seniors. We can help you. (Our law office does handle medical malpractice cases, however.).
Our influential personal injury law firm can also help with your Whittier workers comp claims as well as property damage and diminished value claims from Long Beach, to any city in Los Angeles. Our job is getting your or your loved one paid for their personal injuries caused by eh negligence of other at fault parties, and we it it well.
Whittier Personal Injury Cases We Handle?
Personal injuries can be expensive. Treatment can cost families a fortune in medical bills, lost wages, property damage repairs and other out of pocket costs.
We help individuals get paid for any kind of personal injury claims arising from:
Dog bites: A dog bite, including dog attacks, (even serious accident cat attacks) at premises like a business are an area of law our negligence attorneys practice regularly. Our reputation for giving small children and females extra attention over their deep puncture wounds and lacerations gives clients confidence and trust after suffering dog bites. We offer aggressive representation and guidance to those injured in dog bite attacks with catastrophic injuries.
Burns: A severe burn injury can disfigure. And even with surgery, in the end, some cases see permanent harm to your body and senses.
Brain Injuries: We litigate CTE and other head injuries regularly.
Wrongful Death: Loss of life is a devastating outcome in a negligence claim and is common in truck accidents involving pedestrians and motorcyclists. Survival actions and accidental killings may require help with estate planning, conservatorships, and more. Our negligence attorneys work in these areas of law, including serious injury and wrongful death lawsuits.
One of the best choices an injury victim can make when facing legal questions is to speak to a caring, skilled Whittier personal injury lawyer at Ehline Law Firm today. Discuss your case confidentially with a top rated personal injury lawyer today and see about getting the victims and their loved ones the compensation they deserve! We know the Whittier, CA 90601 real estate here, and we know how to win big!

In summary, our best personal injury lawyer can help with:
Broken bones, back injuries, burns, brain injury and wrongful death or another practice area. Our lead personal injury lawyer can even help with estate planning on an as needed basis.
Damages In a Typical Whittier, CA Case?
After our personal injury lawyer team reviews the evidence, and determines party fault, receiving a favorable insurance company payout or jury verdict in court is our final goal.
Your damages result could include the following:
Economic damages: Your lawyer totals up your special damages like medical bills, personal items ruined (property damage), and lost wages.
General Damages: Our accident attorneys hire experts and use other methods to value intangible losses. Sometimes punitive damages will issue. The severity of your injury is a huge aspect affecting your non-economic pain and suffering damages values recovered by your personal injury lawyer.
Demand Package: Next, our personal injury lawyer experts send an insurance settlement demand letter to the insurer laying out financial goals.
TIP: Travel in an ambulance to the local Whittier hospital or Urgent Care, and hire a licensed personal injury lawyer specialist to gather evidence and calculate dollar figures in your case. These are important decisions accident victims must make on the fly, typically well before they even hire a personal injury lawyer.
Statute of Limitations For a Whittier Personal Injury Case?
Injured victims must make sure their personal injury lawyers timely files their case or lawsuit within the statutory or contractually agreed time frame (deadline) from their injury date. The California statute of limitations can differ according to your type of injury claim to avoid hearing ancient disputes and avoid injustice along the way.
The general time limit to sue is a two-year deadline in most PI claims. But some Whittier, CA government entities have additional claims filing procedures shortening the plaintiff's amount of time to sue outside the statute. Only a well trained personal injury lawyer can know for sure about your deadline.
Evidence of incompetency, imprisonment, or being offshore can also extend the expected time to sue. Only experienced personal injury attorneys know all these hidden secrets.
Most people injured in a city like Whittier, will put off hiring a California personal injury lawyer due to expense. We offer free consultations, even if someone is just looking for basic information about California's tort and negligence laws. Don't make the mistake of seeking justice without attention from a trained personal injury lawyer professional at our firm.
The job of our best personal injury lawyer is to answer any type of question you may have. Our best personal injury lawyer can help resolve legal issues and protect your rights in the event of a bad accident off of Greenleaf Ave, or anywhere else in the city. If you suffered moderate to severe injuries during an accident, Ehline Law Firm is the one you call. We're considered the law offices of last resort for many in the country after they were given a bad experience by their last law firm representatives.
Receive A Risk Free Case Review From a Highly Rated Personal Injury Lawyer in Whittier Today
Were you in a motor vehicle accident in Whittier, CA? Perhaps you have a products liability case after your brakes failed, or your food was contaminated? After you call us, a Whittier personal injury lawyer at the Ehline Law group team will promptly review your claims. We'll tell you what you need to know about all the practice areas of the law and the typical procedure, at no cost to you or your family.
Seeking a highly rated personal injury attorney in Whittier? Our top-quality firm is ready to help defend your rights today with extreme professionalism. Schedule a free consultation. Call us today at (833) LETS-SUE or use our convenient online contact form. Our personal injury firm's job is to protect the legal rights and success of accident victims and their family members.
"I got run over riding my bicycle in the bike lane along West Beverly Blvd and got a bad back injury. Mike returned all texts and I felt like I was in good hands. Steve Cortez the investigator and Irene, the law clerk were awesome and personable. I will never deal with an insurance company again after seeing how Ehline handled my Whittier car accident case. Never again!" – Steven Ibarra
---
Michael Ehline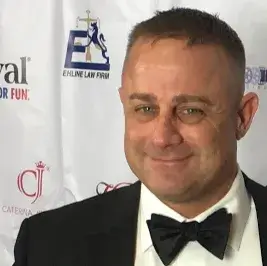 Michael is a managing partner at the nationwide Ehline Law Firm, Personal Injury Attorneys, APLC. He's an inactive Marine and became a lawyer in the California State Bar Law Office Study Program, later receiving his J.D. from UWLA School of Law. Michael has years of experience as a litigator, and has won some of the world's largest truck accident, and motorcycle accident settlements, from La Mirada to Agoura Hills, CA. Michael is an expert in personal injury cases, and he can help you too!
---
Recent Personal Injury News
Check out our most recent Whittier, CA accidents and more, including the famous, infamous and everyday people wounded by at fault parties around the world and in need of a trial lawyer in Los Angeles, CA.