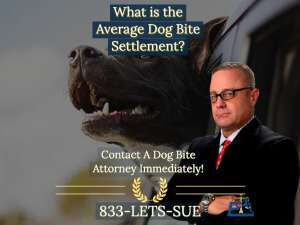 Ultimate Guide to Understanding Dog Bite Settlements
Understanding California Settlements for Dog Attacks. Bear in mind that no two dogs, bites, or victims are the same. The average dog bite settlement reported in the United States in 2015 was $32,000. Some states are more expensive than a negligent dog owner or controller must pay. A few years later, in 2019, in California, the average dog bite payout was $51,264.60, with 2,396 reported insurance claims. This cost figure means that CA paid out over $122.83 million in damages on behalf of the victims. (Source: State Farm and the Insurance Information Institute.)
The average dog bite settlement numbers for other states vary significantly, but the data trending is towards larger dog bite settlements over time. For more information, contact our local dog bite lawyers in Los Angeles to learn how much you can expect for an average dog bite payout in Los Angeles after forming an attorney-client relationship.
An Underlying Concern
We tend to think of dogs as man's best friend. In many ways, this remains true. However, there are serious concerns about dog bites and the lack of discipline some owners instill in their pets. Poorly trained or untrained dogs can present a significant issue for owners and the general public. There are far too many dog bites and dog scratches annually. Attacks like this happen in California especially. Since the Golden State is the most populous one, it has the most significant number of dog bites. Below, we will discuss some key issues surrounding a dog attack, specific dog bite cases, and how to handle dog bite claims.
By the end of the article, you will know more about the role of the dog bite victim and the dog owner, how to hire a dog bite attorney, and some critical info about dog bite settlements.
Common Issues with Dog Discipline
Dog bites happen each day. Each dog bite case is different and often requires a specialized personal injury lawyer. Furthermore, the average dog bite is still different from any other and sometimes results in severe issues.
First, we must understand the roles within a specific dog bite case. There are different roles often for the dog bite victim and the dog owner. In many cases, dog bites are caused by a lack of training and discipline. Without the proper training, the chances of a dog attacking a person increase dramatically.
Unfortunately, dog attacks are more likely to affect young people, especially children. In these dog attack cases, the injuries tend to be more severe. In some cases, they are even life-threatening. Bite victims are not all the same. However, more information is necessary to understand the role of dog owners and bite victims.
Types of Dog Bites
There are different types of dog bite attacks. Such dog bite cases are other, depending on the circumstances. Among the most common types of such dog bite cases, we have the following:
Laceration: This is a common type of severe dog bite injury. This often follows a combination attack of both paws and the mouth. Such lacerations can be small enough to cause severe blood loss and visible scarring.
Puncture wounds: These are dangerous due to a number of reasons. Puncture wounds from dog bites often break deep into the skin. This can cause several severe issues, including tissue damage and bleeding. In other cases, this often causes rabies and other infections that can take weeks or months to heal. In some cases, such poor health conditions can cause a risk of loss of a limb.
Rabies. This remains the most significant concern people have about dog bite attacks. In cases such as this, the risk of rabies cannot be intelligently dismissed. Rabies is a fatal disease and one that causes severe trouble. Immediate rabies vaccination is necessary, according to the CDC; between one and two people die in the United States annually from the disease (Source CDC.)
Tearing Injuries: this is one of the most concerning injuries and is more common in children. This type of injury combines the risks of the above injuries and dog bite types.
Dog Bite Statistics
According to the CDC, almost five million Americans face dog bite injuries annually. About 42% of these cases are among children under 14. This severe risk of both dog attacks, multiplied by damages caused by age, is high. Furthermore, the risk for children is the reason for dog bite laws. California dog bite cases are especially concerning, especially considering the role of serious injuries.
First Steps after a Dog Bite
It would help to consider what to do next after a dog bite attack. There are cases in which the dog owner is cooperative. You may likely need immediate medical aid. This fact remains mainly in the case where the canine bite case may spread rabies.
If in doubt, get the rabies vaccine and the immediate care of a doctor. Contact your insurance company and learn more about the role of treatment after such a dog bite.
Medical care is evident. Waiting even a day for the proper care may wind up being a severe issue. The risk of rabies is significant. The risk of infection is also a serious concern. The latter may not show up immediately but can be far more likely if you cannot get the bite adequately cleaned out and treated.
Do not skimp on medical care. It is crucial to ensure that you or a loved one receives the care you or they need. It will significantly affect the healing process after a dog bites. It could make a considerable difference in the case of medical bills and a personal injury lawsuit.
Contacting a Legal Expert
You may have plenty of questions in the aftermath of such an accident. This may be the first time you have faced such emotional distress or had to contact local animal control. Perhaps you are concerned about the role of the dog's owner or medical expenses.
You may be recovering from severe injuries and handling everything while seeking medical attention and facing emotional trauma. We can help with your health insurance and other issues. All of these issues are challenging in themselves. You need to understand the entirety of personal injury lawsuits and the role of personal injury and negligence laws.
Different Factors
There are many factors at play. An attorney will be able to determine whether or not there is a need for further medical treatment or how to compensate victims. The correct personal injury attorney will be able to offer a free consultation. It cannot be just any attorney.
Only specialized injury lawyers with experience in canine attacks can help you in your time of need. They will determine the limit of your injuries, including potential nerve damage or broken bones, and gather time-sensitive information.
They can determine whether or not the victim provoked the attack or the other factors' roles.
Contact the Best California Dog Bite Attorney
If you have been reading through the role of dog bite attorneys and how to handle dog bites, now is the time to understand what to do next. Even if you or your family are in emotional anguish, the Ehline Law Firm APLC is here to assist.
We understand the role of such attacks– including such viciousness, free case evaluations, and how much compensation you or your family may be entitled to. There are more than several factors at play.
Experienced Dog Bite Attorneys
The Ehline Law Firm will determine whether or not you have additional care, whether through your medical insurance or existing renters insurance.
The experts can determine the exact amount of punitive damages– which only an experienced attorney can determine in a dog bite lawsuit. We have handled many such dog bite attacks in the past.
Our experience allows us to determine the dog's viciousness, a potential history of attacks, and who or what should be held strictly liable. We've handled many dog-bite lawsuits. No dog bite lawsuit in California is too complex for us.
We have a combination of lawyers who can address strict liability issues and a wrongful death claim.
Understanding the Context of Dog Bite Attacks
According to California law, dog owners only have one shot to train their dogs and prevent further attacks properly. The one-bite rule is central to several major dog bite cases. In such cases, the owner's knowledge is key to a dog bite lawsuit. Such dog bite lawsuits are often based on various dog bite laws.
These together will determine the correct amount for a dog bite settlement. The average dog bite settlement varies by state but will often cover medical bills and future costs. An experienced dog bite lawyer understands the cases of dog bite cases, both from that of the victim and the dog owner.
The Costs Caused by Dog Bite Injuries
Several factors influence the average expenses. Such costs will also affect the role of your insurance company and strict liability. In fact, in many cases, the medical costs for the average victim have to do with the severity of the injury.
In such cases, the expenses taken on by any family will vary. In some cases, the bites will require a rabies shot. In other cases, the injuries caused will cost lost wages. In others, there will be the need for extensive treatment as well as physical therapy.
Whom Do I Call After a Dog Bite Case?
Your first call should be to the doctor's office if you are the victim. Dog owners should secure their animals, and if the owner knew the dog was dangerous, they had better get a criminal defense attorney. Victims will need to take an ambulance to the hospital in some cases. Make sure that medical professionals properly treat you or your loved one.
Your second should be a bite injury attorney that understands such a personal injury case and the ability to recover punitive damages. An attorney like the Ehline Law Firm APLC would be the best example. Our dog bite attorney can help get you an above-average settlement or verdict. We will fight hard until we win your case.
Contact Information
If you have any questions or want to learn more about the average dog bite payout in Los Angeles for your case, Ehline can be reached at info@ehlinelaw.com and discuss forming an attorney-client relationship for your settlement or trial. Call us today at (213) 596-9642.
Legal References: 
Insurance Information Institute –
"Dog Bite Liability Claims By State – Interactive Map," "Spotlight on Dog Bite Liability." California Civil Code 3342 CC. See, for example, Borns v. Voss, 70 P.3d 262 (Wyo. 2003). See, e.g., Coutlakis v. CSX Transportation, Inc., 796 S.E.2d 556 (2017). Li v. Yellow Cab Co., 13 Cal.3d 804 (1975). Florida Statutes 768.81. 735 ILCS.
California injury law firm with locations in Northern, Southern, and Central California.