If we don't win, you don't pay.
Speak to the Attorney.
Born to serve.
633 W 5th Street #2890
Los Angeles, CA 90071
(213) 596-9642.
2323 S. Voss Rd, Suite 244
Houston, TX 77057
(832) 592-1260.
Date Modified: June 6, 2023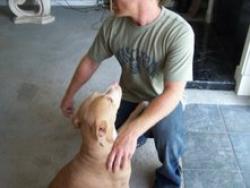 Murder by Dog Can Result in a Civil Claim
Has a dog bitten your loved one? Did they end up passing away? Can you imagine how you'd feel if one or more canines killed your loved one in public or lawfully in private places they'd expected to be safe? A dog bite can physically and emotionally damage the victims and their family members. The risk of dying, especially for a child, is real. Even if they live, the injured victim will likely require cosmetic surgery for the injuries caused by a dog under its owner's care.
When these animals are told to attack or trained to attack unjustly with the owner's knowledge, the attacked person might be killed. Few legal defenses exist when dogs bite people. The survivors can bring legal action against the at-fault parties for the dog bite injury leading to death. After the incident, many surviving dog bite victims, parents, grandparents, children, etc., often wonder about their rights to bring a wrongful death action or criminal manslaughter charges against the dog owner.
Criminal Aspects of a Dog Attack?
It is always a felony if the animal kills a person, punishable by up to three years in prison. If the animal causes serious injury, the offense may be charged as a felony or misdemeanor (wobbler offense) with penalties ranging from fines and up to six months in county jail up to three years in prison (if convicted as a felony offense).
Why do Clients Love Us?
At Ehline Law, our California personal injury attorneys are the true advocates for pet attack victims, standing with the injured, protecting their rights, and upholding a strong attorney-client relationship. At the same time, clients endure pain and suffering and fight to heal from their loss and bereavement over the damages caused by negligence or reckless dog ownership and control.
Don't hesitate to contact us if you've been involved in a dog attack fatality to review the Civil Code and get you the right medical care. Fortunately, we can protect your legal rights and prove your civil damages claims against the charged or criminally convicted defendant under state law.
Dog Bite Fatalities in the United States
Here are some grim statistics for dog attack cases:
More than 45 million dog bite attacks occur annually in the United States, with over 800,000 requiring medical help.
California has the most reported dog attacks, with nine deaths recorded in 2019.
Twenty thousand people suffer from dog attack injuries in Los Angeles County.
Of dog attacks on private property (residential home pets, etc.), 82% of people bitten were children nine years of age or younger (dogs may feel provoked by kids teasing them, etc.). 50% of all killings by a dog involve multiple dogs. In recent years, pit bulls and other muscular dog breeds, including Rottweilers, account for most recorded fatal attacks by a canine in a private place.
This has led to breed-specific ordinances and insurance companies pushing for statutes and dog bite law ordinances excluding these dangerous breeds from coverage. Homeowners' insurance covers dog bite cases, but the homeowner's insurance policy may have dog breed restrictions. Insurance companies subject to these restrictions by breeders typically include pit bulls, German shepherds, wolf hybrids, and more.
When Are Dog Owners Liable for Dog Bites?
States like Nevada follow a "one bite rule," which means the state does not impose liability on a dog owner unless the canine previously bit someone. However, California dog bite laws do not follow this rule.
In California, the plaintiffs do not have to prove previous attack history or a "dangerous dog" behavior incident demonstrating violent dog behaviors or that the pet owners were negligent in the face of this dog aggression with dangerous dogs, they control.
However, suppose the dog has a history of violent attacks. In that case, California law imposes an extra duty of care on the animal owner, who must take reasonable steps to prevent any such incidents, including a wrongful death by such a dog, including a trained attack dog, in the future.
The District Attorney gets to decide whether they wish to pursue criminal charges against the negligent pet owner.
Some people, under the law, are not eligible for compensation in California, and these include:
Those trespassing on the dog owner's property.
Those provoking the animal.
Those inciting harm against the dog's owner (dog attacks as self-defense).
Those bitten by a military police dog under the agency's written policy.
Similar to a car accident, the general statute of limitations is two years after the dog bite. Injured victims cannot recover compensation if they do not file within two years. Please speak to our California dog bite lawyer to learn about your rights to recover compensation against the animal's owner for puncture wounds and other serious injuries in Los Angeles.
Medical attention is expensive, and so is the emergency room when you are in traction with broken bones after a lunging dog attack occurred.
Civil Dog Bite Wrongful Death Damages
You will be entitled to seek special, general, and, in egregious cases, punitive damages.
Let's discuss this:
Special Economic Damages are remuneration benefits for lost wages, medical bills, and other tangible losses like property damage.
General Intangible Damages – These cover things like pain and suffering and life's intangible things.
Punitive Damages – To recover punitive damages in a dog bite case, the plaintiff must show clear and convincing evidence that the at-fault party's actions rose to the level of "oppression, fraud, or malice." "Malice" occurs when the wrongdoer acted "with a willful and conscious disregard of the rights or safety of third parties." Aggressive behavior left unchecked on separate occasions, or if someone was previously bitten, may give rise to a claim for former viciousness. Not many dog bite cases in California have made it through the appellate court system. So there is not a lot of law on this to establish a stare decisis precedent for the trial courts. However, nothing prevents a lower court from awarding punitive damages in California if the court finds an egregious act far beyond the reasonable care standard.
Hire a Personal Injury Attorney to File a Dog Bite Claim for Your Dog Bite Injuries
Dog bites occur more often than you think, and it is best to speak to a dog bite lawyer to determine if you have a valid dog bite case. Whether you're in Long Beach, Los Angeles, San Diego, or any other city like Huntington Beach, it is crucial that you immediately contact a local animal control agency to understand the process of filing a claim, as these vary according to the location. Our California dog bite attorneys can help assess whether you have a valid personal injury lawsuit.
Our California personal injury lawyer will review your personal injury case and advise you on your legal options in Orange County, Los Angeles, and San Diego. Our dog bite attorney will help injury victims recover the post-traumatic stress disorder, emotional trauma, medical expenses, physical therapy, and other dog bite damages from the negligent pet owner's insurance company for dog bite injuries after canine attack cases.
Dog Bite Strict Liability
We can help you afford the medical costs of the expensive medical treatment you need after such viciousness, even if you think you are partially responsible. We will ensure the at-fault party is held strictly liable for your physical injuries. Find out more with a free evaluation to see if you can recover the damages suffered.
Many dog bite victims have hired us for wrongful death legal services and other personal injury claims. With very few exceptions, we are the Southern California lawyers you want when you want to recover maximum compensation after an animal attack in Newport Beach, San Francisco, Beverly Hills, or anywhere else.
Schedule a Free Consultation With Dog Bite Manslaughter Attorneys in Los Angeles County, CA
Has a dog bitten someone who passed away? We are trained to fight like your own private pitbull. We will get you the total amount under the liability coverage and pursue multiple parties to bring you the most financial compensation, even if they face criminal charges for a felony or misdemeanor crime. Postal workers and others may need psychological counseling and job retraining. Do you want to claim damages or file a civil lawsuit before the statute of limitations to sue expires? Need more legal information?
Maybe you need to sue a government official like a K-9 cop? A human facing criminal charges should be held responsible civilly when their potentially dangerous dogs unjustly fight, attack or kill. Don't let mental trauma keep you down. Let's get you your lost wages and the best legal representation possible.
Further questions? Contact us at (833) LETS-SUE for a free case evaluation with our California dog bite lawyers in a confidential setting. If you are a dog bite victim, our office can help you get the compensation you deserve after we create an attorney-client relationship.
California injury law firm located in Northern, Southern, and Central California.
Michael Ehline is an inactive U.S. Marine and world-famous legal historian. Michael helped draft the Cruise Ship Safety Act and has won some of U.S. history's largest motorcycle accident settlements. Together with his legal team, Michael and the Ehline Law Firm collect damages on behalf of clients.
We pride ourselves on being available to answer your most pressing and difficult questions 24/7. We are proud sponsors of the Paul Ehline Memorial Motorcycle Ride and a Service Disabled Veteran Operated Business. (SDVOB.) We are ready to fight.