But our experienced, veteran car accident lawyers will help all families shift blame to the liable parties and give these clients breathing room to heal as we deal with the insurance company or agency negotiations at light speed. Helping clients involved in Fremont, CA, motorcycle wrecks is our forte, so call us today at (833) LETS-SUE to discuss hiring us to handle your critical case.
Our associates can help 24/7, whether your injurious danger or pain and suffering occurred in Oakland, or Fremont, CA. By our best motorcycle lawyer assisting victims hit by other vehicles, the tables can be turned in favor of victims. Do things sound good so far?
Here are some of the common causes of these crashes:
Not using the appropriate safety gear or wearing it incorrectly
Inclement Weather
Poor road conditions
Lane splitting
Distracted driving
Failing to yield right of way
Speeding
Driving while under the influence of alcohol or drugs
Inexperienced riders/motorists
Tailgating a biker or a biker tailgating.
Lane Separators Often Play a Part in This Type of Crash
California is one of the few places that permits motorcyclists to travel along lane separators in stationary or sluggish traffic. Unfortunately, this has directly resulted in cyclists being injured because many drivers may not be aware of this and not just assume that truck or other vehicle will see you coming.
Not Sure What Caused Your Accident? Our Fremont Motorcycle Lawyers Will Investigate!
Our team of personal injury attorneys will investigate the details of your case to establish fault, so if you are unsure of what caused the collision, it's best to talk to one of our legal experts!
Establishing Liability in Motorcycle Accident Cases
Certain variables must be identified to establish who is financially liable for a motorcycle accident or the extent to which each party is responsible. There is a possibility that no one will agree on this determination because it can be complicated. Pedestrians have it especially hard.
Typically if they are run over, the biker will be in a coma, and the car driver will lie through their teeth after speaking to their auto insurer. If you don't hire our top team to investigate, you may end up at trial with limitations due to a lack of evidence. You could even face a mistrial for failure to properly present or support your casecorrectly.
If there were equipment malfunctions, poor road conditions, passing cars, or other barriers, it might get even trickier to win your claim. To be successful, having a high-quality, skilled Fremont motorcycle accident attorney on your side to understand and properly argue your loss is even more important because of these complex elements.
Common Injuries Caused by Motorcycle Collisions
Unfortunately, riders frequently suffer severe injuries in crashes. The National Highway Traffic Safety Administration (NHTSA) of the United States estimates that a motorbike has a 16 times higher risk of injury and a 35 times higher chance of a fatality than a passenger vehicle personal injury case. Younger, less inexperienced motorcyclists frequently encounter even higher risks of injury. Motorcycle accidents result in hundreds of deaths and untold numbers of these types of injuries annually.
Parts of the Body That Are Commonly Affected During a Collision
The legs and feet are the body parts that are most commonly wounded. The arms come next, followed by the neck and head, which account for 16.8% of all accident-related injuries. Common injuries to the head and neck result in traumatic brain injuries and spinal cord injuries, which are often life-changing. Less severe injuries include contusions, lacerations, and sprains. 
Note: Proving liability for bodily injuries helps you get settlement money to repair your bike faster.
Protective Gear Can Lower the Risk of Fatal Injuries
When the protective gear is used correctly, it can lessen the extent of injuries. Even in states where wearing helmets is not mandated by law, motorcyclists must always put on this life-saving gear. Helmets are effective, with a 37 percent success rate in averting motorcycle fatalities.
How a Fremont Motorcycle Accident Lawyer Can Help
Many car accidents happen to be complex, and based on the facts, obtaining a fair settlement isn't always straightforward or easy. Our team of skilled motorcycle accident lawyers at Ehline Law Firm have the experience to bargain with the insurance provider to ensure you receive just compensation.
Investigating the Motorcycle Accident Case
We have the legal expertise to craft the most persuasive arguments and may even hire a private investigator to strengthen your injury case, should the need arise. A personal injury attorney will greviewyour legal options with you, thoroughly investigate the collision, and, if required, refute the implications of the police report.
Providing Legal Representation
Suppose your case ends up in court. What if you die and leave the kids behind with an estranged or incompetent wife? Do you want this to end up in family law court? A will or trust in advance can help solve everything. But the decedent may not have been familiar with the legal system, as is the case with many military vets, especially U.S. Marines. In that case, our motorcycle accident lawyers will represent you or your surviving loved ones and ensure your rights are always protected. You can put that in your pipe and smoke it!
If not, you can rest easy knowing we will do everything to recover monetary compensation from the negligent driver when your ex-wife or surviving spouse needs legal help for your permanent injury or wrongful death. If you are ready to file a personal injury claim for your damages, contact Ehline Law today to book your free consultation with one of our motorcycle accident law experts to handle your legal matter under California law!
Our Motorcycle Accident Lawyers Can Help with Wrongful Death Lawsuits
Sadly, many motorcycle accidents are fatal. Because motorcyclists do not have the kind of protection that the drivers of passenger vehicles have, they are at greater risk of experiencing life-threatening injuries. If your loved one was the victim of a deadly motorcycle accident, contacting a Fremont motorcycle accident lawyer is essential to help you pursue justice. Although it cannot replace what you lost, compensation can provide much-needed financial relief for you and your family.
An experienced attorney from our law offices can help you recover compensation for medical bills in vehicle accidents and emotional distress damages. Questions? Want proven results? Let us order the police report and your medical records before the six months for a government agency claim or two years to bring a private party claim expires to file a motorcycle collision claim.
Time In Grade?
People need to know we have hearts and hundreds of months dealing with these cases, from Pleasanton to Berkeley, CA. Whatever the situation, it won't hurt to make a risk-free call to learn more about our experience and the positive impact we've made on people with the complex cases we've handled, working to fill the needs of past clients throughout California through these long years.
Victims often feel alone on their road to recovery when the unthinkable happens. The consequences of your injuries will probably be felt emotionally and financially. You may have incurred lost pay in addition to your medical expenses in Fremont, CA, hospitals, or Urgent Care centers nearby Walnut Creek. Don't take this path alone and endure more after a collision. You can rely on a competent and compassionate Fremont motorcycle accident attorney to vigorously fight for your rights and secure the monetary damages you are entitled to.
Motorcyclists Should Arrange to Speak With Our Law Firm of Top Fremont Motorcycle Accident Lawyers Today!
Do you want a professional to focus on getting maximum financial compensation for your serious injury case? Helping victims hit by other drivers in cars, trucks, or buses is what we do best on behalf of injured victims so they can recover and get back to work in their Bay Area jobs. We've secured millions of dollars in pain, suffering, and economic losses for eligible victims, so don't think we are BS-ing you!
Suffering victims in Fremont, CA, should contact our law offices in Fremont to talk to one of our motorcycle accident attorneys by calling us at (833) LETS-SUE or filling out the contact form for a callback! We will work hard till final victory is achieved on behalf of our downtrodden motorcyclist clients. We will fight the insurer if you are hurt or if bikers die, and you can count on us and expect the best representation possible for the full recovery they deserve in the time frame they deserve it.
---
Michael Ehline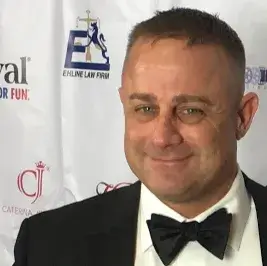 Michael is a managing partner at the nationwide Ehline Law Firm, Personal Injury Attorneys, APLC. He's an inactive Marine and became a lawyer in the California State Bar Law Office Study Program, later receiving his J.D. from UWLA School of Law. Michael has won some of the world's largest motorcycle accident settlements.
---
Recent Personal Injury News
Check out our most recent auto defects, accidents in Fremont and more, including the famous, infamous and everyday people wounded by at fault parties around the world.