If we don't win, you don't pay.
Speak to the Attorney.
Born to serve.
633 W 5th Street #2890
Los Angeles, CA 90071
(213) 596-9642.
2323 S. Voss Rd, Suite 244
Houston, TX 77057
(832) 592-1260.
Date Modified: June 17, 2023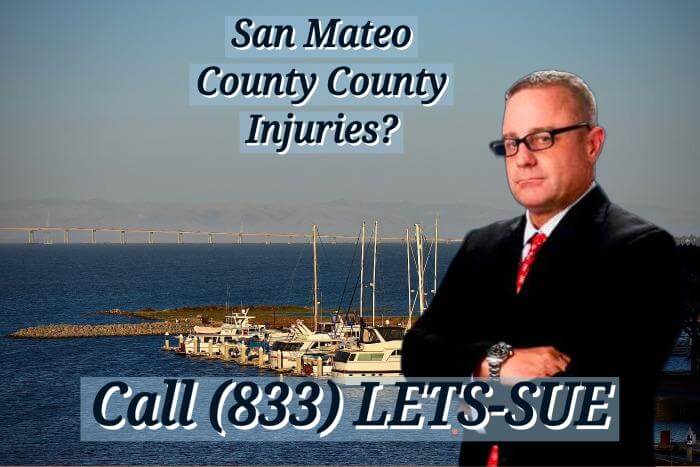 This is the Ultimate Guide to Compensation for San Mateo County Injuries. Are you seeking a legal professional after a bad accident in San Mateo County, CA?
Suffer San Mateo County Injuries?
Accidents causing injuries or death in San Mateo, CA, are more common than you think. In fact, you can find at least one news headline in your local newspaper about them every day.
All people are exposed to those risks. Perhaps there are reckless drivers on your way home, or your employer is failing to provide safe working conditions. In either scenario, you may need help from a personal injury lawyer.
What Is a Personal Injury Claim?
A personal injury claim is any legal process you can carry out if you have been injured in an accident or because of a third party.
These claims allow people to pave the official legal path to obtain monetary compensation from the party that has caused the physical suffering or is responsible for the accident.
In San Mateo, CA, personal injury cases focus on the injuries a person may suffer to their body, emotions, lifestyle, or reputation. These damages are usually caused by negligence or unintentional acts, but claims can also cover intentional actions.
Common Types of Personal Injury Cases in San Mateo, CA
In San Mateo, CA, and other parts of California, people can get injured and end up in court to hold others accountable for their wrongful conduct.
There are many types of personal injury cases, but the most common are:
Car or vehicle accidents
Workspace accidents
Medical malpractice
Defective product
Premises liability
Abuse or assault
Let's understand each of them in detail.
Vehicle Accidents
Other drivers frequently cause serious personal injuries to others by breaking the law or simply not paying enough attention. Car and motorcycle accidents can be devastating, as they can cause serious burn injuries or even death, and happen almost every day!
In order to recover damages from the party at fault, car accident victims may choose to file a lawsuit.
Animal Attacks
Most people love pets. However, they can endanger neighbors if not properly trained. A person can file a lawsuit if they have been the victim of dog bites or other animal attacks due to the negligence of others.
Medical Malpractice
Health practitioners do everything possible to take care of people's health. However, they sometimes make mistakes that put people's lives at risk. If this happens, you can seek a personal injury lawyer and take legal action against a hospital or its staff.
Premises Liability
Were you injured on a property in poor condition or in hazardous conditions? If so, you can also seek support from a trustworthy law firm's personal injury lawyer and take legal action against its owner.
Wrongful Death
Suppose a loved one was killed in a car accident or by another person's fault. In that case, an experienced personal injury attorney can walk you through every step of the legal process to seek compensation for affected finances and emotional anguish.
Are you in San Mateo, CA? Reliable law firms can help you file wrongful death lawsuits if a family member dies because of others' conduct.
Slip and Fall
You can also be injured on private and public properties in dangerous conditions. If you slip and fall in a place where the floor is wet, but there is no sign, you can take legal action against the responsible parties.
Product Liability
Some items not only malfunction but put people's lives in danger. If a defective product has caused you injuries, you can seek help from a personal injury attorney to file a claim against the manufacturer.
Construction Accidents
Most workplace accidents occur each year in the construction sector. If a construction worker sustains a serious injury while on the job due to inadequate risk mitigation, they may be able to sue their contractor or employer with help from our highly rated construction accident attorneys.
Assault
Assault is one type of personal injury that can be intentional, with more and more incidents of violence reported every day.
This way, if you are a victim of sexual assault, you can get legal advice and file a personal injury lawsuit.
Workplace Incidents
Employers are required to provide employees with safe working environments. If the workplace is not properly conditioned, staff members can suffer from accidents with catastrophic consequences, including brain injuries and spinal cord injuries.
Therefore, companies or organizations risk being sued by injured workers for failing to follow safety standards or maintain a safe workplace.
Pedestrian Accidents
In these cases, drivers do not injure other drivers or pedestrians in a pedestrian accident. Usually, the force behind the injury—be it a motor vehicle, motorcycle, scooter, or horse—causes victims long-lasting pain or suffering.
We also helped draft the Cruise Ship Safety Act, and Michael Ehline is a well-studied cruise ship accident attorney as well.
Why Should I Hire a Personal Injury Lawyer in San Mateo, CA?
There are many scenarios where you may need help from a personal injury lawyer in San Mateo, CA. Whether you suffered a car accident or a third party's negligence had repercussions on your life and future, an expert can help you take the necessary legal action and handle the whole personal injury matter for you!
Anyone whose acts of others have injured can build a personal injury case and fight for their legal rights to obtain fair compensation that covers all related damages and expenses.
In addition, a personal injury attorney in San Mateo, CA, can take care of all the tedious processes while you undergo physical and emotional recovery. Find the tasks that a law office's lawyer can do below.
What Can Lawyers Do for Clients in San Mateo, CA?
Collect evidence and medical records
Gather testimonials from witnesses
Take pictures of the accident scene if necessary
Talk to the insurance company to seek a settlement before taking the case to a jury
Fight against the insurance company to avoid a compensation reduction
Calculate the cost of compensation according to your medical bills
Provide legal representation under the personal injury law if your case needs to go to court
Handle all the court's paperwork under the tort law
Prepare you for depositions as a witness
And more!
Can a Personal Injury Lawyer in San Mateo, CA, Obtain Fair Compensation for Me?
Reliable, experienced personal injury lawyers in San Mateo, CA, will do everything they can to secure fair compensation for you. Experts know that an accident can bring devastating consequences to your life. Therefore, they strive to ensure you get all the benefits you deserve.
Most personal injury cases are settled before reaching court and without requiring civil litigation. In these cases, experts go the extra mile to help you get the compensation that covers all your medical expenses, lost wages, and other costs.
Types of Compensation in Personal Injury Claims
If an experienced personal injury lawyer obtained the compensation the law grants you, you might be paid compensatory and punitive damages.
Both are different but are usually included in compensation for personal injuries. Do you want to know more about them and how they're awarded in San Mateo, CA? Keep reading!
What Types of Damages Can Be Recovered in San Mateo, CA?
If a personal insurance claim is successful in court because the victim suffered from head injuries or brain injury, the judge can award compensatory and punitive damages. Let's delve into each one below!
Compensatory Damages a Personal Injury Attorney Can Seek
Compensatory damages are related to the out-of-pocket expenses the victim had. In other words, the court may determine that the at-fault party should pay you for everything you spent in connection with the accident.
All compensatory damages seek to help the injured person recover financially. They fall into two categories.
Special Compensatory Damages
Also known as "economic damages," compensatory damages include all quantifiable expenses you covered while receiving treatment or recovering after the accident. The most common include:
Past and future medical bills
Hospital-related costs, including medical treatment, medicines, and surgeries
Expenses for rehabilitation, pain management, or physical therapy
Expenditures for nursing home or at-home care
Ambulance or medical transport
Increased living expenses for related costs
Lost income
Property damage if your car or house was impacted
Vehicle repair or replacement
Apartment or house repair or replacement
Loss of irreplaceable items or belongings
Expenses related to canceled or suspended trips.
General Compensatory Damages
Special compensatory damages include costs that may be noted on invoices but are not commonly qualifying, including:
Pain and suffering
Emotional distress or mental trauma
Low or affected quality of life due to the accident
Loss of enjoyment of life
Inconvenience
Physical disfigurement
Loss of consortium or companionship if the victim dies.
Punitive Damages a Personal Injury Lawyer Can Seek
Punitive damages in a personal injury case intend to punish the negligent parties, not to recompense the victims. Individuals or organizations that acted maliciously or committed an unlawful act such as assault or fraud may have to pay punitive damages.
In this sense, punitive damages are awarded if the wrongdoer caused significant financial issues, impacted the victim's future life, or the affected party sustained serious injuries.
Also, if the judge considers that the compensating sum given is insufficient to prevent the defendant from committing the same crime or malicious act again, punitive damages may be granted.
How Can Personal Injury Lawyers at Ehline Law Help You?
Do you need legal counsel and reside in San Mateo, CA? You can rely on Ehline Law! The attorneys at our personal injury law firm are qualified and trained to handle any related case, whether you were injured in motor vehicle accidents or lost a loved one.
We're here for you if you have had a tragic accident, sustained serious physical injuries, and need help to build a solid case to get the financial compensation you deserve.
Ehline Law in San Mateo, CA
All Santa Mateo, California residents requiring legal assistance to get through such a trying and frightening experience can take advantage of our personal injury services.
Our law office in Santa Mateo, CA, has legal staff ready to fight for your rights and the legal remedy you deserve! Did you or a loved one sustain catastrophic injuries due to a major accident? You're just a call away from getting the legal assistance you need!
Ehline Law Has an Experienced Legal Team to Help All Personal Injury Victims in San Mateo, CA
Do you want us to evaluate your case first? Our law office, located in San Mateo, CA, offers a free consultation to all our clients, whether they plan to file personal injury lawsuits or are just looking for an experienced attorney.
We are a law firm with extensive experience in California law! Our experienced personal injury attorneys will fight for your legal rights and help you get the compensation you deserve!
Get a Free Consultation From a Top Personal Injury Lawyer in San Mateo County, CA, Today!
At Ehline Law, we care about our clients in San Mateo, CA! If you need an experienced personal injury attorney, we have a highly trained team with a proven track record of success in all the related practice areas.
Do you need professional legal help? We're here for all injured victims. You must call (833) LETS-SUE for a free initial consultation!
Michael Ehline is an inactive U.S. Marine and world-famous legal historian. Michael helped draft the Cruise Ship Safety Act and has won some of U.S. history's largest motorcycle accident settlements. Together with his legal team, Michael and the Ehline Law Firm collect damages on behalf of clients.
We pride ourselves on being available to answer your most pressing and difficult questions 24/7. We are proud sponsors of the Paul Ehline Memorial Motorcycle Ride and a Service Disabled Veteran Operated Business. (SDVOB.) We are ready to fight.