The reason for this is those accidents can lead to catastrophic injuries that are not inexpensive to address.
Since their goal is to get that compensation according to what the insurance law and personal injury law state, they are not the ones in charge of starting a criminal legal action against another party.
Working for Restitution and Civil Money Damages
Criminal cases are started by the state after someone commits a crime. Our Super Lawyers are available in all nearby cities 24/7 to discuss your case.
We will go to great lengths to level the playing field on your behalf with the justice system if you hire us to represent you or your loved one. This means we will seek out criminal restitution but focus on the civil aspects of your case. The understanding, meeting, and surpassing your needs as a client is our business. With our many years in practice, we are excellent at performing this task, as our clients recover and repair themselves.
Here are some of the cases a personal injury lawyer from Ehline Law can take:
Car accidents

Pedestrian accidents

Dog bites

Spinal cord injury cases

Wrongful death.
What Is a Personal Injury?
Personal injuries don't only refer to physical injuries since you can also fit property damage, emotional distress, and pain in that definition. While some states have different ways to describe what a personal injury is and how personal injury cases work, most of them are almost the same.
Regarding counties such as Sonoma, Los Angeles, Sacramento, or Santa Rosa, CA, personal injuries are any economic or non-economic damages a victim receives due to the negligent actions of another person, government agency, or business. As you can see, a personal injury, more than something directly related to healthcare, is a legal term.
Free Case Evaluation Today?
Nonetheless, when you schedule a free consultation with a personal injury lawyer from Ehline Law, they can tell you if what you are suffering from is a personal injury or if you take the case differently. Yes, our case consultations are free, so you have nothing to lose if you schedule one. Regardless of that, some personal injury cases lead to severe physical injuries, so you should get them treated as soon as you can if you want to keep them from causing any further damage.
Distinguish Crimes from Civil Actions
Negligently causing injuries to another person can be a crime, but they are not always one, so everything depends on the case. We have great experience in these matters. Talk to a professional at our office to get covered and protect your claims as a California plaintiff today. You will be grateful you called us to discuss your complaints and for honest, expert advice. Your search for a lawyer is over if getting paid the most while being treated with swiftness and respect is the goal and our promise to you. You be the jury. Call us and render your verdict after you speak with us today at (833) LETS- SUE!
If you ever get one of these personal injuries due to another person's negligence, you can file a claim against them:
Spinal cord injuries

Traumatic brain injuries

Broken bones

Chronic pain

Neck injuries

Herniated disc

Whiplash

Property damage

Pain and suffering.
Sometimes expensive surgeries are needed and not covered by insurance. What do you do then? Phone us at (833) LETS-SUE and get represented, that's what.
How Does Personal Injury Law Work in Sonoma County?
Although counties such as Sonoma or Santa Rosa, CA, are different from each other, they are all in California, so they follow the same personal injury law. We work in several counties in the state, so you can call us if you are interested to know if we offer our services in your county!
Personal injury law in California allows and encourages victims of personal injury accidents to file a lawsuit or a claim against the liable parties for the accident. When you file a claim, you can settle the case by getting to an agreement with the other party or by taking the case to trial. Regardless of how you decide to settle your case, your main goal in a car accident or a medical malpractice case is to prove liability. If you do, you will get financial compensation for what happened.
Time and Other Limitations
The Personal Injury Statute sets some limitations on which you have to base your claim whether you are in Sonoma or Santa Rosa, CA. Firstly, the victim needs to hire a personal injury lawyer as soon as they can to file a claim since they only have two years from the date of the injury to do it.
Some law offices, such as the Ehline Law Firm, work on a contingency fee basis, which means you only pay us if we win the case. The thing with this is compensation for injury cases often includes legal fees, so you don't have to worry about paying a lot for the knowledgeable personal injury lawyer you hire.
Car accidents are personal injury accidents in Sonoma and Santa Rosa, CA, but they have additional rules (product liability?) you need to understand before going on with the case. States have a different liability system when it comes to dealing with an auto accident since you have to discuss things with the insurance company of the other person, and more than one individual can be liable for your CA personal injury accident.
At-Fault Liability System
Nonetheless, most states have an at-fault liability system, and California is one of them. What this means is the liable party for the accident has to pay for the injuries they caused. When states have a shared-fault system, it means both parties can be liable for the accident and can cover the expenses sustained if needed.
How Can You File a Personal Injury Claim?
Filing a personal injury claim is a complex process, but it's nothing you can't achieve with the help of a decent personal injury lawyer. However, you are going to need more than a decent option if you want to actually win the claim, so we recommend you go for a lawyer from the Ehline Law Firm in Sonoma or Santa Rosa, CA, for the job.
When you are facing medical negligence or wrongful death case, the first thing you need to do is to call a personal injury lawyer to tell them what happened. The same happens with workplace negligence and accidents that don't need you to go to a hospital right away.
Hospital, Then Call Us!
If you just got out of a car accident, we recommend the first thing you do is go to a hospital since you could be suffering from serious injuries. Make sure to schedule a free case evaluation as soon as you contact your personal injury lawyer.
Then, you can discuss the accident and see how much compensation you can have for it. Try to get as much evidence as you can before filing the lawsuit since you still need to prove the other person caused the injuries you are suffering from. When you have that, you can file a complaint to the court and notify the other party they are being sued.
Settlement Negotiations
The negligent party can accept what you are saying and pay what you are asking them to pay or contact a law office to defend themselves from your allegations. As we mentioned before, you can try to negotiate with the liable party of a car accident or a wrongful death case to see if you get to a settlement that gets you the compensation you deserve but is not that difficult to fulfill by the defendant.
However, if you fail to get to an agreement, the case will get to trial for a judge to decide if you have enough evidence to show you deserve that compensation. Connect with us to learn more and see the cases we have won.
Your personal injury attorney can use things such as these as evidence:
We have the education and expertise to request and obtain most items you need to max you recovery. We can start the process and hold businesses and other defendants accountable for their past wrongs and get you paid for your troubles. Any misconduct will be fully investigated and documented. Doctors will provide us answers about your condition, and our compassionate team will honestly present your case in a helpful, convincing manner till we have recovered the success families like yours deserve. Get legal advice before it's too late!
Can Any Lawyer Take a Personal Injury Case?
The short answer is no since, even if you hire the most experienced attorney in Sonoma or Santa Rosa, CA, not all lawyers focus on the same things. The same happens with law firms that focus on specific cases, making it easier to avoid legal malpractice after handling thousands of similar cases.
Experts
Family law offices in northern California, for example, are experts in dealing with family law and divorce law cases, so you shouldn't ask that law office to file a lawsuit against a drunk driver. Likewise, you shouldn't hire a personal injury law office to take a case that is not within its related practice areas.
Personal injury lawyers are experts in tort law and getting compensation for their clients, so they know everything they need to do to go on with a personal injury case. This means the right one can be efficient when you are injured in an accident. However, if you are having trouble finding decent personal injury law offices, you can always count on Ehline Law.
Final Thoughts – Why Hire Ehline Law for Your Case?
Compassion and compassion drive our recognized success. Going through a car accident and filing a claim against the person who caused the accident is an overwhelming process. The legal process to do it is complex, and you need an excellent personal injury attorney to help you with it. The instant you hire us, you have secured a partner and friend for life. Let us fill that void in your life today while we map out and discuss the research and other details.
Schedule a Free Consultation with a Superior Personal Injury Lawyer in Sonoma County Today
Unfortunately, not all personal injury lawyers in Sonoma County are as good as they claim to be, so some end up hiring someone who is not that experienced and loses their case. Losing your case means not getting the compensation you need to cover medical bills and lost wages, so it's something you can't take lightly. Make a reservation appointment with a top lawyer.
Lawyers working for Ehline Law offer you 24/7 availability in case you have any questions about your case. Apart from that, our no-win-no-pay policy doesn't require you to pay us unless we win your case. We can take your case in Sonoma County, Santa Rosa, CA, and other states in California. Here at Ehline Law, we have the experienced personal injury attorney you need to win your case and get a fair settlement, so call today to schedule a free consultation with us! If you were injured while walking, riding a bicycle, or driving a car, we could help!
---
Michael Ehline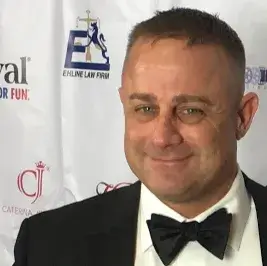 Michael is a managing partner at the nationwide Ehline Law Firm, Personal Injury Attorneys, APLC. He's an inactive Marine and became a lawyer in the California State Bar Law Office Study Program, later receiving his J.D. from UWLA School of Law. Michael has won some of the world's largest motorcycle accident settlements.
---
Recent Personal Injury News
Check out our most recent auto defects, accidents in Fremont and more, including the famous, infamous and everyday people wounded by at fault parties around the world.