If we don't win, you don't pay.
Speak to the Attorney.
Born to serve.
633 W 5th Street #2890
Los Angeles, CA 90071
(213) 596-9642.
Date Modified: June 18, 2023
This is the Ultimate Guide to Compensation for Sutter County Injuries by top-rated personal injury attorney Michael Ehline, Esq.
Ehline Law – Best of the Best
Are you trying to hire a qualified law office after suffering a personal injury in Sutter County, CA? Tired of dealing with radical academics who are unaware of the real problems people face. Why not speak with one of our down-to-earth attorneys at Ehline Law to navigate your problems?
Unfortunately, there are several personal injury cases in the country each year, and some even take the lives of victims. These accidents are not like standard crimes since they don't always come from intent to damage another person but rather from negligent actions.
Even if the personal injury accident you got into doesn't severely injure you, it can cost you a lot of money, damages, and time in court. If you got an injury, you must pay for medical bills, which are not always affordable. The same happens with property damage and other things, such as travel expenses. Why should you pay for all those things after an accident that is not your fault?
We think the same, so we work endlessly to help personal injury victims get the financial compensation they need to cover all the lost wages caused by accidents. Find a lawyer with a proven track record for winning big! If you are a victim of an accident caused by another person's wrongdoing, don't hesitate to call the Ehline Law Firm to hire a personal injury lawyer working in Sutter County for your free consult.
Do you want to know more about how personal injury claims work? You've landed on the right page! Here, you can find all everything you need to know about personal injury law and what personal injury lawyers can do for you.
What Cases Can a Personal Injury Lawyer Take in Sutter County?
You can't hire Sutter County, CA, personal injury lawyers if you don't know when you can count on them, so that's the first thing we are going to address on this web page. Since they are personal injury lawyers, they are only meant to take personal injury cases or cases from related practice areas. However, you can't expect a personal injury lawyer to work on a criminal defense case or a family law case since that's not what they focus on.
Likewise, it's not a good idea to hire a criminal defense attorney to get compensation for accident victims since that's not what they specialize in. Any personal injury lawyer willing to help injury victims needs to understand the tort law deeply. That way, they can know how to build a solid case to get compensation after a car accident, medical malpractice, or wrongful death case.
Here are some of the most common cases you can hire a Sutter County, CA, personal injury lawyer to handle:
Medical malpractice cases
Workplace negligence.
Although there are some more specific accident cases you could ask a Sutter County personal injury lawyer to take, read this brief explanation of the ones we just mentioned:
Auto Accidents
Auto accidents are some of the most common ones in Sutter County, and they consist of a person crashing your car with theirs or hitting you directly. The other driver would be at fault for the accident if they were drunk driving, not following traffic signals, distracted driving, or doing anything that could've led to the accident.
Medical Malpractice/Negligence
Medical negligence is something only healthcare professionals can be liable for since it's directly connected to their job.
When a doctor, nurse, or healthcare professional does something that goes against what they should do to help their patients and injures them more than they were in the first place, you can hire a personal injury lawyer to sue them and get compensation for what they did.
Even if you don't get actual damage from their actions, putting you at risk makes them negligent, so you can still file a personal injury lawsuit against them. Therefore, things such as misdiagnosis and misprescribing are also considered negligent acts.
Naturally, you can also file claims for more direct damage, such as surgical mistakes.
Wrongful Death
You can hire a personal injury lawyer to file a personal injury claim if one person dies due to the negligent actions of another person. This doesn't necessarily have to be a murder since being negligent doesn't mean having the intent to kill.
Workplace Negligence
Workplace negligence includes many things, so you should always ask your Sutter County, CA, personal injury attorney to verify if the reason you want to make your claim represents a negligent action or not.
Regardless, you could say that workplace negligence personal injuries consist of any harm you receive at your workplace after the wrongdoing of your boss or co-workers.
The issue with hiring a Sutter County personal injury law firm to help workplace accident victims is that victims are not always willing to sue their boss or companies since they think that could have negative consequences.
It would help if you didn't worry about those things, though. Neither your boss nor your co-workers can harm you or jeopardize your work life after suing them, and the law protects you from that, so don't hesitate to schedule a free consultation with a personal injury attorney if you are a victim of physical injuries at your workplace.
How Dangerous Are Personal Injury Accidents?
Personal injury accidents are more dangerous than many people realize. You could even die from one of those, so the best you can do is to ensure you are not the one who causes those accidents. A car crash could make you develop traumatic brain injuries, spinal cord injuries, and even severe mental health conditions. Therefore, if you were to be involved in one of these accidents, you should hire a personal injury attorney as soon as possible to prevent them from happening.
Auto accidents are one of the major causes of death in the country, so personal injury accidents are not something to take lightly.
How Much Are Compensation Claims Worth in Sutter County?
Although some know they can get compensation to cover the economic and non-economic damage caused after an accident, victims are often scared that their compensation is not enough to cover medical expenses and property damage. That fear leads victims hiring a personal injury attorney for their case to wonder how much compensation claims are worth if they end up winning the case. The truth is there is no exact formula people use to calculate compensation after an accident, but compensation claims tend to be worth a lot.
For example, most compensation settlements in California often get to $150,000. Still, everything depends on how severe the wounds were and aggravating circumstances that could lead the victim to need more money to recover from the accident. What your personal injury attorney may do is ask for the total amount of money you spent on medical expenses and property damage. Nonetheless, emotional distress counts as pain and suffering, so you can use them to increase your compensation.
You can also ask your personal injury attorney to negotiate with the other party after having a free consultation with you for them to get to a settlement that is enough for you. Regardless of that, the compensation you get for winning a personal injury claim is rarely not enough to cover accident expenses. However, personal injury victims in Sutter County, CA, can always call the Ehline Law Firm if they have any questions about this process.
How Can I Benefit from Hiring a Sutter County, CA, Personal Injury Attorney? Understanding Personal Injury Law
Many avoid hiring a Sutter County, CA, personal injury attorney because they think they will not get anything useful out of it. This often happens with victims suffering from permanent physical injuries.
However, you can benefit greatly from hiring a personal injury attorney because of how the personal injury law works. In California, you receive compensation as long as you receive damage due to another person's negligence. Even if that doesn't make permanent disabilities disappear, it can make a difficult process easier for you.
Neither healing from physical injuries nor recovering from property damage is easy. However, things will be harder for you if you don't have enough funds to cover all the expenses you need to recover from the accident.
Even if you need money to go to work after a negligent person crashes your car, getting the money to do allows you to focus on other things instead of where you will get all the funds you need from.
Personal injury settlements represent justice for the victim suffering from the damage of a negligent person, and suing those people leads them to be more careful in the future, which helps people who could've been their victims in the future.
Don't hesitate to fight for the justice you deserve and schedule a free consultation with Ehline Law as soon as possible! We have the personal injury attorney you need to win your case.
Conclusion – Hire a Personal Injury Lawyer in Sutter County, CA, Now!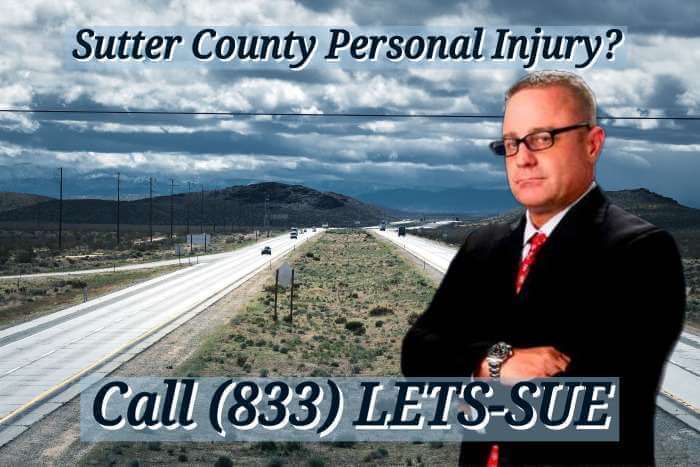 Are you struggling to find an experienced personal injury attorney in your city? Sutter County and other counties in California are within the range of our law office, so you can always count on Ehline Law if you need to schedule a free consultation with a personal injury attorney.
We can handle all the paperwork needed to file your personal injury claim and even get to a fair settlement with the defendant's insurance company. You don't need to spend all they checking attorney profiles to check which one fits you better since we are experienced, licensed, and qualified for the job.
Has a nursing home been negligent towards you or a loved one? Did a car hit you, and you need someone who genuinely cares about your well-being? Call our law office as soon as possible, and schedule a free consultation with us! We are available for you all day.
Michael Ehline is an inactive U.S. Marine and world-famous legal historian. Michael helped draft the Cruise Ship Safety Act and has won some of U.S. history's largest motorcycle accident settlements. Together with his legal team, Michael and the Ehline Law Firm collect damages on behalf of clients.
We pride ourselves on being available to answer your most pressing and difficult questions 24/7. We are proud sponsors of the Paul Ehline Memorial Motorcycle Ride and a Service Disabled Veteran Operated Business. (SDVOB.) We are ready to fight.