If we don't win, you don't pay.
Speak to the Attorney.
Born to serve.
633 W 5th Street #2890
Los Angeles, CA 90071
(213) 596-9642.
2323 S. Voss Rd, Suite 244
Houston, TX 77057
(832) 592-1260.
Date Modified: July 12, 2023
Car accidents can alter your life. The process of making an insurance claim, determining liability, and, most importantly, finding the closure one needs to move on with their life may be incredibly time-consuming.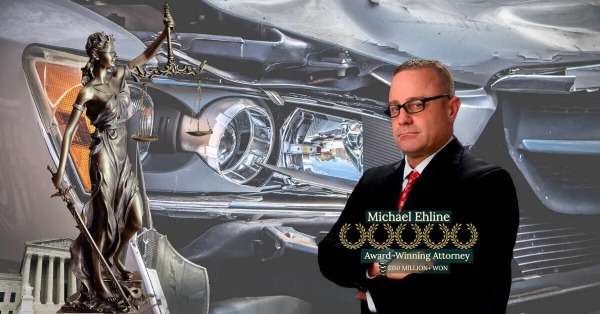 When Should You Hire a USA Car Accident Attorney?
The healing process begins even before the accident. Arguing the law and standing up to deplorable insurance companies can be very scary.
But this is what must occur to receive what you are due for your accident. Don't attempt this all by yourself, especially if you live overseas and are injured on holiday in the USA.
Ehline Law Firm has represented car accident victims across the US for years. Insurance companies frequently try to reduce payouts. In order to ensure that our clients receive the compensation they are due, our car accident lawyers take pride in being specialists in navigating the frequently complex legal and insurance systems. We let you rest and do the fighting on your behalf in pursuit of a large settlement.
Driving while intoxicated or operating a vehicle at unreasonably high speeds are common examples of negligence. The injured person should be entitled to compensation for property damage, medical bills, medical expenses, pain and suffering, mental anguish, and lost wages if the accident occurred due to the other driver's negligence in the USA.
Although we are not licensed to practice law in all state courts, we can often join local counsel pro hac vice in both federal and state courts.
We also have access to countless partners through the Circle of Legal Trust Attorney Referral Organization who maintain attorney members in:
Alabama
Alaska
Arizona
Arkansas
California
Colorado
Connecticut
Delaware
Florida
Georgia
Hawaii
Idaho
Illinois
Indiana
Iowa
Kansas
Kentucky
Louisiana
Maine
Maryland
Massachusetts
Michigan
Minnesota
Mississippi
Missouri
Montana
Nebraska
Nevada
New Hampshire
New Jersey
New Mexico
New York
North Carolina
North Dakota
Ohio
Oklahoma
Oregon
Pennsylvania
Rhode Island
South Carolina
South Dakota
Tennessee
Texas
Utah
Vermont
Virginia
Washington
West Virginia
Wisconsin
Wyoming.
If you have any car accident injuries, get in touch with our U.S. personal injury attorneys today for a free consultation to see if we can place you or help you where we practice law.
Practice Areas: Types of Car Accidents
The types of car accidents our law firms often deal with include:
Drunk Driving Accidents
Numerous accidents involving drunk drivers include serious ones that result in life-threatening injuries.
Hit and Run Accidents
A car accident lawyer can assist you in locating the at-fault party if a driver hits you and flees the scene quickly.
Backside Collisions
Backside collisions, one of the most well-known types of accidents, can result in serious whiplash and spinal cord injuries.
Distracted Driving Accidents
Distracted drivers take their eyes off the road, which suggests the likelihood of colliding with other vehicles is significant.
Speeding Accidents
Speeding is a form of reckless driving that can result in physical injury. Drivers often can't stop quickly when speeding, which makes them more likely to skid out and cause motor vehicle accidents.
Drugged Driver Accidents
When drugs slow down a driver's reflexes, they run the risk of colliding with another car.
What Factors Contribute to Car Accidents in the US?
Accidents can occasionally be caused by factors unrelated to the actions of a particular driver; for instance, a manufacturing defect could lead to an accident. In motor accident cases, a product flaw is to blame for the loss. Under product liability law, an auto manufacturer may be held accountable in such circumstances for major injuries caused by a defect in the vehicle.
Malfunctioning traffic lights and ineffective roads might also contribute to an accident. On occasion, poor planning, development problems, signage problems, lighting problems, or other roadway deformities, such as improperly placed utility lines and trees, can result in severe or even fatal accidents. Cases and claims launched against legislative elements are subject to special restrictions.
In the event that you are unsure of who caused a car crash, you might wonder whom you can seek compensation from. If you were injured in a hit-and-run accident, contact us to hire the best car accident lawyer in Los Angeles. We'll fight aggressively to identify the at-fault driver. If we cannot locate them, our vehicle accident injury attorneys at Ehline Law Firm will walk you through the legal options available to cover your expenses during your case review.
A driver may also be held accountable for an accident due to their intentional or negligent driving behavior or incapacity to drive safely in comparable situations.
Furthermore, an irresponsible driver operates his vehicle with "unshakable and wanton dismissal" of others' rights and safety. For example, a driver may be considered wild if they cause an accident while driving aggressively out of road rage.
The concept of "uncontrollable anger" is an attack with an engine vehicle or other dangerous weapon by the passengers or administrator of another engine vehicle or an attack provoked by an event that occurred on the street.
What to Do After a Car Crash
It can be terrifying in the moments after a car accident, particularly if you, a loved one, or a friend suffered a serious injury. If you can do so safely, get out of your car and see if anyone is in the other vehicle. To obtain legal representation for a car accident that wasn't your fault, you need to call a personal injury attorney to report the incident and any injuries.
You can take the following actions to ensure your entitlement to a fair settlement in a car accident case:
Contact the Police
Call the police responsible for the accident scene zip code. If it's possible, move the cars off the road. If your car crashes, you might not have a choice in the matter. Empty your car of salvageable items so you can wait in a place of safety for the assistance of friends or emergency services. This is also the ideal time to contact an experienced attorney with a proven reputation for handling USA car accident claims and those of people hurt throughout the world.
Gather Evidence
Obtain information from the other parties involved. You must get their insurance company information, or your experienced lawyer can contact their insurance company on your behalf. In the unlikely event that the driver is uninsured, get their address and contact details immediately.
Speak to any witnesses. After the collision, if anyone stopped to help, make sure you have their contact information. Their words might serve as important evidence and discover the answer to the question: "What caused the accident?"
Don't Admit Fault
Never admit fault of any kind in the police report. If you openly admit fault at the scene, the other driver's guarantor or attorney may use that information against you in court. Be truthful with the police, but avoid attempting to explain how the accident happened.
Contact Us for a Free Case Evaluation
As soon as you can, call a car accident attorney from Ehline Law so we can handle correspondence with both your own insurance company and the other party's insurance company. Furthermore, we handle the police reports, medical records, and your insurance policy. It would help if you were given the time and space to concentrate on healing.
Ehline Law: Top-rated Personal Injury Law Firm in the USA
Our USA car crash firm, based in Los Angeles, California, has represented hundreds of clients across the USA and residing overseas. Our car accident lawyers are familiar with more than just the laws of the road and the unusual requirements placed on commercial and public transportation providers. Based on past performance, we've been able to help clients recover millions for their financial losses.
Additionally, our auto accident attorneys frequently collaborate with investigators and experts to determine solutions to complicated technical questions that could be the underlying reason.
Our best attorney will deal with the following personal injury claims:
Backside collisions
Tanked driving losses
Hit-and-run accidents
Crossing accidents
Cruiser accidents
Walker accidents
Tractor-trailer and semi-truck accidents
Uninsured drivers.
Call an auto accident attorney today if you or a loved one has suffered injuries in an automobile or heavy vehicle accident.
Why Should You Hire an Auto Accident Lawyer from Ehline Law?
If you were involved in a motor vehicle accident, you need a car accident lawyer on your side so they can help you get the maximum compensation. We are aware that the period following a car accident may be incredibly traumatic, and you need assistance. The financial compensation a personal injury lawyer could help you obtain will benefit you and your family member and enable you to recover financially as you recuperate.
If you have any questions or concerns, the best car accident lawyers from Ehline Law are always reachable and will work with you to ensure you get justice. Our legal term will work hard and focus on you and how we can help make this difficult period in your life easier.
Call The Best Car Accident Attorney in the USA Today!
Do you need a car accident lawyer to assist you in your personal injury lawsuit? We'll handle all the paperwork, legal research, insurance settlement negotiations and even go to trial if necessary. You'll be in good hands and get the personal attention you deserve. We offer a free case evaluation and guarantee our work on a contingency fee basis percentage of recovery in the most impossible cases. This means you only pay if we successfully settle your personal injury claim for disabilities and injuries.
You may be entitled to compensation worth millions if you were involved in a car accident and sustained injuries due to someone else's negligence. But it would help if you acted in time before your case goes stale. Call an honest, trustworthy USA motoring accident attorney to fight for your legal rights and protect any families displaced by the wreck! Use our website contact us form or call us immediately at (833) LETS-SUE! Our business after hiring us is winning your USA car accident cases.
The goal is to get what you are owed swiftly, so don't delay or procrastinate away your case. Our compassionate legal team is ready to compassionately and enthusiastically talk about your USA car crash and offer you valuable legal advice 24/7!
States:
California injury law firm with locations in Northern, Southern, and Central California.
Michael Ehline is an inactive U.S. Marine and world-famous legal historian. Michael helped draft the Cruise Ship Safety Act and has won some of U.S. history's largest motorcycle accident settlements. Together with his legal team, Michael and the Ehline Law Firm collect damages on behalf of clients.
We pride ourselves on being available to answer your most pressing and difficult questions 24/7. We are proud sponsors of the Paul Ehline Memorial Motorcycle Ride and a Service Disabled Veteran Operated Business. (SDVOB.) We are ready to fight.