The car involved in the accident collided with the motorcycle before steering off the 91 freeway and into the nearby bushes. The vehicle's driver received a quick medical examination from the paramedics and had no serious injuries.
All lanes were shut down at one point, causing a complete standstill on the 91 freeway. So far, the officials are yet to understand how the crash occurred, and investigations are underway.
Drunk Manslaughter in Moreno Valley
On July 1, 2022, a motorcycle was heading northbound on Heacock Street before making a left on Ironwood Avenue and getting hit by a car. Local law enforcement officers arrived at the accident site, where they found an unresponsive motorcyclist and pronounced him dead on the roadway.
There was a sedan parked just a block away with front-bumper severe damage and no driver, suggesting a hit-and-run. After investigating the details of the vehicle involved, law enforcement arrested Jason Miller, a 34-year-old Moreno Valley resident, under suspicion of a hit-and-run while intoxicated.
The officers also arrested a 30-year-old woman who helped Miller escape the accident scene.
Common Causes of Motorcycle Accidents in Riverside
With so many vehicles on the road, even a second of distraction can cause a motorcycle collision, leading to severe injuries or even death to the rider.
The most common causes of motorcycle crashes in Riverside include:
Failure to look around at a blind spot before switching lanes.
Distracted driving.
Running a red light.
Poorly designed roads.
Lack of road maintenance.
Reckless driving.
Aggressive driving.
Overspeeding.
Inexperienced bike drivers.
Driving under the influence.
Traffic collisions in Riverside happen daily, causing physical, mental, and financial stress to the injured motorcycle accident victims and their family members. If you or your loved ones suffered injuries in an accident due to another's negligence, you must file a personal injury claim to recover maximum compensation for your loss. We can help you pursue negligent drivers failing to obey road rules, leading to a motorcycle accident in Riverside, California. So call us today, and we will answer questions, making clients and their families our top priority!
Common Injuries Sustained in Motorcycle Accidents
Since motorcycles are not as safe as vehicles, even minor motorcycle crashes can result in severe injuries to the rider.
Some of the common injuries sustained in motorcycle collisions include:
Traumatic brain injuries and other head injuries
Spinal cord injury and neck problems
Broken bones and fractures
Wrongful death and more
Road rash
Disfigurement.
Treating motorcycle collision injuries and paying medical costs can be more costly than car accident injuries, and medical expenses can start to pile up, adding to the victim's stress. Whether you're suffering from a traumatic brain injury or any other severe injury, our experienced personal injury lawyers can help you recover the damages. Reach out to a professional at our law firm and receive a free consultation pretty fast to help get you compensated in most cases for this and your lost income in Riverside, CA.
Motorcycle Safety Tips
The Insurance Institute for Highway Safety (IIHS) reports that motorcyclists are 29 times more likely to die from an accident than motor vehicle drivers or occupants. Although motorcycle riders are more exposed to the external environment than other vehicle drivers, taking safety precautions can help minimize the risk of being hurt in an accident.
Here are some safety tips for motorcyclists to follow to help them avoid potential dangers on the road and avoid a permanent disability to themselves or their passengers in the process.
Avoid Blind Spots
Motor cars, trucks, and other vehicles much larger than a motorcycle have large blind spots, which makes it difficult for drivers to see motorcycles, especially if the drivers are inattentive while on the road, resulting in an accident. So be careful when you split lanes, as many autoists think you are breaking the law.
Don't Overspeed
Speeding is always bad, especially when negotiating an intersection, or left hand turn at an signal. You can easily lose control as you negotiate a high speed turn. A motorcycle does not have the necessary safety features of a vehicle, which is why motorcyclists should always obey the speed limits and maintain a safe distance from other cars.
Staying within the speed limit can also prevent serious injuries to bikers from accidents involving poorly maintained roads, often made worse by heavy commercial trucks. Avoid an unsafe speed, even if it means pulling your Harley Davidson over and yielding to cars. This could be the most effective way to avoid a collision.
Avoid Lane Splitting
Although lane-splitting while changing lanes is legal in California, it is hazardous as drivers often fail to notice motorcyclists passing them in between lanes. A quick lane change by the driver can result in an accident with a motorcyclist lane splitting. The best protection is staying alert, as any crash can easily result in a dangerous crash on Riverside County roadways.
Ride Sober
Obviously, don't do mind-altering drugs. If you've had a few drinks, it is best to take an Uber or a cab to move around the city rather than ride a motorcycle. A rider must always remain sharp and attentive on the road, and alcohol slows a rider's reflexes.
Safety First
California law requires all motorcyclists on the road to wear a US Department of Transportation-compliant helmet. The helmet helps minimize the risk of injuries to the head. However, wearing other protective gear such as leather jackets, boots, pants, and gloves is crucial to protect the skin from lacerations, bruises, or abrasions resulting from an accident.
Join Safety Courses
Inexperienced motorcycle riders are one of the major causes of Riverside motorcycle accidents, as young riders on the road often do not make the right decisions as they do not have much experience. Inexperienced riders also face severe challenges from harsh weather conditions, making it difficult to ride smoothly, resulting in an increased risk of an accident.
Following traffic laws and taking all the necessary safety precautions can help increase your chances of securing compensation after suffering injuries in an accident. However, if you're partly to blame for an accident, you may still be able to recover under California comparative negligence law. Reach out to our experienced Riverside motorcycle accident lawyers to discuss your personal injury case and any permanent disfigurement caused by inattentive drivers.
Proving Liability in a Motorcycle Accident Case
Number one is you must not blow the general two-year statute of limitations or the 6-month deadline to make a government claim.
Bias: Remember, the blame often falls on the motorcycle rider when proving liability in a motorcycle accident case. There is this bias against motorcyclists that they are reckless drivers, and in many motorcycle accident cases, the motor vehicle driver wins due to this strong bias.
However, that shouldn't stop you from pursuing legal action against the negligent driver who caused the accident. Even if you were not wearing your motorcycle helmet, you might still need to recover money for property damage. An experienced lawyer at our law office can still seek compensation for your out of pocket costs and medical treatment not made worse by your own negligence.
Having a qualified Riverside motorcycle accident attorney by your side can increase your chances of recovering compensation, despite the bias against motorcyclists. If you believe that your accident was an act of negligence, your attorney can help gather the necessary evidence required to prove liability against the responsible party. With medical experts, seeking the compensation, you deserve become far simpler for most Riverside drivers operating motorcycles. Helping clients is what we do best, and our professional staff is ready 24/7 to advise you as to your best course of action.
Some of the evidence that an attorney may resort to when legally representing your case includes the following:
Photographs
Video footage
Eyewitness testimony
Police report.
What Damages Can I Receive in a Riverside Motorcycle Accident?
The damages awarded are unique to each accident case but typically include economic and non-economic damages.
Economic damages are easily quantifiable, such as medical bills, lost wages, therapy costs, and rehabilitation. On the other hand, it is difficult to attribute a dollar value to non-economic damages, including pain and suffering, loss of companionship, support, and emotional trauma, among others. The court may sometimes award punitive damages to punish the negligent party.
What Should I Do if I'm Involved in a Riverside Motorcycle Crash?
What you do after an accident determines the outcome of your personal injury case.
Here are some steps our motorcycle accident lawyer recommends taking after getting into an accident:
Call 911.
Move your vehicle to a safe location.
Take pictures of the accident site, cars involved, traffic signs, and the surroundings.
Exchange contact and insurance details with the other parties.
Wait for the police to arrive.
Head to a hospital for a medical examination for seemingly minor and life-threatening injuries.
Call your insurance company to notify them of the motorcycle crash in the Riverside area so you can secure compensation.
Reach out to an experienced Riverside motorcycle accident lawyer for representation.
Schedule a Free Consultation with a Serious Injury Riverside Motorcycle Accident Lawyer
Ready to form an attorney-client relationship and pursue the at-fault driver or other Southern California defendants for causing your catastrophic injury or death? Many motorcycle accidents result in catastrophic injuries, such as traumatic brain and spinal cord injuries.
From hefty medical bills, lost wages, and therapy costs to non-economic damages, including pain and suffering and loss of quality of life, a motorcycle accident injury can significantly affect an injured victim's way of life. Ehline Law is a leading personal injury law firm that helps injured motorcyclists by aggressively fighting for their rights. Our legal team offers our legal services on a contingency fee basis if an accident occurred and you are injured in a motorcycle crash.
Our personal injury attorneys understand how motorcycle accident injuries can turn motorcycle accident victims' lives around. They are ready to serve justice by holding the at-fault parties accountable for their loss. For more information on pursuing a motorcycle accident lawsuit or how we can help you obtain maximum compensation from the negligent party's insurance company, speak to our Riverside motorcycle accident lawyer today.
If you have suffered motorcycle accident injuries, contact us at 1 (833) LETS-SUE for a free consultation with our Riverside motorcycle accident lawyers. You can also use our online contact us form or live chat 24/7 to get hold of our law firm swiftly and discuss receiving monetary compensation with a free case evaluation.
---
Michael Ehline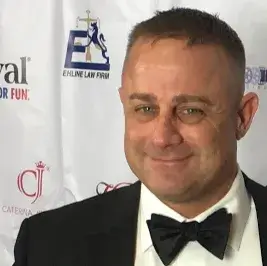 Michael is a managing partner at the nationwide Ehline Law Firm, Personal Injury Attorneys, APLC. He's an inactive Marine and became a lawyer in the California State Bar Law Office Study Program, later receiving his J.D. from UWLA School of Law. Michael has won some of the world's largest motorcycle accident settlements.
---
Recent Personal Injury News
Check out our most recent auto defects, accidents in Fremont and more, including the famous, infamous and everyday people wounded by at fault parties around the world.