If we don't win, you don't pay.
Speak to the Attorney.
Born to serve.
633 W 5th Street #2890
Los Angeles, CA 90071
(213) 596-9642.
Date Modified: June 18, 2023
This is the Ultimate Guide to Compensation for Solano County Accidents.
Solano County Accident?
Clients in Northern California need the best personal injury attorney available when a personal injury accident happens.
This is because victims deserve to have someone who will fight in their corner and ensure they will receive the proper care and compensation they deserve.
When the right personal injury lawyer is hired in Solano, the victim will have better results than if they didn't have one. We are in business to win the full extent of damages in all personal injury cases in Northern California, including areas like Fairfield, Vacaville, and Vallejo.
That is why people hire the charismatic attorney team Ehline Law Firm in Northern California. Past clients know we look after every injured person that walks through the door.
What Types of Cases Does a Personal Injury Lawyer Look At?
Many cases could result in personal injury claims in places like Elmira, Fairfield Suisun City, and Solano County, including Travis AFB, Vacaville, etc.
With a free consultation available, clients will know our law offices have a team that will have their back during this challenging time in theirs and all related practice areas.
Some specific circumstances are:
Why Should People Have a Personal Injury Attorney?
Our aggressive injury attorneys have been representing injured clients, weening themselves off pain medication since 2005. Were you in a car crash? Did you suffer a car crash with a brain injury or broken bones? There are many reasons why a person should have a personal injury attorney.
Below are some reasons why a personal injury lawyer is needed when a client needs help dealing with the next steps:
When a claim is filed, it is best to have an experienced personal injury lawyer on the case with resources and knowledge to understand personal injury law. They can give people professional advice supported by evidence and the right counsel to answer any question.
If legal proceedings were to happen, the right law firm should be hired because the personal injury claim might be at risk if they are not.
An experienced personal injury attorney should investigate the case because they know what information they need to gather, so the client will have a better chance of winning the claim.
When someone is recovering from an accident, the last thing they want to do is speak to an insurance company. The personal injury lawyers can speak to the insurance company on their behalf, giving the victim time to recover in peace.
A strong law team will help put every client on even footing with large businesses and companies. Many companies will have the best personal injury law firms on speed dial, meaning the victim should have their own.
When there is a time limit for putting a claim into action, the lawyer will finish everything properly. They will know all the paperwork and all the formal processes that need to be completed because we have already represented thousands of clients from Sacramento all the way to San Diego, CA.
What Are Some Common Injuries from an Accident in Solano County, CA?
When someone else's carelessness, recklessness, or neglect causes an accident, the victim may have many injuries that they need to seek medical care for after such accidents.
Some of the most common injuries are:
Broken bones
Lacerations
Internal bleeding
Death.
If someone has been in an accident, they should speak to a medical professional before receiving legal help to discuss their rights, duties, and other obligations as a plaintiff.
What Damages Can Be Recovered?
Two types of damages can be recovered with a personal injury claim. A team of personal injury attorneys will work together to ensure the victim receives what they deserve.
Economic Damages
Economic damages have a monetary value and are easily counted up. This can include a variety of things. When they are all added together in their subcategories, the personal injury law firm will add them to the personal injury settlement paperwork.
Medical expenses: Injury victims will need to seek medical attention when an accident happens. Any medical bills they acquire from going to the hospital, doctors, or therapy can be paid for by the settlement.
Lost wages: If the victim has been out of work due to the accident and lost out on their wages, this can be added to the economic damages in the case. Every personal injury law firm will know to add this to the settlement package.
Non-Economic Damages
Non-economic damages are harder to pick out because they do not have a monetary value. Instead, this is usually due to mental health problems. Every person will be affected mentally when an accident happens in Solano County or Contra Costa County.
Pain and Suffering: After being in an accident, a person may struggle with mental health in ways like PTSD. Also, they may begin to have anxiety and depression due to the accident. When this happens, the right Solano County personal injury lawyer can help.
Wrongful Death
A Solano County, personal injury lawyer will know how to help grieving family members when they need to put a wrongful death case. This can happen in car accidents, slips and falls, and other serious injuries that may be sustained during the accident. If the victim dies from the accident, the family could file for wrongful death.
The money won during this settlement can help pay for funeral costs, future wages, and more. This money will help with the financial stress caused by their accident.
What Should Someone Do If They've Been in an Accident?
Clients must ensure they follow these steps after a slip and fall, dog bite, or car accident. This will ensure that they are safe and being looked after by a general team with a proven track record for winning big throughout Northern California during such a difficult time and transitional period.
Call the Authorities
When an accident happens, the authorities should be called immediately. This is because the police will write a report stating who is at fault, and the paramedics will tell the victim if they need to go to the hospital immediately.
Gather Evidence
This should only happen if it is safe to do so. When an accident happens, try to take photos or videos of the area. This will be vital evidence for the case. Otherwise, it will be cleaned away later, and the lawyers must recreate it so it loses its impact. making it harder to drive your case home later.
Seek Medical Attention
Even if the victim thinks they are okay, they should always seek medical attention because they may not realize they are hurting. They should either go to the hospital or see their doctor to be assessed appropriately.
Speak to a Lawyer
A lawyer should be contacted when the victim is ready to proceed with the case. Every person should find the right lawyer for their case to get the best representation for their situation.
Recover
Recovery must happen because that is the only way any person can be mentally and physically able to move on with their life.
How Much Does a Lawyer Cost in Solano County?
The cost of service from an experienced lawyer will vary depending on the circumstances of the victim's case. Not every auto accident is the same, which is why the cost of the right lawyer will change. However, the free consultation will help put that in perspective to learn more about how much everything will cost.
Why Should People Pick Ehline Law Firm?
Lawyers all over California claim to be fighting for the little guy. There is a Fairfield personal injury lawyer, Choyce law firm, Mattice law offices, Hassell law group, and more. You have to decide if they compare to the team of vets at Ehline. We appreciate them all. But we think we are the best, and we believe victims will feel the same way when they hear our answers to their important questions and address their concerns with the utmost professionalism.
Reliable and Honest
This is a law office that people in the area can trust. They want to ensure that every victim has a team looking after their best interest. This will happen by only taking on cases they think to benefit the client. There is no point in putting a victim through so much pain when trying to recover, which is why the team will only take employment for the cases that will help the client and that we can potentially prove.
Be a Part of the Family
The law office will create a strong attorney-client relationship. They know that the victim and their loved ones will want to feel safe with the team, which is why the law office will always put them first before any decision regarding the case.
The Right Advice Every Time
Formal legal advice needs to be correct every time. It can make or break a case. When it involves someone else's negligence, every person needs to ensure that the advice is correct and can be backed up by evidence.
Do Not Worry About the Details
When it comes to a case, there are many little details that people will need to complete correctly so that the claim will go through properly. However, the wrong Solano County personal injury lawyers won't be as thorough as the Ehline team. There are many reasons why this might be, but the most important thing to remember is that Ehline will cover every little detail.
Call The Top Personal Injury Lawyers in Solano, CA, Today!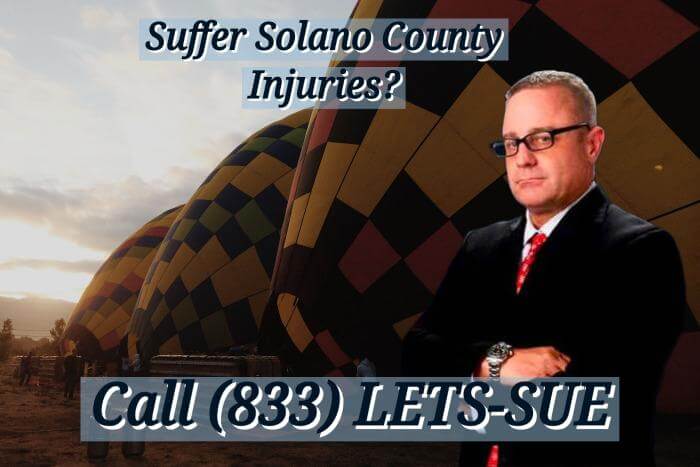 After a victim is ready to get started and discuss their case, they should reach out to the team at Ehline to handle their matters. The team is prepared to speak with everyone that comes through their door. They understand that clients need to be treated with respect, honesty, and integrity, which is what every client gets when they work with this team. That is why people in Solano County always choose Ehline Law Firm to solve their problems.
Any individuals with questions should contact the team at Ehline staff at 833-LETS-SUE to set up a meeting. We will even drive to you. You are in good hands when you are facing scary facts and need a fresh start. You can also use the free online contact us form anytime, 24/7, to learn more about our proven results. Our licensed, insured attorneys have the heart, honesty, and aggression to handle any personal injury cases you or a loved one may have suffered. We've handled thousands of cases, and we can also help you with our experience, knowledge, and skill!
Past Client Testimonials / Reviews
"Hiring these guys was the best decision I could ever make. I couldn't deal with everything and wanted to give up. But my battle buddy said to call Mike. He picked up the call on the first ring, was well versed in my case, and helped fix my bike and avoid litigation and more time from work. Hiring their firm got me what I needed to move on." – Bill B.
Fashion Island, Newport Beach, CA
South Coast Plaza Center Accidents
Michael Ehline is an inactive U.S. Marine and world-famous legal historian. Michael helped draft the Cruise Ship Safety Act and has won some of U.S. history's largest motorcycle accident settlements. Together with his legal team, Michael and the Ehline Law Firm collect damages on behalf of clients.
We pride ourselves on being available to answer your most pressing and difficult questions 24/7. We are proud sponsors of the Paul Ehline Memorial Motorcycle Ride and a Service Disabled Veteran Operated Business. (SDVOB.) We are ready to fight.