If we don't win, you don't pay.
Speak to the Attorney.
Born to serve.
633 W 5th Street #2890
Los Angeles, CA 90071
(213) 596-9642.
Date Modified: June 10, 2023
Located in San Bernardino County, Ontario International Airport is a hub for FedEx and UPS Airlines while having enough terminals and passenger airlines to accommodate traveling passengers.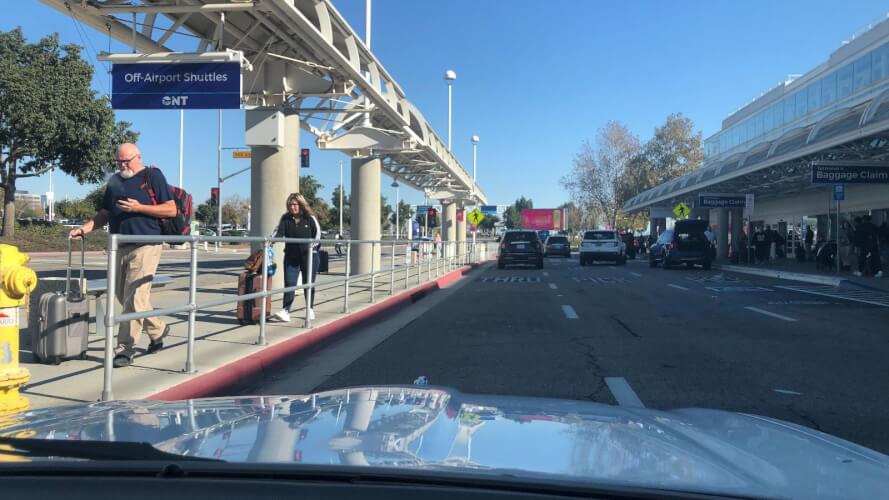 Many third-party companies are offering their services to arriving tourists and passengers at the Ontario International Airport, including rental car companies.
If you don't have a ride, chances are you'll get an Uber or rent a vehicle at the Ontario Airport during your stay. Driving around Ontario can be fun, but with so much traffic due to the many highways that connect with the city, it can also be dangerous if you're not careful.
Ehline Law and our personal injury attorneys have more than 15 years of experience and have successfully represented over 3,000 injured victims. We understand how a car accident can cause serious physical, mental, and financial stress on the victims and are ready to fight for you aggressively.
Contact our Ontario airport rental car accident attorneys to learn more about your rights following a rental car accident.
About Our Attorney Awards, Reviews and Accolades
The Superlawyers Rising Star award was awarded multiple times to Michael Ehline from 2006-2015.
Newsweek Magazine awarded its "Premier Personal Injury Attorneys" award to Ehline Law Firm's attorneys in 2015.
Michael Ehline was interviewed by CNN about cruise ship law, and he was a guest on NBC discussing limousine law practice areas. Michael was also interviewed by Nancy Grace on CBS discussing his expertise in California dog bite law.
Our years of experience can help you hold all the negligent parties liable for causing your damages.
Causes of Rental Car Accidents
There are many different causes of rental car accidents, some of which include the following.
Drunk Driving
According to the Centers for Disease Control and Prevention (CDC), 32 people die every day in the United States in accidents involving drunk drivers. Drunk driving has become a serious problem in the country for other road users and even pedestrians. Even if you're not driving under the influence of alcohol, there may be someone who is, which increases your risk of getting into a drunk driving accident.
Distracted Driving
The CDC reported more than 3,100 deaths and over 424,000 injuries in accidents in 2019 involving distracted drivers. About nine people die daily in the United States in crashes involving distracted drivers.
Texting or talking on the phone, eating behind the wheel, or looking everywhere except the road are all forms of distracted driving, and they can lead to serious injuries in the event of an accident. Drivers must always have their eyes on the road and practice defensive driving to avoid accidents and prevent harm to themselves and others.
Speeding
According to the National Safety Council, 29% of all fatal motor vehicle accidents in the country in 2020 involved speeding as the leading cause. In 2020, speeding killed 11,258 people in the country.
Everyone on the road must respect the traffic rules and the law of the road, which includes abiding by the speed limits. During the Covid-19 lockdown, the streets remained empty, but the number of car accidents jumped as empty roads gave young drivers an opportunity to speed.
Defective Vehicle
A rental car company has the responsibility to ensure that all their vehicles are safe to drive. They must conduct regular inspections and carry out routine maintenance work on their rental cars before renting them out to passengers at Ontario International Airport.
Failure to inspect and maintain their vehicles can increase the risk of a rental car accident. A blown-out tire, tire separation, or faulty brakes can lead to serious accidents, causing catastrophic injuries to the driver and any other occupants in the vehicle.
Besides the leading causes mentioned above, there are other causes of rental car accidents, including the following:
Running traffic light
Failure to yield the right of way
Fatigued driving
Tailgating.
Common Rental Car Accident Injuries
Some people are lucky to walk away from an accident without any injuries or, if any, minor scuffs and bruises. Unfortunately, many end up in the emergency room, even in minor, low-speed car accidents.
All types of injuries can occur in accidents involving rental vehicles.
Depending on the type of accident, there are various injuries a victim may suffer, some of which include the following:
Whiplash injuries
Concussion
Traumatic brain injuries
Spinal cord injuries
Lacerations, abrasions, and bruises
Broken bones and fractures
Strains and sprains
Internal bleeding and organ damage
Burn injuries
Wrongful death.
A car accident can lead to devastating consequences for the victims. Injured drivers and passengers may experience physical and mental pain from their injuries and financial repercussions from medical bills, lost wages, and property damage.
It's unfair for injured victims to bear the burden of an accident caused by another's negligence. Injured victims must seek medical attention immediately after their accident and contact experienced personal injury attorneys to discuss their legal options.
Who Is Liable for a Rental Car Accident?
Rental car accidents are often complex as other parties may be liable for the accident rather than the rental company itself. You are responsible for your actions when you rent a vehicle from a rental car company. Any accidents that occur will often be treated as a typical car accident.
The following are some of the parties that may be responsible for a rental car accident.
Another Driver
Every driver behind the wheel is responsible for driving safely, following traffic laws, and ensuring that their actions don't harm other road users.
Failure to drive in a reasonably safe manner can lead to liability, for which injured victims can hold the negligent driver liable for their injuries.
Rental Car Company
Rental car companies are not responsible for accidents occurring due to manufacturer defects. However, by law, they must pull recalled vehicles from their fleet until the manufacturer resolves the problem.
Suppose the rental company fails to pull out the recalled vehicle and rent it out to other drivers to make money. In that case, they are acting negligently and may be liable for any accident due to the vehicle's defect.
Rental car companies are also responsible for conducting reasonable inspections and routine maintenance to ensure their vehicle fleet is in good condition before renting them out. Failure to inspect and maintain their vehicle can lead to a car accident for which they may be liable.
Government Entity
Government agencies are responsible for ensuring that they maintain the roads and warn drivers of any hazards, such as construction sites or detours, to avoid accidents.
If a driver gets into a car accident due to the negligence of a government entity, they may be able to pursue a personal injury lawsuit to recover compensation for their loss.
Recoverable Damages in a Rental Car Accident
The damages you can recover in a rental car accident depend on the types of injuries suffered and other factors. If you've suffered injuries in a rental car accident, you must discuss your case with an experienced Ontario car accident attorney to help assess the damages you are eligible for.
Generally, rental car accident victims can recover the following types of compensatory damages following their accident:
Economic damages (also called special damages): Accident victims can recover financial damages to compensate for the out-of-pocket expenses they incur, including medical expenses, lost wages, and property damage.
Non-economic damages (also called general damages): Injured victims may be able to pursue compensation for the subjective (non-monetary) losses they incur following their accident, including pain and suffering, mental anguish, emotional distress, and reduced quality of life, among others.
In rare circumstances where the defendant is grossly negligent, the court may award the plaintiff punitive damages. These types of damages do not compensate the victim but instead punish the defendant for their extreme recklessness.
It is essential for rental car accident victims to reach out to experienced Ontario car accident lawyers to help assess and calculate the damages. Victims who pursue claims without legal representation often struggle to figure out and prove non-economic damages. A skilled car accident lawyer can work with experts in identifying the damages you may be eligible for and protect your rights by fighting for maximum compensation.
Is There Insurance Coverage on a Rental Car?
The company may ask whether you want insurance coverage when renting a vehicle. In some cases, the insurance may already be included in the price you pay upfront for the rental car.
It is important to note that your personal car insurance, in most cases, will follow the car, which means that it may not cover your accident if you're driving a rental vehicle. However, if you have additional coverage, it may kick in following your rental car accident.
Another thing to note is that if you've paid for the rental car using your credit card, the credit card company may provide you with collision coverage.
Suppose your injuries are far greater than your insurance coverage. In that case, an experienced car accident lawyer can recover damages using the other available coverages, ensuring that you receive maximum compensation for your loss.
Why You Need an Experienced Attorney Following Your Accident
When an auto accident occurs, it has the ability to change the victim's life completely. From complete confusion to trauma and harassment from the insurance company after filing a personal injury claim can be too much to handle, especially when you need time and energy to focus on your recovery.
Ehline Law is a leading personal injury law firm with more than 15 law offices across California and Texas. Our law firm has the resources to investigate your personal injury case, gather evidence, assess and calculate damages, pursue a claim, and negotiate fair compensation with the at-fault party's insurance company.
Schedule a Free Consultation with an Ehline Law Ontario Airport Rental Car Crash Lawyer
If you suffered injuries in a rental car accident, contact us at (833) LETS-SUE for a free consultation, as you may be eligible for compensation.
Michael Ehline is an inactive U.S. Marine and world-famous legal historian. Michael helped draft the Cruise Ship Safety Act and has won some of U.S. history's largest motorcycle accident settlements. Together with his legal team, Michael and the Ehline Law Firm collect damages on behalf of clients.
We pride ourselves on being available to answer your most pressing and difficult questions 24/7. We are proud sponsors of the Paul Ehline Memorial Motorcycle Ride and a Service Disabled Veteran Operated Business. (SDVOB.) We are ready to fight.