If we don't win, you don't pay.
Speak to the Attorney.
Born to serve.
633 W 5th Street #2890
Los Angeles, CA 90071
(213) 596-9642.
2323 S. Voss Rd, Suite 244
Houston, TX 77057
(832) 592-1260.
Date Modified: June 10, 2023
Airport shuttle buses are an excellent way for travelers to travel within the airport and outside to the hotels where they may be staying or other locations. Whether you're riding an airport shuttle bus for business or pleasure, it's a convenient way to relax after a long flight and reach your final destination. Unfortunately, not all airport shuttle buses make it safely to their destinations, and some may end up in an accident, causing injuries to the already tired passenger.
Auto and pedestrian accidents are a real threat here, just as they are at Los Angeles International Airport. Ehline Law and our personal injury attorneys have an excellent reputation and experience handling injured clients and their personal injury cases. We have represented thousands of clients and won over $150 million in verdicts and settlements in the process.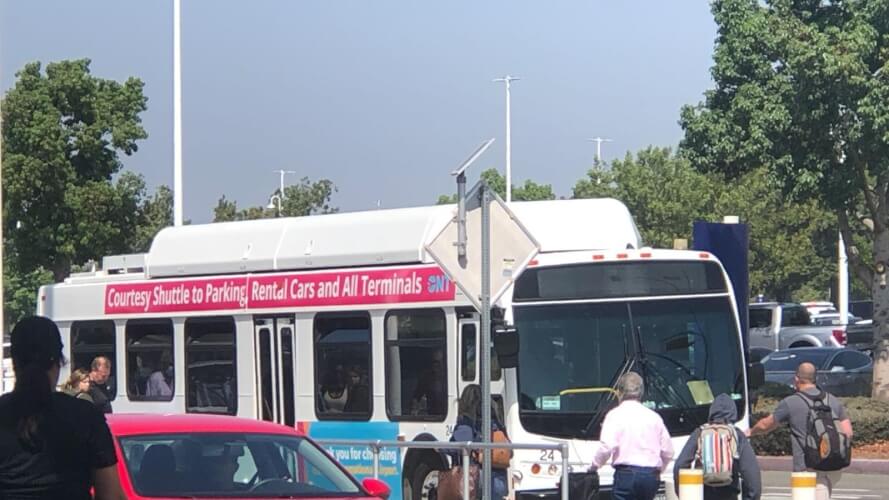 Our Ontario airport shuttle bus accident attorneys are aggressive litigators who work closely with injured victims to understand their cases and fight to protect their rights. If you've suffered injuries on an airport shuttle bus in Ontario, contact our experienced shuttle bus accident lawyer to learn more about your rights as an injured victim facing a bus accident case, lost wages, and medical costs.
About Our Attorney Awards, Reviews, and Accolades
The Superlawyers Rising Star Award was awarded multiple times to Michael Ehline from 2006-2015.
Newsweek Magazine awarded its "Premier Personal Injury Attorneys" award to Ehline Law Firm's attorneys in 2015.
CNN interviewed Michael Ehline about cruise ship law, and he was a guest on NBC discussing limousine law practice areas. Michael was also interviewed by Nancy Grace on CBS, discussing his expertise in California dog bite law.
Our years of experience can help you hold all the negligent parties liable for causing your damages.
Don't blow the statute of limitations just because you think it's two years. If the city or government runs the shuttle, you will have less time to seek and obtain compensation from the other party. After your medical care, call us today for a free consultation at (833) LETS-SUE to pursue the negligent driver or other at-fault parties.
Common Causes of Airport Shuttle Bus Accidents
We have seen the dangers of school buses with no seatbelts in the world. But traffic accidents such as a shuttle accidents are a major way travelers and bystanders get hurt or injured in a bus or by one in the Inland Empire.
There are many reasons for an airport shuttle bus accident, including the following:
Inattentiveness
Airport bus drivers often drive on the same route daily, which makes their job monotonous. When that happens, getting distracted while behind the wheel is easy, putting every passenger at risk of a serious bus accident.
Bus Driver Fatigue
The Centers for Disease Control and Prevention (CDC) conducted a study in 2009 asking the drivers participating whether they had slept behind the wheel in the past 30 days.
According to the results, 7.2% of the drivers aged 25 to 35 and 5.7% of the bus drivers aged 35 to 45 agreed to have fallen asleep while driving their vehicle.
Insufficient sleep is a public health epidemic and increases the risk of bus accidents. There are ways to combat fatigue or sleepiness behind the wheel, such as warning devices, but not all bus companies invest in such technologies. Our top personal injury attorney has been helping clients like you receive full and fair compensation for such shuttle accident claims since 2005.
Aggressive Driving
According to the National Highway Traffic Safety Administration (NHTSA), there were 218 deaths and 12,610 people injured in road rage accidents over a seven-year period.
Several factors can lead to road rage, such as traffic, running late, disregard for others and the law, and learned behavior. In Southern California, the liable party often flees the scene of bus collisions, leaving common carriers who transport passengers and the local police to clean up the mess.
Speeding
A 2020 NHTSA CrashStats revealed 308,013 people injured in speeding-related crashes. In 29% of all fatal traffic accidents in 2020, speeding was the main contributing factor.
Whether drivers are in a rush or enjoy driving fast, speeding is dangerous and reckless, especially when it can endanger many bus passengers using the public transportation system. When a defendant's actions, including the drivers of city buses, results in injuries suffered, we help set up and navigate the accident claim and help deal with liability and health insurance on behalf of victims and their close family members.
Unruly Passengers
Sometimes a bus crash may occur due to uncivilized passengers who get into a scuffle or an argument with others in the vehicle. In such situations involving intercity buses, a bus driver may get distracted by all the commotion in the back of the bus, increasing the risk of a bus accident.
When a passenger starts behaving in a manner that puts others at risk, it is the bus driver's responsibility to request them to settle down, stop the bus and let them go, or call the police, and gather insurance information to deal with the matter.
Sometimes, a passenger may lose their temper and start assaulting another passenger. The bus company must have protocols to ensure the safety of other passengers and their employees if a passenger becomes physically violent. If someone is hurt, the victims must receive immediate medical attention and help from the common carrier under California law.
Alcohol and Drug Use
The NHTSA revealed that about one-third of all traffic-related deaths (10,000 deaths) annually involve alcohol or drugs.
When driving under the influence of drugs or alcohol, the bus driver loses their ability to judge distance, speed, and the movement of other vehicles. The bus may start to steer off and wander from one lane to another, becoming a serious threat to the passengers traveling in the shuttle bus and other road users.
Faulty or Defective Bus – Mechanical Failure
When a company has a fleet of buses providing transportation services, it is responsible for ensuring routine inspection and scheduled maintenance to identify any faults and make necessary repairs.
However, a negligent bus company can lead to oversight, lack of inspections, and failure to maintain their buses, putting all the passengers at risk of a bus accident with a private or a public company running the show.
Another cause of a bus accident and plaintiff's injuries can be the manufacturer's fault. A bus manufacturer may cut corners in inspections or compromise on quality control, which can lead to a defective bus. Faulty brakes or other components can lead to severe bus accidents, injuring multiple passengers onboard.
Reckless Driver
When bus driver does not have sufficient training or does not follow traffic rules, they put the passengers at serious risk of a bus accident.
It is crucial that the bus company conducts background checks and hires drivers who have the license and training to handle and drive the bus safely.
Hazards on the Road
A shuttle bus accident may not always be the bus driver's fault. Ontario continues to expand daily, and construction projects are happening throughout the city.
Lack of warning signs, debris, or other hazards on the road can lead to a devastating bus accident causing serious injuries to the passengers onboard.
Common Ontario Shuttle Bus Accident Injuries
Depending on the type of shuttle bus, there may or may not be seat belts for the passengers, leading to all sorts of injuries, including:
Concussions and traumatic brain injury
Spinal cord injuries
Head and neck injuries
Broken bones and fractures
Scars and disfigurement
Burn injuries
Soft tissue injuries
Whiplash injuries
Wrongful death.
After an accident, bus accident victims must seek medical attention immediately, regardless of whether they are hurt. Some injuries can take time to manifest, while other internal injuries are hard to diagnose just by looking at the skin's surface.
Catastrophic injuries such as spinal cord or traumatic brain injuries from a bus accident can adversely affect the injured victim's life. From burgeoning medical expenses for surgeries, rehabilitation, therapy, prescription medication, and other medical bills to lost wages and lost future earnings, an accident can cause physical, mental, and financial stress.
If your accident occurred due to another's negligence, it is crucial to reach out to an experienced bus accident lawyer to discuss your legal options. A skilled bus accident lawyer can help assess your personal injury case and even pursue a claim or a lawsuit on your behalf.
Who Is Liable for an Ontario Shuttle Bus Accident?
Although it may be easy to blame the shuttle bus company for the accident, that may not always be the case. There may be other parties who could be liable for the bus accident, including the following.
Bus Driver
When a bus driver starts acting recklessly behind the wheel or shows up to work drunk or under the influence of alcohol, they are responsible for any accidents or injuries that may occur.
Under personal injury law, bus drivers owe others a duty of care to exert extreme caution when driving their buses and avoid accidents like a reasonable person would. This includes paying attention on the road, obeying all traffic rules, and avoiding driving drunk. Their duty may even include getting you an ambulance to the hospital.
If a shuttle bus driver breaches their duty of care towards passengers and other road users, they may be liable for any damages due to their negligence.
Bus Company
A bus company has the duty of care to inspect and maintain its vehicles, and they must also conduct background checks before hiring bus drivers and ensure that they employ licensed and trained drivers.
Failing to carry out their duty can lead to liability for which accident victims may be able to bring a personal injury claim against the bus company.
Another Driver
Not all bus accidents happen due to a bus driver. Some bus drivers have exceptional driving skills and proper licenses. However, other reckless drivers may collide with the bus or create a situation that could lead to a bus accident. If children are aboard, they may suffer terribly and never regain their emotional state or fully recover after a wreck.
Other drivers also have a duty of care to exert caution when driving and follow the traffic rules to prevent accidents from happening. If they fail to carry out their responsibilities or act negligently, they may be responsible for the damages following a bus accident.
Government Entity
A government agency is responsible for maintaining safe road conditions, which includes clearing out bumps and cracks or adding warning signs and traffic signals to ensure the safety of all road users.
Lack of warning signs or negligent government employees who crash into buses can lead to liability for which the passengers and the bus company can bring a civil action to win insurance compensation recovery from the other motorist or bus driver.
It is essential for accident victims to discuss their cases with experienced bus accident lawyers. At times, determining liability may be challenging, or multiple parties may be involved. Having an attorney investigate the bus accident can help identify the party or parties liable for it and hold them responsible for your loss.
Why Should You Consider Hiring Ehline Law Bus Accident Lawyers for Your Case?
Bus accident victims can pursue injury claims against the at-fault party's insurance company following motor vehicle accidents.
However, it is essential to note that without legal representation, you may encounter a lot of hurdles, especially when the insurance company starts using dirty tactics to avoid payout or force you into accepting a low settlement offer. This is how it is with any commercial transportation company, including taxis and limousines or other types of big rig companies.
The following are some of the reasons why you should consider reaching out to our law firm for your case:
Ehline Law Ontario, the bus accident lawyer, has the resources to investigate your accident and identify the liable parties.
Our Ontario bus accident attorney can help gather the relevant evidence needed to establish the critical elements of a negligence claim and build a strong case.
Motor vehicle accidents can be devastating, and those without financial resources may struggle to get the treatment they deserve. Our resourceful Ontario bus accident lawyer has connections in the medical industry to help locate a medical doctor on lien for your medical treatment.
Our bus accident lawyer has over 15 years of expertise in handling bus accident cases. We can help you comply with the legal process and pursue a personal injury claim on your behalf from responsible insurance companies representing the defendant.
We can handle the insurance company and negotiate a fair settlement on your behalf while you take the time to recover from your injuries and focus on your medical treatment.
Schedule a Free Consultation with Ehline Law Ontario Airport Shuttle Accident Attorneys
Remember, the bus company is held to a higher standard than a non-common carrier for hire. Never give a recorded statement to the insurance company till you talk with our legal team. Without legal help, bus accidents can create a lot of stress and turn victims' lives around. If you suffered injuries in an Ontario airport shuttle bus accident, contact us at (833) LETS-SUE for a free consultation, as you may be able to pursue compensation using our knowledge, skill, expertise, authority, and trust as top-rated airport bus accident attorneys in Ontario, CA.
Michael Ehline is an inactive U.S. Marine and world-famous legal historian. Michael helped draft the Cruise Ship Safety Act and has won some of U.S. history's largest motorcycle accident settlements. Together with his legal team, Michael and the Ehline Law Firm collect damages on behalf of clients.
We pride ourselves on being available to answer your most pressing and difficult questions 24/7. We are proud sponsors of the Paul Ehline Memorial Motorcycle Ride and a Service Disabled Veteran Operated Business. (SDVOB.) We are ready to fight.