Riser Height Differences
When the riser height is not the same between the stairs, it can cause passengers to trip and fall. Many assume that the riser height is the same on all the steps, but due to design defects, it may be different. When a person does not lift their foot high enough, they may trip and fall on their hands or face, leading to severe injuries.
Common Stairwell Accident Injuries
According to the study "Stair-related injuries treated in United States emergency departments," conducted in 2018 and published in The American Journal of Emergency Medicine, the three most common types of injuries sustained in a slip and fall accident on stairwells include Sprained tendons or muscles (32.3%), soft tissue injuries (23.8%), fractures (19.3%). And psychological trauma is always a component of when you seek compensation in the form of monetary damages.
The top three injuries sustained in a trip and fall accident on stairwells may be minor or can be debilitating but non-life threatening.
However, the remaining 24.6% of the injuries are more severe that may require immediate medical treatment, and some of these include the following:
Internal bleeding and organ damage
Psychological injuries
Head or neck injuries
Traumatic brain injuries
Spinal cord injuries
Whiplash
Cuts, bruises, and lacerations.
The severity of the injuries may also depend on the victim's age. For example, an older person (above 60 years old) is more likely to suffer broken bones and fractures than a 15-year-old boy.
Regardless of the severity of the injuries, it is crucial to seek medical attention. Without imaging tests and a complete medical evaluation, internal bleeding may be difficult to diagnose. Injured victims must follow their doctor's recommendation and treatment plan to recover quickly.
Sometimes injuries may be so debilitating that they may require extensive surgeries, medication, rehabilitation, and other medical treatments. A spinal cord or a traumatic brain injury can require patients to invest heavily in home modification to help them carry on with their routine.
Physical and mental pain can be overwhelming, but the financial burden from the medical bills, future medical expenses, and lost wages further impact the victim.
Accident victims must speak to experienced personal injury attorneys to discuss their cases and learn more about their legal options.
Filing an Ontario Airport Stairwell Accident Claim or a Lawsuit
After suffering injuries in a slip and fall accident on stairwells, injured victims often face confusion about their accident and whether or not the property owner was liable.
If you're unsure whether your injuries occurred due to the property owner's negligence, it is best to discuss your case with an experienced personal injury lawyer.
To establish negligence, injured victims must prove the four critical elements of a premises liability claim, and these are:
The defendant is the property owner or occupier (Duty of care)
The defendant failed to maintain their property in a reasonable condition (Breach)
The victim suffered injuries due to the defendant's negligence (Causation)
The victim sustained damages following the accident.
Proving the elements of a premises liability claim can be challenging for injured victims, which is why they must work with experienced personal injury attorneys. A skilled attorney knows the evidence needed to establish negligence and build a strong case, improving your chances of recovering financial compensation.
Do You Need an Attorney to Pursue a Personal Injury Lawsuit Against Ontario International Airport?
It's not a requirement to hire an attorney to represent you legally and pursue a personal injury claim or lawsuit. However, there is a lot of risk of losing out on money damages or losing your claim if you don't follow the proper legal process or build a strong case.
An experienced personal injury attorney representing you after your slip and fall accident at Ontario International Airport can help protect your rights against the airport management and their insurance company.
Ontario International Airport and its insurance company are large corporations that have enough resources and legal counsel to bully injured victims. If you suffered injuries in a stairwell accident at Ontario Airport, you might face hurdles in communicating with the insurance company or recovering fair compensation.
Injured victims often lose hope and finally accept the insurance company's initial settlement offer. An experienced personal injury attorney deals with insurance companies regularly, understands their tactics, and knows how to pressure them into coming to the negotiating table.
Statute of Limitations on Personal Injury Cases
The statute of limitations or the time injured victims have to pursue legal action against the negligent party depends on the at-fault party and the type of injury claim. Injured victims typically have two years following their injury to bring legal action against a negligent property owner.
However, Ontario International Airport is managed by a government agency, and when pursuing a claim against a government entity, injured victims only have six months to bring a civil claim.
The government agency has 45 days to respond to claims, and in case of denial, injured victims can pursue a premises liability lawsuit in court to recover financial compensation.
Damages You May Be Able to Recover in an Ontario Airport Stairwell Accident
When pursuing a personal injury claim against the Ontario International Airport, victims generally have two types of compensatory damages they can seek, and these include the following.
Economic Damages
Also known as special damages, economic damages compensate the victims for the out-of-pocket expenses they incur following their accident.
It may include medical expenses such as in-patient surgery costs, rehabilitation, therapy, prescription medication, doctor's fee, hospitalization, future medical expenses, and other medical bills. It also compensates victims for property damage and lost wages when an accident causes them to miss work.
Non-economic Damages
Also known as general damages, non-economic damages compensate the victims for the non-monetary losses they incur.
An accident can leave a victim with physical injuries and affect them mentally. Non-economic damages compensate them for the subjective losses following an accident, including pain and suffering, emotional distress, and reduced quality of life.
In cases involving extreme negligence (often rare cases), the court may also award injured victims punitive damages as a way to punish the defendant for their reckless actions.
How Can Ehline Law Personal Injury Attorneys Help with A Slip and Fall Accident on Ontario Airport Stairwells
Unlike car accidents, slip and fall accidents are often complex, and it can be challenging to prove the elements of negligence. Not all slip and fall accidents warrant liability which is why it is essential to speak to our experienced personal injury attorneys to discuss your case.
Our experienced Ontario airport stairwell accident attorneys can help you protect your case in many ways, including the following.
Investigate the Accident
In some cases, it may be a third-party company responsible for your injuries, not the Airport management, which is why it is crucial to speak to an attorney. We have the financial resources to investigate your slip and fall accident and determine the liability.
Gather Evidence
Our personal injury lawyers understand the type of evidence needed to build a strong case. We can help gather evidence, including maintenance records, CCTV footage, witness statements, and other types of documents that can help prove your injuries and the defendant's negligence.
Assess and Calculate Damages From Serious Injuries
Future medical costs for minor injuries are easier to tally than complex ones for most injury victims. Calculating and assessing damages can be challenging, but our law offices have a legal team that has connections with experts who assist us in determining the compensatory damages following an accident. Do you or your family members need help to obtain financial compensation for catastrophic injuries or a wrongful death? Call our caring, attentive lawyers 24/7 to discuss your injury claims.
Handle the Insurance Company
Ehline Law has the firepower to spearhead a personal injury case on behalf of any injure person. We will handle the insurance company, and negotiate a fair settlement on your behalf with no up front legal fees. If the insurer disagrees with a fair settlement, we are not afraid to take them to court and get our clients the compensation they deserve whether it's a car accident, or Ontario slip and fall at the airport terminal.
Legal Guidance From Top Slip and Fall Attorney
Our personal injury attorneys offer a free initial consultation to help injured victims know their rights and legal options. We will discuss the case during the free consultation, clear your doubts, and guide you through the legal process. Our fall lawyers have been assisting victims for well over a decade. Become one of the thousands of clients we helped get back on their feet.
Need assistance? If your or a family member sustained injuries, learn more about our legal services with a free consultation at (833) LETS-SUE. Our business is getting you full and complete recovery with a large award of monetary compensation from the responsible parties with money to pay. If the owner or airport manager knew or should have known, they can be held liable for your Ontario personal injury claim.
Ontario residents and guests can rest assured knowing we will make Ontario Airport defendants pay for any unsafe premise and failure to follow safety measures, including:
Dog bites by dangerous canines
Slippery surface or slippery floor creating a dangerous condition
Sharp surfaces
Defective escalators and machinery.
Schedule a Free Consultation with The Best Ontario Airport Stairway Accident Lawyer
Speaking to us can help avoid the dangers and risks of completely sabotaging your own case by running your mouth. Catastrophic injuries can flip a victim's life around, and without experienced legal counsel, they may struggle to get the compensation they deserve. We are ready to help any plaintiff with legal representation when they contact our Ontario airport escalator accident
Fortunately, Ehline Law is a leading personal injury law firm with over 15 locations, serving California and Texas. We have more than 15 years of experience and have successfully handled over 3,000 personal injury cases, recovering well over $150 million in compensation for our injured clients.
If you suffered a serious injury in an Ontario stairwell accident, contact us at (833) LETS-SUE for a free consultation to discuss the details. You may be able to recover compensation. Our law firm has the financial resources to allocate to help investigate your case, gather evidence, and aggressively fight for the compensation you deserve in the majority of situations. Don't hesitate to use our online contact us form 24/7 to communicate via email. We are prepared to answer your questions to afford you the best possible outcome, which is full compensation.
---
Michael Ehline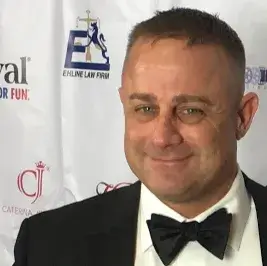 Michael is a managing partner at the nationwide Ehline Law Firm, Personal Injury Attorneys, APLC. He's an inactive Marine and became a lawyer in the California State Bar Law Office Study Program, later receiving his J.D. from UWLA School of Law. Michael has won some of the world's largest motorcycle accident settlements.
---
Recent Personal Injury News
Check out our most recent premises accidents in California and more, including the famous, infamous and everyday people wounded by at fault parties around the world.