If we don't win, you don't pay.
Speak to the Attorney.
Born to serve.
633 W 5th Street #2890
Los Angeles, CA 90071
(213) 596-9642.
Date Modified: July 2, 2023
Was your small child involved in a Southern California bicycle collision caused by another person's negligence or recklessness?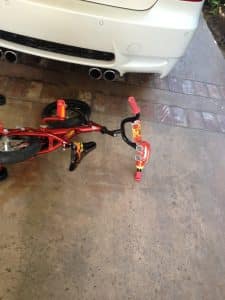 Bicycle accidents can cause serious injuries when an adult or child is involved. However, people should always take the proper precautions before they get on a bike with a child or let a child ride alone. A bike accident can hurt a child much more than an adult in busy places like Los Angeles, even in a bike lane.
Whether a child is on a bike or a pedestrian, recovering from common bicycle accident injuries and being able to afford short- or long-term care and treatment are vital. Dealing with the other party's insurance company and trying to prove liability is never smart without legal representation with experience representing injured bicyclists.
How Can Our Bicycle Lawyers Help?
Luckily, if a bike accident occurred, the right personal injury lawyer from our Los Angeles office can help take a lot of stress off the young victim and their family. Below, our elite trial lawyers will discuss California law and talk about how to prove negligence. Obtaining maximum compensation from parties liable for the other driver's negligence is how we roll. We go after people in motor vehicles with responsibility for causing a car accident.
With or without safety gear, a bicycle crash involving a child of young age, especially when motorists ignore traffic laws and flee the fallen bike riders at the accident scene. Damages we will pursue for the wounded bicyclist and surviving injury victims include pain and suffering and recovery of collision-related lost wages and medical bills.
The Type of Bicycle Accident Injuries Accident Victims Can Sustain
Sadly, many different injuries can be sustained during a bike accident. Some of the injuries that children may receive are:
Lacerations
Head Injuries, including traumatic brain injuries.
Spinal cord injuries
Broken bones
Fatalities.
The typical bicycle accident injuries that a child can sustain can range from moderate to severe, which is why every person should ensure that they speak to a medical professional right after being in a bike accident in Los Angeles.
Our experienced lawyers in Los Angeles can help with insurance companies, handle settlement negotiations and get you the financial compensation you and your loved ones deserve in most bicycle accident cases. Reach out and speak with a competent, caring Los Angeles bicycle accident attorney today by dialing (213) 596-9642.
How Can People Prevent Bicycle Accidents?
Bicycle accidents involving kids can be prevented in Los Angeles if the adult takes the right precautions. No one should want to seek legal services for a wrongful death or file a personal injury claim because that would mean an accident has occurred. Don't assume your children or another family member will remain safe while peddling in a bike lane. Think about riding around the docks and a small child driving off a pier to a drowning death. There is just too much that can go wrong.
Instead, take as many bicycle safety precautions as possible, making the bike rider less likely to get in a bicycling accident. Kids must look out for distracted or careless drivers opening car doors into the rider's pathway, among other negligent behavior. Here are some tips from some of the best law firms gathered by our Los Angeles bicycle accident lawyers over their years of trial advocacy in Los Angeles County, CA. After learning, you can still call our legal professionals for a free case evaluation.
Things covered here include:
Bicycle helmets and other safety gear
Defective bicycle issues
Proper hand signals
Paying attention to road conditions, etc.
Getting appropriate medical care to reduce permanent injuries.
Helmets Are Friends
According to some statistics, 63% of injuries to children involved in bike accidents are head and neck trauma. These are severe injuries that can leave an impact on a child. That is why a helmet should be worn at all times.
Wearing a helmet will better protect a child's head and neck while riding on a bike with an adult or alone. People should always ensure that the helmet fits correctly and is made of solid materials to reduce the chances of bicycle fatalities and to remain in compliance with the California Vehicle Code and other applicable traffic laws.
Teaching Children Road Rules
Children need to be aware of the road rules when riding their bikes. This is why adults should teach them how to look both ways and ensure they stay away from traffic. Children can quickly end up in an accident when there is a high traffic density, like in Los Angeles.
Put Them on the Right Seat
Adults taking their children on a bike should ensure they place them in the right seat. A bicycle accident victim can get hurt if sitting in the wrong seat or position. Please do not put your child in a high seat but rather have them in tow so they are safer.
Additionally, the seat should follow the latest safety standards to protect the child while on the bike. Many national trial lawyers will look at the safety standards before they start a claim because this will not work in the victim's favor.
Call Ehline Law Firm Today!
The right firm will help every person with their bicycle accident claim. Bicycle accident claims can be challenging to navigate, which is why bicycle accident lawyers are always called. There are many accidents in busy places like Los Angeles, but that does not mean the victim should lose out on their compensation.
When a Los Angeles bicycle accident occurs, a bicycle accident lawyer should be called because they will know about the state laws that will be relevant to the case. The team at Ehline Law Firm will work with the client to ensure they have a solid attorney-client relationship. They understand that this is a challenging time, so they will do what they can to try and alleviate stress for the family.
Additionally, the team can help people receive the compensation that they deserve. If the adult was in the accident along with the child, they could help receive compensation for any lost wages caused by the Los Angeles bicycle accident. Our bicycle accident attorneys will speak with the insurance company to ensure they are not bullying them regarding the claim for assistance.
Conclusion
Los Angeles bicycle accidents on the roadway happen more often than people think. This can happen in bike lanes, neighborhoods, or parks. No matter what, when a serious bicycle accident occurs, people should contact a personal injury attorney. Speed could have laid a role. Lights may have been out, as well as other factors. They will help people who have been injured, so they can receive the compensation that they deserve.
Schedule a Free Consultation With Child Bike Accident Lawyers in Los Angeles Today
Calling Ehline Law Firm is the best thing to do when motor vehicle accidents occur because the team is here to help. We have a reputation for winning millions on behalf of our customers. They know how to file a complete personal injury lawsuit without the victim needing to complete anything. Every client will speak with someone professional, experienced, and knowledgeable to receive the best care regarding their case.
Bicycle accident statistics can be scary regarding life-threatening injuries, which is why speaking with a Los Angeles bicycle accident lawyer is excellent. Any questions should be asked over the phone at (213) 596-9642. You can also fill out our website contact form for email.
Michael Ehline is an inactive U.S. Marine and world-famous legal historian. Michael helped draft the Cruise Ship Safety Act and has won some of U.S. history's largest motorcycle accident settlements. Together with his legal team, Michael and the Ehline Law Firm collect damages on behalf of clients.
We pride ourselves on being available to answer your most pressing and difficult questions 24/7. We are proud sponsors of the Paul Ehline Memorial Motorcycle Ride and a Service Disabled Veteran Operated Business. (SDVOB.) We are ready to fight.