If we don't win, you don't pay.
Speak to the Attorney.
Born to serve.
633 W 5th Street #2890
Los Angeles, CA 90071
(213) 596-9642.
2323 S. Voss Rd, Suite 244
Houston, TX 77057
(832) 592-1260.
Date Modified: July 2, 2023
Using bikes for transportation and exercise is part of the California culture. Bicycle deaths in children are something no parent should face.
Child Thrown off the Back of a Bicycle?
Did your child get injured or die riding on the back of a bicycle in Southern California? Maybe a motorist blew a stop sign in a Costa Mesa school zone and fled without waiting for the ambulance or exchanging insurance information?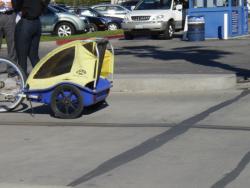 Maybe some government agencies are to blame for negligent road maintenance or defective traffic signals. The California Vehicle Code is designed to raise revenue and provide rules of the road for cyclists, pedestrians, and motorists. When any parent is riding their bicycle with their child, they must ensure they are keeping their child safe from a car accident, including other traffic accidents along the bike path from an open car door, etc.
This is paramount because no one wants their children to become injured bicyclists or fatality from rear approaching or oncoming traffic vehicle hits while secured in a bicycle baby seat. We offer a free consultation at our Los Angeles office when parents seek legal representation. When children who ride on the back of bicycles suffer a serious injury or wrongful death, it's in your best interest to let a trained lawyer fight against the other driver's insurance company.
Causes of Bicycle Death and Injuries
These recent data statistics are taken from the National Highway Traffic Safety Administration as follows:
Alcohol involvement was at play in one-third of all traffic cycle accidents resulting in bicyclists deaths
Excessive speed accidents
Intersection accidents
Truck accidents
Bus accidents
Driveway accidents
Parking lot accidents.
Child Seats, Bicycle Accidents, and Severe Injuries
Sadly, almost half of the kids getting hurt on bikes fell off a rear-mounted bike seat while the bicyclist was in motion. If a bike crash were to happen, the child would be in danger. Yes, children should be placed in a child safety seat before anyone takes a kid out on a bike ride on California surface streets or even the sidewalk.
Being strapped in also means the child is locked into a chair with a high center of gravity. It also means the child will not be thrown clear of the bike in a collision. So it can be just as dangerous to use a safety seat and possibly abuse it. But the upside is it helps prevent a foot or digit from being caught in a moving spoke, bike chain, or sprocket. Safety seat or not, falling down on a roadway means potential head injuries, police and the victim taking a trip to the local city hospital emergency room.
Helmets
Bicycle accidents have seen many children injured in a bicycle accident because wearing the right helmet does not protect these persons during collisions.
This must change immediately before anyone hops on a bike in Beverly Hills, Los Angeles, Santa Margarita, Huntington Beach, CA, or anywhere else. A brain injury is no joke and is always a risk in most bicycle accidents. This is another reason to call an experienced attorney before negotiating with the insurance company, unable to endure the suffering, let alone negotiate a fair and just settlement.
Our Los Angeles bicycle accident lawyers help parents in all Los Angeles urban areas, even if your child was bicycling on the wrong side of the road. But parents must act quickly before the two years statute of limitations to sue a private party or six months legal standard to file a government claim expires. Our dedicated team of Los Angeles bicycle accident attorneys team is ready to help you get more money 24/7.
Overall, people need to avoid bicycle injuries as much as possible because they can be serious injuries. Children can receive:
Wrist sprains and upper joint injuries due to flipping over handlebars.
Brain injuries (recently, in Redondo Beach, children were killed by the bus driver after they were struck by the rearview mirror of a bus driving in the same direction as the children riding bikes.)
Broken bones
Lacerations
Head injuries
Head and neck trauma wounds
Spinal cord injuries
Cyclist death claims.
A child can receive many different injuries in a bicycle accident, just like if they were to be in a motor vehicle accident where traffic laws are violated. Parents will face lost wages and time from work caring for the child and incur massive medical expenses. Even riding on sidewalks won't prevent passing vehicles or large diesel trucks from running over kids bicycling. During your free case review, we can help past and existing clients with free legal advice and justice from a great attorney with a strong sense of duty.
Bike Accidents and Riding High Seats
Teaching children the importance of bicycle safety is important. But parents can help in the majority of cases too. Some people may think riding with a child on a high seat will be safer than having them in tow, but the evidence says that is false. Many bicycle fatalities happen when the child is in a high seat. There is a safe alternative that people should try before peddling away with a child mounted high.
Straddle the Bike
Bicycle accident injuries can happen when the adult tries to load and balance the child into the bike. However, this can be prevented when parents straddle the bike to load the minor. The adult should straddle the bicycle when taking the child off the bike and putting them on. Many accidents happen because they trust the kickstand to hold up the child.
The kickstand can only support the bike's weight; anything else and the bike will topple over. When determining liability, the jury will blame the medical bills on the parent if basics like this were not followed.
Another good tip is to peddle slowly when first taking off with a child on the back to ride the trails. The adult should get used to the additional weight they have put on before they begin to peddle harder down the roads of Los Angeles. Make sure you walk your bike at crosswalks, designated beaches, and parks. Don't assume you can ride everywhere and avoid sharing sidewalks with pedestrians, even if legal.
Other Ways to Stay Safe:
Practice proper road safety. (stay close to the right side of the road or designated bike lane.)
Check your tires for proper inflation.
Ensure to look around you when riding your bike.
Remember that bikes move a lot slower can vehicles, so do not try anything reckless.
Always have identification on you in case the rider gets in an accident.
Gather names and numbers of witnesses and at-fault parties at the accident scene.
The Child Bicycle Accident Lawyer for You
Speaking to the right team can make all the difference when an accident happens. You will want someone who understands how to build a solid attorney-client relationship, which is why people speak with Ehline Law Firm.
Clients will receive a bicycle accident attorney who cares about them and their needs. It does not matter where the accident occurred; whether it is downtown Los Angeles or in a Los Angeles county, everyone should have a personal injury lawyer to pursue the liable party responsible for covering the injuries.
The bicycle accident attorney can help people file a personal injury lawsuit against the defendant for causing their bike accident. This information can be given during the free case evaluation, so the team can speak about the bike injuries, what happened, and how to make an eligible, winning personal injury claim on their behalf, intended to get the victims back on their feet.
Schedule a Free Consultation With Los Angeles Riding With Child Bicycle Accident Lawyers in Los Angeles Today
Is your family reeling from stress after a child was injured or killed in a cycling collision? Most accidents are caused by negligence, often involving motor vehicles or other bike riders. Every person should make sure they speak with the right legal team to get compensation for a head injury, back injury, broken legs, and other health problems.
The careful team at Ehline Law Firm is here to help children or adults injured in car accidents and cycling accidents obtain the maximum financial compensation recovery allowed under California law. Contact us for a free case review at (213) 596-9642, or feel free to use our online website contact form to speak with us via email about our services. Secure the compensation you deserve when you let us handle the process through the court in Orange County, San Bernardino, and even Newport Beach.
Michael Ehline is an inactive U.S. Marine and world-famous legal historian. Michael helped draft the Cruise Ship Safety Act and has won some of U.S. history's largest motorcycle accident settlements. Together with his legal team, Michael and the Ehline Law Firm collect damages on behalf of clients.
We pride ourselves on being available to answer your most pressing and difficult questions 24/7. We are proud sponsors of the Paul Ehline Memorial Motorcycle Ride and a Service Disabled Veteran Operated Business. (SDVOB.) We are ready to fight.