If we don't win, you don't pay.
Speak to the Attorney.
Born to serve.
633 W 5th Street #2890
Los Angeles, CA 90071
(213) 596-9642.
2323 S. Voss Rd, Suite 244
Houston, TX 77057
(832) 592-1260.
Date Modified: March 20, 2023
Intersection and rear-end collisions are two prevalent types of auto accidents. But there is one other situation to consider. And this is the mishap that happens during a lane change when a driver sideswipes another vehicle.
We Win Car Accidents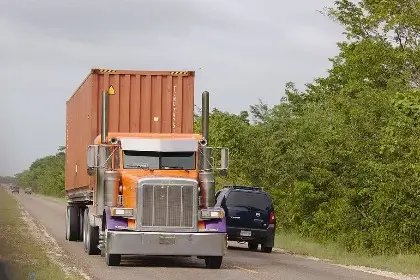 A "sideswipe" is defined as one or more automobiles brushing up or crashing into the side of another vehicle or vehicles traveling in the same or opposite direction of traffic flow.
Often, significant damage to vehicles occurs as they collide. The occupants can experience powerful side-to-side jolts. Also, heads will sometimes slam into the passenger windows.
Sometimes brains get damaged, spinal cords can become twisted and blown, and discs even burst. When this takes place, medical and legal help is key. Most of all, professionals like that can help assist in healing and financial security as you recover.
Ehline Law Firm in Los Angeles has received numerous awards and the respect of insurance companies and adjusters. Also, the firm has recovered multiple millions of dollars for its clients and other customers. Learn below about how we can help you with your vehicle sideswipe claims.
What Are Some Duties of California Drivers in Making Safe Lane Changes?
Any traffic mishaps can result in serious personal injuries. And in a sideswipe collision, it is no different. Often it happens during an improper lane change. But due to the sudden impact of a sideswipe, side-to-side neck injuries remain very common in many sideswipe wrecks.
Obviously, avoiding the wreck altogether is the key. And drivers have a duty under traffic laws to ensure it is safe to make a lane change before pulling out of their lane. So if the driver sideswipes another vehicle, they have failed this duty to make the lane change safely.
And this will bring up the presumption of negligence and liability. The silver lining here is that the plaintiff can argue a Vehicle Code violation. Therefore, liability is presumed as a matter of law under the legal theory "negligence per se."
Problems – No Attorney Means Low Balling By the Insurance Adjuster
When a negligent driver causes damage and injuries, their insurance carrier will attempt to minimize it and "low-ball" you. So typically, the adjuster will claim it was a low-impact force. And this argument may get tactically used by the insurance company even when proof of significant damages and injuries exists.
So this lowers the amount the insurer will pay the injured party. And almost always, it is less than what the person deserves, even with the claimant's medical x-rays showing no broken bones as proof. And it was likely your fault for not getting an MRI or CT scan, which picks up the tendon, joint, and ligament damages not visible in x-ray photos. So beware; adjusters use these tactics to refuse to pay the correct value of a claim often.
Basically, the insurance defense adjusters may say the x-rays were negative in showing any harm. Or they could say there were no x-rays taken at all. Either way, they will usually try and blame another event and say the plaintiff is a "liar."
You can't win. Or can you? Yes, you can win your sideswipe case. But without legal experts like ELFPI's veterans, you will likely get paid far less than you deserve.
What are the Motor Vehicle Sideswipe Statistics?
Extensive studies have been conducted on the subject nationwide. And it appears that statistically, most sideswipes are due to unsafe lane changes. In closing, sideswipes are terrible accidents. They require medical evidence to prove a personal injury.
Sometimes x-rays are not enough. If hurt in a lane change or sideswipe accident, contact Ehline Law Firm Personal Injury Attorneys, APLC (Ehline Law Firm).
Schedule a Free Consultation With a Sideswipe, Lane Change Accident Attorney in Los Angeles
After you call us, you can put our vast experience and aggressive personalities to work for you. Let a veteran-run law firm with huge verdicts and success evaluate your case for free by phoning (213) 596-9642.
Ehline Law Firm Assists Wounded Clients In Greater Los Angeles, National City, Carlsbad, the Inland Empire, and the entirety of Northern and Southern California.
Michael Ehline is an inactive U.S. Marine and world-famous legal historian. Michael helped draft the Cruise Ship Safety Act and has won some of U.S. history's largest motorcycle accident settlements. Together with his legal team, Michael and the Ehline Law Firm collect damages on behalf of clients.
We pride ourselves on being available to answer your most pressing and difficult questions 24/7. We are proud sponsors of the Paul Ehline Memorial Motorcycle Ride and a Service Disabled Veteran Operated Business. (SDVOB.) We are ready to fight.