If we don't win, you don't pay.
Speak to the Attorney.
Born to serve.
633 W 5th Street #2890
Los Angeles, CA 90071
(213) 596-9642.
2323 S. Voss Rd, Suite 244
Houston, TX 77057
(832) 592-1260.
Date Modified: March 22, 2023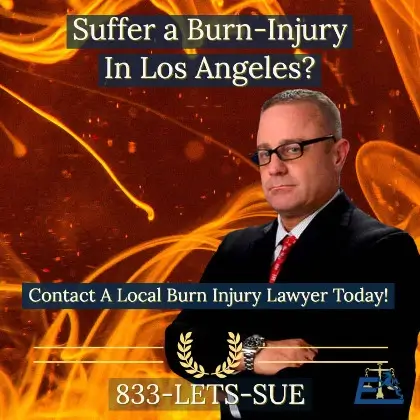 Contact Ehline Law Firm for a Free Consultation
Ultimate Guide to Compensation for Dust Fires. I am Los Angeles personal injury attorney Michael Ehline. I am a personal injury law expert.
Below I will discuss dust fire burns, their causes, prevention methods, and how to get compensated by the responsible parties. The physical pain and emotional trauma from a life-threatening burn are considered among the worst injuries caused. Workplace explosions and fires can be brought on by industrial dust, defective products, and even a motor vehicle accident. And no one is safe; children can fall victim at home.
According to most medical professionals, car batteries can produce terrible electrical burns with massive medical expenses or less devastating fourth-degree burns. In this case, you may be able to pursue a product liability claim the liable battery maker, etc again.
EX: In one case, the dust collector at a chemical plant stopped functioning correctly at the beginning of 2020. Moreover, the plant's dust collector was filled with industrial dust, smoke, and flames due to the industrial dust catching fire.
Although no injuries were sustained in this incident, burn injuries are a serious possibility when combustible industrial dust catches fire. Industrial and chemical plants may experience large-scale explosions due to the highly flammable nature of industrial dust. People lose their lives in fires and explosions produced by industrial dust particles yearly. Most burns affect your entire personal and social life, especially when someone else's negligence causes burns.
So pay attention to what this consumer attorney article says about your serious injury. Our trial advocates want you to understand the steps to take if a burn or explosion accident occurred to you or a close loved one before you or your family members seek compensation.
Why Choose Us For Help With Residential and Commercial Fires?
Do you think you deserve compensation for your injuries?
Our Top Los Angeles Burn Injury Lawyer has a proven track record of success, including:
Over 30 Years of Combined, Compassionate Experience
We Offer Free Consultations for Most Severe Burns
We Offer Help With All Related Practice Areas
We Offer a No Recovery No Fee Promise (Contingency Fee Attorneys)
We Offer Referrals to get You Prompt Medical Attention
Member – Consumer Attorneys Association
Multiple Year Super Lawyers Rising Star Awards
Personal Injury Warriors Trial Lawyer of the Year
Over $150 Million Recovered for Accident Victims
Hundreds of 5 Star Client Reviews and Testimonials.
Our burn injury attorneys could assist you if you were hurt due to industrial dust burning or exploding. This help can include a referral to a skin grafting surgeon and emotional support as you seek financial compensation. Injury-causing hazardous situations can develop when companies fail to provide a safe working environment. By using basic safety procedures, flammable dust fires and this traumatic experience can often be avoided.
Your employer's worker's compensation plan might cover your burn injuries. At Ehline Law Firm, we have assisted several clients in obtaining maximum compensation payments from their employers. We will swiftly investigate the cause and the damages. Scheduling your free case evaluation with our personal injury law practice has never been easier. This is because of our accessible locations, resources and deep, noteworthy skill.
How Can I Determine the Insurance Company's Liability In a Negligently-Ignited Dust Fire Case?
In Los Angeles, dust fires are often the result of negligence. Therefore, it's not always a mistake. Sometimes, no one would have been harmed if the defendant hadn't committed harmful acts. For example, faulty electrical issues or a defective product in the workplace. After an inferno, gathering evidence is an important step. Tragically, injured people and their families are often in pain and without the mental capacity to file a lawsuit, let alone survive the complications.
The time to prepare your burn injury case is running out as the victims mourn. Your case is becoming less and less valuable as time goes on. If you ignore your rights, it could be impossible to establish liability.
Witnesses, for instance, sometimes forget things. They may also pass away. Therefore, the key to maximizing the value of a personal injury claim involving a dust fire is to act quickly. However, determining legal liability requires a strong legal team in most cases.
The First and Most Important Step Is Hiring a Lawyer
Hiring a legal representative or attorney is the first step in a successful combustion injury claim. The gathering of evidence should be your attorney's top priority. Additionally, the top dust combustion accident lawyers write letters to the defendants asking that they preserve evidence. They require a site inspection to catalog and preserve exhibits that may be used later at trial.
Excellent attorneys unable to settle with the defendant's insurance adjuster may succeed in their petition for pre-trial discovery.
On the other hand, a party who is not represented might not even file the necessary paperwork to make an insurance claim. Victims may go on "fishing expeditions" when they use the civil court subpoena power to acquire information.
This implies that victims can gather evidence that might not be allowed at trial. However, it can also lead to other evidence used in court. Therefore, in this kind of situation, it is allowed here. These suggestions are nonetheless crucial in cases of burn injuries because numerous parties may have contributed to or caused your debilitating condition.
Are Dust Burn Injuries to Workers Always Dangerous?
Yes. When there is a dust fire, workers are in immediate danger of external and internal organ damage, even to their nerve endings. However, the toxicity of the smoke's aftermath may endanger surrounding homes. Even some types of cancer and respiratory conditions can be brought on by breathing in deadly smoke.
Therefore, a significant industrial dust fire might endanger the entire neighborhood. A powder fire can also cause first, second, and third-degree burns to its burn injury victims, with second-degree burns being one of the most common ones. These burn injuries continue to be linked to harmful smoke absorption. No matter what, the victims will require immediate medical attention and a consultation with a knowledgeable burn injury lawyer.
What Is the Duty to Ensure Safety?
A factory or plant's owner is responsible for ensuring the workers are in a secure environment. They must also adopt procedures that lessen the danger of workplace dust fires. Therefore, employers are required to keep the workplace clean and conduct routine inspections of the electricity, ventilation systems, and more. Most importantly, factories must provide safe areas that hinder the growth of a "fire triangle" of dust.
Furthermore, they need to use dust collection systems and dust filters in their building. They must make sure that the electrical equipment is suitable so that the chance of dusty powder igniting in the air is reduced or eliminated.
Employers and landlords must maintain appropriate fire control extinguishing techniques due to the risks associated with a fire or explosion accident. Additionally, workers need to receive proper training in a dust fire. Employers and employees should understand how to minimize ignition sources. Additionally, they must be able to put out dust fires without using water.
Los Angeles Burn Victim Assistance | Personal Injury Law Firm
The Los Angeles burn injury attorneys of Ehline Law Firm are acutely aware that burn victims can suffer paralyzing, drastically altering, and eventually permanent damage. Repeat surgeries are necessary for severe burns, and the recovery period is long and unpleasant.
Furthermore, the promise made by our company to its clients is to make sure that each of our burn injury cases receives the maximum amount of money to pay for their medical bills and lost wages and to meet their medical treatment costs.
Burn injury lawsuits can be immensely complex legal matters that require the expertise of highly experienced personal injury lawyers. General practitioners with good intentions but limited experience may easily handle a burn injury claim poorly. The experts have successfully handled many past property damage and severe burn injury cases at Ehline Law Firm. We can hold the negligent employer and others accountable. We fight hard for all new clients.
Types of Degree Burns in Burn Injury Cases | Severe Burns
First-degree burns are the least severe of the three categories or "degrees" of severity used by doctors to categorize burns, while third-degree ones are the most serious. All burns come with their share of pain and suffering.
Here is a brief summary of the three basic types of burn injuries in Los Angeles:
First-degree burns are minor and harm only the outer layer of the skin (the epidermis). These burns can occur when someone briefly touches a hot pan on the stove. Typically, they cause temporary skin redness as well as some early discomfort.
Second-degree burns are more severe and penetrate the lower layer of skin and the outer layer of the epidermis (the dermis). You could sustain a second-degree burn if you accidentally spill boiling water on your body or touch a hot iron.
The most serious burns are those that are third-degree burns. They cause tissue damage by burning through the skin's dermis and epidermal layers. If nerves are damaged, your skin may turn white, blackened, or even numb in affected areas. Third-degree burns are the most severe Southern California burn injuries that lead to legal action, including electrical accidents. Chemical burns may also be categorized here as they are severe burns.
Some medical experts use further categories up to the sixth degree to describe injuries that spread to ligaments, tendons, bones, muscles, or internal organs. Third-degree burns and worse can cause a number of issues, require extended hospital stays, and even require skin grafts.
This is especially true if the burn injury covers a sizable portion of the body. To regain range of motion, patients may need physical therapy if the burn damages muscle and other internal tissue. Burns at these degrees can result in persistent pain because they severely damage the nerves and other tissues. Most will require lengthy and expensive rehabilitation by a recognized physician.
Common Body Part Injuries
Amputation
Blindness
Blisters
Brain damage
Disfigurement
Infections
Permanent disability
Scarring
Swelling.
What Makes Our Los Angeles Burn Injury Lawyers the Best?
It is crucial to hire a law company that specializes in these cases as shown above if you or a loved one has sustained a catastrophic injury in a fire or explosion accident. No matter where you live, get in touch with the qualified national trial lawyers at our office now to explore your legal rights during a free consultation.
Schedule a Free Consultation With Dust Fire Burn Explosion Injury Lawyers at Ehline Law Firm
The personal injury attorneys at Ehline Law Firm are honored to provide knowledgeable, proactive legal assistance. This compssionate team will always seek the best outcomes for our clients if you or a loved one has been hurt by the impact of a fire or explosion.
Our business upholds the highest ethical standards and is client-focused. Please get in touch with a Los Angeles personal injury lawyer if a friend or a family member has suffered burn injuries in an accident or apartment fire.
We can address any questions a new client may have and offer a free consultation for any burn injury claim. Furthermore, we're known for having a great attorney-client relationship and helping consumers get back on their feet. Get justice today by dialing (213) 596-9642 before burns affect more of your happiness.
California injury law firm with locations in Northern, Southern, and Central California.
Michael Ehline is an inactive U.S. Marine and world-famous legal historian. Michael helped draft the Cruise Ship Safety Act and has won some of U.S. history's largest motorcycle accident settlements. Together with his legal team, Michael and the Ehline Law Firm collect damages on behalf of clients.
We pride ourselves on being available to answer your most pressing and difficult questions 24/7. We are proud sponsors of the Paul Ehline Memorial Motorcycle Ride and a Service Disabled Veteran Operated Business. (SDVOB.) We are ready to fight.