Ehline Law Firm Personal Injury Attorneys, APLC
(Torrance) 3961 CA-1 Torrance, CA 90505
Tel: (424) 999-7246
Email: torrance@ehlinelaw.com
Did You Get Hit On Your Motorcycle in Torrance, California? Our Top Rated Motorcycle Collision Attorneys Can Help!
Client 5 Star Testimonial

"I was searching for the best personal injury lawyer near me in Torrance, and I found Ehline Law. I hired them because I was a Marine and so was the owner Mike. He is a good dude and we celebrate the Marine Corps Birthday with each other now. Mike got me a nice chunk of change for my auto accident near Redondo Beach and Torrance. I had a terrible ankle injury and banged my head up badly. If I ever get in another motorcycle collision, I know I am calling the Torrance accident lawyers at Ehline's firm on Pacific Coast Highway. Semper Fidelis." – J. Fry.
Contents: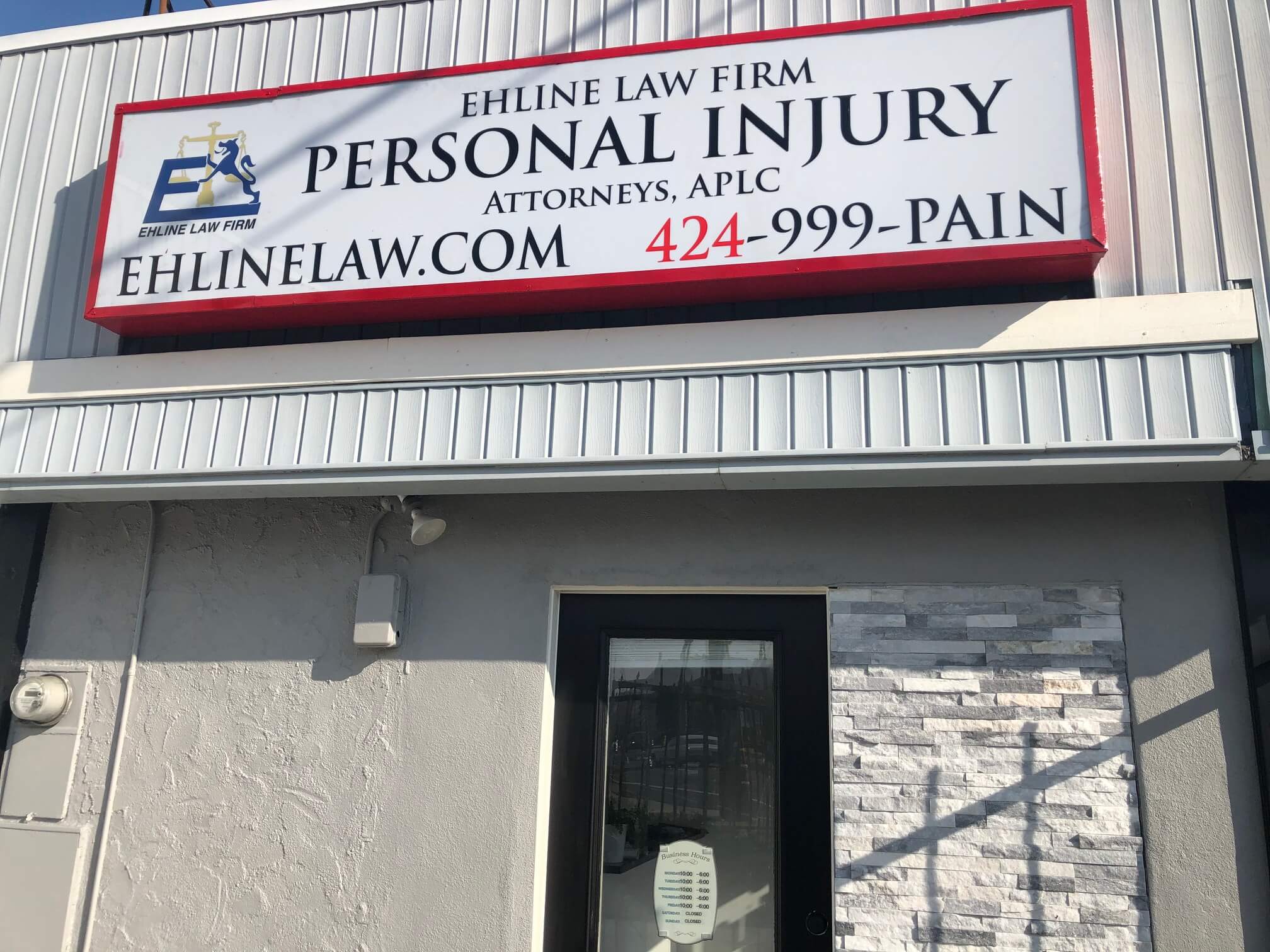 If you or a loved one stumbled upon this Torrance motorcycle accident lawyer webpage, you probably were referred to us by one of our peers or past, happy clients. So feel free to cut to the chase and contact us immediately after being discharged from the hospital. If you were snagged in a serious motorcycle accident, reach out by local phone, email, or our online contact form right now.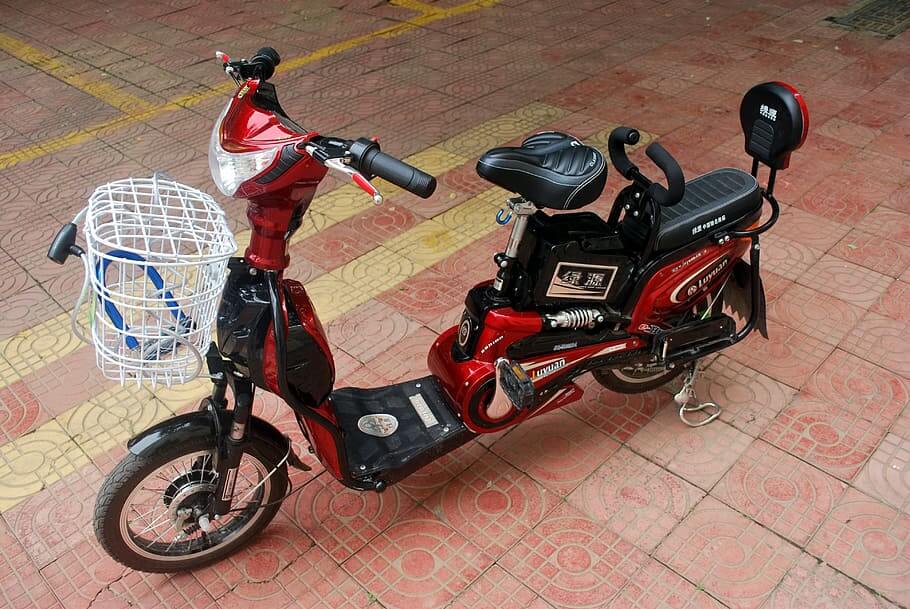 We help with all types of two-wheeled and three-wheeled motor vehicle wrecks, including sidecar, Vespa, Moped, and electric scooter collisions. As soon as you call one of our nearby, our attentive, listening Torrance motorcycle accident attorneys will get to work learning about your unique, interesting story and begin explaining your rights. After a terrible truck, bus, or other automobile collision, you may believe wholeheartedly that you can rely on obtaining a fair auto insurance settlement.
Are You Having Trouble With The Insurance Company Over Your Torrance Motorcycle Accident Claims?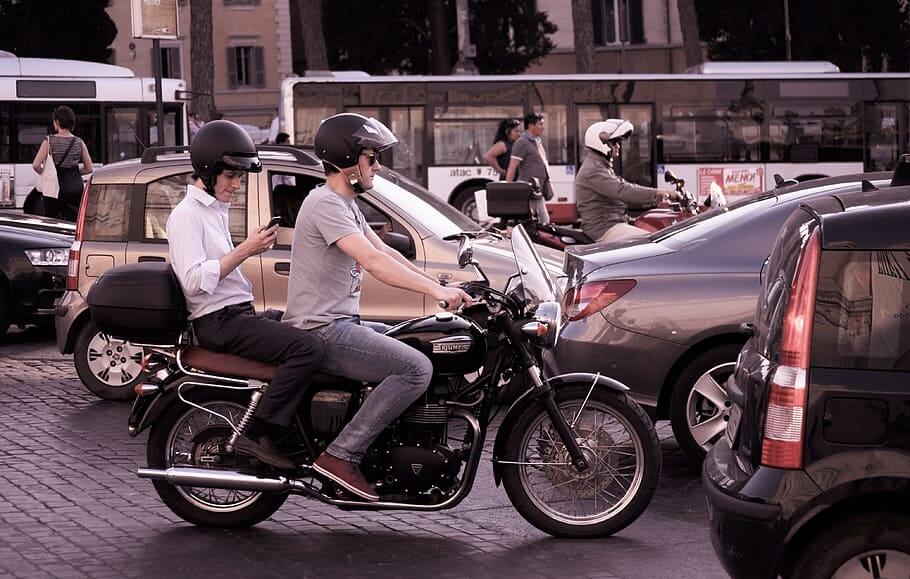 Many of us remain gullible to stupid insurance company television, radio, and other propaganda that we are in "Good Hands" with the liability insurance company. Because of this, most people in vehicle wrecks will unreasonably maintain the faith; the insurance company won't play games. Many of our newly acquired, upset clients were disheartened and in a state of shock that they were not offered fair money for their property damage and medical bills without legal counsel.
However, it's always the same.  People soon experience that adjusters are really just professional taskmasters. So there is a bit of a learning curve after discovering, much to an accident victim's chagrin, that the insurance company is not your friend for new motorcycle accident victims. As experienced riders and lawyers, our staff will be the first to tell you that you should never agree or sign your pen to the first settlement offer you receive.
The Insurance Company Is Not Your Friend!
Most large insurance companies will arrange their own interests over yours. So you can expect to encounter a dissatisfying low-ball initial settlement offer after making your first verbal demand. And without a motorcycle lawyer to gather evidence and put it in writing, expect a pittance of what you are justifiably owed as a matter of law. But as noted, by working with our experienced staff and lawyers, you have the chance to recognize the difference between a fair settlement and a crafty, patronizing, underhanded bid.
Our attentive, trustworthy lawyers will hang on every word you tell us about your case. And we put it in our confidential attorney notes comments. We use what we know and what we can legally share without client consent to help us battle the bodily injury insurance adjuster's low offer. Our tight focus is tactically negotiating a more appropriate financial recovery for the motorcyclist or the decedent's survivors. Now you have strength by your side, guiding you and handholding till you get the legal compensation you deserve.
At Ehline Law Firm Personal Injury Lawyers, we remain proud and brimming with confidence we are the best lawyers in Torrance, California. After all, we have assisted thousands of seriously injured clients, winning them well over $100 million in hard-fought settlements and favorable court rulings. We are standing by 24-7. And we are all ears, waiting patiently to discuss how we can help you procure as close to windfall like motorcycle accident compensation possible. So if you want a lawyer who treats you not like a file but more like a friend, call 1-424-999-PAIN.
Video Transcript. "Hi, I'm attorney Michael Ehline with law firm announcing the grand opening of our new location at 3961 Pacific Coast Highway in Torrance, California. We specialize in all types of car, truck, bus, and motorcycle accidents. We've been featured in Leatherneck magazine, The Daily Breeze, and Hollywood Weekly Magazine. And we have recovered millions of dollars in personal injury verdicts and settlements, and we're here to help you 24 hours a day; you can reach out to me at four two four nine nine nine pain right now for a free consultation. [Music]"
3961 CA-1
Torrance, CA 90505
(424) 999-7246
View The Clickable Local Map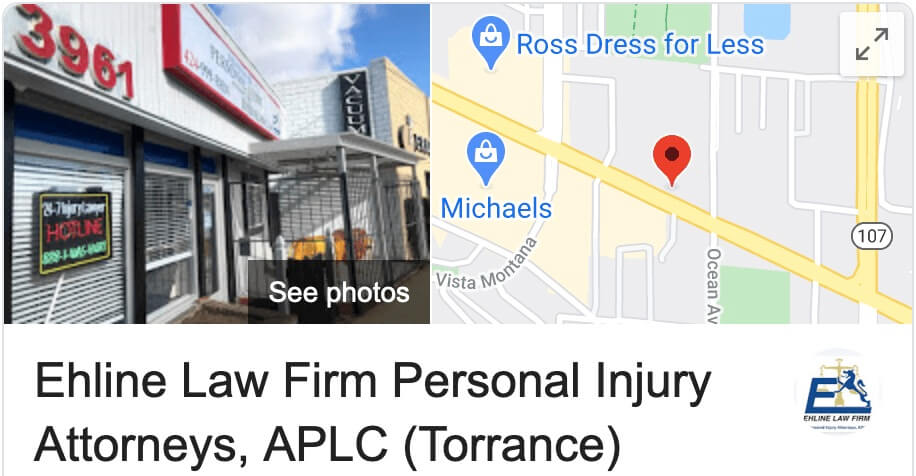 Our winning results for Torrance customers speak for themselves. Media and attorney rating sites agree Ehline Law Firm is a cut above according to Newsweek Magazine, Los Angeles Times, Personal Injury Warriors International, Leatherneck Magazine, and more. Below we will learn more about Torrance, negligence law, and how our attorneys get down to business in the Torrance locale.
Convenient Torrance Location Near You!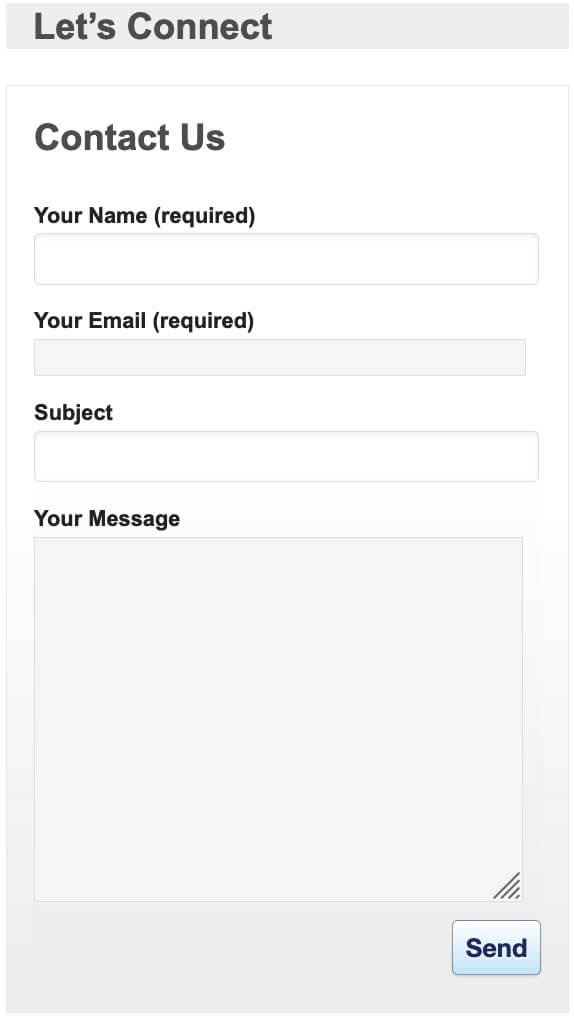 ---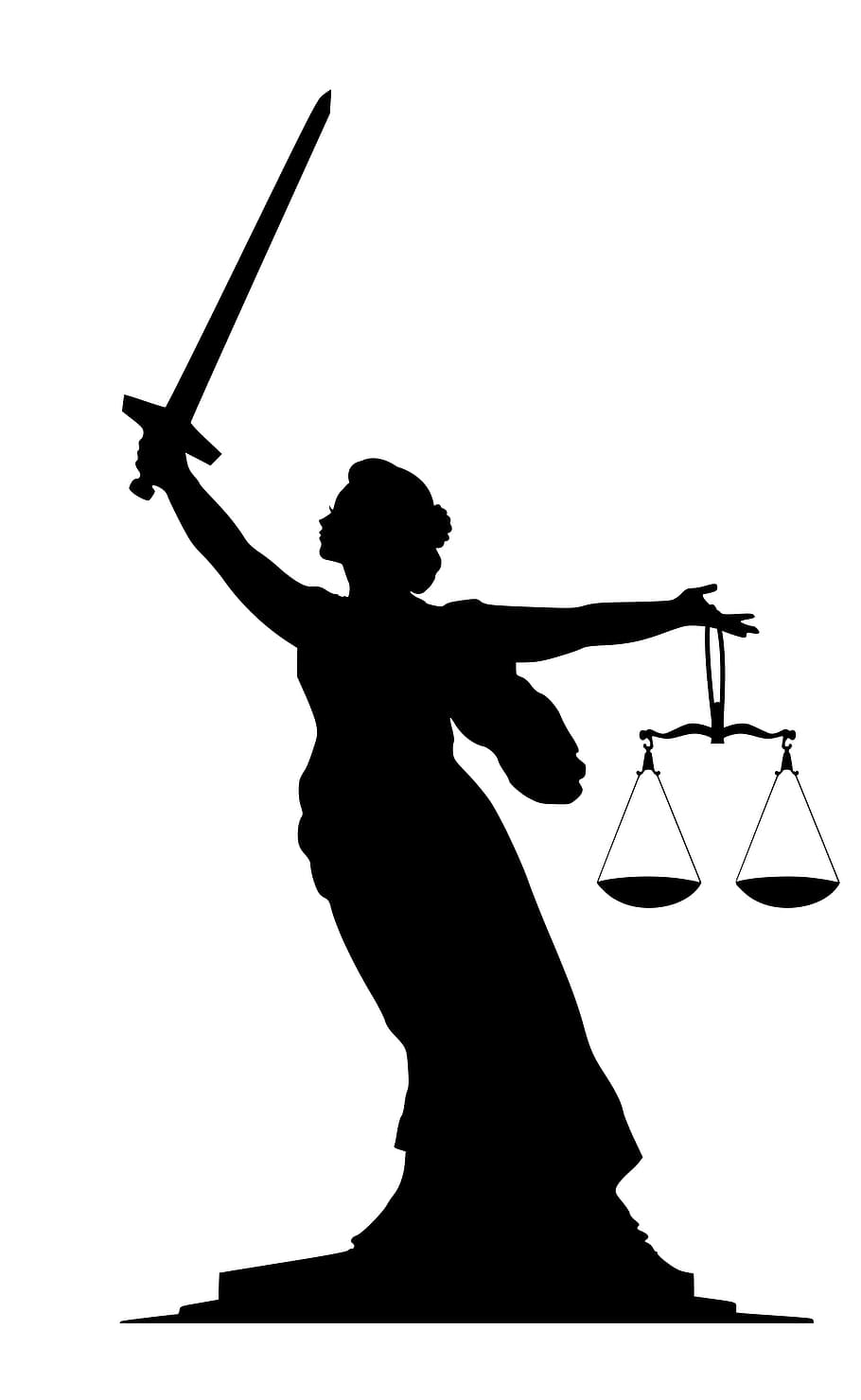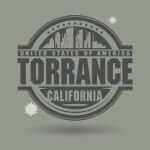 Torrance, California accident lawyers are standing by to assist you.
Our Torrance Motorcycle Accident Attorneys Handle All Types of Crashes!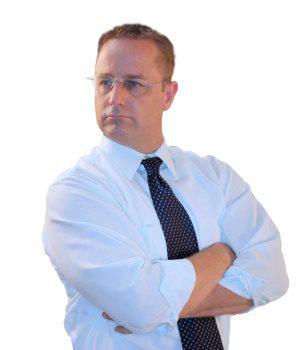 No matter what kind of motorcycle collision you or your loved one became entangled in, we are here to further your monetary interests.

We regularly handle insurance claims involving:
Poorly Maintained Road Motorcycle Accidents (potholes, sinkholes, cracks, etc.)
Road Hazard Motorcycle Wrecks.
Blind Spot Motorcycle Collisions.
Were you in a crash like what you see above? If so, dial (424) 999-PAIN for a motorcycle attorney near your location.
Let Us Help You Discover The True Cause Of Your Motorcycle Wreck.
---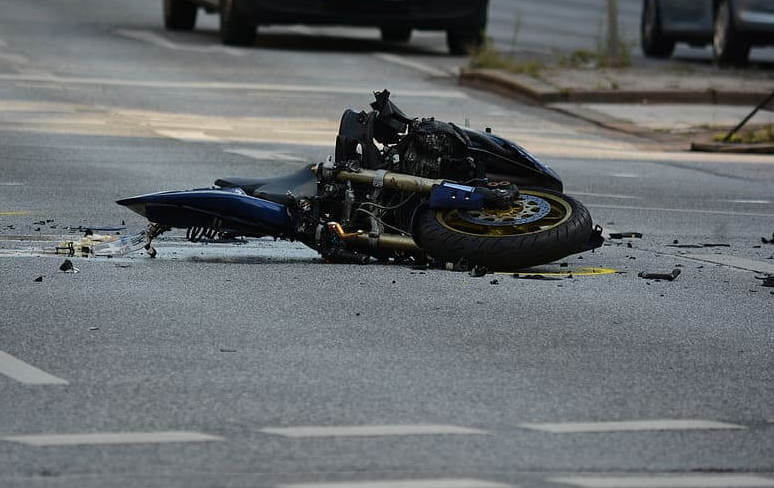 After being hurt or losing a close family member or other loved one in a road mishap, the cops, insurers, and the survivors all need to know what happened from a legal liability perspective. Sure, you say it's not your fault, and that makes you the "plaintiff." But the driver that ran into your motorcycle has their side of the story. That person says it is your fault. And they admitted at the accident scene and even apologized for being distracted by a billboard, their smart device, or some dash console knob or dial. So after speaking to his lawyer and his insurer, all of a sudden, the other guy says you are the "defendant."
So prove it. Who's responsible? Who is on the hook to pay? Is your insurer on the risk, or is it the other side? How do you prove it was the other guy's blunder when you open your mouth every time you open your mouth, you answer loaded questions designed to hurt your chances of establishing a plaintiff's burden.
Don't Make Yourself A Civil Defendant In Your Torrance Motorcycle Accident Compensation Claim.
Don't volunteer to become a defendant in your own civil case. More than anything, now is time to remain silent and let your lawyer take your motorcycle insurance claim's reigns. Right away, a top-rated Torrance motorcycle accident lawyer will call the adjuster and fax over a letter of representation, disallowing the other side from further contacting you via their representatives.
After that, our team gets started gathering evidence so we can prove if another driver was negligent. Next, we look at whether anyone in control of that driver or another party is on the hook to pay up. You need to know how each player's role led to your loved one's terrible injuries or death. Expensive expert witnesses like accident reconstruction and biomechanical engineers are often essential to proving causes and mechanisms of injury. This all costs money, money that we can advance in your case when warranted.
Evidence Gathering Is Crucial To Winning A Motorcycle Insurance Lawsuit.
As noted, to build a strong motorcycle accident insurance compensation claim, you must gather and preserve evidence about what went wrong and who is responsible, and whether they even have insurance to cover your losses. The goal is to avoid a lawsuit, so you can take the case away from a disgruntled jury and rushed judge. If the other side has produced no financial responsibility evidence, you need to look at your own insurance statement or policy. Grab it and send it over to one of our personal injury protection specialists.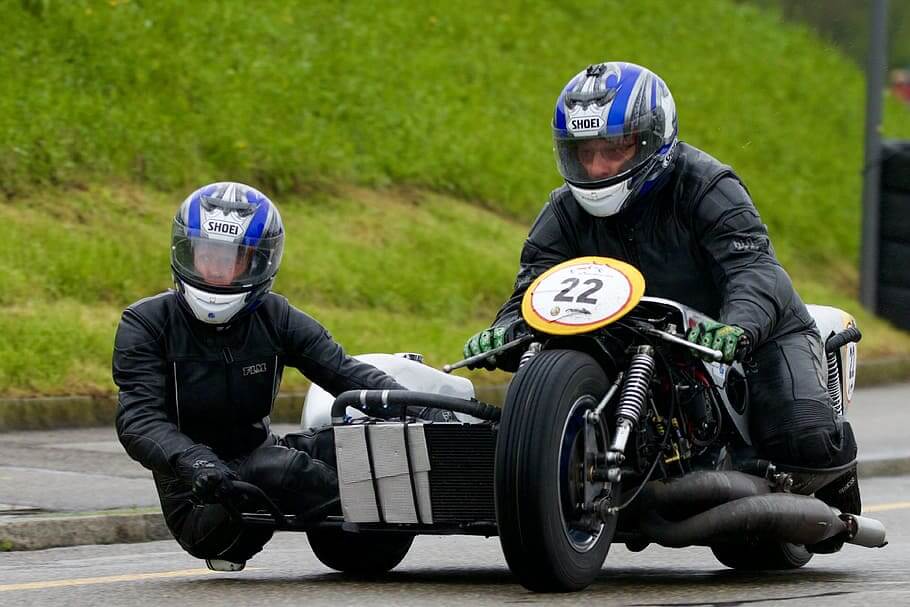 Right away, we will check to see whether you have Uninsured or Underinsured insurance protection for your bodily injuries. And you need to check on who is a named excluded rider and whether there is comprehensive or collision insurance coverage to get your bike repaired or replaced. But this takes a lawyer to read everything and explain the next logical steps to take. Our Torrance motorcycle accident law firm will have its team thoroughly investigate the wreck.
We will interview witnesses, review the CHP accident investigation report or other traffic collision analysis. And this is just a little bit of what we do to place your insurance claim in the pole position for a huge payout. Let's get to work and determine what happened and why. Accordingly, once you reach out to our lawyers and hire us, we will get started working on everything right away. Moreover, with years of experience and many vital victories, we understand how important being nimble and quick can be in a serious bodily injury accident claim such as yours.
Other examples of what we do are gather images of the accident scene and photos of the vehicles and road debris and any electronic evidence or computer data. We will also seek out any unerased surveillance videos and even mail store owners and businesses a "demand for preservation of evidence letter" to keep the video evidence within the proper custody chain. After gather statements from percipient witnesses, we are still not done. We check to see if the other at-fault party who hit you was in the course and scope of their employment. And we may even check on the employee's driving and safety record to see if the employer was reckless in letting the person on the road during company time.

Through thoroughly analyzing all of the available evidence, our experts will likely come to a finding of your degree of fault, if any, and the likely probably causes and effects of the horrific motorcycle crash. Typically the unprotected, or less protected rider was struck due to a combination of other people's negligence or road rage, for example,
What Are The Most Common Causes Of Motorcycle Accident Negligence In Torrance?
We may find that your Torrance motorcycle collision was caused in whole or in part by a common form of negligence like:
Like blown retreads or regrooved tires from big rig trucks, flying or falling objects violates federal law. (See Title 49 Transportation of U.S. Code Section 569.7).
Opened car doors blocking the oncoming motorcyclist, ejecting the rider into traffic, subjecting him or her to death or severe further injury.
Dangerous and defective road conditions from bad weather, road repair work, failure to warn of impending disasters.
Excessive speed by riders or other motorists usually resulting in a T-bone, rear-end collision, or sideswipe.
Illegal, unsafe U-Turns such as at intersections in commercial zones, especially by large delivery trucks.
Blind curves with missing warning signs or obstructed from the rider's notice.
Marijuana, opiate, alcohol, or some other narcotic impairment.
Inattentive left-hand turns at dangerous intersections.
Drowsy or drivers asleep at the wheel.
Unsafe or improper lane changes.
Distracted or inattentive drivers.
What Are Some Common Motorcycle Accident Injuries Handled By Our Local Torrance Motorcycle Lawyers?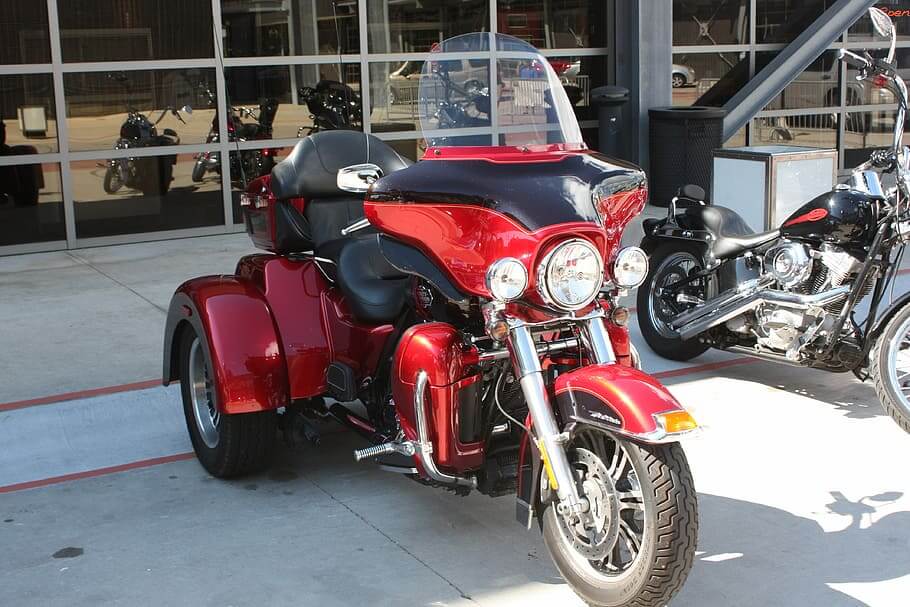 Our motorcycle accident lawyers in Torrance have legally represented seriously harmed individuals suffering from:
Spinal cord injuries like disc burst fractures slipped and bulging discs, where even a sneeze can lead to total or partial paralysis, including loss of bowel controls and incontinence. (quadriplegia, aka tetraplegia/paraplegia).
Post-traumatic stress syndrome or another psychological disorder due to the victim's near-death or deadly experiences tied to the mishap.
Scars and disfigurement from motorcycle accidents of your face, nose, ears, or other body part that make you look gruesome and ugly.
Permanent or partial disability, or worsening or a previously declared impairment.
Traumatic brain injuries and mild traumatic brain injuries, including CTE, claims.
Amputation and dismemberment of arms, fingers, hands, and legs.
Crushed and smashed body parts, limbs, and extremities.
Back injuries such as common sprains and aches.
Neck injuries, such as soft tissue cervical lordosis.
Broken pelvis, ankle, wrists, fingers, hands.
Dislocated elbows, knees, and other joints.
Road rash and friction burns.
IMPORTANT: Keep in mind that you may have been on the clock or working during the events leading up to your crash. Because of this, you may also have a worker's compensation or other employment law claim after being discriminated against due to the accident and your debilitating injuries.
How Much Compensation Can I Get For My Torrance Motorcycle Accident Injuries?
How much money you can get for your serious motorcycle crash in Torrance depends upon many factors. True, when you have become terribly injured in a Torrance area motorcycle collision because of another person's negligence or carelessness, you have certain compensation rights. But you must act swiftly to build your case and not waive the statute of limitations in your personal injury case. If you fail to take proper measures, your rights to pursue compensation become lessened and eventually expire. Insurance adjusters count on you not knowing this while they watch the clock tick away from your rights to earned money.
How much compensation can you get directly related to your injury lawyer's big firm results and small firm service? After all, most motorcycle collision insurance claims are resolved with an insurance settlement check. At Ehline Law Firm Personal Injury Attorneys, APLC, we will handle the entire insurance claim process for you and keep you informed along the way. Moreover, we make efforts to communicate with the insurer in a friendly yet firm manner.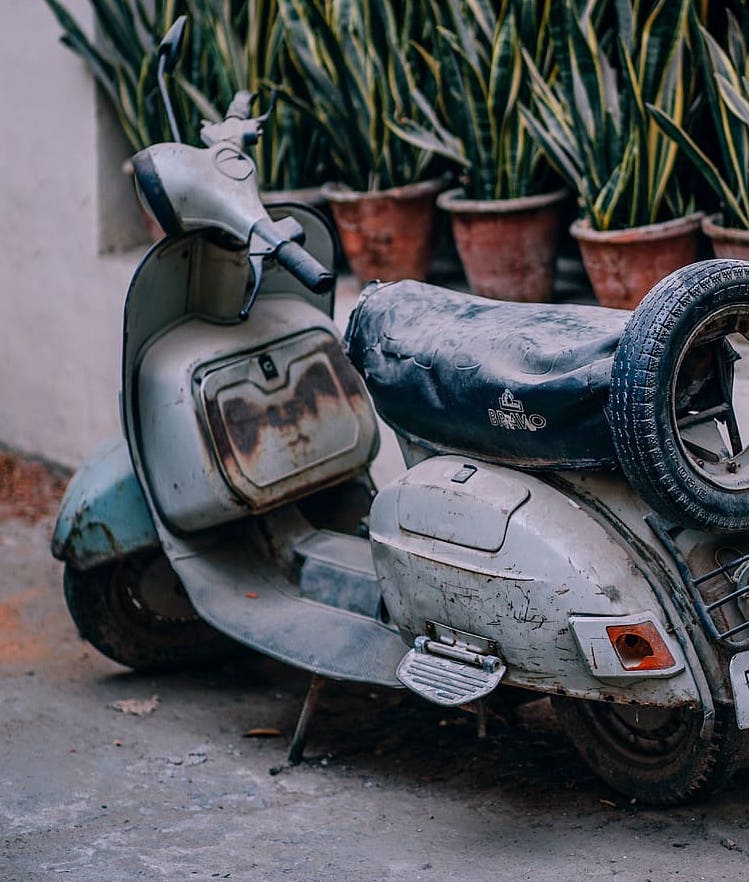 We will not be obsequious. Instead, we will approach your matter from a position of strength and virtue. It's your money; now we have to gather the necessary evidence to prove the amounts due and owing. Most of all, it is important that you treat with a doctor and that that he or she documents all of the motorcycle accident complaints, diagnosis, prognosis, pain, prescriptions, and bills. We will gather all of these medical records and negotiate a settlement that reflects justice and fairness on your behalf. But alas, sometimes we may need to go to court finally. But no need to worry there. Our proven trial attorneys may recommend filing a personal injury lawsuit and immediately taking depositions of eye-witnesses.
Sometimes, we can force an even bigger settlement once the defense lawyers see that the adjuster had been unreasonable in failing to pay the policy demand instead of letting it expire. Either way, filing the lawsuit enables our highly trained, top-notch lawyers to gain additional information to impress the judge, arbitrator, or mediator at the court-ordered mandatory settlement conference.
What Are Some Other Examples Of Compensation Reimbursement Our Local Attorneys Seek From The Defendants?
Examples of special and general damages compensation that we seek to include.
Permanent disability further economic losses for nursing care and specialized transportation and residential modifications.
Emotional distress and even counseling reimbursement general damages such as for facial disfigurement.
Reduced past, present, and future earnings potential economic damages.
Loss of a happy, productive life economic and general damages.
Mental and physical pain and suffering general damages.
Lost contracts, work, and wages economic losses.
Medical bills and ambulance economic expenses.
Does Ehline Law Firm Personal Injury Attorneys, APLC (Torrance) Help Families With Fatal Motorcycle Accidents?
Yes, we most certainly do. As Torrance wrongful death attorneys, we well know what you are suffering. And we do our best to place ourselves in your shoes as you heal from the tragic loss of your spouse, parent, or child who was killed in a tragic motorcycle crash near CA-107, for example.  Most of all, you must protect your rights to money damages by calling our expert lawyer in Torrance as soon as you possibly can. Yes, we understand the devastation you are suffering. But you cannot sleep on your rights in a depressed stupor. Now more than ever, you need a warrior by your side to let you grieve.
Our terrific staff has worked with families all across Los Angeles County and other cities assisting families of novice veteran riders who lost their lives due to negligent motorists. Let our compassionate, caring civil law attorneys thoroughly investigate the crash scene and documentary evidence. After your free legal consultation, at no risk to you, we will give you our opinion on whether it would be appropriate for us to represent you in your potential California wrongful death lawsuit.
We Help Traffic Cops In Torrance Too!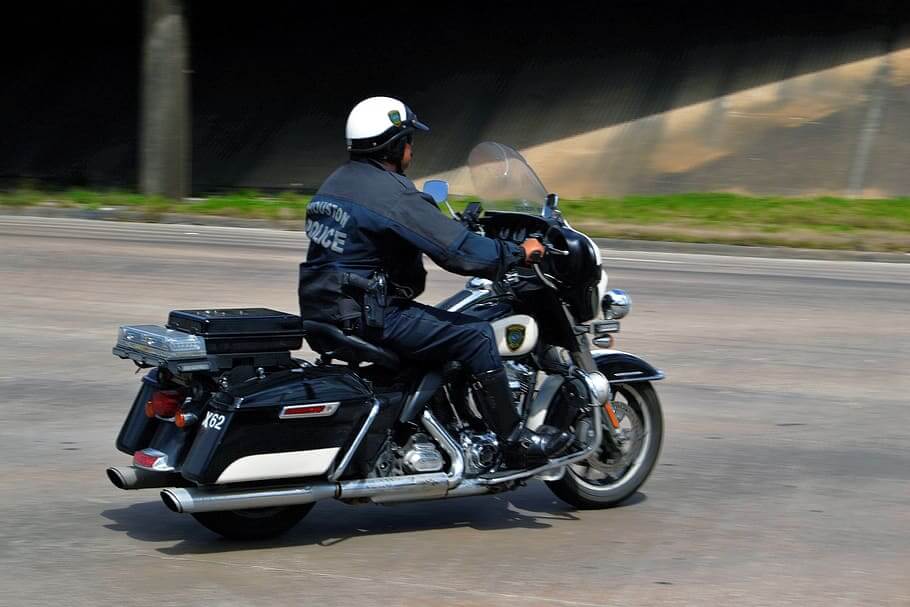 Were you a Torrance motorcycle cop and injured in the line of duty. We help police officers with work comp, disability, and other claims besides motorcycle accidents. Ehline Law backs the blue in Torrance. Give us a call and let an inactive U.S. Marine kindred spirit help you with your first responder motorcycle accident.
Call 1-424-999-PAIN Today And Tell Torrance Motorcycle Accident Attorneys Nearby About Your Potential Claims.
If you were severely injured in a Torrance motorcycle crash or lost a loved one here, Ehline Law's accident attorneys are here to help assist you with the arduous process of getting top dollar for a motorcycle crash insurance claim. Contact our zealous advocates as soon as you are able. Afterward, we will schedule your free telephonic consultation and see where the story leads us.
Moreover, if you cannot drive to our Torrance offices, we can meet with you at your home, hospital, or other places convenient to you and your busy schedule. Let us help ease your burden and fight hard for your just compensation. Call a personal injury protection specialist now at (424) 999-7246.
Citations:
Ehline Law Blog – Safe riding tips.
Ehline Law Torrance – What Are Deadliest Intersections in Torrance for Motorcycle Riders?