If we don't win, you don't pay.
Speak to the Attorney.
Born to serve.
633 W 5th Street #2890
Los Angeles, CA 90071
(213) 596-9642.
2323 S. Voss Rd, Suite 244
Houston, TX 77057
(832) 592-1260.
Date Modified: March 22, 2023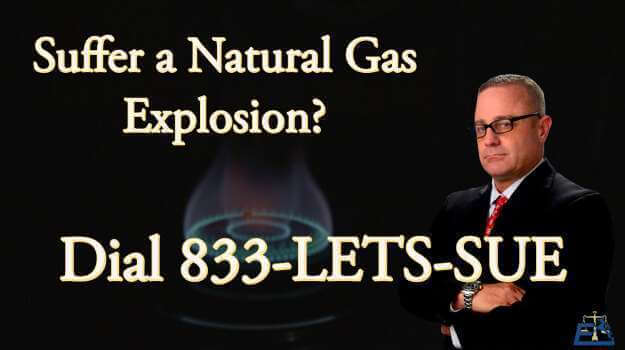 Despite California regulations designed to make gas companies and property owners prevent harm from natural gas explosion incidents, and gas leaks, they still happen. This detailed information from our award-winning team of premier natural gas explosion injury attorneys will dis-spell some of the myths and realities surrounding gas pipelines, gas companies, natural gas explosions, and gas tank detonations.
Corroded or ruptured gas lines or underground gas leaks are the primary cause of natural gas explosions, associated gas explosion injuries, and severe burns. The tragedy is that trained individuals can prevent natural gas leaks and gas explosions with proper annual maintenance. If not, the explosion, flash, and severe burn injuries may land you in the emergency room for treatment for your natural gas explosion injuries.
With natural gas explosion injuries, recovering compensation for a natural gas leak from a power or gas company like Pacific Gas and Electric is no walk in the park either. You may have to sue multiple parties to recover compensation. What if a tractor driver ruptured gas lines while digging on a construction site? In that case, the contractor and others face liability for any pressurized materials that erupt from a gas leak and the resultant personal injury claim.
Poorly maintained gas lines could cause leaks to occur in homes, commercial spaces, offices, businesses, and industries. If un-monitored or left unmaintained, these poorly working lines can cause explosions without giving nearby residents any time to react, reach safety, or affect a proper evacuation.
The consequences and hazards presented can result in a minor infection to a fatality as wood, metal, and other commonplace shrapnel and parts fly through the air with great speed and force, making it impossible to escape hundreds of tiny cuts and abrasions from a problematic, multiple impact gas explosion injuries.
We'll Make The Insurance Company Pay
The Southern California insurance company will usually refuse to pay for the explosion accident. Failing to pay the full extent of medical attention, including head injuries and concussions from gas explosion accidents, are routine for deplorable insurance companies. Whether it's workplace explosion injuries or injuries caused by the negligent gas company, we can make them pay.
So recovering damages, including financial damages and non-economic damages like pain and suffering from disfigurement wounds, isn't something most people can do without critical help from a swift and caring lawyer. Victims need answers about gas explosions from lawyers who serve their best interests with the insurance company and court.
Make that confidential call to our top-notch legal team right now. We can immediately review your case and swiftly answer your questions about the cause of gas line explosions, gas leaks, or any other natural gas explosions.
Resource for Liquid or Natural Gas Explosion Injury Victims
It's not just a Los Angeles gas explosion risk you need to worry about. No matter how leak-proof you think leaky valves or a pipe are, recent statistics suggest that the United States sees more than 280 gas explosions annually. The typical blast from most gas explosions is estimated to cost more than $50,000 in damages. Around 15 citizens die annually from flammable gas distribution gas line explosions caused by gas stoves or fires suffered from another ignition source.
If you've gotten hurt or burned from a gas explosion or lost a loved one, contact Ehline Law and our gas explosion lawyers in Los Angeles today. These extremely dangerous explosion injuries often require extensive medical care and rehabilitation. You will have medical bills, lost wages, and out-of-pocket medical costs. So you will need a tough, compassionate, and sophisticated lawyer to help you fight gas companies to recover compensation for you and your family.
You deserve this for these complex injuries, including any organ failure from even moderate burns. This is why we offer a free consultation. Just click our contact form, and we will go over your legal options with the proper legal advice to get the injured party full compensation for their multiple reconstructive surgeries, permanent scarring, nursing care, and lost wages.
We Won't Hesitate
We never back down. Our business is holding employees, companies, and government entities liable for negligence. Did someone you love get killed in a gas explosion accident or suffer serious injuries? Were you forced to relocate after painful flames engulfed your home or business? We've helped thousands of people just like you. Why not create an attorney-client relationship with our best Los Angeles, California, personal injury attorney? Schedule an appointment today, and we'll explain how to maximize the results you seek.
Types of Burn Explosion Cases We Take
Here are some of the burn explosion cases our lawyers help clients with:
Above-ground gas main explosions/leaks during construction projects
Propane blasts
Fireworks
Battery explosions
Mining explosions
And more costly equipment malfunctions and circumstances.
What Are Some Examples Of Negligently Caused Gas Explosions?
Gas explosions are often due to someone else's negligence and are preventable if one exercises proper care.
Here are a few examples of negligently caused gas explosions:
Company workers install gas pipelines incorrectly, leading to natural gas leaks and eventually an explosion
A gas canister left in an exposed area is vulnerable to heat and fire which can lead to explosions
Short-circuit wires cause a fire, which can affect the entire electrical system
Chef leaves gas can near the stove while cooking, causing an explosion in the kitchen
Four Famous Los Angeles Gas Explosion News Stories
Greater LA is no stranger to gas explosions. Below, our veteran attorneys discuss four recent news examples of gas explosion accidents in L.A. and their aftermaths, including any court cases we found.
Valley Glen
On April 12th, a gas explosion ripped through the Los Angeles neighborhood, leaving two adults severely injured and many traumatized. Nearby residents reported minor shockwave injuries.
"I was just sitting there watching T.V., my wife was outside on the patio, and it all happened so fast" – ABC7News
The house's rooftop blew off, and the smell of gas was overwhelming for even those traveling nearby, pointing to the fact that a gas leak resulted in such an explosion.
South LA Neighborhood
On June 30th, the LAPD conducted a raid to seize illegal fireworks and, as a result, had to contain a bomb they found in an iron chamber to minimize damages. Hence, the LAPD brought the iron chamber to the south L.A. neighborhood, where it exploded into a massive explosion sending shockwaves.
The LAPB bomb squad set off, resulting in injuries to 17 residents and damages to businesses and homes in the area. In a bid to provide relief, the LAPD took it upon themselves to compensate residents.
"A $1 million emergency fund has already been established to help residents of a South LA neighborhood" – CBS Local
The emergency fund was not enough to cover all the damages, and the residents motioned the LAPD to add $5 million more to the fund.
Downtown LA
In June 2021, Los Angeles saw multiple explosions in a century-old commercial building downtown L.A. that spread to a nearby homeless shelter leading to more than 150 firefighters spending hours subduing the fire and settling things down.
Fortunately, no one was in the building, resulting in zero casualties or injuries. However, five businesses in the building got affected by the explosions. A small smoking shop with small gas tanks in inventory blew up due to the spread of the fire resulting in multiple explosions after the first initial blast.
"There was no word on the cause of the fire. Crews were expected to remain on scene throughout the day" – CBS Local
Firefighters and rescue staff stayed on the perimeter of the building due to fear of the old building collapsing and affecting the nearby retirement home.
Signal Hill
A two-story house in November 2020 faced an explosion after the family called the Long Beach Gas Company reporting a gas smell in and around the house. However, when the company sent workers to inspect the smell, they said nothing, stating everything was fine.
The explosion damaged considerable property and sent two family members to the hospital for minor wound treatment. Luckily, there were no clients since the homeowner was a personal trainer teaching his clients out of his garage.
"A spokesperson for the Long Beach Gas Company declined to comment" – CBS Local
Investigations into the cause of the explosion are still underway.
Who Can I Sue For My Severe Burns?
There are a lot of factors involved in an explosion, and the parties liable for the explosion get exposed after a proper investigation.
For example, a gas explosion from propane tanks could hold the landlord, the manufacturer of the tank, or the right company liable. In the case of a gas explosion, parties responsible for it could be the heating company, gas company, landlord, government, a third-party company, and more.
Here are some parties that got sued by the citizens in Los Angeles for different types of explosions:
Government
Gas Companies
Negligent companies (third-party)
Landlord
Manufacturer
And more
Having a gas explosion lawyer can help determine the cause of the accident, the negligent party, and the dollar value of the damages as a result of the explosion. A single party may be involved, or even multiple responsible parties, and a lawyer can help you hold them accountable for your loss.
Gas Leaks and Explosions Cause Serious Direct and Indirect Injuries
Depending on the severity of the explosion and the distance, the injuries sustained may vary from one victim to another. The three types of blast injuries, depending on the explosion, are primary, secondary, tertiary, and quaternary injuries.
The further you remain from the blast area, the fewer chances of sustaining life-threatening injuries.
Below are some commonly caused injuries from explosions in Los Angeles.
Moderate burn injuries
Asthma
Broken bones
And more
What Are Some Examples of Injuries Sustained Outside The Blast Area?
Let's look at some examples of injuries sustained outside the blast area.
Crush injuries
Burns
Breathing problems or lung injuries
And more.
Besides the physical injury, emotional trauma is a common gas explosion injury that everyone goes through when witnessing an explosion nearby.
What Are Some Examples of Inner Blast Radius Area Injuries?
Injuries sustained increase as the victims found near the blast radius show signs of massive damage or, in the worse case, end up dead.
Here are some examples of injuries sustained in the inner blast radius:
Severe burns or burned skin and dead tissue
Blunt injuries
Eye penetration
Globe rupture
Blast lung
Abdominal hemorrhage
And more.
What Types Of Expenses Do Explosions Cause?
Depending on the severity of the explosion and where it happens, there are many different types of expenses one can incur, and some of them are:
Medical expenses and hospital costs
Repair or replacements of house, car, and other assets
Future medical bills
Legal expenses
Funeral or burial expenses
And different types of costs depending on the case.
How Much Compensation Will I Receive For My Gas Explosion Injuries?
The total value of your compensation depends on many factors, including the damages done, witness credibility, insurance coverage, the experience of the gas explosion lawyer you have hired to pursue legal action, and other factors. We at Ehline Law have retrieved settlements for our clients from thousands of dollars all the way into the millions.
In addition, depending on the injuries sustained, we can file a personal injury claim for medical expenses, loss of life, lost income, punitive damages, emotional trauma, physical pain and suffering, property damage, and many others.
How Do Our Superior Trial Lawyers Help You?
Sixty-four million American households rely on this gas to heat their homes and cook food, among many other things. However, very few understand the catastrophic injuries when gas explosions happen.
Our experienced personal injury attorneys at Ehline Law firm can help gas explosion injury victims with the following:
Deal with insurers: We can deal with insurance companies directly and file claims
Locate lien doctors: Our lawyers will help you get the best medical treatment to avoid any medical practices during recovery
Medical experts for claim evaluations: We have a board of expert medical advisors who help determine the value of claims and provide the proper evidence to back it
Conduct investigations: Find out who the negligent parties are to pursue legal action and hold them responsible
Collect evidence: Reach to the site of the accident to collect evidence, photos, videos, and witness testimonies
Compliances: Ensure that all the legal paperwork and proceedings are complete on your behalf to expedite the claims process
Retrieve maximum compensation: Protect your rights and get you the compensation you deserve.
Receive A Free Consultation From A Natural Gas Explosion Injury Attorney in Los Angeles
Our lawyers maintain a tremendous attorney-client relationship resulting in more than 3,000 satisfied clients. We understand the pain and shock victims are in after witnessing an explosion, so if you've gotten injured or burned, contact us, and our attorneys will ensure that you get the best possible legal representation to hold negligent parties responsible!
We have law offices across California providing legal services to areas like Los Angeles County, Orange County, and nearby cities. We offer people free legal advice right over the phone. We can also help burned or disfigured employees when workplace explosion accidents occur. Phone us at (213) 596-9642 or fill in our website contact form for a free initial consultation with our Los Angeles gas explosion lawyers.
Citations:
Michael Ehline is an inactive U.S. Marine and world-famous legal historian. Michael helped draft the Cruise Ship Safety Act and has won some of U.S. history's largest motorcycle accident settlements. Together with his legal team, Michael and the Ehline Law Firm collect damages on behalf of clients.
We pride ourselves on being available to answer your most pressing and difficult questions 24/7. We are proud sponsors of the Paul Ehline Memorial Motorcycle Ride and a Service Disabled Veteran Operated Business. (SDVOB.) We are ready to fight.