If we don't win, you don't pay.
Speak to the Attorney.
Born to serve.
633 W 5th Street #2890
Los Angeles, CA 90071
(213) 596-9642.
2323 S. Voss Rd, Suite 244
Houston, TX 77057
(832) 592-1260.
Date Modified: March 21, 2023
Did your car engine or gas tank catch fire after a crash? I am Los Angeles Burn Injury attorney Michael Ehline of Ehline Law Firm Personal Injury Attorneys, APLC.
Expert Burn and Explosion Law Firm
I am an expert in helping vehicle fire victims like an electric or gas-powered vehicle passenger in a car set ablaze. We can help their families regain their lives after a bad Los Angeles car fire accident resulting in flames, burns, serious injuries, or wrongful death. Our goal is a recovery of financial damages to cover your lost wages, medical expenses, pain and suffering, and maybe even punitive damages to punish all liable parties responsible for causing your devastating situation.
Below, my Los Angeles car accident attorneys and I are going to explain everything our clients and car fire victims need to know about receiving maximum compensation for a vehicle fire-related accident claim. Civilians and Los Angeles County firefighters in vehicle fires are always in danger of suffering burn injuries. But they become subjected to toxic smoke inhalation as well. And no matter how good your Los Angeles car accident lawyer is, they can't remove toxins or a gruesome burn injury disfigurement from your body.
What they can do is file a Los Angeles insurance claim. If settlement negotiations fall through, they can sue the liable parties on your behalf in Los Angeles Superior Court for an award of financial damages to help make you whole again in the eyes of the law. And smoke and fire from motor vehicles contain harmful gasses and poisonous vapors. Many of these toxins are from manufacturing materials, and much of this concoction is cancerous and worse.
In turn, these compounds combine with fuel in cars, trucks, and motorcycles to become a pyre of deadly flames and smoke. The toxic vapor found in motor vehicle fires also contains carbon monoxide. And this is a dangerous, colorless, and odorless gas. A newcomer to vehicle burns is the electric vehicle fire discussed here.
Vehicle Fire Statistics:
Statistics for motor vehicle burn injuries and fatalities include:
Motor vehicle fires kill approximately 600 people every year.
One out of eight deaths caused by fires is due to a motor vehicle fire.
In the United States, one out of five fires is a motor vehicle fire.
Every year approximately 1,200 firefighters get injured responding to a motor vehicle fire.
Fatalities From Vehicular Fire Accidents
Fatal and severe burn injuries can occur due to a motor vehicle fire. Fire involving a motor vehicle can reach temperatures of up to 1,500 degrees. Also, it can generate flames that reach as far as ten feet from the car. The car, such as the bumpers, engine parts, drive shaft parts, doors, and axles, can get propelled away and even ignite a gas tanker.
Dangerous Projectiles Causing Burn Injuries
So as they shoot away from the motor vehicle, they can become deadly shrapnel that is piping hot. Because of the temperatures the fire burns, it can shoot out super-heated, molten missiles. Hence, this makes car fires extremely dangerous. Also, there are flammable liquids. And the gas tank can explode during a motor vehicle fire. So along with battery acid, that can be dangerous even when the vehicle is not on fire. Plus, there are instances where the vehicle's gas tank explodes. When then happens, it causes the motor vehicle to catch fire. Firefighters responding to car fires wear full protective gear.
They can still inhale lousy air in addition to their ordinary car accident claims like whiplash. Our top-rated car fire accident attorney in Los Angeles offers a free consultation to discover the causes and effects of your car fire case. This way, car accident victims like you can understand your legal rights and obstacles to proving liability for physical injuries and property damage. Car accident attorneys with a proven track record for winning millions in Los Angeles are ready to help you anytime, 24/7.
Dangerously High Temperatures And Burning Cars
The temperature of 1,500 degrees is much higher than boiling water. And it burns at 212 degrees. So that can cause severe burn injuries. So this means it takes unique materials to extinguish motor vehicle fires. And firefighters will wear their full gear, including special breathing equipment. Approximately three vehicles per every one thousand wrecks catch fire in a motor vehicle fire incident. Often the victims suffer car collision-related injuries. These can include whiplash or banging their heads against the vehicle window. But it can also result in fatal or debilitating burn injuries. Often, toxic smoke inhalation is in store for the victim. During a collision, the vehicle's gas tank can become compromised or ruptured. But this is just one of the many causes of motor vehicle fires.
Safer Fuel Systems Mean Fewer Fires
Manufacturers have access to safer fuel systems. And often choose not to use them in manufacturing due to cost-effectiveness. Usually, this results in thousands of drivers, passengers, and firefighters suffering fatal or debilitating burns. All this is avoidable. And this is because it is the product of manufacturers' fuel systems. Quite simply, this is hazardous during a collision. Furthermore, they have the technology. But they won't install it.
Get Legal Help for a Vehicle Fire Injury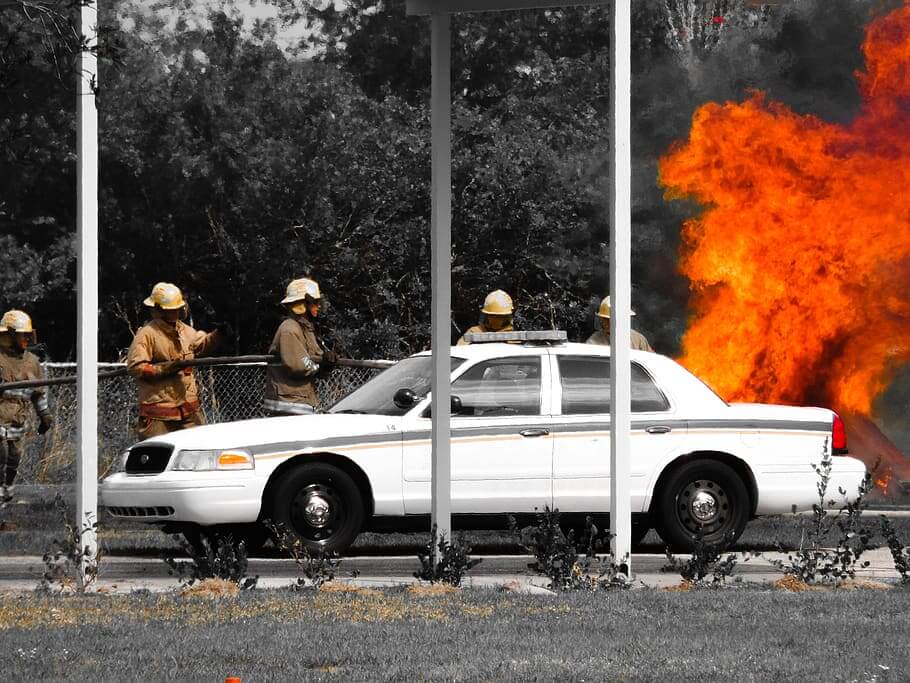 If a motor vehicle fire has caused you or a loved one to suffer severe burn injuries, you will need help. Especially actual is when this accident resulted in the death of a loved one. Hence, it is crucial to speak with an experienced burn injury lawyer. Ehline Law Firm's attorneys can evaluate your accident. Also, they can investigate the death of a loved one. Furthermore, they can explain your legal rights and your legal options after a Los Angeles car fire with serious injuries.
Holding Defendants Liable
Another individual or manufacturer's careless or reckless actions can result in negligence. Then they can become responsible. The burn injury lawyers at Ehline Law Firm protect victims' rights. Part of this protection includes demanding compensation for rights violated by the clients of insurance companies, called the "insured" or "policyholder."
And the compensation recovered can include losses. These losses include medical costs, future medical expenses, and lost wages. Furthermore, it should include an award for future lost earnings and other damages. Our Southern California car accident lawyers are ready to deal with the insurance company and anyone else to make this happen for you!
Recover Damages By Hiring Top-Rated Motor Vehicle Fire Accident Burn Injury Lawyers in Los Angeles, CA
The family that has lost a loved one could recover additional damages after a Los Angeles, CA, car fire happens. These could include the decedent's medical costs and funeral costs. But it can also encompass lost future earnings and loss of companionship. Most of all, don't put off contacting Ehline Law Firm. Call us today to discuss your case with a superb, compassionate car accident lawyer near you toll-free (213) 596-9642. Our top personal injury attorney at our firm will take care of you and hold your hand till we win big and help you get the money you need to get back on your feet.
California injury law firm with locations in Northern, Southern, and Central California.
Michael Ehline is an inactive U.S. Marine and world-famous legal historian. Michael helped draft the Cruise Ship Safety Act and has won some of U.S. history's largest motorcycle accident settlements. Together with his legal team, Michael and the Ehline Law Firm collect damages on behalf of clients.
We pride ourselves on being available to answer your most pressing and difficult questions 24/7. We are proud sponsors of the Paul Ehline Memorial Motorcycle Ride and a Service Disabled Veteran Operated Business. (SDVOB.) We are ready to fight.