Delivery Vehicle Accident / Practice / Los Angeles, California Armored Truck Accident Attorneys
Los Angeles Armored Truck Accident Lawyers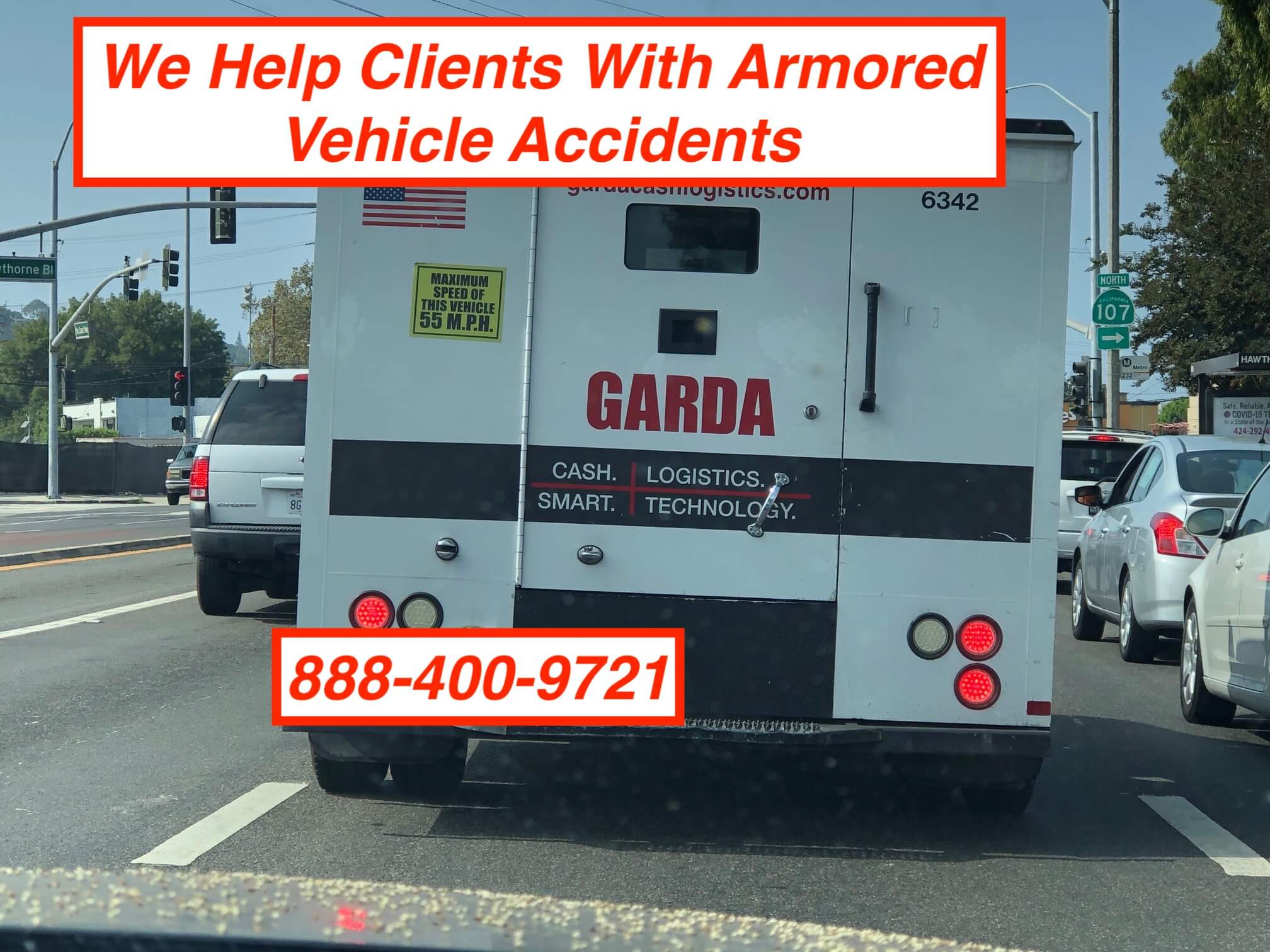 Were You Severely Injured In A Nearby Vehicle Accident Caused By An Armored Truck Company? Let Us Do Your Worrying So You Can Heal!
---
Character | Outcomes | Intensity Throughout California
Are you or a close loved one the victim of a Los Angeles truck accident involving an armored truck? When most of us think about truck accidents we don't think about Brinks or Garda armored cars and trucks, right? Most of us think about cool Hollywood movies, or ballistic, bullet proof glass when we think of civilian use armored vehicles.
But sometimes these armored trucking companies pressure their drivers to meet deadlines, or perhaps the driver is suffering from road rage. These armed security guards, who double as truck drivers, could end up crashing into another vehicle, or the vehicle itself will fail due to a manufacturing problem, leading to casualties among fellow road users.
If you are in a  severe road Los Angeles truck accident, coupled with a catastrophic injury, knowing what armored truck accident attorney to hire remains an intense, worrisome task for many folks. Many armored car accident victims ask, how will I cover my medical bills?
Who will cover my house payment, rent, lost wages and bills from missed work? How will I feed my family while I am laid up in the hospital emergency room? In other words, how much money can I get for my accident?
What's the next step for me now?
---
Contact
Reviews
Wins!
---
The gifted and talented Los Angeles personal injury attorneys at Ehline Law Firm Personal Injury Attorneys, APLC stand ready to hear you out. Our expert staff wants our customers to catch the vibe that we are reliable, intense, trustworthy, and capable of getting top results. That is why we offer 24-hour concierge service with faithfulness to our attorney oath. Our clients can rest assured that we are good listeners, dedicated, and driven to win your armored truck accident insurance claims and lawsuits if the at fault party refuses to offer a fair amount to cover your pain and suffering, lost earnings, medical expenses, and incidentals like out of pocket costs. Defendants we diligently pursue include negligent manufacturers, and even the city of Los Angeles for negligent road maintenance, not just the trucking company.
Aggressive, Local Armored Car and Truck Accident Lawyers
And we maintain local offices and attorneys nearest you to hear your problems and offer the best outcomes with intensity. Like a good friend or parent, or neighbor, we want to deliver our clients' best financial outcomes by offering them a unique, uncomplicated, simple user experience. Let our aggressive armored truck accident lawyers do the worrying for you while you heal. You can reach and right now to discover your rights and duties after a collision involving an armored vehicle.
---
Other Types of Armored Vehicle Accidents We Take?
We offer a free consultation to discuss any type of armored car or truck crash. These heavy, custom made conveyances come with a special set of problems only heavy vehicles tend to have. We tend to think of armored trucks as a means of shuffling money from bank to bank rather than an important part of our national economy.
Up Armored Vehicles Are Harder to Slow Down
Some up-armored vehicles are used for executive protection. We have all seen the "Beast" on the History Channel, right? This is the armored limousine used by the president of the United States. It is rumored it can take a Russian made RBG hit, withstand it, and escape on run flat tires. Executive protection even extends to armored vans with gun ports, like the van used by Snoop Dogg, ultimately part of a murder investigation.
Other Types of Armored Vehicles
Specialized vehicles that transport money and valuables operate under a different set of rules and concerns than regular passenger vehicles. Due to the special training that Brinks, Dunbar, Garda, Loomis, Knightshield, and other drivers should have, there are more potential issues regarding these trucks and their operations.
And it's not just third parties who get run over or killed by these herculean, heavy vehicles. As a matter of fact, the damage these huge transports are similar to big rig trucks. Armored truck drivers are placed at risk as well. And many have valuable employment and work comp claims, as discussed below.

Accidents do happen. And when dealing with a large and heavy delivery vehicle with significant blind spots, the risk to another driver or a pedestrian is significantly higher. Furthermore, the companies operating these vehicles are under a special obligation to keep their drivers and others on the road safe.
However, we have seen that there are significant issues related to the operations of these vehicles. Below we run down some facts and figures about how these vehicles work– and sometimes operate dangerously.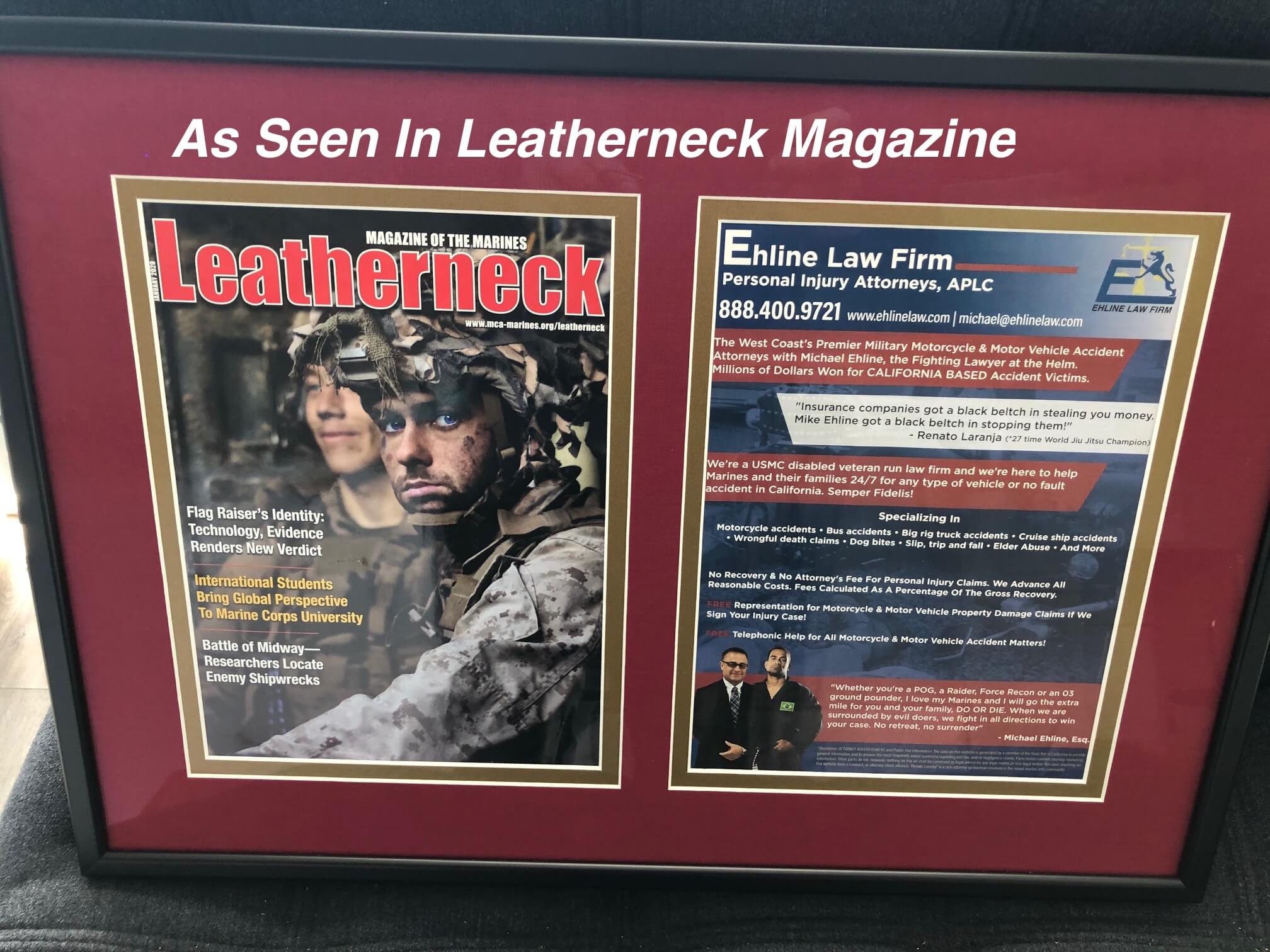 Michael Ehline is a leading vehicle accident and corporate abuse attorney based out of Los Angeles, California, with multiple locations and meeting places all across the Golden State. He and his team operate up and down the Pacific Coast statewide in California, including an all-star office in the South Bay City of Torrance serving Redondo Beach, Hermosa Beach, Long Beach, Manhattan Beach, and San Pedro.
Furthermore, Ehline is an inactive Marine featured in Leatherneck Magazine, who utilizes his training to lead by example. For more info on legal options, call the number below or email him at losangeles@ehlinelaw.com. Ehline also writes a legal blog here on major issues of the day, both legal and news.
How Do Armored Trucks Operate?
There are several major brands of armored trucks on our public highways and bi-ways, including those operated by Brinks and Garda and Loomis. Some armored car manufacturers include Armormox and Inkas. Often these heavy, unwieldy vehicles are upbuilt from more common vehicle chassis. These include the use of armored Chevrolet Silverados, Dodge Ram 1500s, Ford F-150, and Ford-350.
Like Limousines, Many Armored Trucks Rely on STOCK vehicle Brakes!
These vehicles are often just regular vehicles, as you can see above, before their customization. However, after these major changes, these armored trucks become a very different vehicle altogether. Imagine adding several thousand pounds to your cab, roof, hood and vehicle glass and think about the increased stopping distance, wear and tear and brake maintenance. Most armored vehicle repurposing, like with limousines, does not include adding stronger, commercial brakes!
Increased Weight and Vision Impairment Attendant in Customized Armored Cars?
As a matter of fact, replacing the windows with armored slats to peer through or with bulletproof walls make armored trucks rolling around Los Angeles County far more difficult to drive, and control. Think about how thick, bullet resistant glass itself reduces the ability of the truck driver to see around the vehicle.
Many newer models are equipped with backup cameras. But you can still run over a small child in reverse, as these cameras are no substitutes for a set of human eyes to sweep the area.
Besides, there are still hundreds of older versions on the road today with less ability to see around corners or while making turns. Most of all, as noted above these vehicles take far longer to slow down and are often wrought with defective or inferior parts not designed to work with the increased wear and tear and weight involved. Jake braking may help avoid a Los Angeles truck accident, but it also adds more strain to the vehicle's drive-train and motor. Imagine driving one of these vehicles down from Rancho Palos Verdes in Hawthorne Blvd. Thank God they have two gravel run away truck turnouts when the brakes ultimately overheat and fail.
This is the same location where Tiger Woods crashed and rolled his van, likely ending his career as a professional golfer. I have personally seen several truck accidents along Coast Highway and Hawthorne Blvd., so it's a genuine threat.
Why In Los Angeles Are Most Armored Trucks Used?
From all the movies we see, people often think of armored truck use for major banks to transfer money. This, of course, remains a major use of the vehicle type. But there are also other major uses for armored vehicles by armored trucking companies, which we will run down below.
Bank and monetary transfers: These include the transfer of tens of thousands or even millions of dollars. This allows for more secure transport, far less likely for their armored truck drivers and guards to be robbed or killed.
Education services: This one is a bit more surprising, especially considering the relative value or wealth of schools and colleges. Often, armored truck use is mostly for universities, which often operate multi-million dollar budgets and have lots of cash from their campus business operations and vending services.
Jewelry: This is often a major utilization for large jewelry companies and sellers such as Kay, Jared, Tiffany, and more. These precious products require more security and armor in case of potential damage or theft. If you are in a Los Angeles truck accident, don't expect the guards to get out and exchange info either. (They may assume you contrived an accident to try and steal their loot!)
Types of Armored Truck Accidents
Unfortunately, the very nature of the armored truck makes it more likely for accidents to occur. These include accidents on the road and potential issues with some of those in the vehicle. Many armored truck operators– both drivers and security guards– are armed with shotguns, handguns, and centerfire, semi-automatic rifles.
As a result, there is also a chance for severe injury due to mistakes on and off the road. And these trucking companies are expected to provide tailgate safety meeting and instructions for wounded security agents and civilians in case of an armored truck accident. Our armored truck accident attorneys offer a free consultation to go over your unique situation if you are already satisfied we are the right lawyers to sue over safety issues for employees and third parties alike.
Some of the most common issues include:
Motor vehicle accidents: This includes striking another vehicle like a construction truck, or pedestrian accident victim. Unfortunately, we saw a case like this in September 2020 with an accident in Brooklyn, New York. An armored vehicle driver struck and killed a young girl. The accident occurred with a GardaWorld driver. We will discuss more info on them below.
Weapons discharge: This is less likely but is still a possibility, either intentional or otherwise, due to the vehicle's nature.
How Often Do Armored Truck Accidents Happen?
As we cited above, armored truck accidents are not uncommon. Furthermore, they are more likely in cases where drivers are less trained than necessary. The Tampa Bay Times ran an investigation into a spate of severe accidents caused by one operator: GardaWorld.
One case was particularly alarming:
The armored truck full of money barreled down a two-lane road until it encountered a stopped SUV. The truck didn't brake. Instead it whipped into the oncoming lane, as if to pass, and rammed into a tanker truck. The impact ripped open the side of the armored truck and launched a worker guarding the cash into the air with such force that his seat went with him. Illinois police found him still buckled in, crushed to death. The 49-year-old grandfather driving the tanker lived until his vehicle caught fire. He died trapped in the wreckage, his throat caked with soot, surrounded by flames.
The armored truck accident investigation found that 19 people were been killed in Garda crashes since the year 2008. The Times also found at least three deaths involving an armored truck company between 2019 and 2020 alone. Furthermore, the truck accident victim armored truck deaths tell just a part of the story over. The Times also found that between February 2014 and July 2016, the armored truck company's vehicles averaged a staggering 100 collisions per month.
The armored truck company investigation also found Garda trucks causing injuries around one every three days. The newspaper also reported that the company has more accidents per road mile than its competitors Brinks and Loomis. The company denied five requests for an interview. The armored truck company even threatened the Times legally when they continued investigating trucking accident claims.
Other Common Causes of Armored Vehicle Collisions in an Accident Case?
Blind Spots
Distracted Driving
Driver Fatigue
Driver Error
Safety Issues
Types of Truck Accident Injuries To Armored Truck Drivers and Third Parties
Obviously, a heavier vehicle can crush a passenger car like tin foil. Let's take a look at common truck accident claims by armored truck operators and passenger vehicle occupants injured in an armored truck crash our trial lawyers regularly handle.
Truck accident claims often include injuries like:
Neck Injuries like whiplash
Spinal Cord Injuries leading to quadriplegia/paraplegia, etc.
Wrongful Death
Because of the increased risk for serious injury or death in a commercial vehicle accident, armored car companies must carry higher than normal insurance coverage to absorb the costs of property damage and bodily injuries to third parties. The armored truck company will typically handle wounded employee claims through California Workman's Compensation Insurance. We have a proven track record for winning big!
Getting Paid Money Damages?
Under the law, third parties are entitled to collect special damages, through legal options called economic damages (for economic injuries), general damages. In a truck accident claim, these are often called intangible losses. Last but not least our best injury lawyer may be able to collect punitive damages to punish reckless behavior like road raging against fellow road users in these large trucks. (Insurance policies will not cover punitive damages on behalf of the trucking accident victim, as it is typically an intentional act you cannot buy insurance coverage over when you're involved in an accident.)
Special Damages in an Accident Case Include:
Medical bills for short and long term medical treatment and physical therapy
Lost wages and lost contracts.
Property damage
Non Economic General Damages in an Accident Case Include:
Pain and suffering (emotional issues, grief, etc.)
An injured passenger vehicle occupant who dies will open the damages award to survivors to include loss of consortium, loss of love and affection, etc.
What Do I Do If I Was In An Armored Car Collision?
In case you or a loved one was injured due to an issue or accident involving an armored truck, you have options. The personal injury law firm team at Ehline Law is second to none when handling the gargantuan task of handling armored vehicles and related car accidents. Our competent, hard-working, personable team is specialized in such accidents and our clients' legal rights against the negligent trucking company.
Let our top Los Angeles truck accident lawyer help you win money for your pain, suffering, past, present, and future medical bills and possibly even punitive damages to punish the armored car company from allowing a death trap on the roads.
Our compassionate Los Angeles armored truck accident lawyers help cover the costs of medical treatment– both short and long term. Ehline Law is available 24/7 for a free consultation. Our phenomenal injury lawyers will travel anywhere in California to discuss your legal options, as well as Coronavirus compliant discussions. And we have no issues helping you over the phone or via Zoom.
If we can't amicably settle your case with the insurance company, we will file the case and seek a serious injury or wrongful death verdict on your behalf for all types of truck accidents.
Schedule a Free Case Review With A Superior Los Angeles Armored Car Accident Attorney Immediately
Are you ready to form an attorney-client relationship, and hire a world class armored truck accident lawyer based in Los Angeles County, CA? Number one, we look out for your well-being. We are here is to listen attentively, hold your hand, and problem solve your important challenges after an armored car accident. Last, we will keep you fully informed, so you're not wondering what to do and fretting over your dire financial situation after truck accidents.
In short, our very best truck accident lawyer wants to give you certainty about your happy future that lies ahead. Contact a highly rated truck accident lawyer at our personal injury law firm for more info– and remember that we don't ask for a penny unless we recover maximum financial compensation for you for the many causes of truck accidents involving Los Angeles armored vehicles.
During this difficult time, let us help you by calling (213) 596-9642 and discovering the Ehline difference. You can also fill out the website form here is you can't pick up your phone now to start the armored truck accident settlement process today. You must do so on behalf of yourself or a hurt family member before someone blows the statute of limitations to being a case. Call us today, or enter your email address for a faster turn around time with an experienced armored truck accident lawyer!
Works Cited:
---
Michael Ehline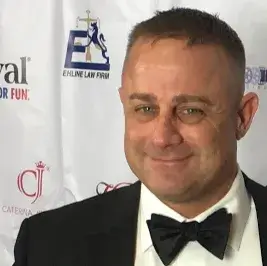 Michael is a managing partner at the nationwide Ehline Law Firm, Personal Injury Attorneys, APLC. He's an inactive Marine and became a lawyer in the California State Bar Law Office Study Program, later receiving his J.D. from UWLA School of Law. Michael has won some of the world's largest motorcycle accident settlements.
---
Recent Personal Injury News
Check out our most recent armored truck accidents and defects, including the famous, infamous and everyday people wounded by at fault parties around the world in all types of negligently and intentionally created incidents.
Ehline Law Firm Personal Injury Attorneys, APLC offers convenient meeting places and locations in your nearby cities in Orange County, Downtown Los Angeles, Korea-town, Santa Monica, Marina del Rey, Torrance, Long Beach, Carlsbad, California, and More.