[Page updated: March 3, 2022] Are you a FedEx truck accident victim getting the run-around and seeking legal help? The FedEx Corporation delivers billions of dollars in goods worldwide annually using around 90,000 FedEx trucks and other FedEx vehicles. Angelenos see FedEx delivery trucks zooming in and out of Los Angeles on Southern California roads daily.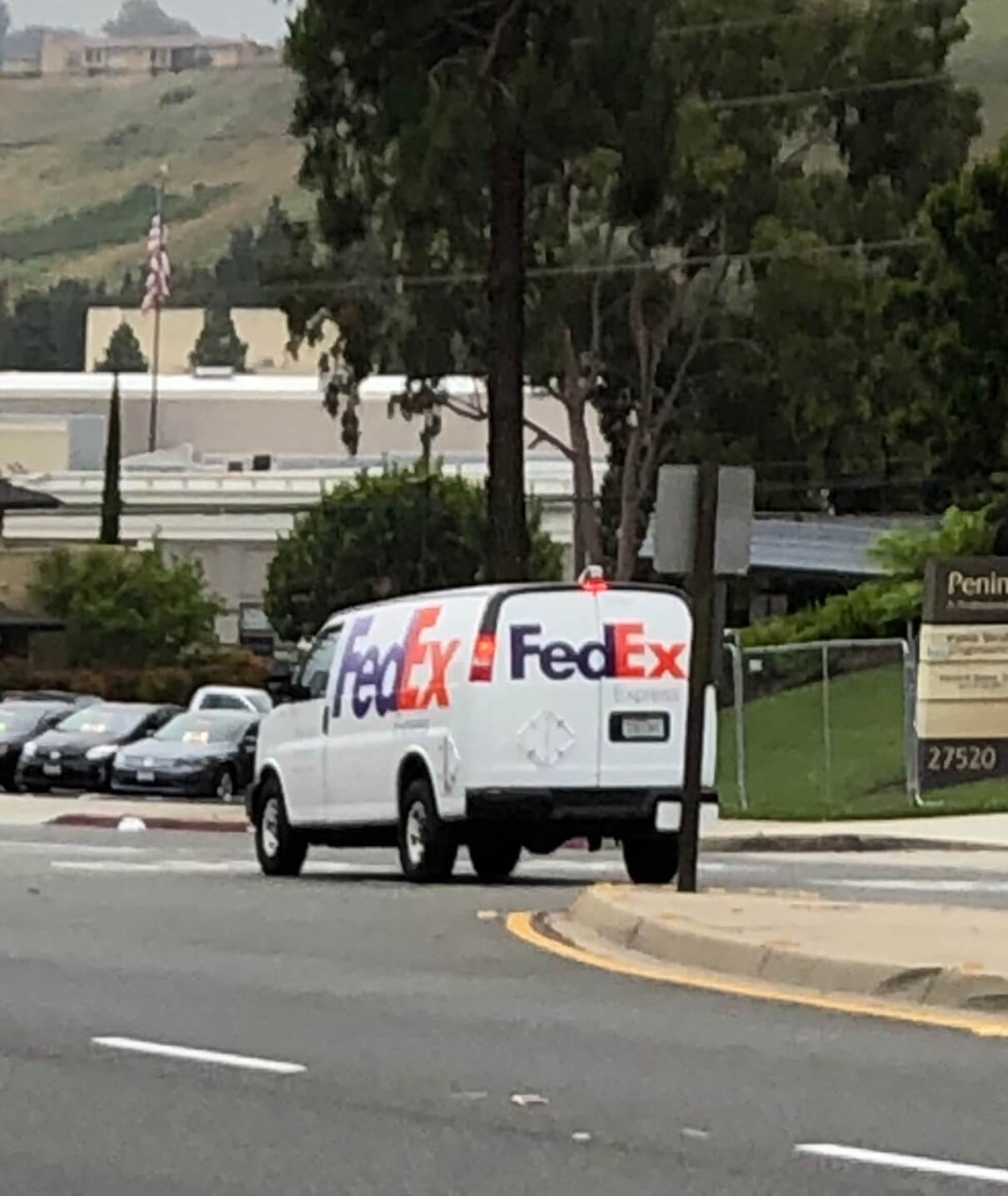 Federal laws and state laws say FedEx Air and FedEx Ground owe a legal duty of reasonable care and sometimes a special duty of care to others. The main FedEx office owes a heightened duty as a common carrier when delivery trucks ship goods or drop them off. They must not damage the goods or injure the people receiving them.
As a common carrier of goods and with so many novice FedEx drivers on our roads, we expect the FedEx driver to drive safely and not cause FedEx truck accidents. Sometimes commercial FedEx drivers fail to operate their trucks safely or place others in grave danger of falling or tripping on boxes and parcels upon delivery.
Even with its comparatively good safety record, FedEx still owes a duty to properly maintain their small delivery vans, large trucks, and other commercial vehicles to avoid accidents throughout Los Angeles.
We handle all types of truck accident cases. Contact our Los Angeles FedEx truck accident attorneys for a confidential, risk-free consultation over your FedEx truck crash or other Los Angeles vehicle accidents at (213) 596-9642.
Los Angeles FedEx Injury Accident Attorneys Guide:
Why Choose Us?
Common Accidents
Common Injuries
Why Choose FedEx Truck Accident Lawyers in Los Angeles?
The financial outcome of your financial reward will be a direct result of the law firm you hire. Our law office has extensive training in tractor-trailer cases against common carriers and other shippers. Our Los Angeles FedEx truck accident lawyers have experience dealing with death claims.
Our proven FedEx truck accident lawyer can bring a timely personal injury claim against the commercial vehicle driver and company.
FedEx trucks and other larger three-axle vehicles are known for causing catastrophic motor vehicle accidents. The injuries from FedEx trucks on the Los Angeles highway can easily lead to serious harm or wrongful death fatalities.
If you were hit by a FedEx truck, van, aircraft, or falling aircraft part, Ehline Law Firm Los Angeles could hold FedEx freight and everyone in the FedEx supply chain of responsibility accountable.
Our superior Los Angeles FedEx truck accident attorneys maintain a proven reputation as powerful advocates for injured Los Angeles truck accident victims, even when liability is disputed with the injured person. Our very best FedEx truck accident attorneys can win you a decisive outcome through honesty and hard work, from negotiations to lawsuits!
Serving FedEx Truck Accident Victims in Los Angeles

Our legendary Southern California, Los Angeles FedEx truck accident attorney, Michael Ehline, and his exceptional company have the experience, knowledge, skill, and influence to defeat FedEx in truck accidents.
Were you in an accident in Los Angeles with FedEx Express or some other company vehicle? We have clout in big truck accident cases. Our aggressive truck accident lawyers help Los Angeles accident victims get their lives back together after FedEx trucking accidents!
Our truck accident lawyer in Los Angeles, CA has been featured in:
CNN.

Daily Journal.

Forbes Magazine.

Super Lawyers Rising Star.

Hollywood Weekly Magazine.

Newsweek Magazine – premier Los Angeles personal injury law firm.
Our personal injury firm has attained public justice for thousands of clients in single and multi-party trucking accident claims involving wrongful death and severe property and personal damage in and around Los Angeles.
Among the Top Southern California Law Firms
Our Los Angeles truck collision experience (over 30 years combined) and significant financial results received by our clients are legendary (over $100 Million in settlements and verdicts.). We have a proven track record for holding any FedEx vehicle driver, delivery company, or operator legally liable, including negligent agents and independently contracted partners.
Our top FedEx truck accident lawyer will attempt insurance company settlement negotiations with FedEx and other drivers. To get prompt attention for your FedEx truck accident case from FedEx accident lawyers, you can tell us how the collision occurred 24/7 with a confidential and free case evaluation about your accident with a FedEx truck driver.
Our top FedEx truck accident lawyer can help any injured FedEx driver or victim in Los Angeles sue the FedEx trucking company or other truck company on your behalf.

Our best trial lawyers will swiftly evaluate your pain and suffering legal claims, interpret police reports traffic laws, and explain the legal process against the FedEx delivery company. Our top trucking company accident attorney will assess if our Los Angeles personal injury attorneys should take legal action.

Either way, our experienced lawyers charge nothing for you to determine if we can promptly and competently help you obtain fair compensation from the trucking company. From San Diego to Sacramento, CA, we are local and ready to assist with vehicle accident claims against truck companies. We can also help with towaway crashes.
Evidence Gathering and Proving Fault
Trying to sue FedEx, or UPS is difficult. Our firm will conduct a thorough FedEx accident investigation and background checks. We'll gather the driver's employment records, violations of traffic laws, request black box maintenance records from FedEx, request time logs and driver records, etc.
Sometimes we may hire various experts to develop a life care plan for your injuries and reconstruct the biomechanics of the crash. The discovery and inspection of these factors prove liability, fault, and lifetime care costs. Please speak with the Los Angeles Ehline Law Firm about our service when accidents occur. Schedule a FREE consultation at (213) 596-9642.
The insurance company doesn't like paying fees. Under California negligence rules, the responsible insurance company must pay any portion of damages caused by the FedEx truck driver. Their employees will dispute every cost with ruthless efficiency, so you can't sue them.
Insurance companies will look for any reason possible to deny or minimize the value of your insurance claim down to the last cent. After any car accident, your road to recovery can be more painful without excellent FedEx truck accident lawyer services.
We'll objectively deal with the greedy insurance company while you undergo medical treatment and physical therapy.
Common Causes of FedEx Truck Accidents
Unlike regular traffic collisions, FedEx trucking collisions can happen when delivery drivers are under pressure, speeding to meet delivery deadlines, or poor training with little time behind the wheel. Driver error/negligent driving isn't the only way FedEx truck drivers crash their tractor-trailers and wheel trucks in vehicle accidents.
Common traffic violations and accident victim personal injury claims causing FedEx truck accidents:
Distracted driving

Failure to yield

Violation of federal regulations

Violation of municipal and California State traffic law like excessive speed or following too closely

A failed traffic control device

Reckless driving/road rage

Drowsy driving/truck driver fatigue

Improper lane change

Poor maintenance and other safety violations

Collisions involving a defective or disengaged parking brake while delivering cargo

Alcohol-related DUI drunk driving, prescription drugs, Marijuana use
Statistics show car accidents or truck accidents with a FedEx ground vehicle might have many causes. Federal Express or another large corporation may share part of the damages claim or fatality risks in a critical accident involving government negligence. When FedEx refuses or neglects to keep drivers safe in other cars or places them in life-threatening situations, our investigators will leave no stone unturned to protect your legal rights.
Our law office is in business is to help personal injury victims level the playing field. Our professional legal team has helped thousands of people like you with common types of transportation accidents caused by FedEx. Through settlement or litigation, the possibility of you or a loved one receiving large verdicts or a large settlement will increase with an attorney from our law firm.
Were you rear-ended or involved in an accident with a FedEx employee? Did someone you love die in a fatal FedEx accident? Schedule a free initial consultation today to learn about our extensive experience litigating cases involving delivery truck accidents. We will discuss your circumstances and legal options to receive maximum compensation under the law during your no-obligation consultation.
Common Injuries From Fed Ex Accidents
FedEx truck accident-related injuries are often directly related to the size and speed of the oncoming vehicle. Assuming it's a semi-truck, the road injuries can be quite severe. Not all FedEx vehicles are straight or single unit, 2-axle, six tire trucks. Some are smaller box trucks or even lighter-weight pickup trucks, or humongous multi-trailer semi-trucks wrought with blind spots.
Motorcyclists and passenger cars can be crushed by a FedEx truck or smaller FedEx vehicle car accident. Fully laden cars and vans have longer vehicle slowing times, increasing brake wear, motor, and drivetrain strain than a smaller passenger car.
Escaping a FedEx collision with minor whiplash is a best-case scenario. Most of our clients suffer severe spinal cord injuries, lacerations, road rash, amputations, and compound fractures.
Here is a list of typical FedEx delivery truck accident caused injuries:
Whiplash – Most typical in a low-speed rear-end impact collision.

Spinal Cord Injuries – These include disc burst fractures and bulging discs.

Bone fractures include a broken pelvis; broken are ribs, wrists, hands, fingers, wrists, legs, and noses from exploding airbags. These are common injuries after a run-in with a FedEx truck, van, or another delivery vehicle.

Brain or skull injury – Although there is evidence a brain can heal itself, it is not so cut and dry. Skull fractures and brain injuries are at the top of the scale regarding their severity and forced lifestyle changes.

Wrongful death – A FedEx driver who is negligent in the operation or maintenance of the delivery truck can quickly run over a pedestrian collide with a bicyclist or motorcycle.

Abrasions, cuts, and lacerations – So motorcycle riders can get grated up like a piece of cheese from road rash, broken glass fragments, and flying car parts.
Should I File A FedEx Accident Report?
No way! Sometimes we are hurt and think we don't need a lawyer. You say to yourself: "I can just call the 800 number on the FedEx truck and tell them what happened," "Maybe I should just go and use their FedEx online accident reporting form here on their website." NO! Huge mistake, don't do it. You might as well dial 1-800-EAT-SHIT.
First of all, FedEx uses private insurance for each vehicle up to a certain amount, usually topping out at $5 million per multiple injured victims. Then and only then does FedEx or FedEx Express seek excess or umbrella insurance coverage to pay you.
So it's pointless to give a statement that will merely be used against you later by Lloyds of London or other carriers after twisting your words. Of course, the entire FedEx service model and family of companies depend on you filing an accident report to help derail family members or your claim later on down the road. It's good business.
Does FedEx Want You To Hire Ehline Law Firm?
Heck no! From Arkansas, San Diego, New York, Memphis, Tennessee, Pittsburgh, Pennsylvania know we can best determine winning tactics and strategies to hold their feet to the fire and make them pay up! Like any commercial truck accident involving death or severe injuries, it is typically wiser to obtain a FedEx accident attorney like Michael Ehline.
Let us know by calling our 24-7 personal injury hotline number now at (213) 596-9642.
FedEx Accident Attorneys Can Prove Fault
California, local, and federal laws may come into play in pinning down the fault in your FedEx accident insurance or court claim. It's the plaintiff's burden to prove the other side was negligent.
Otherwise, your financial compensation can be reduced or not paid at all. Was someone you love hurt or killed due to negligent FedEx employees? We can help you pursue claims against the parties with blame. We can get you back on your feet when you involve us. Dial (213) 596-9642 to learn more about our job, attorney's fee request for services, filing fees, etc.
When Should You File Your FedEx Truck Accident Claim?
Under California's statute of limitations, there is generally a two-year time from the date of the crash to file a lawsuit. Sometimes your online shopping contract or the status of the defendants may lengthen or shorten that time. What if CalTrans played a role in causing the crash?
In that case, the statute of limitations runs out in six months. This means FedEx could blame them and escape liability entirely or leave you with a pittance. Do you want to sue the FedEx driver, other trucking companies, or an agency?
How Much Is My FedEx Accident Settlement Worth?
FedEx typically would love to settle an injury claim with an employee or a third party as quickly as possible in hopes of paying out a minimal amount of money and keeping the story from the evening news.
Our primary mission is assuring that you get paid maximum compensation for your personal and property damages. Your job should be trying to rebuild your life with minimal stress.
Our hard-charging staff of zealots will use our advanced knowledge of FedEx accident claims to protect your legal rights like knights in shining armor. If someone suffered the loss of a close family member or was overcome with a Mild Traumatic Brain Injury ("MTBI"), their case will be valued higher than whiplash in a low-impact collision.
In other words, there is no personal injury calculator, only actuarial tables and examples of similar published verdicts and settlements about commercial vehicles. Because there are so many variables, negotiating a settlement with these insurance companies is never cut and dry.
Adjusters are paid well to make the at-fault truck driver look like a saint, and the accident victims look like liars and a cheater by playing blame the victim. They don't want to pay full compensation, not even to their injured truck drivers.
A good lawyer will counter their gamesmanship with developed evidence, including:
Property damage bills

Medical bills for treatment, including out of pocket medical expenses

Medical treatment records

Lost wages, lost income, and contract loss evidence

Pain and suffering evidence like a day in the life video, pictures, and journals
How Long to Receive Fair Compensation?
A case can settle in a week or years. How long it will take to obtain a draft and release will be determined case-by-case. Each matter is unique and primarily based upon the skill of your law firm and who represents the FedEx truck driver or other law firm defending.
FedEx Truck Accident To-Do Checklist
If you or a loved one were hurt in a FedEx collision, these tips from our compassionate truck accident attorney team could help you protect your body and your future legal options.
Make Sure Everyone Is Safe and Call 9-1-1
If safe, be a Good Samaritan, check up on truck accident victims, and even render first aid if possible. Try and divert future collisions slowed or distracted by the crash. Do this as you get the EMT, police, and fire to the site on your smartphone.
Receive Prompt Medical Attention
If you or another person received injuries, you must mitigate and document everything by taking an ambulance to the hospital immediately, do not pass g0. Even if you think the harm is minor, get to the emergency room or urgent care right away to seek a professional diagnosis and prognosis to avoid making things worse as the adrenaline wears off.
Make Your Official Traffic Report
The California DMV requires vehicle accident injuries must be reported to law enforcement. Suppose it was in the City of L.A. In that accident case, you could file a vehicle accident report with your local Los Angeles Police Department (LAPD) CHP or send an official mail-in form to the DMV. This form is in addition to any traffic collision investigation report written or published by OSHA, Cal Osha, or your local police dispatched to the collision scene.
Keep Your Documents and Things
Don't throw away vehicle accident receipts or bills. Gather images and pictures of the collision scene. With all truck accidents, obtain and exchange insurance and identify information with the other drivers. Snap pictures of license plates, vehicles, debris, and witnesses of the vehicle accident. Jot down their names, addresses, phone numbers, and vehicle information for your Los Angeles, CA truck accident lawyer.
Schedule a Free Consultation With A Superior FedEx Truck Accident Lawyer in Los Los Angeles
Are you tired of being pushed around over your vehicle accident? Hire a powerful FedEx truck accident lawyer. Contact Ehline Law Firm in Los Angeles. Our elite, legendary FedEx truck accident attorney, Michael Ehline, has successfully handled many FedEx delivery truck accident injuries.
Schedule an initial free consultation today if you or a family member slipped and fell on negligently delivered parcels or were hurt in a wreck with a FedEx truck. Our Downtown Los Angeles-based car accident attorneys and partners can handle all FedEx delivery truck accidents today, so call (213) 596-9642 to learn more about your truck accident injury claim from FedEx truck accident lawyers. Hablamos Español.